20 Trendy Paint Patterns To Make Your Walls Less Boring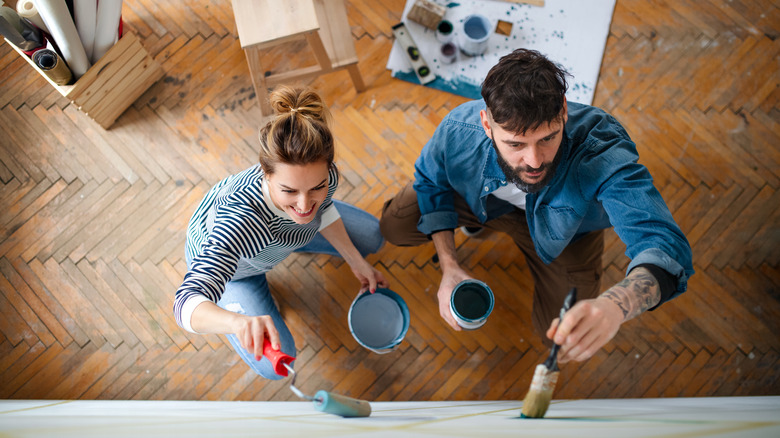 Halfpoint/Shutterstock
As you probably know, painting an accent wall is an easy way to add a fun, decorative element to any room. According to Diversified Painting, these focal points are meant to draw attention to one area of the space. Additionally, they could be used to make one shade in your color scheme really stand out. And, a huge benefit of a painted accent wall is that it can easily be changed with minimal effort. Indeed, if you ever get sick of the color, you can just paint over it.
However, maybe you think a solid-colored accent wall is a bit overdone. While it provides a classic appearance, why not spice up your wall's design? Are you game? If so, here are 20 of the most popular and trendy paint patterns right now, which you could easily add to any wall to give it an extra unique appearance. Give it a shot!
1. Popular arch
One of the most popular paint pattern designs right now is adding a single arch to a wall. This is usually done to emphasize a piece of furniture, such as the desk showcased above. 
2. Color blocking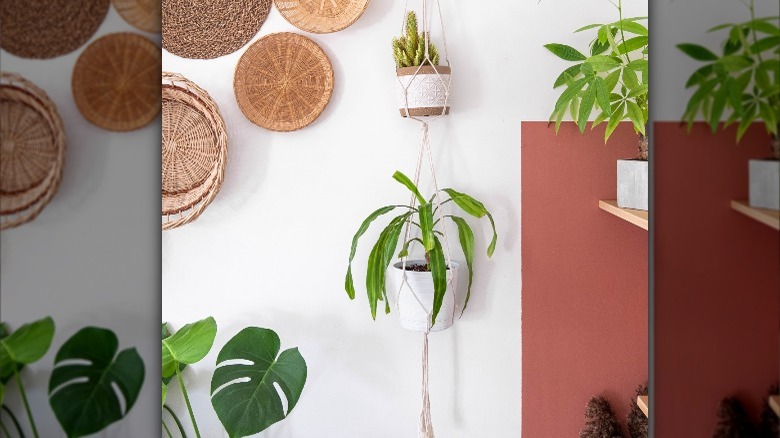 TippyTortue/Shutterstock
Similar to the trendy wall arch, color blocking a rectangle or any other shape will put the focus on just one part of a wall. 
3. Geometric shapes
A geometric wall can be created by using some painter's tape and a few shades of paint. Just tape up your design and, like a giant paint-by-number, fill in each of the shapes. 
4. Scalloped edges
Typically seen in nurseries or children's bedrooms, some homeowners have begun adding a scalloped edge design to their walls. This is done by painting connecting circles and then filling in the baseboards.
5. Polka dots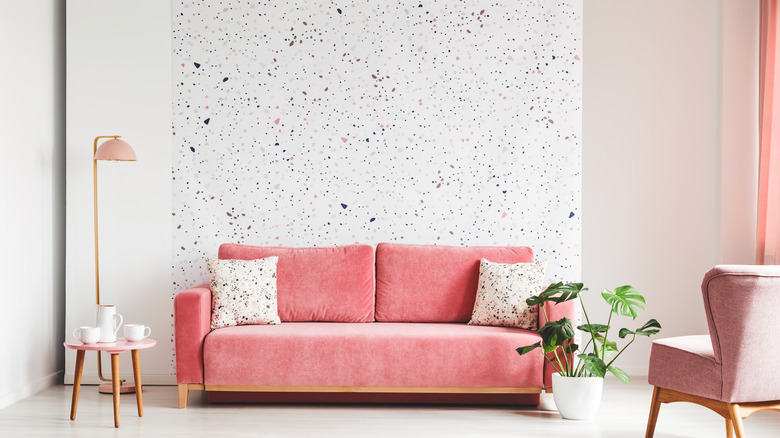 Ground Picture/Shutterstock
Another popular pattern you could try is polka dots. Because these are usually placed at random, it would be an easy design to paint by hand. 
6. Straight stripes
Stripes could easily be created with painter's tape. You could add them horizontally to make your wall look longer or vertically to make it look taller.
7. Plaid pattern
A plaid-patterned wall will usher in some cozy cabin vibes. This can also be done with painter's tape and a few shades of paint. 
8. Textured wall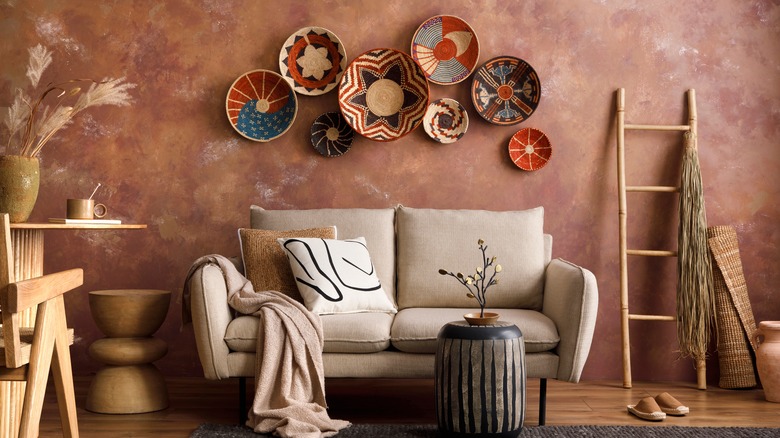 Followtheflow/Shutterstock
To create a textured appearance, apply a sponge to your wall with a few similar shades of paint.
9. Abstract mountains
Taping up an abstract line with many points will create the look of a mountain range, especially if you add some white caps.
10. Intricate stencil
To create an orderly design, use a repeating stencil. While typically done on floor tiles, this could also be done on the wall.
11. Simple diamonds
By overlapping diagonal strips of painter's tape, you'll be able to create the diamond-designed accent wall displayed in the image above. 
12. Hexagon artwork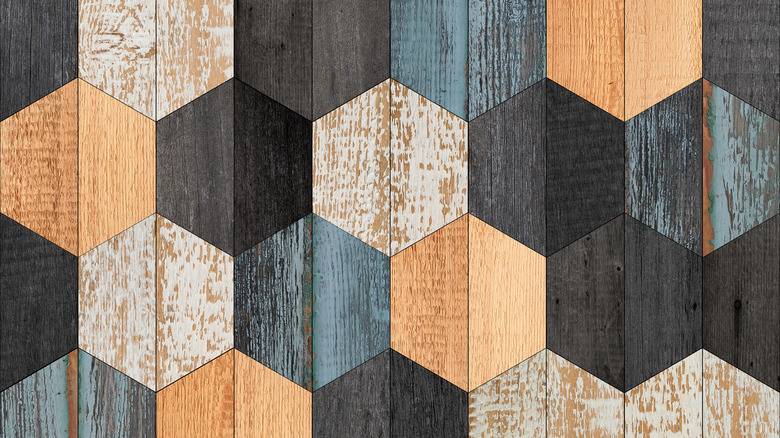 dengali/Shutterstock
Hexagons can also be created with painter's tape and be a great way to add many different colors to your wall.
13. Chalkboard paint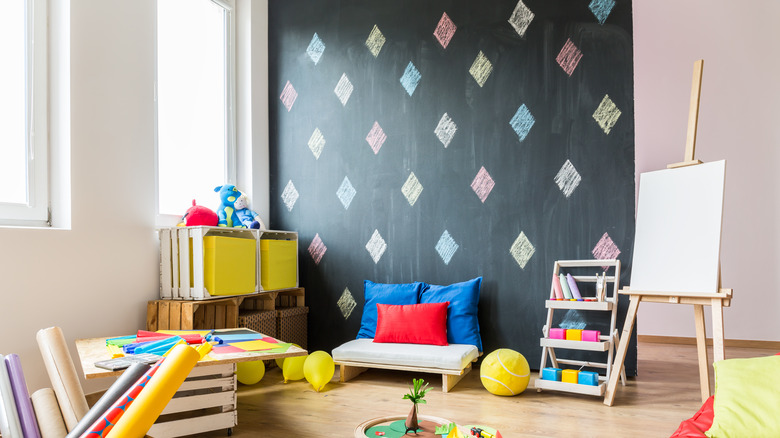 Ground Picture/Shutterstock
Painting a wall with chalkboard paint allows you to easily change up the design any time your heart desires. Typically, this aesthetic is seen in children's bedrooms or play areas.
14. Ombré wall
An interesting way to spice up a wall is by creating an ombré effect. To do this, you'll need to be skilled at blending and have different shades of one color of paint.
15. Brush strokes
If you like to paint without restrictions, create a brushstroke design by adding small lines along an entire wall.
16. Chevron stripes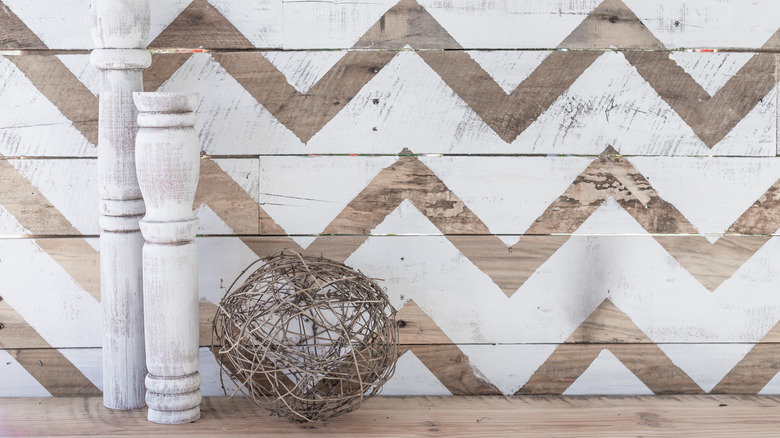 Tracy D. Edwards/Shutterstock
Using painter's tape, create clean chevron lines on a wall. As seen above, this would look really beautiful if you painted a wooden feature wall white.
17. Hand-painted chevron
Or, for a more abstract and less precise design, try hand-painting chevron stripes in vertical rows.
18. Leopard print
For a delicate appearance, opt for a leopard print pattern. This could either be done with one or multiple colors for a shaded aesthetic.
19. Leaf print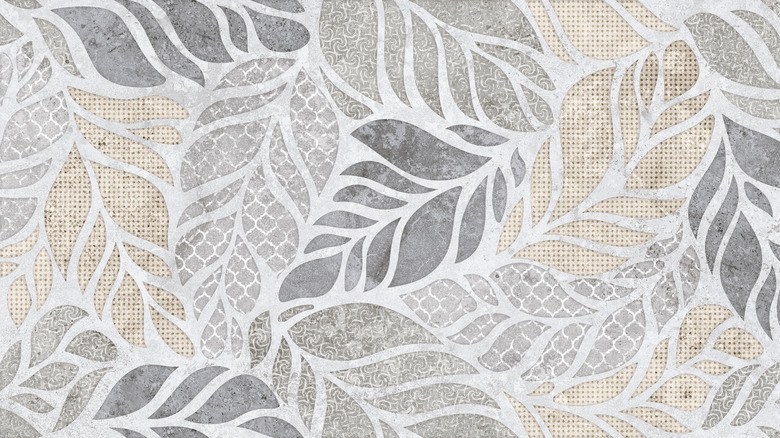 Gopli smith/Shutterstock
Here's a beautiful leaf design that can be created with a stencil. Or, if you're artistic, try freehanding this pattern.
20. Terrazzo pattern
A playful terrazzo pattern could be created by adding many abstract shapes of various colors and sizes to a wall.