The Easiest Roses To Grow That Will Give Your Garden A Low-Maintenance Upgrade
YukoF/Shutterstock
As the United State's national flower, roses are some of the most commonly grown flowers in the garden. Pairing well with lavender, baby's breath, and daisies, they are loved for their vibrant colors, ornate blooms, and sweet fragrances. Roses are not just raised for beauty but are also edible and rich in vitamin C, used frequently in jellies or cocktails.
With more than 100 species of this perennial shrub to choose from, some roses will be harder to tend to than others. Hybrid tea, grandiflora, floribunda, and polyantha roses are some of the varieties known for being hard to care for, needing excess trimming, watering, and fertilizing. But not all roses are high-maintenance; some are actually pretty hardy. In fact, the oldest rose alive is in Germany at 1,000 years old. While you may not succeed in growing flowers that can last centuries, there are easy-to-care-for roses that will be perfect for your garden and busy schedule.
'Paul's Himalayan Musk' rambling rose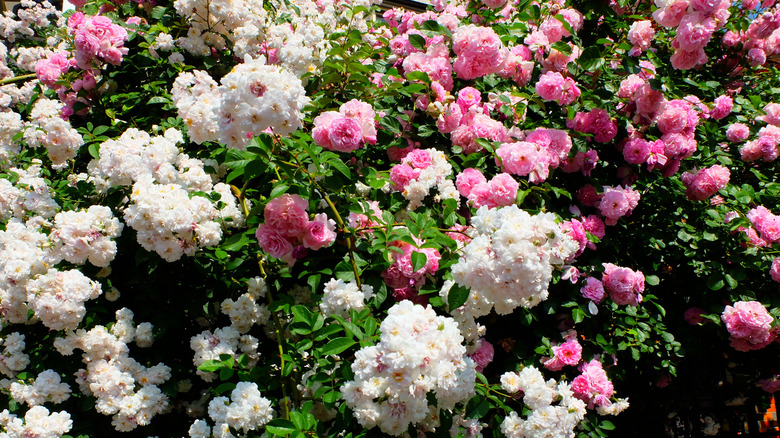 YukoF/Shutterstock
'Paul's Himalayan Musk' rose was bred by George Paul in 1916 and is one loved for its abundant flowering and massive size. While it only blooms once per season, it is worth it to see it climb up to 25 feet tall and expand 25 feet wide. As a rambling rose, it has long stems that protrude from the base of the shrub and are very easy to train along walls, arbors, and trellises. This rose is smaller but has a double bloom in baby pinks that see around 17 to 25 petals per rose and whiten as the season progresses.
The Himalayan Musk is said to attract butterflies and bees, blooming in late spring through early summer. It is easy to care for, needing a heat zone of 5 to 9 and happily growing in most soils. The watering schedule will be average, and it's noted to be quite hardy. It has a pungent musky smell, described as woody and earthy, with hints of floral or fruity aromas. This rose variety is a show stopper, having been given the Garden of Merit Award of the Royal Horticultural Society.
The 'Claire Austin' English rose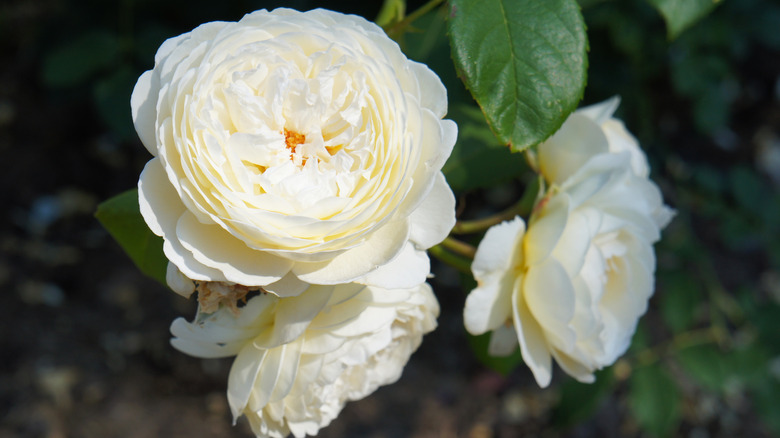 mizy/Shutterstock
The 'Claire Austin' English rose is named after the British rose breeder David Austin's daughter. It is a shrub rose that loves to climb along walls, fences, and arbors, with creamy, yellow-cupped petals. They love full sun and aerated soil. Growing around 4 feet tall and 3 feet wide, this English rose only needs average watering every two to five days when the top portion of the soil has dried out.
It thrives in garden zones 5 to 9, attracting butterflies and giving off a scent often described as myrrh. This fragrance is recalled to be earthy, warm, and similar to frankincense. You can expect to see this variety of roses blooming in late spring and lasting until late fall. It is suggested that these are planted in threes for a hearty and filled-out bush to form. It would also pair well with the 'Ispahan' damask rose, which is another rose shrub that's pink in nature, similar in size and care, and known to be very resilient.
The Father Hugo rose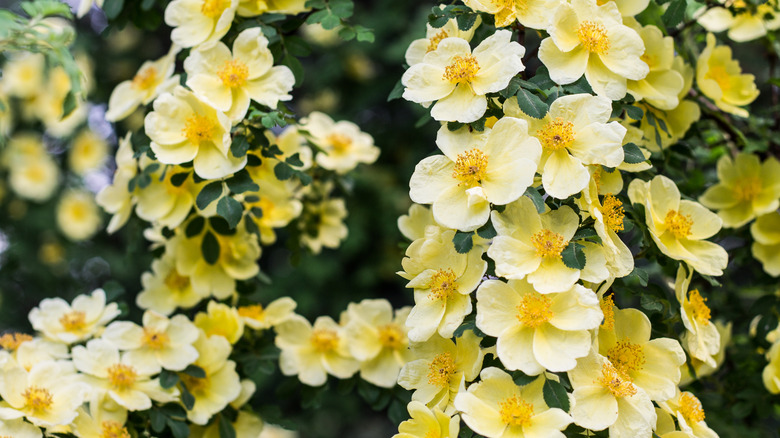 Mileniumphoto/Shutterstock
The Father Hugo rose, also known as Rosa Hugonis, was introduced in 1899 by E.H. Wilson in the United Kingdom. This rose is a resilient early May bloomer. It features single-cupped flowers of creamy and soft yellow petals with red anthers, pairing well with colors of light pink and blue. It can withstand poor soil quality and droughts but prefers standard watering and full sunlight. It needs minimal trimming and can be trained to climb if desired.
It is described to be honey-scented and looks beautiful even when it is out of season, boasting a golden hue in the fall and showing off its red-tinted stems in the winter. It averages a size of 6 feet tall and 5 feet wide. If you love this rose's look, the 'Darlow's Enigma' musk rose matches well with Hugonis; its flowering looks quite similar, only with white petals and stems that grow a few feet taller. 
The 'Albertine' rambling rose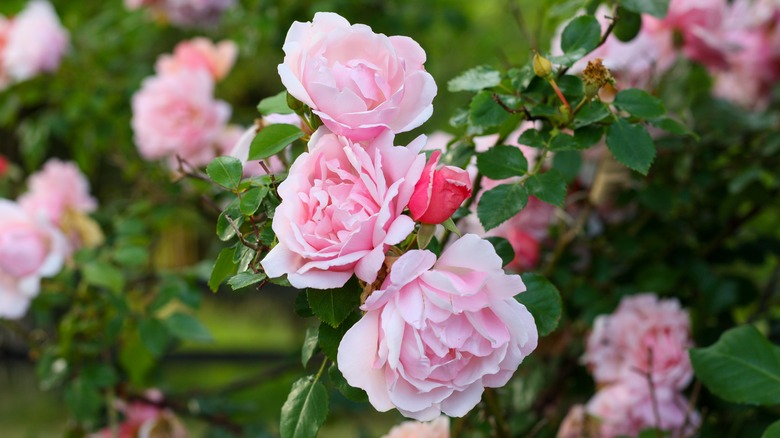 Brebner Design/Shutterstock
The 'Albertine' rambling rose was introduced in France in 1921 and is a mix of apricot pinks and reddish coral with deep green foliage often described as shiny. Its colors look beautiful trailing up brick siding or resting in garden beds but be prepared for an expansive shrub that can get between 10 to 15 feet tall and 15 feet wide. It needs a heat zone of 5 to 9 and is relatively easy to care for, not requiring too much watering or specific soil types. It is also known to be disease resistant; however, the 'Albertine' can be prone to mildew if its conditions are too dry.
You will see this cupped, double rose flower once every season between late spring and early summer, but its lingering sweet and fruity smell makes up for its one-time bloom. It is often compared to the Hybrid Tea rose, so this would be a much easier alternative to care for. 'Albertine' has won the Award of Garden Merit of the Royal Horticultural Society and will surely spruce up your garden space with minimal effort.
The 'Sir Thomas Lipton' rugosa rose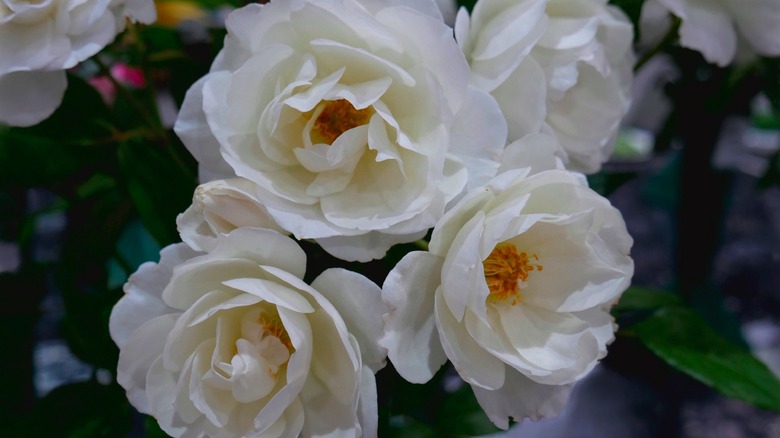 CHOMCHOL/Shutterstock
The 'Sir Thomas Lipton' rugosa rose was introduced to the U.S. in 1900 and is a cross between the rose rugosa Alba and the Polyantha 'Cobalt Soupert' rose. This thick hedge produces semi-double and double flowers in a bright white that will sometimes showcase a hint of pink as well. Its green foliage is described as leathery, and it can typically grow to be 6 feet tall and 4 feet wide.
This rose is loved for not only its beauty but also its durability, needing a zone of 3 to 8. It does best in soil with lower nutrients and can even respond negatively if fertilized. Outside of average watering, the most care you will need to provide this rose is giving it a large trim in late summer or early fall, as this hedge will bloom from late spring until the first frost.