Why You Should Consider Adding Pine-Sol To Your Laundry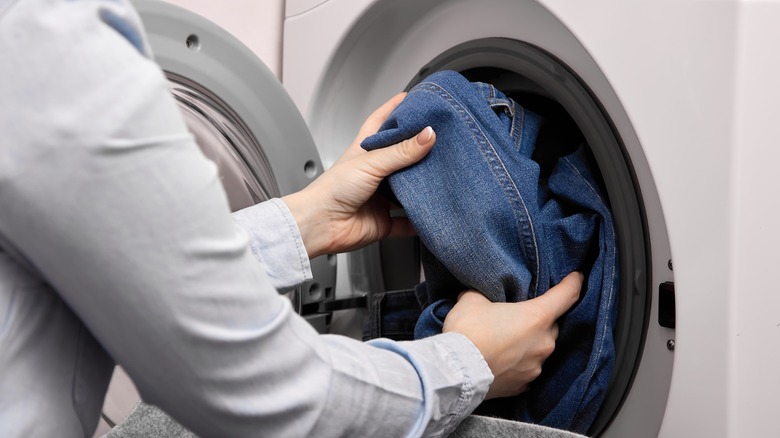 Aleksandr Finch/Shutterstock
You might be a fan of using Pine-Sol to clean, disinfect, and fragrance your space while you're cleaning, but this popular product can be used to freshen up laundry as well. If you feel like your clothing isn't getting the best clean with your existing detergent, or if you want to create a longer-lasting fresh scent, Pine-Sol can be used as an additive in addition to your typical detergent to boost cleaning power and leave you with fresh-smelling laundry.
For years, people have recommended you use vinegar in your laundry to combat tough stains, and, while this works and is often cost-effective, it doesn't do much to provide a long-lasting, pleasant scent. The antibacterial power of Pine-Sol, however, can clear away stuck-on stains, especially from greasy foods; reduce unpleasant smells, such as those that cling to workout gear; and offer a boost of freshness without the need to buy additional products like expensive scent boosters or heavily fragranced fabric softener.
How to use Pine-Sol in your laundry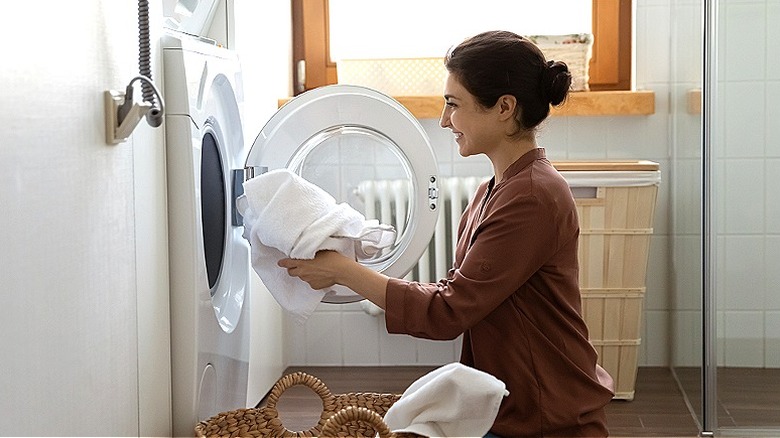 fizkes/Shutterstock
The process of adding Pine-Sol to your laundry is as simple as using any other additive. Toss your clothes in, add your detergent, and pour in a bit of Pine-Sol. For a typical load of laundry, about half a cup works, though you can cater this amount to your preferences. If you're sensitive to strong fragrances or doing a smaller load, decrease the amount, and if you're doing some heavy-duty washing and want to ensure your clothes come out smelling fresh, add a bit more Pine-Sol.
After your wash cycle, any residue and traces of this product will drain out along with your laundry detergent, but what will remain will be that distinctive Pine-Sol scent. While the original Pine-Sol smells lemony fresh, these days you can also get Pine-Sol with a lavender scent. Pine-Sol comes in various sizes, including 24, 48, and 100 fluid ounces. Given that 1/2 cup is equal to 4 fluid ounces, that means you can wash anywhere from six to 25 loads of laundry with a bottle of Pine-Sol, depending on the size.
What to keep in mind with this laundry hack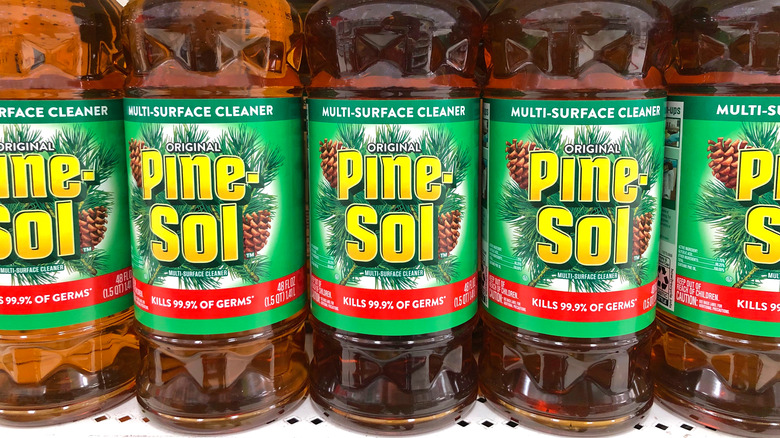 Sheila Fitzgerald/Shutterstock
Of course, with any laundry hack, it's important to keep your clothes' care instructions in mind before trying. Using Pine-Sol in your laundry is best for clothes that can take a bit more of a beating, like cotton, because it's a bit more harsh of a product than typical detergents. Because of this, you should avoid using Pine-Sol when it comes to delicates like silk or satin to prevent any negative impacts on the integrity of the fabric. Instead, clean these clothes by hand with gentle detergent, and allow them to air or line dry.
And there you have it. Just because Pine-Sol is typically used to scrub floors and disinfect spaces, it doesn't mean that's its only use. As this laundry hack clearly proves, Pine-Sol is a more versatile cleaning product than you may have ever thought. One note on using Pine-Sol on clothing stains, you'll want to apply the product directly onto the fabric. Don't pour it on, but rather, apply Pine-Sol to the spot using a rag or sponge.