What's The Best Paint Finish For Your Kitchen Walls?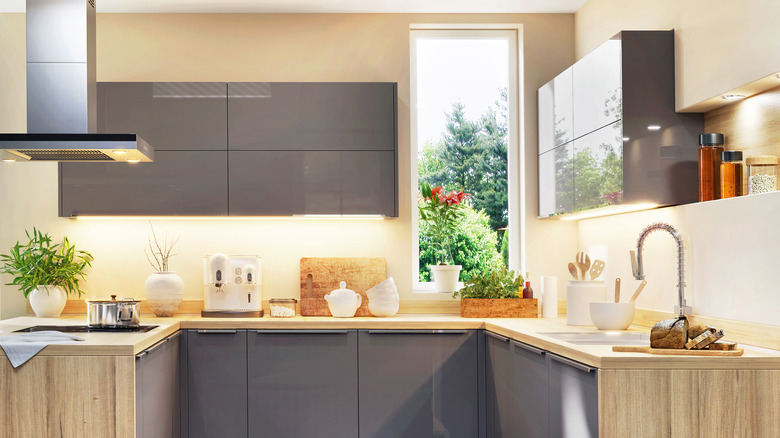 Sl-f/Getty Images
Generally, kitchen walls witness more action than any other wall in your house. From grease, food stains, and smoke to heat, moisture, and accidental spills. They see it all, making it necessary to pick a paint finish that can withstand all that you throw its way (literally). This makes satin and semi-gloss paint finishes an excellent option if you'd like to keep your kitchen walls looking shiny and new. The type of paint finish you choose will determine the glossiness of your kitchen walls and impact your kitchen's overall vibe and look.
So, it's important to choose a paint finish that suits your kitchen aesthetic, but not without considering its durability, ease of cleaning, gloss index, and ability to hide imperfections. Further, if you don't want your kitchen wall's textures to be damaged or for your paint to begin peeling shortly after you paint it, choose a finish that's moisture-resistant to prevent mold growth and mildew in the background.
Choosing between satin and semi-gloss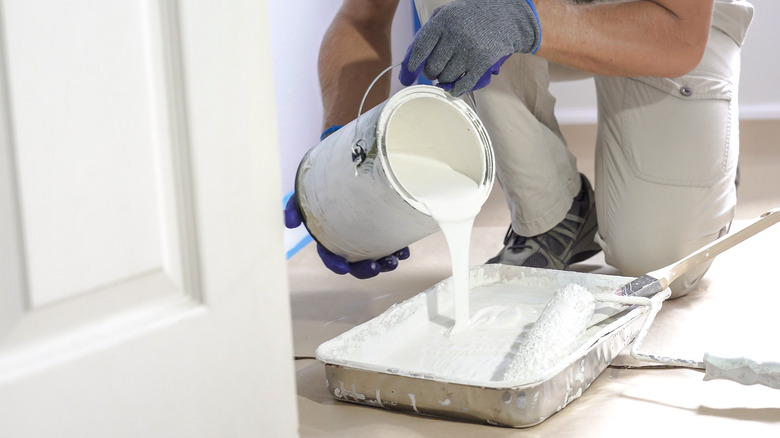 RightFramePhotoVideo/Shutterstock
Satin and semi-gloss paint finishes work wonders for all types of kitchens and are the perfect choice for kitchen walls. But choosing between these finish types can be difficult when you don't fully understand them and their unique advantages.
Since a semi-gloss paint finish contains 40% to 70% gloss, its sheen reflects light that'll make your kitchen walls look bright and shiny without turning your space into a neon zone. The high gloss content makes this finish easy to clean and resistant to moisture. On the flip side, this paint finish will highlight the cracks and creases in your kitchen wall's texture.
The satin paint finish, meanwhile, is a cross between matte and gloss and reflects light to brighten your space. It's less shiny than semi-gloss and will lend your kitchen walls a velvety look and feel. The best part is that this paint finish is durable, moisture-resistant, wipeable, and capable of hiding a kitchen wall's imperfections. Though it's perfect for heavy-duty kitchen walls, satin takes a long time to dry.
The case against other paint finishes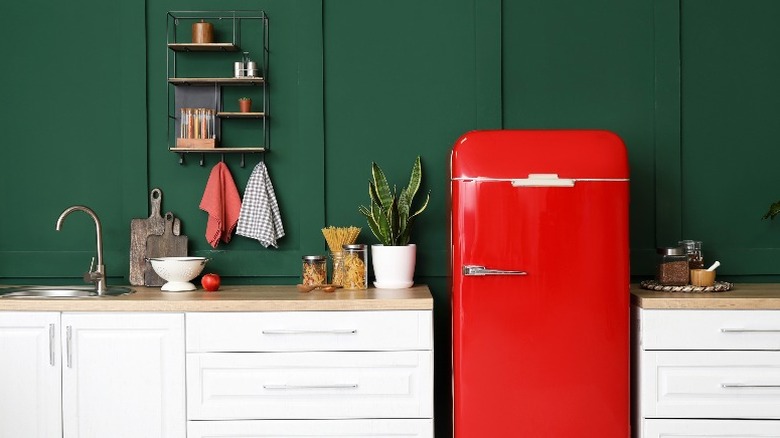 Pixel-Shot/Shutterstock
While you might be tempted to use a matte, eggshell, or high-gloss paint finish, refrain from using any of these on your kitchen walls. Wondering why? Well, though a matte paint finish is perfect for minimizing wall texture imperfections since it absorbs light (making your walls look smooth and elegant), this finish is also difficult to clean. In a kitchen, the paint layer might get chipped with a little elbow grease.
As for an eggshell paint finish, while it's often confused with satin, it's less glossy. That's not to say this finish isnt shiny. Resembling the sheen of an eggshell, this paint finish reflects light without being over the top. But its lack of gloss affects its durability, making it more suitable for ceilings and walls that don't require constant cleaning (like in a kitchen).
High-gloss paint finishes are known for their glossiness and durability. Being extremely lustrous, this finish can withstand constant cleaning — but will showcase texture imperfections.