How Christina Hall Turns A Regular Kitchen Backsplash Into A Stunning Art Wall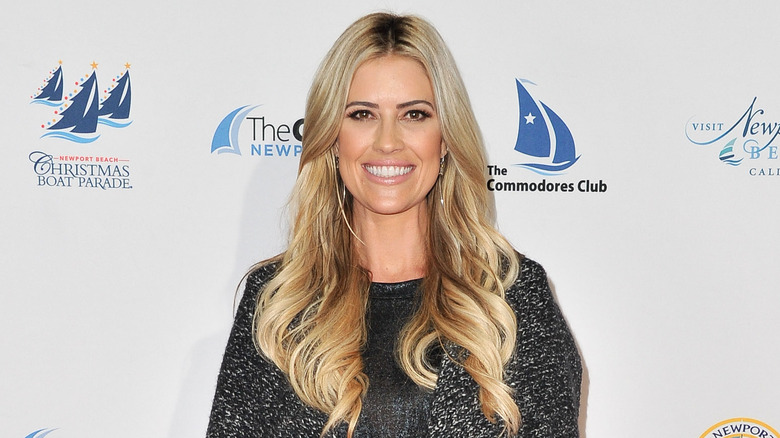 Allen Berezovsky/Getty Images
In most kitchens, white subway tiles are used on the backsplash, which can look sleek but are also overdone and boring. When working with clients that prefer a glamorous style in Season 3, Episode 6 of HGTV's "Christina on the Coast," Christina Hall turned their kitchen backsplash into a unique feature. To do so, she traded plain white tiles for something a little louder to create what she called an "art wall," per Realtor.com. She chose a skinny vertical tile pattern that has both white and silver reflective pieces, which covered a large wall in the homeowner's kitchen.
In the comments of an Instagram post that showcases the tiled wall, fans of the show ask where to find the gorgeous backsplash. "What is the backsplash in this kitchen called?" one person asked (via Instagram). If you're wondering the same thing, there are a couple of options that look similar, including the Midtown Sense Random Mosaic Wall Tile from Wayfair, that's made out of vertical stripes of glass. If you want a gold metallic feature, there's also the Bespoke Stacked Astral Mosaic Tile from the Tile Bar.
Benefits of creating a metallic art wall
The first benefit of creating a metallic art wall is that the tile choices mentioned previously are much cheaper than other options. The glam-loving homeowners first chose a gorgeous backsplash for their kitchen but soon scraped the idea when they discovered it would cost over $300 per square foot. Instead, Christina Hall helped them decide upon the metallic vertical tiles that were more budget-friendly. They also saved money by isolating the backsplash to one wall, making it more of a focal point. "Say you find a backsplash that you love but you can't afford it, an option is to do a cutout of it," Hall told PopSugar. "The rest of the backsplash you can do more of an inexpensive tile."
Another benefit of this type of backsplash is that the vertical stripes will direct the eyes toward the ceiling, giving the illusion that the kitchen is taller. This could be especially beneficial in a cramped space, as it will expand the area without knocking down any walls. Further, the reflective pieces will bounce light around the room, which will make the kitchen feel brighter. Finally, because these tiles are so bold, they're sure to make your home feel more luxurious. 
How to create an art wall in your kitchen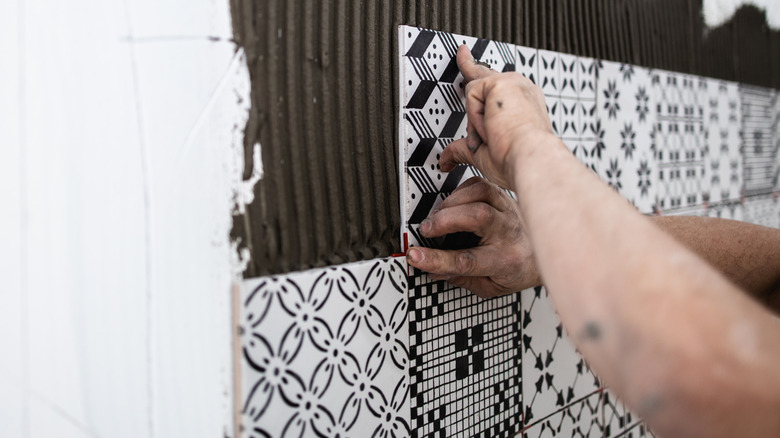 Group4 Studio/Getty Images
If you want to follow in Christina Hall's footsteps and create an art wall in your kitchen, start by choosing the right backsplash material. While a metallic look would work perfectly for those who love a luxurious style, others may want a more natural appearance, perhaps with stone. Next, choose where you want to install the tiles, isolating them on one wall. If your backsplash is metallic, it's best to position the material across from a window or a bright light source, as this will illuminate your space.
Then, if you decide to fill in the other walls, choose something neutral that won't distract from the bold art wall, such as subway tile. It's also best to decide upon neutral countertops, like quartz with subtle veining, since your art wall will undoubtedly be the focal point in the space. Finally, decide upon the rest of your features; if you want to mimic Hall's design exactly, choose wooden cabinets and brass handles.