10 Furniture Ideas For A Mid-Century Modern Home
Photographee.eu/Shutterstock
Mid-century modern is a popular décor style based on interior design trends that emerged around the middle of the 20th century. Mid-century modern design mixes elements from that time period with more modern touches that reflect society today. The Spruce explains that the overarching goal in the 1950s and 1960s was to create simple, yet practical spaces. Interior design was focused on the nuclear family and maintaining ideal functionality for the inhabitants of the home. 
The furniture featured in mid-century modern design is often wooden, traditionally made of teak, rosewood, or oak. Staples include simple and purposeful pieces such as tables or desks. Bright accent colors are often incorporated to highlight the wooden furniture. The sofas and chairs are often rounded or curved, a prime example being the iconic Eames lounge chair that is perhaps one of the best-known designs of the mid-century era. Though wood is the most common material, metal, glass, and vinyl are also frequently used. For a beautiful mid-century modern home, try using vintage elements from the mid-20th century in combination with more contemporary pieces well-suited for today.
1. Wooden storage cabinet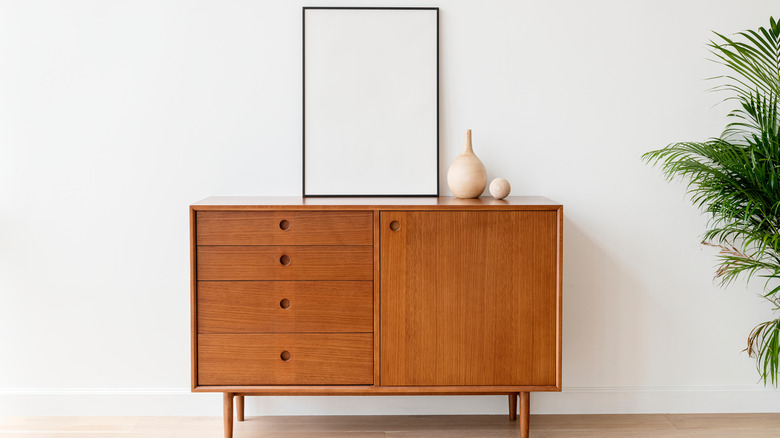 Rawpixel.com/Shutterstock
A wooden storage cabinet is a perfect furniture piece to incorporate into your mid-century modern home. Made from popular woods of the era, such as teak, it will add both functionality and sophistication to any space.
2. Wood desk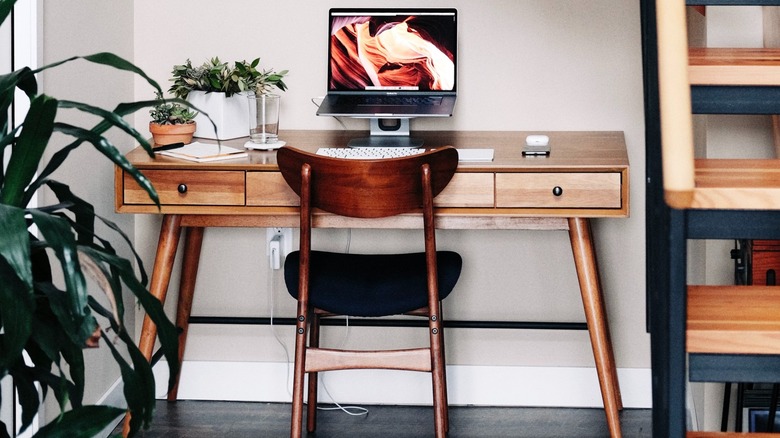 Conor Sexton/Unsplash
If you work from home, having a desk is essential. A desk resembling the popular designs from the mid-20th century will provide much-needed functionality while tying into similar décor throughout your home. 
3. Unconventional coffee table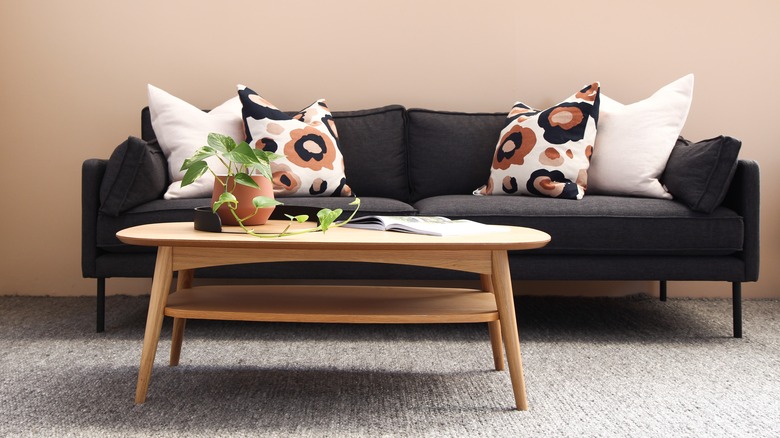 Nathan Oakley/Unsplash
Coffee tables are a practical design element for your living room, and there are tons of mid-century modern designs you can choose from. A round or unusually-shaped coffee table will provide visual interest and serve as a focal point for the room. 
4. Eames chair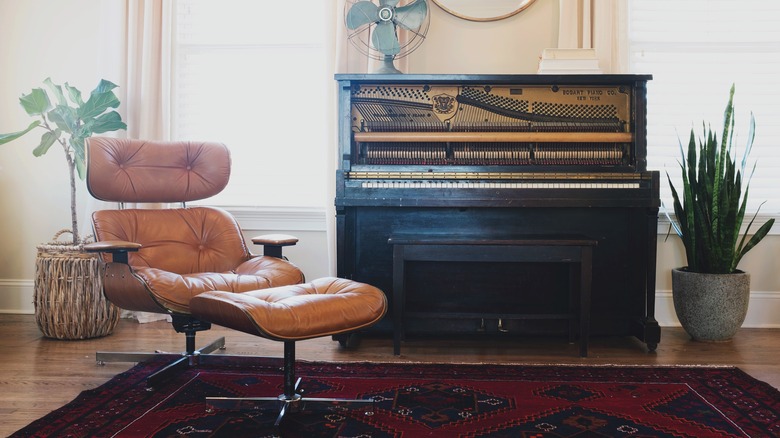 Lauren Mancke/Unsplash
The Eames chair is an iconic design introduced and popularized in the 1950s. Still highly sought-after today, the chair has sleek, rounded edges and leather cushioning, making it a perfect fit for any mid-century modern home.
5. Curved molded plywood chair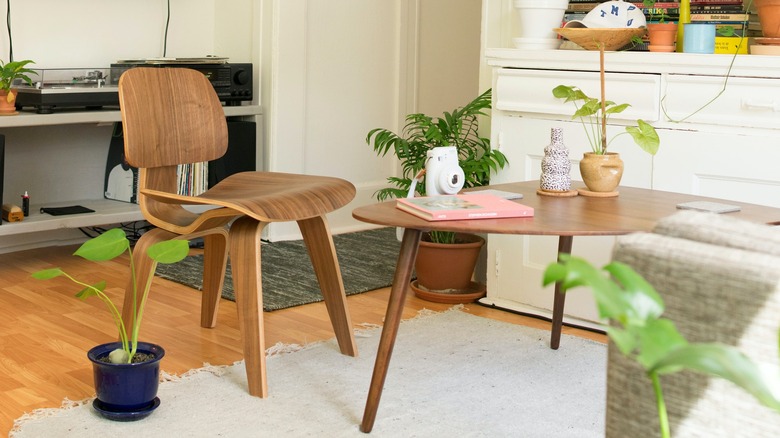 Patrick Perkins/Unsplash
Whether used for dining tables or seating in a living room, molded plywood-style chairs are a great mid-century element to incorporate into your home. Their curved lines and sleek form lend elegance to any space they inhabit. 
6. Wooden shelving unit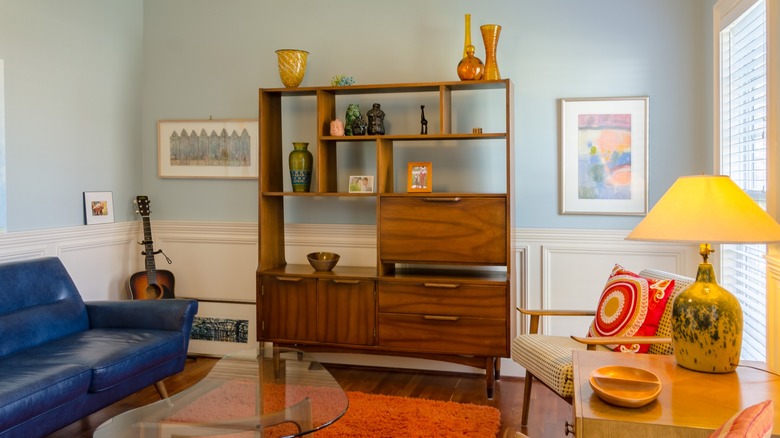 Jens Behrmann/Unsplash
Sticking with the theme of functionality, a wooden shelving unit is a furniture piece that fits beautifully into a mid-century modern home. Some wall-mounted units are even customizable, providing storage and giving you space to display décor and knick-knacks exactly how you like.
7. Mid-century modern couch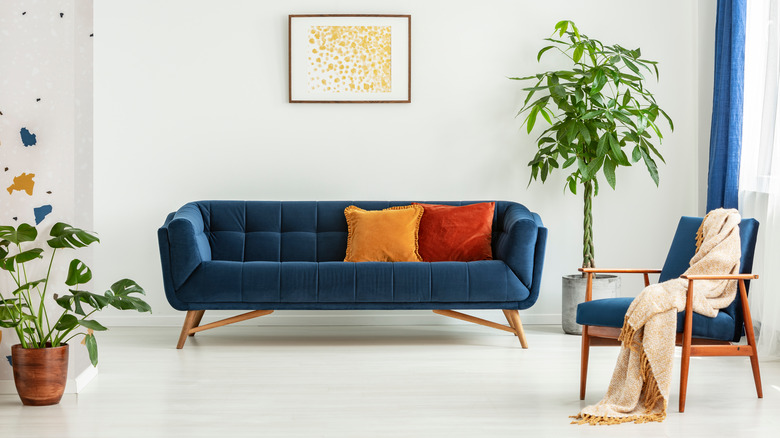 Photographee.eu/Shutterstock
A popular design trend seen in many homes today is the addition of mid-century modern couches. These couches typically have wooden legs and curved cushions, sometimes in bright colors.
8. Wood dining table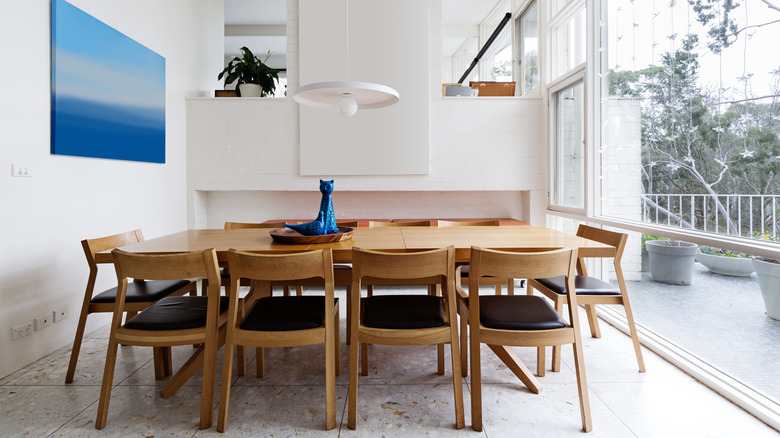 jodiejohnson/iStock
A dining table is an essential, multi-functional element of home design. Including a teak, oak, or rosewood dining table will undoubtedly add to the
 the mid-century modern aesthetic you wish to create.
9. Wood credenza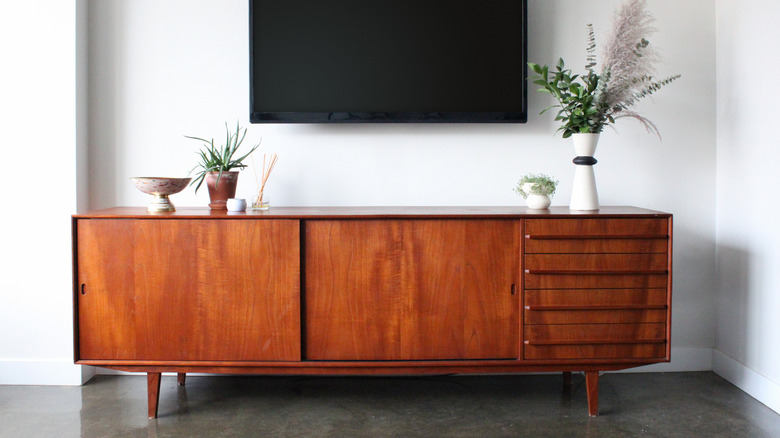 captainsecret/iStock
A wooden credenza is another popular element often seen in a mid-century modern home scheme. These storage units strike the perfect balance of beautiful design and functionality. 
10. Mid-century bedroom set
Karina Lallande/Shutterstock
A wooden bedroom set is a wonderful way to maintain cohesion and add mid-century modern design to your bedroom. Try pairing your wooden bedroom set with neutral-toned linens for a cozy feel, or use brightly colored textiles for a more lively atmosphere.