20 Creative Home Coffee Bar Ideas That Will Inspire Your Inner Barista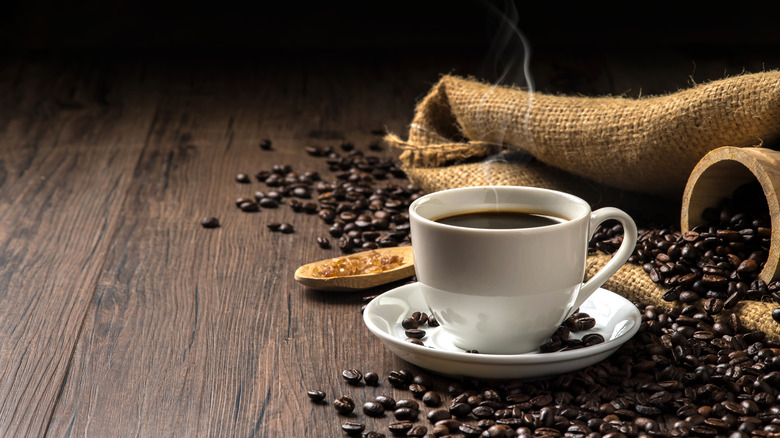 Kingmaya Studio/Shutterstock
Who doesn't love a hot cup of coffee in the mornings? It's the standard breakfast sidekick, the one that helps wake us up after the sun rises and gets us in the mindset to tackle whatever the day brings. According to the National Coffee Association (NCA), 62% of Americans drink coffee every day, with the average drinker having three cups or more. That's a lot of love for the caffeinated beverage!
Home technology has made it easier than ever to get that morning joy while still in pajamas getting ready for the day. Some examples are home espresso bars, coffee makers with timers, and coffee grinders for the freshest brew. Then you have the different types of coffee, according to WebstaurantStore, including drip, cold brew, pour-over, espresso, Americano, and cappuccino. Since we've established that coffee is a staple in many households, home coffee bars have become a design element that blends both beauty and functionality. We've compiled a list of 20 creative home coffee bar ideas that will inspire your inner barista. So grab a cup and check out these ideas.
1. Chalkboard wall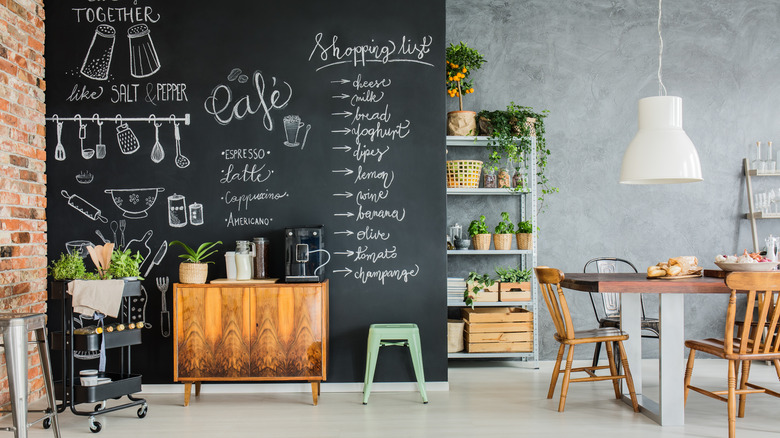 Photographee.eu/Shutterstock
We love this idea for a chalkboard wall near the coffee station. Not only does it add character and acts as an accent wall to the space, but it is also a fun way to keep track of reminders, grocery lists, recipes, or even have a section for the kids to draw!
2. Floating shelves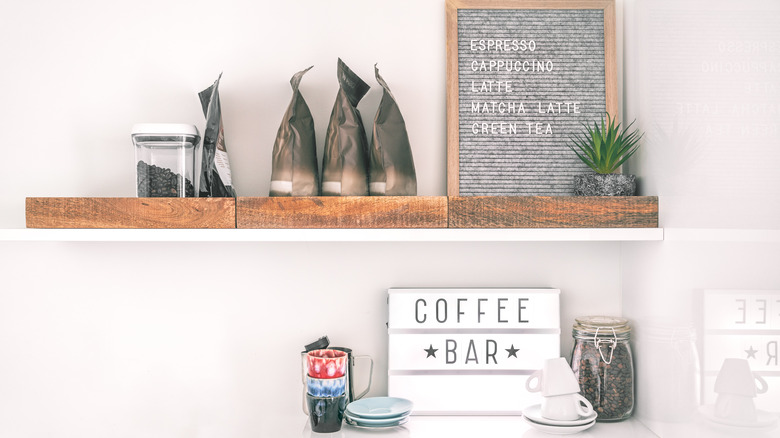 Maridav/Shutterstock
Floating shelves are a beautiful way to contrast a white wall, especially if you are a renter. The interchangeable signs and coffee bags and beans are clean and tidy, and it lets guests know that this is where coffee is made and served. 
3. Coffee nook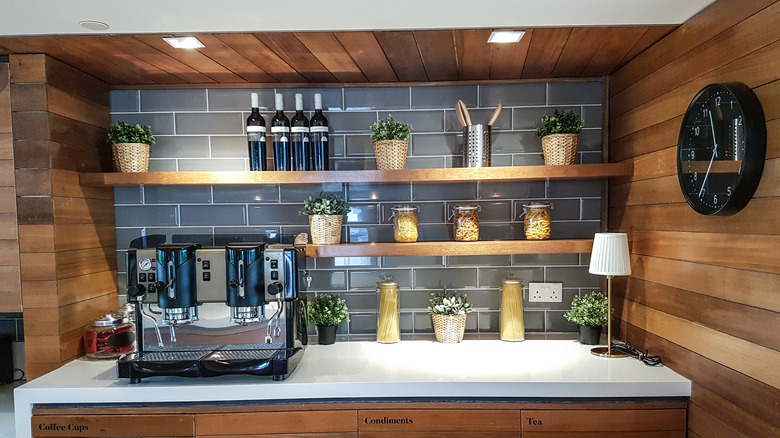 Lester.s/Shutterstock
If you have a nook in the home that you want to breathe new life in, consider turning it into a coffee bar. For example, you can convert an office space, reading area, or any sunken home area. Decorate as you want, although we do love the contrast of gold and silver metallic in this one.
4. Cute containers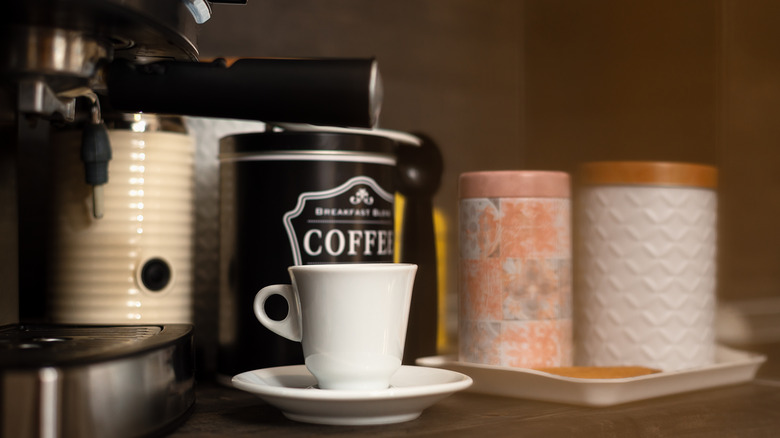 22Images Studio/Shutterstock
Mismatched containers can definitely have a place at the coffee bar. Take a trip to the local thrift or antique store and pick out canisters that can be used as coffee bean containers or additions like non-dairy creamer and sugar. They add style and uniqueness to the station without trying too hard. 
5. Only essentials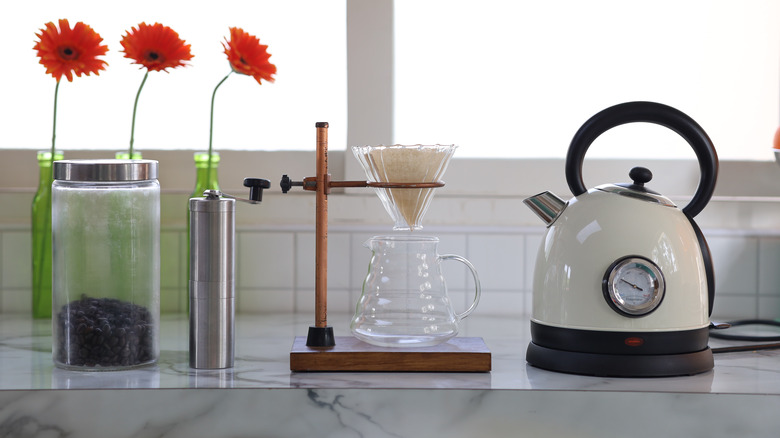 ChungPhotoMan/Shutterstock
Sometimes simplicity wins, especially when getting up first thing in the morning to make some coffee. We love the use of bright, pretty flowers in the corner with only essentials to make that favorite cup of coffee (drip kind in this case). 
6. Sit and sip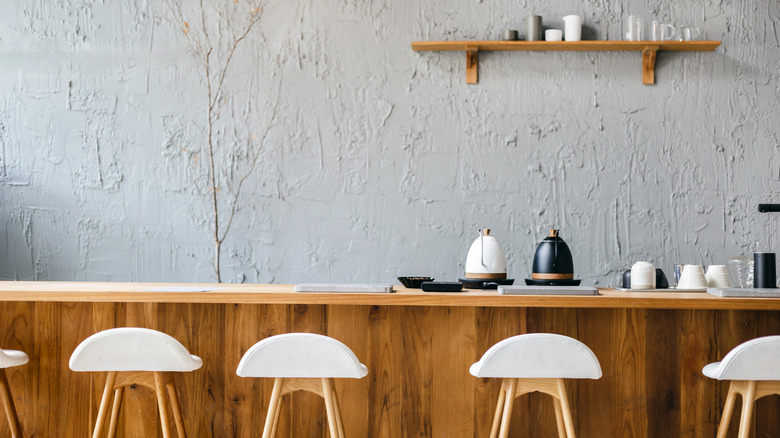 Lek_charoen/Shutterstock
Instead of making coffee and drinking it while getting ready in the morning, how about sitting at a table designated for sipping and enjoying it for a minute? Stools are an easy addition to a home coffee bar that doesn't take much room and encourage you to sit down and enjoy the beverage.
7. Bright lights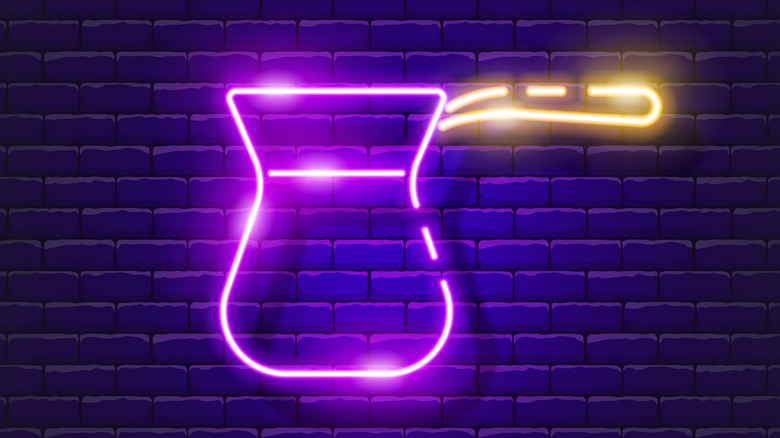 RSplaneta/Shutterstock
If you have a small area with an accent wall painted boldly, add a neon sign that is all about coffee, and guests will know where to go for a cup of joy. This one is simple and doesn't need words to showcase that coffee is served here.
8. Take it outside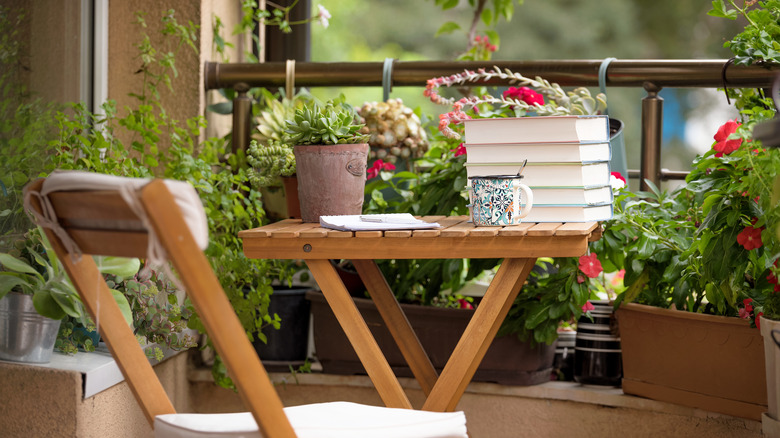 Isa Long/Shutterstock
Who says you need to drink coffee inside only? Take it outside in the morning and enjoy the fresh air and sounds of the birds and trees before the day takes off. This might become your favorite morning ritual yet.
9. Mugs nearby
A fancy machine looks beautiful on a kitchen counter but paired with an array of fun mugs nearby on a rack, you've got yourself a coffee station. Displaying the mugs keeps the area designated, clean, and ready for when that cappuccino is done.
10. Colorful background
Play with colors like this red and pink combination for a unique coffee bar. This kitchen corner has a color-coordinated placement that is both fun and unique. Pick your favorite color combination and play with a pattern (like stripes) or a bold hue.
11. Decals
Have some fun with wall decals that are all about coffee time. There are so many different fonts, colors, and styles that it's easy to find a set that works with your style. Coffee can be fun, and what better way to showcase it than with these (often removable) decals?
12. Simplicity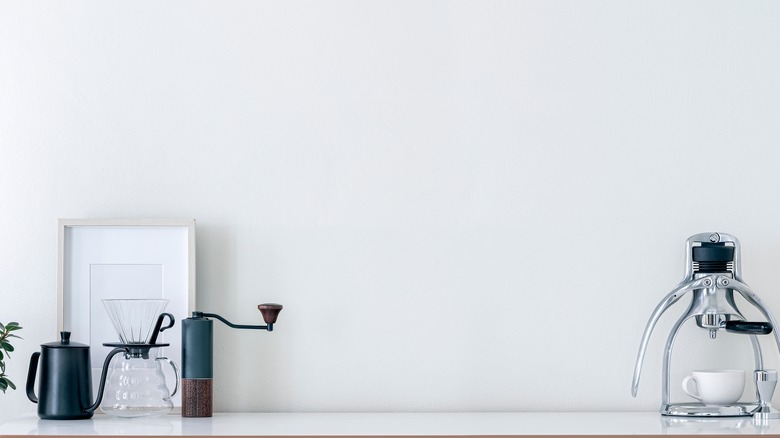 nampix/Shutterstock
This ultra-simple setup doesn't need any signs or words that lend themselves to a coffee bar. Let fancy, beautiful, modern appliances like this coffee grinder and machine do the talking. A delicious cup of coffee is coming right up.
13. Section with greenery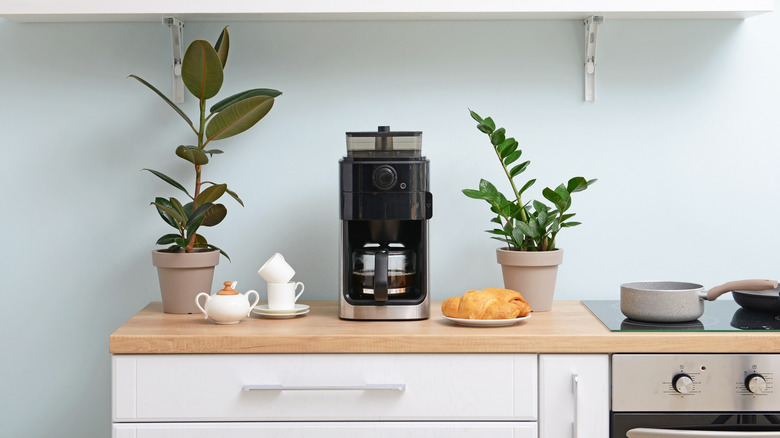 Pixel-Shot/Shutterstock
If you don't have a corner to designate as a coffee bar, take a side of the kitchen and section it off with beautiful plants. A simple coffee maker with matching sugar and milk accessories is sometimes all you need. Even though it won't be in a separate area, you can have a coffee while making breakfast!
14. Clear containers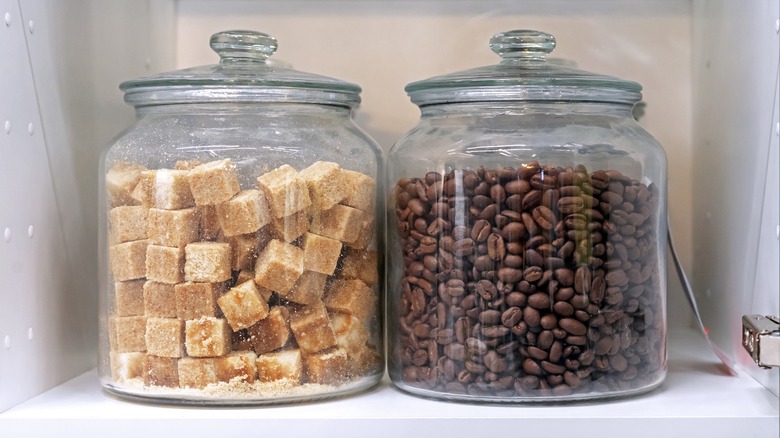 valemaxxx/Shutterstock
The makings of a good cup of coffee can be quite beautiful, with dark beans, sugar cubes, and little containers of creamers. Showcase those in large containers so that you are not only excited to enjoy that cup but know where everything is the second you wake up.
15. Tray table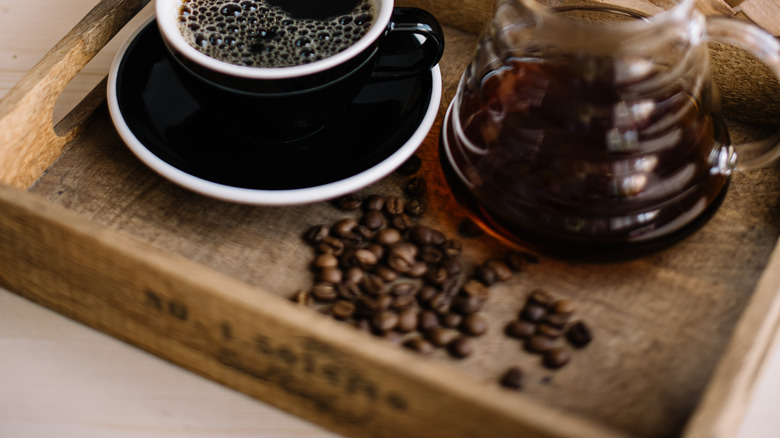 AnastasiaNess/Shutterstock
Sometimes counter space can be a luxury, and no one said a coffee bar had to be on it. A large tray can work just as beautifully. Plus, it's easily mobile, taking your espresso wherever you go. Find a tray that fits your style, and decorate it with pretty flowers if you'd like.
16. Add flowers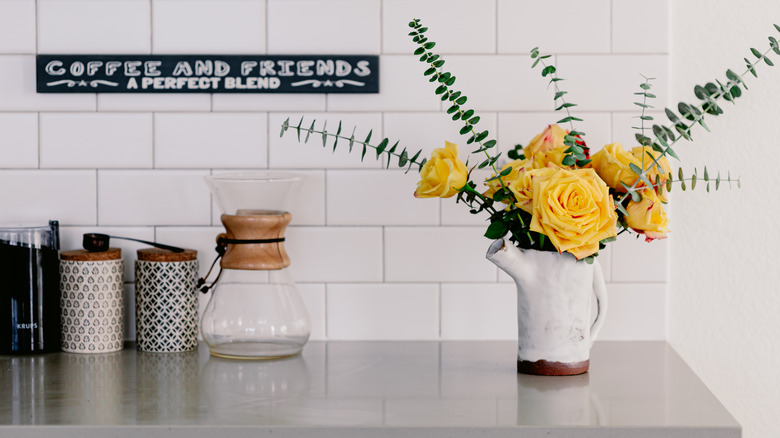 Regina Foster/Shutterstock
Let flowers and coffee hang out together in a home station all about the morning. Pick out fresh flowers from the farmers market, grocery store, or floral shop and pair them next to your favorite coffee supplies. A happy and bright way to get your morning macchiato.
17. Coffee time sign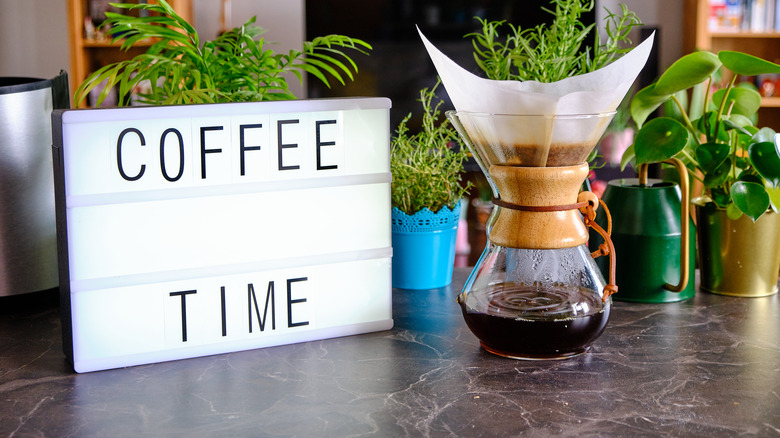 Tarik Kaan Muslu/Shutterstock
Illuminated lights are making a comeback, and what better way than to announce that it's time for coffee? These are great, inexpensive, and thin items that add a bit of fun to the coffee bar and can easily be leaned on a counter, or as in the picture, in front of beautiful plants.
18. Use a table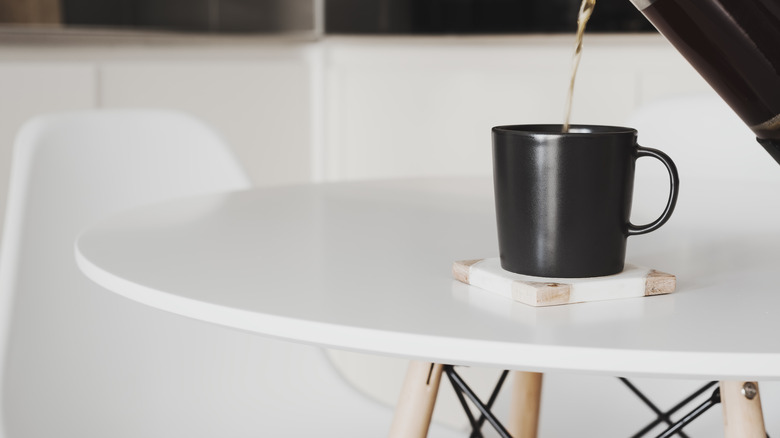 VeronikaSmirnaya/Shutterstock
A coffee bar can also be a side table that can have a designated spot in the room for that purpose. While we wouldn't recommend putting a full-size coffee maker on a side table, an espresso maker or French press would look so chic.
19. Coffee cart
A simple cart like this one can be great for keeping everything in your coffee bar organized, with the added advantage of being able to move it around. Place essentials and décor on top, and fill in the bottom with sugar cubes, creamer, coffee beans, and even some flavored syrup.
20. Color-coordinated nook
Try a monochromatic look by keeping everything in the same color family or even the same shade. For example, these white and light brown kitchen containers look great in a little nook. Add some matching coffee mugs, and the coffee bar is set!