The Benefits Of Using Fabric Grow Bags In Your Garden
Rukawajung/Getty Images
We may receive a commission on purchases made from links.
When you think about container gardens, large planters may be the first thing that comes to mind, but there's a relatively new product on the market that home gardeners love: Fabric grow bags. Although they are available in different materials, the most popular options are made of felt material that is dense enough to hold in soil and moisture but porous enough to allow for efficient airflow and removal of excess water. Fabric grow bags are specifically made for outdoor growing — the free flow of moisture does not make them suitable for houseplants. They're attractive enough for a raised flower bed and sturdy enough for fruits and vegetables throughout the season.
There are a few things to consider before purchasing fabric grow bags. If you live in a particularly hot, dry climate, it could be difficult and cost-prohibitive to keep the soil in your bags moist enough for your plants to be healthy. Unlike terra cotta, plastic, and ceramic pots that tend to hold in moisture, fabric grow bags allow water to evaporate much more quickly. Grow bags are also not as sturdy as other types of containers. If you have a dog who likes to tear things up, your bags may not last long. So, now that we've covered some of the cons of grow bags let's discuss some of the many benefits.
Inexpensive and convenient raised gardens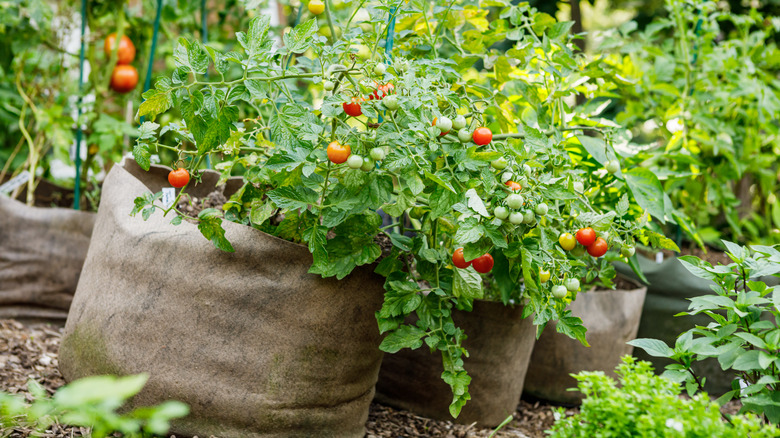 Eurobanks/Getty Images
Perhaps the biggest benefit of fabric grow bags is their price. You can get a 12-pack of 10-gallon bags for around $25 on Amazon. That's enough space to grow quite a lot of food. This is a particularly good option if you are just starting your gardening journey because they give you the experience of growing a garden without a big upfront expense. Instead of building or buying full garden beds, you can try gardening for the minimal cost of bags plus soil and amendments.
Raised gardens are an excellent option for people who do not want to spend a lot of time on garden maintenance, like weeding. They are also helpful for those with mobility issues that make bending for prolonged periods or other types of arduous garden work difficult. Most grow bags are at least 12 inches tall, making them a good height to use with a rolling garden seat (via Amazon) or bench (via Amazon).
No lawn needed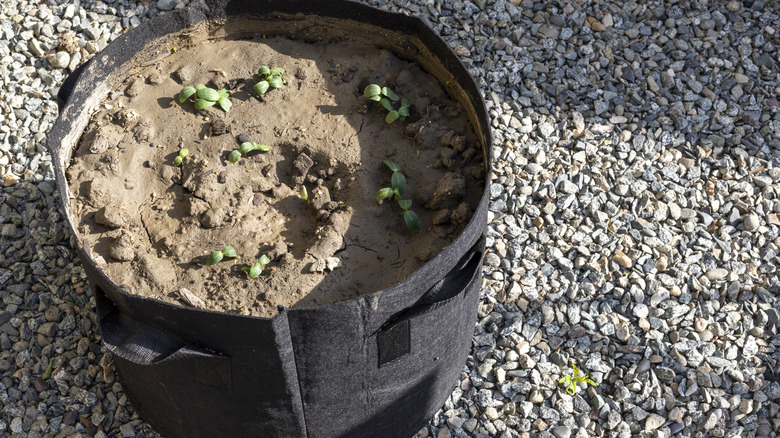 Bilal Photos/Getty Images
Apartment dwellers and renters, rejoice! You can still enjoy having a garden even if you do not have a lawn. If you have a sunny patio, a collection of fabric grow bags are a great way to grow flowers and food. You do not need a large garden to reap the benefits of nature, as a patio full of vegetables, herbs, and flowers is a beautiful place to spend extra time, enjoy the fresh air, and get a bit of low-impact, relaxing exercise.
Growing bags may be a good option if you have a lawn but rent a home where the owner will not let you till. If you have a porch or patio that gets full sun, this is an efficient way to grow some of your own fresh produce while keeping the landlord happy. Of course, you can use grow bags anywhere there is sufficient sunlight and access to water, but the dense nature of any planter will kill the grass beneath it. Be sure to check with the home's owner to make sure you do not place your bags anywhere it might affect whether or not you get your deposit returned.
They're big enough to grow almost anything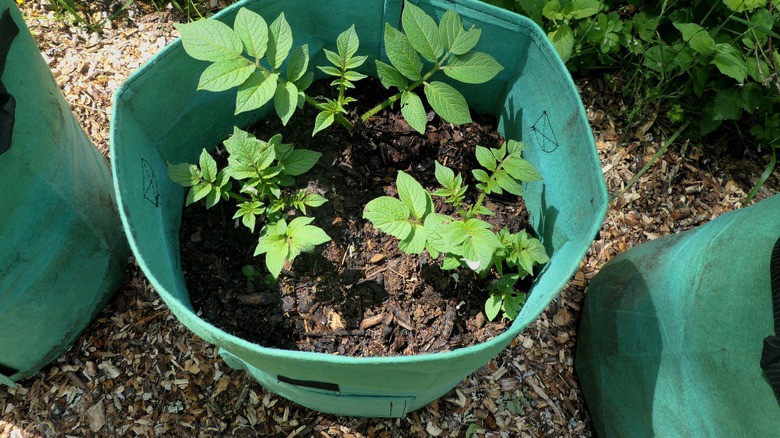 Stephen Farhall/Shutterstock
Grow bags come in a variety of sizes. The smallest options hold about 1 gallon of soil. This size is big enough for smaller vegetable plants or those that grow vertically, like lettuce or pole beans. The most common sizes are 5 and 10-gallon bags. They are small enough for a patio garden or other tight area, yet big enough for at least one tomato plant combined with a few small herbs or flowers to make the most of your space.
If you're looking for something more similar to a single raised bed, this 100-gallon fabric grow bag from Amazon is 50 inches in diameter and large enough to grow several plants. If potatoes are on your list of vegetables to grow, you can find specialty bags with flaps that allow you to access a few potatoes at a time without having to harvest the entire plant, like these from Amazon. Just think — we live in a time when you can have access to potatoes on your patio on an as-needed basis. What a time to be alive!
Easy to rearrange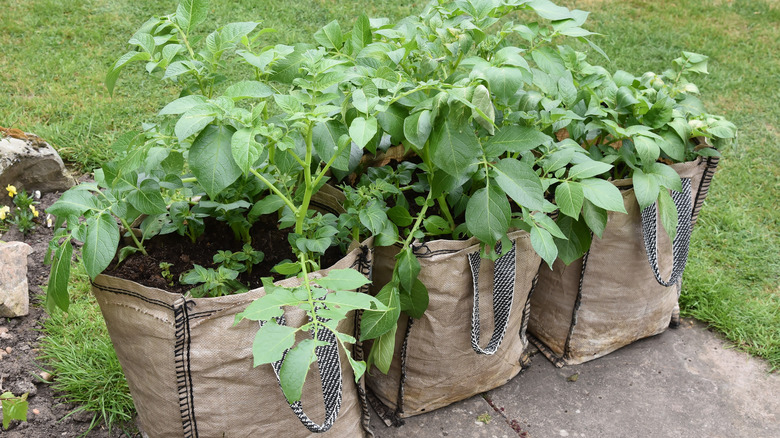 Angela Lock/Shutterstock
Have you decided you do not like where you started your grow bag garden? Maybe it is in an area that doesn't get enough sun, or maybe it gets too much. Perhaps you just like to move things around for a more interesting design, or you placed your planters too far from the house. Whatever your reason for rearranging, grow bags are reasonably easy to move. Unlike large, heavy planters or in-ground beds, these fabric bags weigh next to nothing — although the soil they contain can be pretty heavy.
To lighten the load and make your bags easier to move, you can remove some of the soil into a wheelbarrow and replace it when the bags have reached their next destination. Also, waiting for a period of dry, sunny days will cause the soil mix to evaporate. Soil is much lighter when it's dry than when it's wet. While planning your container garden, consider the benefit of using lighter soilless mixes if you think you may move your bags. Peat or coconut coir is super light when it's dry and blends well with compost to provide a healthy soil medium that is light and airy.
When you move, they move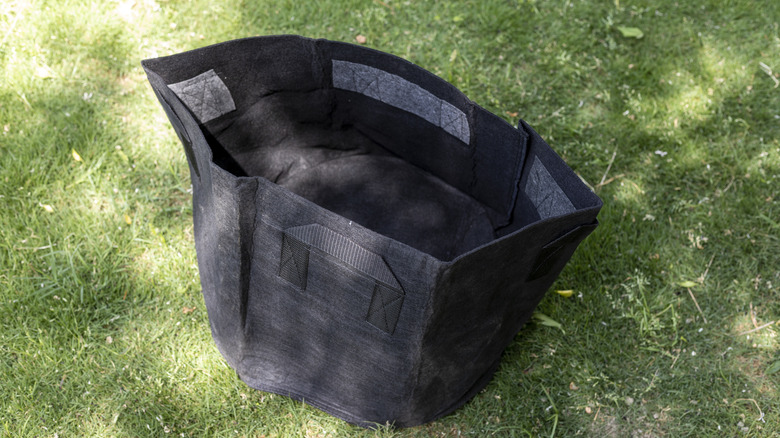 Bilal Photos/Getty Images
For those living a moderately nomadic lifestyle, grow bags are a convenient way to have your garden and move it too. Whether you move a lot for your job or just like a frequent change of scenery, these containers are easy to take with you. If you have room in your moving van, just let them dry out and move the bags, soil and all. If you're pressed for space, dump the soil and fold up the bags. They take up almost no space, and all you have to do when you reach your new home is add fresh soil mix. Sure, you could pack and move solid containers, but they take a lot more room and can be significantly heavier than grow bags.
Whether you're trying to save money on your first container garden or are limited to patio growing, consider grow bags. They are cheap, convenient, and — most importantly — they work! You do not need a lot of money or space to enjoy gardening. You'll just need a little time and effort to enjoy the fruits of your harvest.