How To Give Your Toilet A Pop Of Color With A Little Paint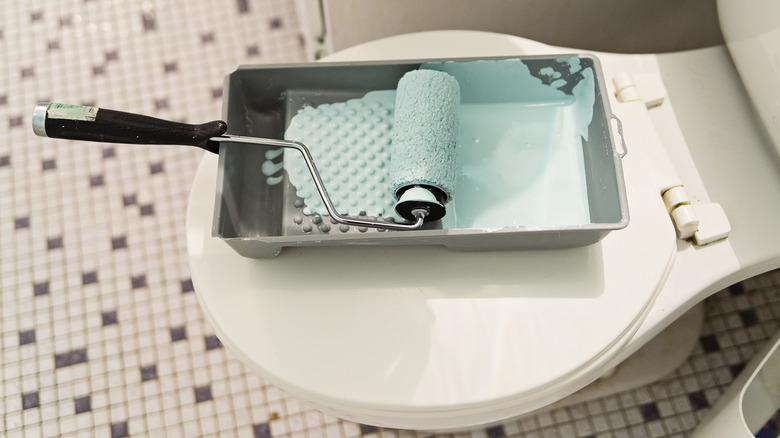 Martinedoucet/Getty Images
Is your bathroom toilet one of those old vintage models in an unsightly green, blue, pink, or (welp!) yellow? Or maybe you wish it was. Either way, you aren't stuck with the toilet color you have. You might be surprised to learn that your toilet can be painted any color you want! 
Painting your toilet can save you a lot of money if you want a different look in your bathroom without remodeling the entire room. It can tone down an outdated bathroom, or add a pop of color to a restroom that is understated. It will also make an old rundown, chipped toilet look like new.
All that for the cost of a can of paint and primer. Painting your toilet is a fairly simple process. You'll want to remove all the water and thoroughly clean your toilet. Then, you'll sand off the surface and prime everything before you paint. Add a clear coat, and you can enjoy your newly painted loo.
Preparing your toilet for paint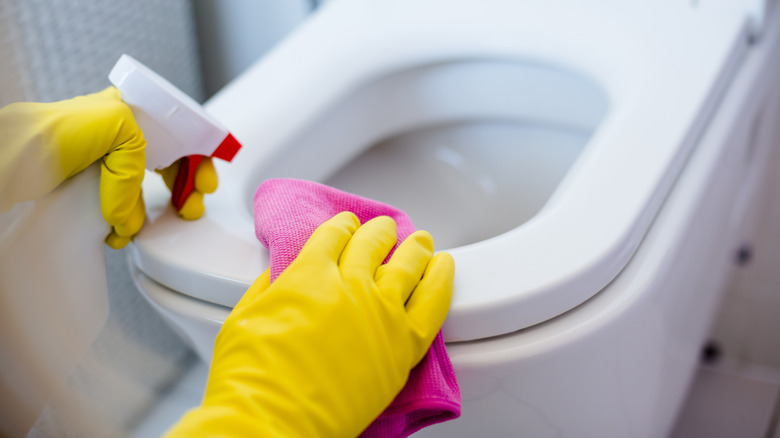 Djedzura/Getty Images
First, you'll need the appropriate type of primer and paint. It is recommended that you use acrylic latex for your primer. You have two choices for your main color: Epoxy paint is the best paint you can use, but if you can't find it in a color you like, spray paint is another option. A clear coat of epoxy will also be needed. 
The first step will be to drain your toilet water, then if you wish, you can remove your toilet to bring it outside to paint. If that's not an option or too much of a hassle, just make sure you open the windows in your bathroom and keep it well-ventilated while you paint. 
Thoroughly clean your toilet to remove any residue that can mess up your paint job. The best way to do this is to spray some WD-40 on it. Let the spray sit for at least 5 to 10 minutes before you scrub it with a brush and rinse it clean to remove any stuck-on debris. You can sanitize with bleach afterward, and be sure to remove the bolts and clean every nook and cranny of your toilet or else the paint won't stick.
Painting your toilet
Remove the tank, the lid, and the toilet seat cover to make your work easier. Next, you'll want to sand your toilet. It is recommended that you wear a mask for this part and use a grit of 120 to 160. Wipe your toilet down thoroughly to remove the dust, and make sure that your toilet is fully dry before you start applying primer. Cover the parts you don't want to get primer or paint on, such as the handle, with painter's tape.
Prime your toilet, and once completely dry, you can start painting — after the first coat dries, paint a second one. If you want to get funky with your bathroom design, you could paint a design on it or use a stencil for extra color and flare. You'll find some bold people on social media who ditched epoxy paint to do an acrylic pour with glitter for the top of their toilet tank. 
No matter how you decide to paint, it must be dry before you apply a clear coat of epoxy, which will make your toilet waterproof. When that final coat dries, you can reassemble, fill your toilet with water, and enjoy your newly painted toilet.