Why Trader Joe's Is One Of The Best Places To Score Gorgeous Hydrangeas On A Budget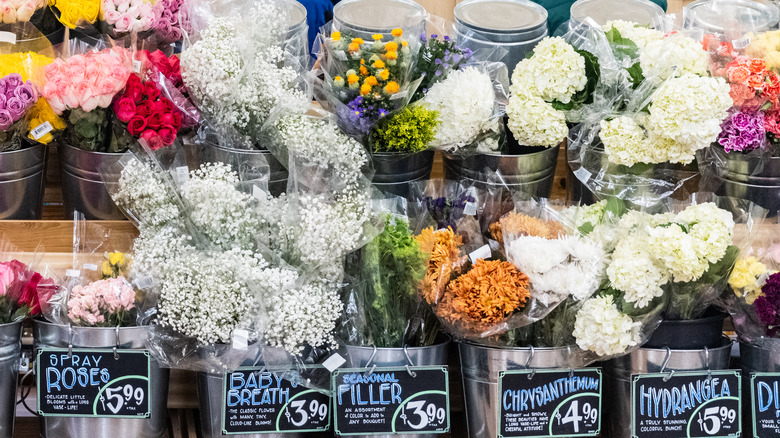 Bloomberg/Getty Images
There are countless reasons why Trader Joe's is adored by so many. Whether because of the affordable prices, delicious seasonal snacks, or amazing plant finds that keep your home pest-free, there are so many reasons to love this grocery store. Trader Joe's has become THE place to assemble perfect flower bouquets that we absolutely need in our homes. Specifically, the grocery chain is one of the best places to score gorgeous hydrangeas on a budget. The hydrangea selection is truly exceptional when it comes to both quality and price.
Trader Joe's hydrangea selection is always full and plush with petals and stems that look healthy and well-watered. You'll rarely find pieces that look sad and droopy. Since they come in such great condition, you may find that they last for days when properly cared for and perhaps even longer than they would if purchased from other stores. Not only does this grocer offer a beautiful selection of these florals, but the price is right, as a three-stem bunch of hydrangeas typically costs $5.99 each. 
The quality and cost of Trader Joe's hydrangeas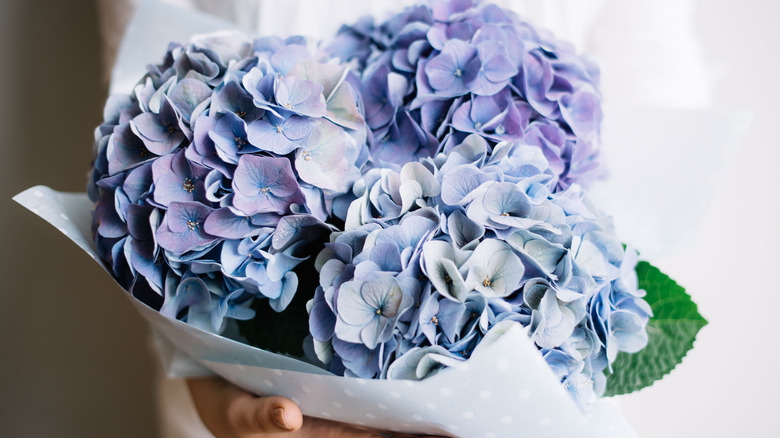 Probuxtor/Getty Images
Trader Joe's refers to its hydrangeas as "premium" because they are grown in the mountains of Medellin Colombia. The climate in Colombia allows for a wider range of growing seasons and can grow hydrangeas year-round. So, your hydrangeas from Trader Joe's will always be in season and fresh from the distributor. Additionally, the reason why this grocer is able to keep the floral prices so reasonable is because the flowers are purchased in mass quantities directly from the farms that grow them. A three-stem bunch of hydrangeas will most likely cost you more at any other store. For example, Wegmans usually sells them for about $8 each.
Trader Joe's hydrangeas are also known to last for days longer than you'd expect. To get the most bang for your buck, you should unwrap the flowers as soon as you can and cut off any leaves that would be submerged underwater in the vase. Then, dunk the heads of your hydrangeas in cool water for a few hours. Once they're done soaking, give them a wiggle to remove extra water. Next, you can trim their stems and place them in a vase, which should stay out of direct sunlight. For the best results, replace the water every single day.