TikTok Swears By This Grout Cleaner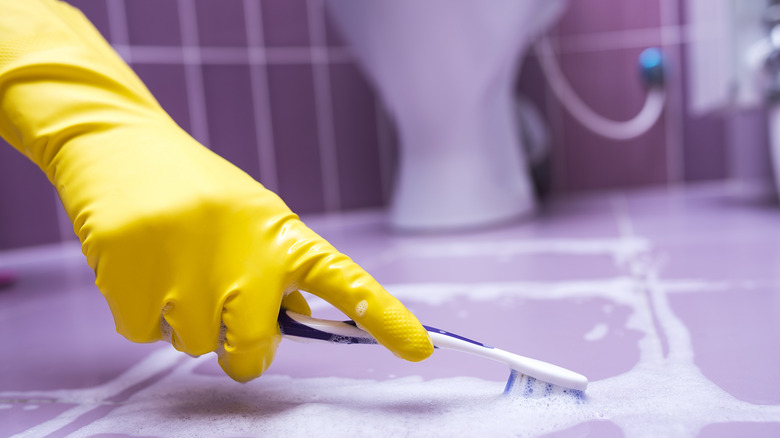 Rozhnovskaya Tanya/Shutterstock
These days, TikTok is one of the go-to sites for cleaning and household maintenance tips. While TikTok was developed as a social media platform for sharing short videos, many people have gotten creative with the type of content they specialize in, including one user by the name of Brittany, who runs the page Never Clean Enough. Brittany markets herself as someone who simply likes "to share what WORKS" when it comes to home and lifestyle hacks. She uploads videos that contain tips on how to clean specific spaces or items in the house while recommending the products that she feels are most effective. The TikTok star also records her trips to different stores to show which cleaning products she purchases and how much she buys at one time. Brittany's mind-blowing content has earned her almost 200,000 followers and thousands of likes and comments on her videos.
Back in June 2021, Brittany uploaded a video for a game-changing grout cleaner that is advertised as a brightener and stain remover that keeps colors intact. The brand is called Zep. In the video, Brittany demonstrates its effectiveness by pouring some on the grout in between the tiles in her bathroom. She refers to the product as "magical" and shows her followers how she lets it sit for three minutes before scrubbing the grout with a brush and wiping away the residue. In a follow-up video, she showed the results. Suffice it to say, they speak for themselves.
Zep leaves grout looking brand-new
Brittany's nearly 200,000 TikTok followers don't have to take her word for it when she says that Zep's grout cleaner is one of the best on the market for deep cleaning grout. In a follow-up video to the one where she demonstrates how she applies the product to her tiled bathroom floors, Brittany walks her followers through the incredible results. She scrubs the grout with a small brush before running a mop across the floor to get rid of the residue. The final shot shows the bathroom from farther away, and it's clear that the previously dirty grout is much lighter. Then, in true social media form, Brittany added a sparkle filter for added effect.
The two videos earned more than 1.4 million views between them and hundreds of thousands of likes. In the comments section on the second video, several of Brittany's followers asked her where they can buy the product. Her response was Lowe's or Home Depot. Others wrote that they had also used Zep's grout cleaner and were just as pleased with the results. One stated specifically, "Love this product! I did all the floor grout in my house and months later it still looks good." There were other users who complimented the TikToker on her cleaning expertise. Some even asked for tips on how to clean their specific type of floor and whether the product would be safe to use. And, Brittany is happy to offer her viewers advice!