Modern Amenities Plus Historic Charm Make This Maine Listing A Dream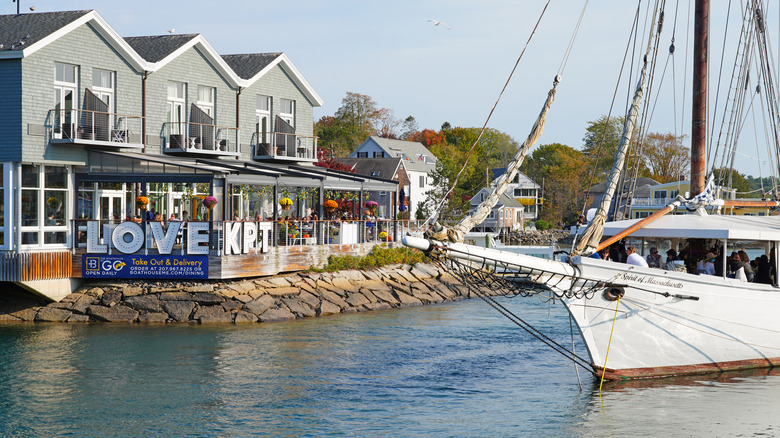 EQRoy/Shutterstock
A combination of modern amenities and historic charm contribute to the residential charm of a specific York, Maine home. This picturesque two-story home is a 1720 build, making it a little better than three centuries old. The home itself is a three-bedroom and three-bath classic, which spans 2,812 square feet. Inside the home, an overall cozy and combined aesthetic recurs. The address for this listing is 1 Southside Road, York, Maine 03909.
Beautiful hardwood floors provide visual warmth and a natural element to the structure. In general, wood is recurrent in the home, as many ceilings also reflect wooden details and wooden elements. Additionally, much of the existing furniture also complements the wooden theme. The home's color palette can be described as inclusive of whites, greyscale-tinged neutrals, browns (which complement the wooden aspects), and blues. On the Realtor.com platform, the cost per square foot is reported as $231. The current asking price, per Zillow, is $650,000.
Inside the home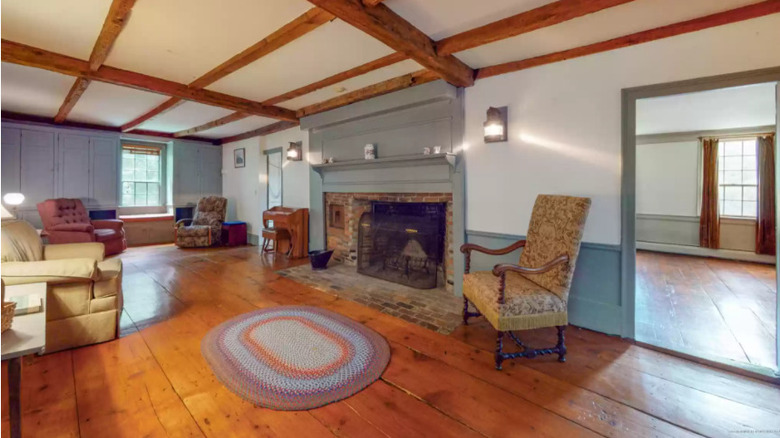 Karl Aage Isaksen/Shutterstock
In one of the home's sitting rooms, the wooden floors shine beneath a circular, knitted rug with grandmotherly aspects that complement an overall vintage furniture aesthetic. The room reflects a muted and autumnal color palette. Additional features of the space include a fireplace and a well-spaced mantelpiece above the fireplace. Throughout the home, a couple of fireplaces sit. the historic charm of this room makes it relaxing and otherwordly.
With respect to the modern amenities in the home, the kitchen reflects simple but renovated aspects. In that space, wooden cabinets and countertops not only form an island look alike but essentially hug the space. The refrigerator is a simple model with ice-making and water capabilities. An additional feature of the home is its long, tall windows, which facilitate an abundance of natural light entering the space. The overall airiness of the home facilitates a rooted but breezy feel.
Market details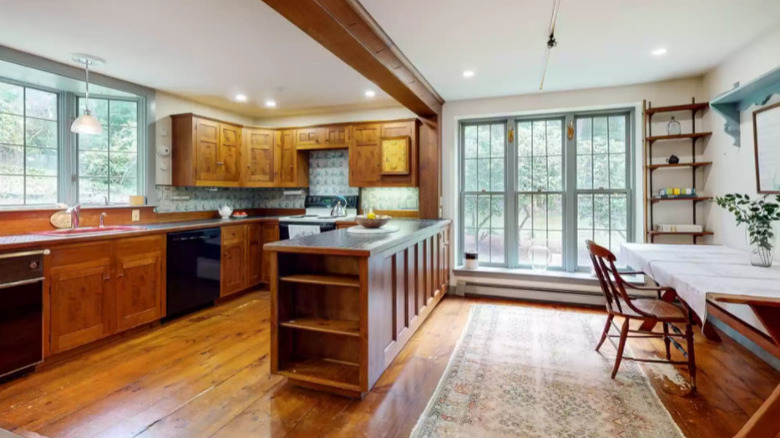 With the projected price point, the monthly payments are estimated to be $3,601 on Zillow. On Realtor.com, the estimated monthly payments are $3,323. Interested buyers should note that on Zillow, the property is listed as "pending continue to show." This phrase, like many legal, real estate, and commercial terms, has a specialized meaning.
As Rocket Homes detailed, when documented in connection with a home that is for sale, the word pending tends to mean two things. First, the buyer provided an offer for the house. Second, the seller accepted the offer. Even though an offer and acceptance have occurred, as the home seller platform explained, homes can be categorized as pending and potentially available to a different buyer based on an assortment of reasons. For example, certain contingencies may need to be satisfied in order to complete the sale, which could cause it to go back on the market and be available once again.