The Best-Reviewed Product At Home Depot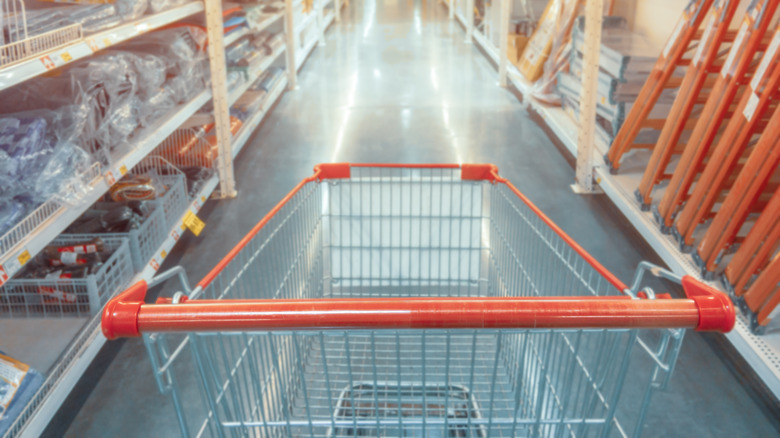 99Art/Shutterstock
Everyone knows Home Depot is a convenient place to grab anything you need for home improvement projects. While all of their products can be useful for avid renovators, some items outperform the rest. If you've ever wondered which Home Depot product has the best reviews, we did the work for you to find out. We took the time to search through ratings and find the top-rated product, so you know exactly what to shop for your next visit.
This item has a whopping 16,736 reviews and weighs in with 4.8 stars. Home Depot's Click Lock Luxury Vinyl Plank Flooring in Sterling Oak has shoppers going wild for interlocking planks. For $3.49 per square foot, homeowners can install these stylish pieces throughout their home or pick a couple of rooms to create statement flooring plans. Vinyl flooring has several benefits, including waterproof finishing and scratch-resistant coating. This specific finish is a light grey/brown wood color and gives the appearance of hardwood flooring without the steep price tag, but the product comes in a vast selection of other colors, all with similarly high reviews. Finding the best materials for your home is essential, and looking at the reviews of this flooring will leave you feeling assured in your decision.
What are reviewers saying?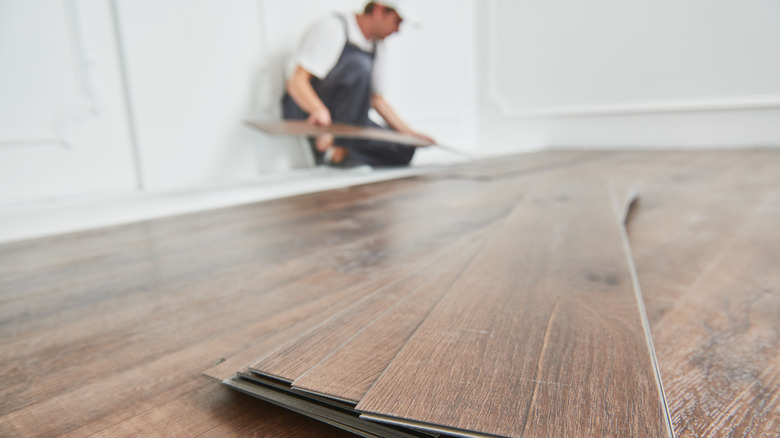 Dmitry Kalinovsky/Shutterstock
The 4.8-star ratings speak for themselves. Many reviewers commented that the finished product is beautiful and feels great underfoot. They also note that the flooring is easy to install, well made, and easy to clean. The website advertises the flooring as waterproof, with the interlocking planks keeping moisture out, giving them a long lifespan that will keep your home looking amazing for years to come. The vinyl is also scratch-resistant, and shoppers have raved about the product even after years of use. One reviewer, Havimom, went back to review the product after two years, saying, "We got this for our new dream home 2 yrs ago ...  Absolutely love, love the color & feel ... Highly recommend."
According to Mannington, one of the benefits of vinyl flooring is that they give off an authentic wood appearance, and advanced technology makes these visuals even better. Hardwood flooring is a bonus for any homeowner, but having a lifelike substitution will keep your wallet happy while giving you the feel of the real thing. Tia15, another reviewer on Home Depot's website, commented: "I LOVE my Lifeproof floor! I have received so many compliments. The floor is durable, waterproof and makes my kitchen look larger modern and bright!" Over 12,000 other customers agreed that the floors deserved five stars, backing up what Tia said.
Not everyone was sold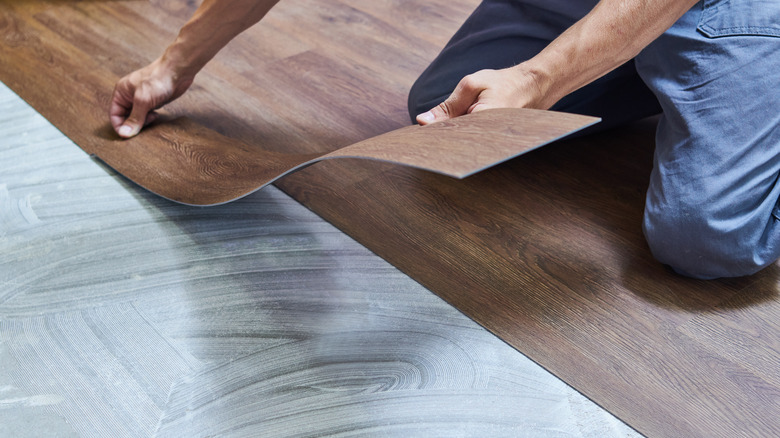 Dmitry Kalinovsky/Shutterstock
Good reviews are never universal, and the Click Lock Luxury Vinyl Flooring has its share of complaints. One reviewer said some of their planks were defective, and the coloring was off. Several customers said they had problems with the locking system, which left the floors susceptible to warping or other issues. The most common problem consumers encountered was difficulty installing the planks, which didn't easily lock like advertised. Derek, a customer who reviewed the vinyl flooring, stated that it had a "Very poor quality locking mechanism that eventually comes loose over time."
With this complaint being the most common, other consumers commented that the inability to properly lock caused the floors to become loose, creating gaps that eventually made them fall into disrepair. While a few customers agreed these floors could be better, the vast majority of reviews considered these vinyl floors a great investment and well worth the money. Overall, the vinyl flooring seems like a solid option for homeowners looking to upgrade, renovate, or design their floors, and you can't argue with so many good ratings.