The Best Way To Clean Your Concrete Floors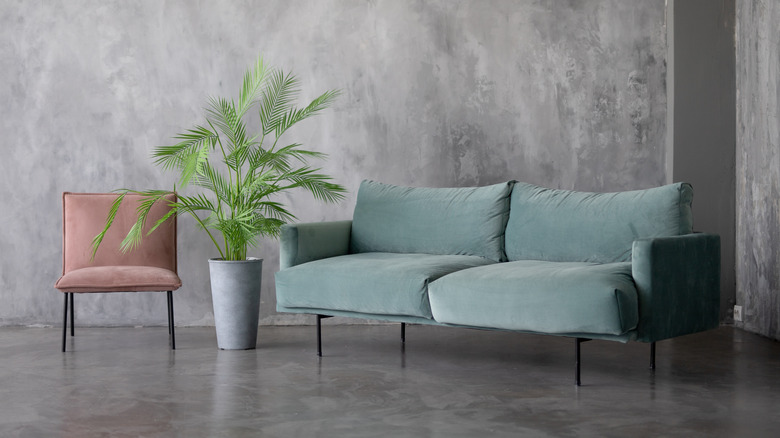 Molodid Studio/Shutterstock
Concrete floors are economical and low maintenance compared to other flooring options. For example, in high-traffic areas, carpet wears down quickly. For pet owners, carpet requires almost constant cleaning and you can never quite pick up all the hair and dust with even the best vacuum cleaner. Alternatively, concrete floors can last for over half a century with minimal maintenance, according to Concrete Network.
If you live in a home on a slab foundation, you already have concrete floors that can be stained and polished. This is a particularly economical way to update your home with low-maintenance flooring that looks great. If you are building a new home, consider installing concrete floors. Flooring specialists offer so many styles and stain options that you'll be sure to find the perfect design for your home. As an added bonus, because there are no fibers to trap dust and hair, concrete floors are great for people with allergies.
Cleaning sealed concrete floors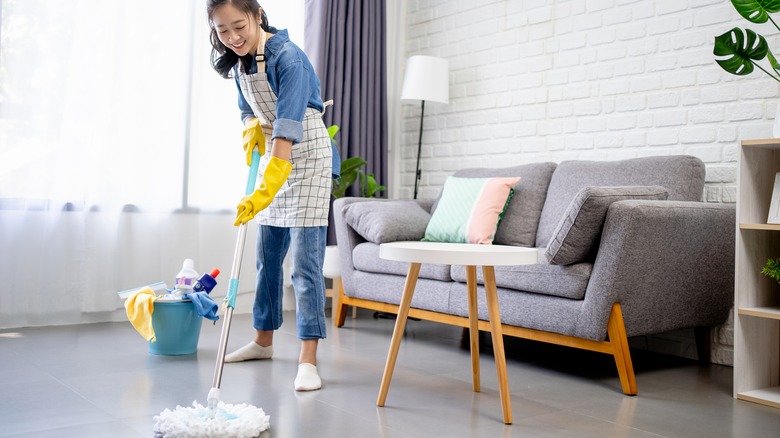 PBXStudio/Shutterstock
Sealing a concrete floor encapsulates the porous surface and makes it shiny and easy to clean. With this type of surface, the concrete cannot absorb anything. If you spill red wine on a sealed concrete floor, you can easily wipe it up. In comparison, it could take extensive work and be potentially costly to clean the same stain from a carpet or tile grout.
The best way to clean sealed concrete floors is simple and effective. It is also economical because you probably already have all the supplies you need: a broom or vacuum cleaner, your favorite kind of mop, a bucket, and dish detergent. Although you can use other kinds of mild detergents, dish detergent works well in any part of the house, and its grease removal properties make it particularly useful on kitchen floors, according to Hunker. You don't need much detergent to clean your floors, only about three drops, but you can use more on extra greasy floors.
Sweep or vacuum the space to remove larger dust and debris first. Add the detergent to your mop bucket and fill it with warm water. Then, simply mop the area with your soapy water. You'll probably be shocked at how dirty the water can get! Rise your mop and bucket and repeat the process with clean water to remove any trace of detergent. Lastly, allow the floors to air dry.
Cleaning unsealed floors
New Africa/Shutterstock
Although unsealed concrete floors are exceptionally economical, they do require a little more maintenance than their sealed counterparts. Unsealed concrete is porous, so be prepared for it to absorb anything liquid. To prevent permanent stains, Oh So Spotless suggests that anyone with this kind of flooring should clean up spills or messes as soon as possible. Pet owners in particular need to clean up indoor accidents immediately after they happen.
The supplies and process for cleaning unsealed floors are similar to cleaning sealed floors with the exception of spot cleaning first. If you have stains that have dried, squeeze a few drops of liquid dish soap directly on the spot and scrub with a cleaning brush dipped in hot water. You may have to repeat the process a few times to remove the stain. For grease stains, try a layer of absorbent material like sawdust or cat litter. Leave it for a day and then vacuum before mopping. After spot cleaning and vacuuming, mop with the same mixture used for sealed concrete floors. Go over the area one last time with fresh water and allow the floor to dry.