What The Buy It Or Build It Brothers Say To Choose First When Renovating A Kitchen
Have you been putting together a folder for a kitchen remodel and scouring HGTV and Pinterest for ideas on counters, cabinets, lighting, and layouts? When you're ready, HGTV's hosts and contractors, Calvin and Chris Lamont, from "Buy It or Build It," have a recommendation for where to start, per Realtor. They suggest choosing your oven first because its size will affect the rest of your kitchen design. While the most common oven size is 30 inches wide, upscale brands like Wolfe, Fisher & Paykel, and Thermador sell double ovens, with six burners and griddles that are 48 inches in width, and some double ovens can run up to 60 inches. 
In a recent episode, the brothers were working with a couple who were completely remodeling a newly purchased house. The husband wanted a top-of-the-line professional-style oven because he enjoys cooking. By choosing the range first, the Lamonts could help the couple select the other appliances and then create a high-functioning layout that would accommodate the spacing of appliances and fixtures like the sink.
Creating a layout to fit pro-style appliances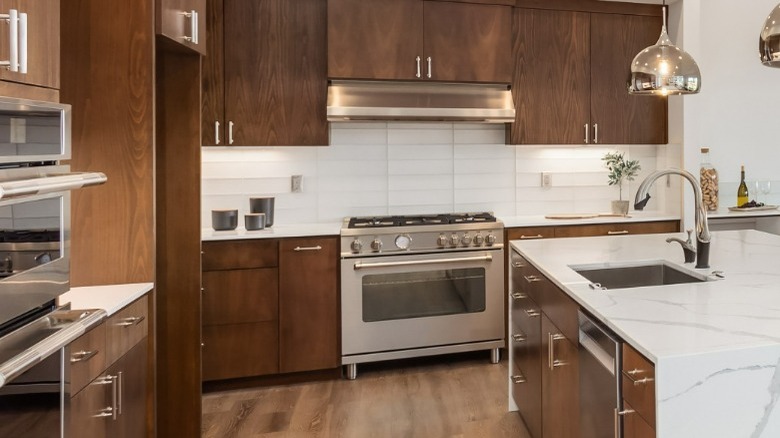 Breadmaker/Shutterstock
A work triangle creates the best functioning layout for the oven, sink, and refrigerator, says Cliq Studios, because that helps minimize the back-and-forth for cooks as they reach for ingredients, utensils, and water. In addition to a larger-width oven, the layout above includes a double wall oven. It makes sense to put the dishwasher next to a sink to share plumbing access and for ease of use as dishes are rinsed and loaded. 
Without accurate measurements for the appliances, you can't build in the cabinetry and countertops that will fit the kitchen floor plan. This is where a kitchen designer can step in. More than half the homeowners who remodeled their kitchens hired a designer, per This Old House, which ultimately saves them from making costly mistakes. It's one thing to have an idea of your dream kitchen, it's another to keep that idea on track and implement it successfully so that it doesn't turn into a homeowner's nightmare.