Is Rattan Furniture And Décor Coming Back In Style?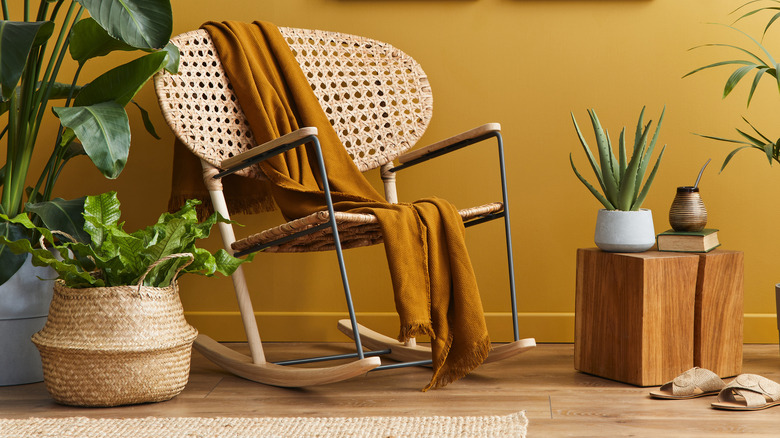 Followtheflow/Shutterstock
If the words "rattan furniture" make you think of the Golden Girls' airy, beachy style, then you might be happy to learn that rattan furniture and décor are once again trendy. Although the girls had rattan in nearly every room — remember that matching living room set? — a few accents here and there are enough to give your home a more natural feel. And, since there are so many more options now than in the '80s, you can find a piece to match almost any style, from boho to modern.
The words rattan and wicker are sometimes used interchangeably, but they mean two very different things. While wicker refers to any material that is woven, including natural fibers and plastics, rattan is a specific tropical plant, according to Patio Productions. This tough vine is harvested and formed into furniture and décor. So, rattan furniture can also be wicker, and wicker furniture can be rattan, but they are not mutually exclusive.
Furniture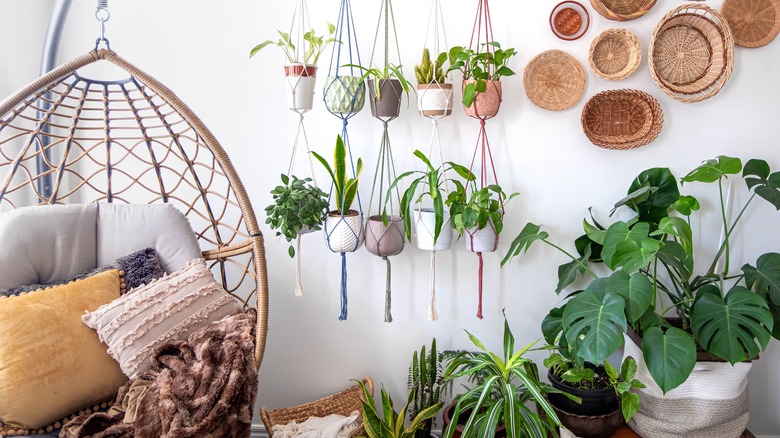 TippyTortue/Shutterstock
Once considered a material primarily used outdoors, rattan has recently emerged as indoor furniture. Unlike other types of furnishings, rattan is light and airy, making it an excellent option for small spaces because it lacks visual density, states Hommés Studio. Rattan furniture is also an interesting and inviting addition to home décor due to its flexibility. This vine can be wound and maneuvered into almost any shape, and furniture makers take advantage of its flexibility to make truly unique pieces.
Rattan furniture looks beautiful as a set of matching dining chairs around a wooden table or as a single accent piece. It also comes in a wide range of colors and stains to match any décor. A modern living room might benefit from the smooth lines of a black rattan and glass coffee table. Likewise, a bohemian space looks fabulous, featuring a fun hanging chair with a comfy pile of pillows.
Décor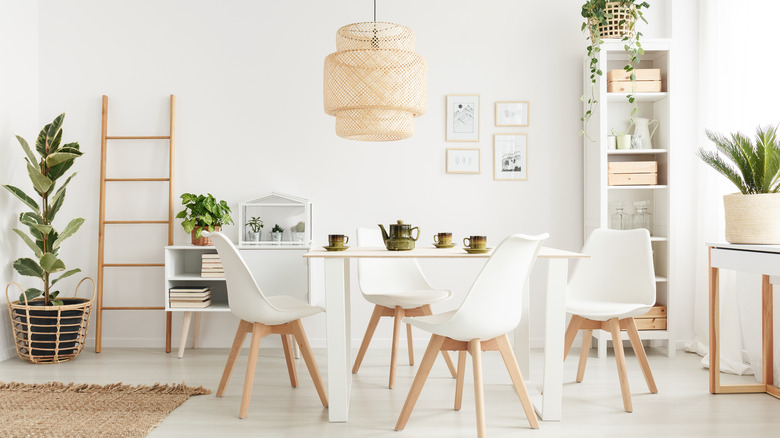 Photographee.eu/Shutterstock
Adding rattan décor to your home is an easy way to add texture to your space. Making your HOME beautiful states that adding rattan lampshades gives you extra bang for your buck because not only do they add natural texture, but when the light shines through, you get an extra layer of visual interest. Rattan décor comes in nearly any shape and size. Woven wall art, large blanket baskets, and vases are easy to find and make an affordable and beautiful addition to any room. 
For a true boho feel, add rattan floor pillows for extra seating. They're perfect for game nights or homemade meals with friends. When not in use, they look great in a stack at the end of the sofa. Although it is stylish as furniture and décor, don't forget that rattan is also still a functional material. Look for woven plant trellises for your houseplants or on a balcony to add the allure and structure of rattan to the natural, calming beauty of greenery.