Home Depot Or Lowe's: Which Has Better Deals On Refrigerators?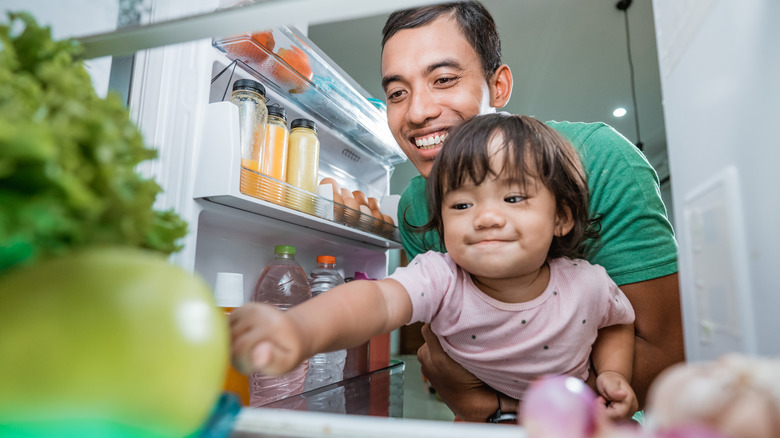 Odua Images/Shutterstock
A refrigerator is perhaps one of the most crucial necessities of the modern world. Therefore, if it ever stops working, you might find yourself in a rush to get a new one. To that end, upon shopping for a new refrigerator, there are many factors you should consider.
According to Top Ten Reviews, you need to decide which exact type of model best fits your needs; the most common choices are a side-by-side, top freezer, and bottom freezer. After this, take into consideration the size of your kitchen and doorways. After all, you need to choose a refrigerator that will fit into your home. Next, choose a model with features you'll actually use. Many modern appliances come with smart technology, yet it doesn't always get used and ends up being a waste of money. Furthermore, it's crucial to know what your budget is when buying a new appliance — that way you don't decide on all these other features and end up not being able to afford them.
After you've decided on the perfect option for you and your family, where do you go to get it? Home Depot and Lowe's are the most common retailers as they have a wide variety of options. Here are the best deals you can get at each of these stores.
Home Depot's LG Electronics refrigerator
One of the most popular refrigerators you can purchase at Home Depot is a model made by LG Electronics. With almost 27 cubic feet of space, this model will allow you to store plenty of food for families of all sizes. Costing around $1,700, it is a side-by-side edition with four doors total that separate into equal parts vertically and horizontally. Perhaps the most noticeable feature of this appliance is the InstaView door-in-door aspect. With two quick knocks on the glass, your refrigerator will illuminate a light to allow you to see the contents inside without having to open it up.
To further add to these perks, Home Depot offers a variety of warranties on this particular item that range from one to 10 years depending on the specific part of the refrigerator. Out of a five-star rating, this model has been rated 4.4 stars and recommended by 86% of users. One consumer stated that they purchased the appliance specifically for the icemaker as well as the glass door and they were not disappointed. Another chimed in saying they loved the large amount of storage it has to offer.
Lowe's Frigidaire refrigerator
If you want a more standardized refrigerator, Lowe's has a model made by Frigidaire that is exactly that. At just under $1,400, this fridge is a side-by-side model that contains two tall doors with hidden hinges. An EvenTemp cooling system is installed to not only keep food fresh, but to eliminate freezer burn at the same time. A unique aspect of this appliance is that it has a water and ice-filtration system that reduces up to around 99% of contamination, reduces plastic waste, and helps to save money. In addition, you can opt to install an additional air filter, though this is sold separately.
Reviewed almost 4,000 times, this product has a 4.3 rating on a scale of five. One consumer recommended this refrigerator and stated that they love the space this model provides as well as how quickly the icemaker produces ice. Another said they were wanting new fridge and decided to purchase one from the same brand they had prior because of its dependability. The buyer went on to say they were very happy with their purchase along with the customer service Lowe's provided. This retailer offers a one-year limited warranty. 
Due to the price being just $300 cheaper than Home Depot's more extravagant model and the short-lived warranty that's included, we'll have to put this refrigerator in second place. However, it's still a good option for those that want a modern yet simple style.