How Much Does A New Refrigerator Cost?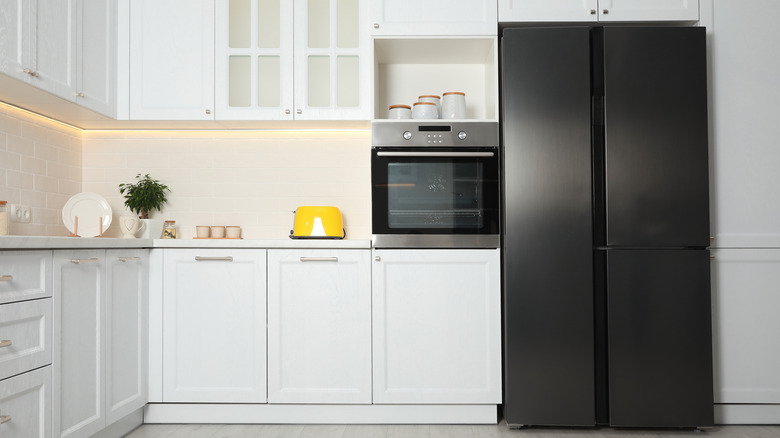 New Africa/Shutterstock
Whether your refrigerator started leaking, it's making a weird sound, or it's past its expiration date, replacing your refrigerator is both a necessity and a task not easily done in an afternoon. Do you try to fix it or completely replace it? It's a tough choice. You definitely don't want to run into mistakes when buying a refrigerator, and you need to leave time to comparison shop and have a price in mind.
Let's say the writing is on the wall, and replacing it is the best option. How much does a new refrigerator cost? According to Home Advisor, the cost of a new refrigerator can range from $800 on the lower end to upwards of $12,000 for one with all the bells and whistles. On average, you're looking at about $1,500 for a new one.
Let's dive deeper into the popular question of how much a new refrigerator costs, including the pros and cons and what you need to look for as well as what you should avoid.
What to look for in a new refrigerator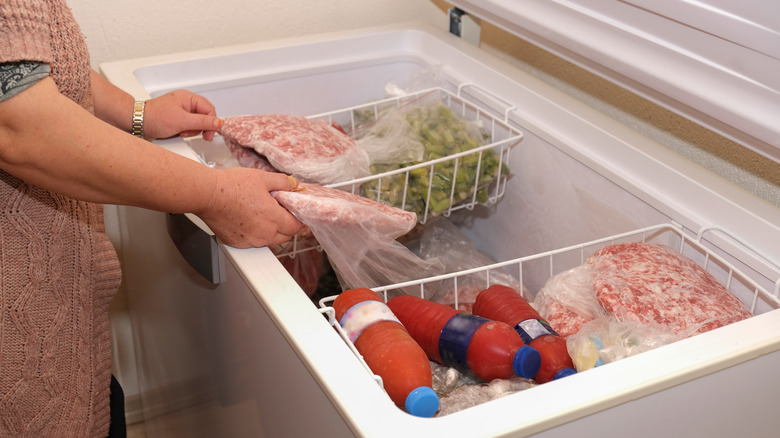 AhmetCelik/Shutterstock
There are many pitfalls to look for when shopping for a new refrigerator. Some are obvious, like color and size. Others, like storage and capacity, can be an oversight when they should be a priority. According to CNET, pick a refrigerator that fits well with your personal storage needs. Do you need a bigger freezer if most of your items are frozen? What about drawers for fruits and vegetables?
Another thing to look for is the style of refrigerator you want. If you've had a classic style for years, it might be time to look at the newer models with added features that fit your lifestyle. Lowes describes the most popular types of refrigerators, including built-in, counter-depth, standard-depth, side-by-side, french door, and even mini-fridges. That in itself can be overwhelming enough.
Smart refrigerators have been rising in popularity in recent years. As tempting as they may seem, there are some downsides to tech-fridges, including being more expensive, per Digital Trends.
Installation & deals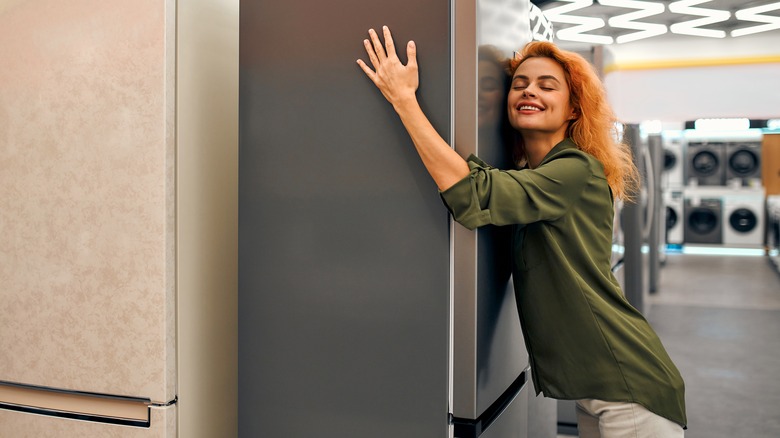 Orion Production/Shutterstock
Now let's get to the money part. Say you found a refrigerator that is the color and style you want. It's in the budget and will fit perfectly in the existing spot (or a new spot if remodeling your kitchen).
Digital Trends strongly recommends adding the installation package to any new refrigerator purchase. Not only is the fee affordable, but it includes delivery, installation, and removing the old refrigerator, saving you from having to do it yourself. Make sure to factor that in when budgeting the total price of the new appliance.
Finally, it's always a good idea to shop around and look at prices at online and brick-and-mortar shops. Digital Trends recommends that the best time to shop for new refrigerators is mid-spring or late-summer. Also, keep an eye out for prices on major holidays and sales like Black Friday. We hope these tips are helpful when starting the process of looking for a new refrigerator. Your produce and frozen pizza will thank you!