18 Tiny Home Kitchens That Will Turn You On To Tiny Living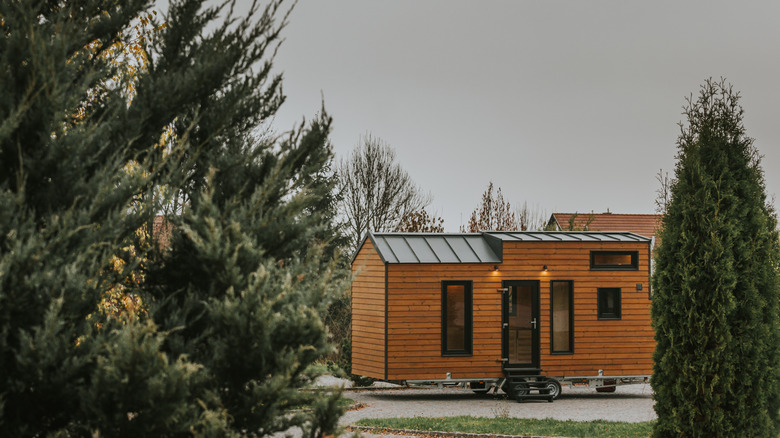 Eco Tiny House/Shutterstock
While living in a tiny home sounds fun to some, others may be more realistic about the challenges you're sure to face. If you went tiny, what do you think would be the hardest part? Perhaps you couldn't live without a huge bathtub to relax in after work. Or, maybe you have a large collection of clothes, and paring them down to fit into a minuscule closet sounds impossible. Perhaps you love cooking, and the thought of having to give up your properly sized appliances and your extra counter space sounds like a nightmare.
If you relate to the last scenario, you should rethink your assumptions about living in a tiny home. This is because, while some under-400 square foot homes (per The Tiny House) do have cramped kitchens, others have quite a bit of space — and many have an adorable aesthetic as well.
If the thought of a tiny home's kitchen turns you away from living small, below are 18 spaces that are sure to change your mind.
1. Cute design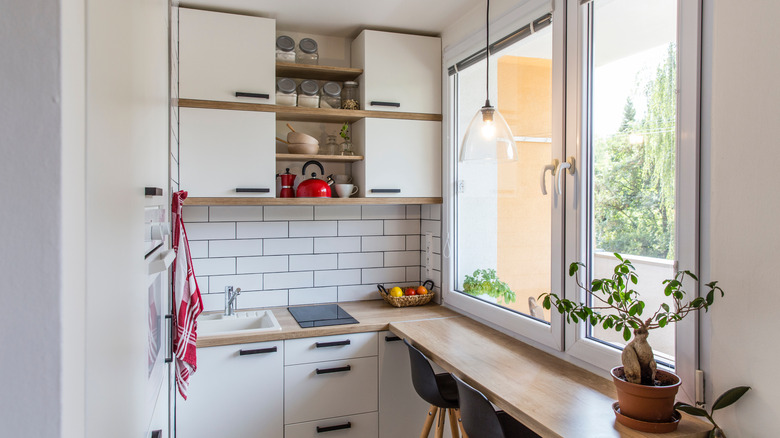 Michaela Komi/Shutterstock
This is most likely what you picture when you think about a tiny house kitchen — a cramped area with minuscule appliances. However, this design is quite cute and compared to other tiny homes, this room has lots of counter space and cabinet space.
2. Full kitchen
Some larger-scale tiny houses actually have full kitchens, complete with regular-sized appliances and plenty of cabinet space for storage. 
3. Full fridge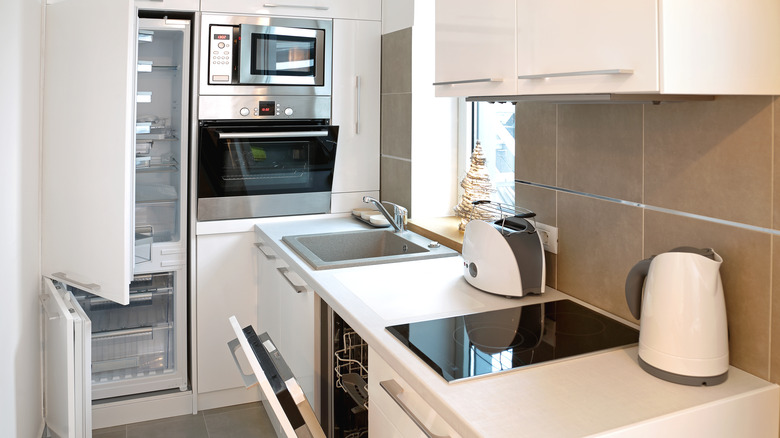 Baloncici/Shutterstock
Additionally, just because your kitchen is small doesn't mean your appliances have to be. This cramped area still has a large refrigerator. 
4. Farmhouse sink
Similarly, this small kitchen has a beautiful and spacious farmhouse sink that really makes the area feel homey. 
5. Beautiful view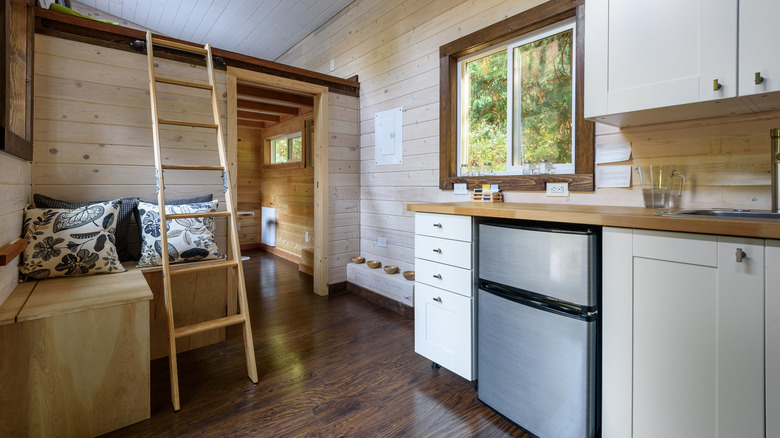 ppa/Shutterstock
A great way to make a small kitchen feel more spacious is with the help of natural lighting. Kitchens with large windows provide their owners with a beautiful view while they're preparing food. 
6. Floor to ceiling tiles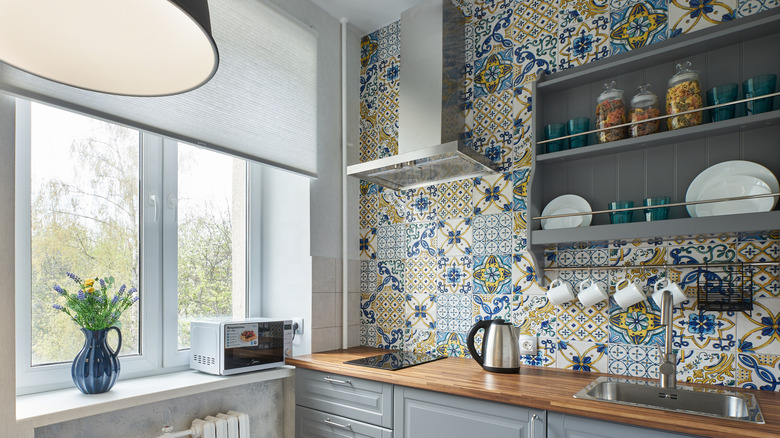 Iglenas/Shutterstock
Further, because tiny homes are much smaller than normal houses, they can be the perfect opportunity to use some loud design elements, since they'll be on a much smaller scale. For instance, you could cover an entire wall with colorful, intricate tiles. 
7. Pastel cabinets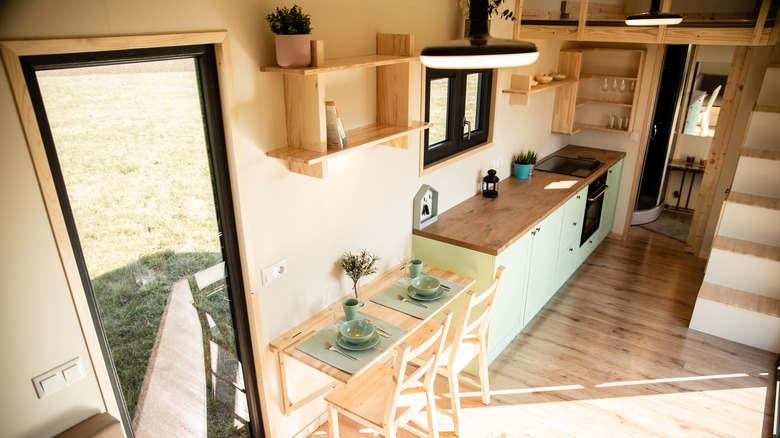 inrainbows/Shutterstock
Many tiny houses create unique designs with the help of bright colors. This small kitchen has pastel green cabinets that really stand out. 
8. Mixing wood tones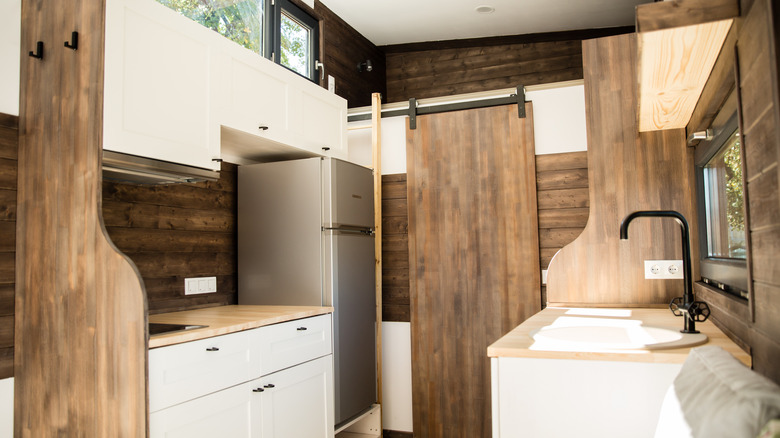 inrainbows/Shutterstock
Another great way to make a tiny kitchen design stand out is by mixing wood tones. The above space has light countertops with medium- and dark-toned walls. 
9. Open shelving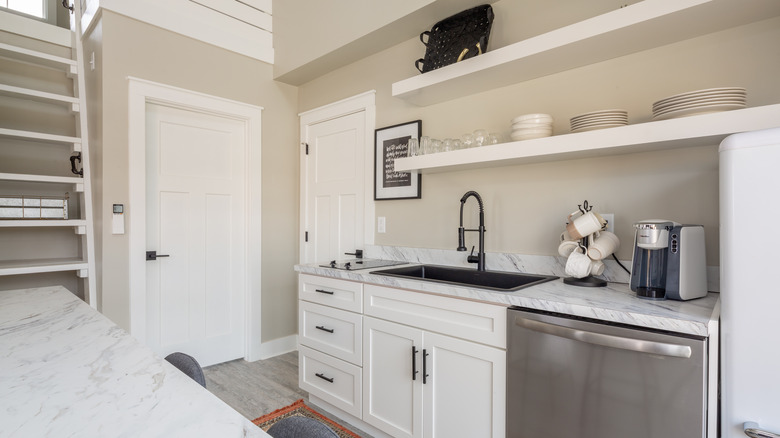 Karen Culp/Shutterstock
Many tiny homes also have open shelving, which can make them appear more interesting and inviting. However, those with a home on wheels may not enjoy this feature, as their dishes would have to be placed in a safer area when traveling. 
10. Extra counter space
LuckyU3/Shutterstock
This tiny home has a wrap-around counter that creates extra space for food preparation. The counter also works to separate the living room and kitchen from one another. 
11. Sleek appearance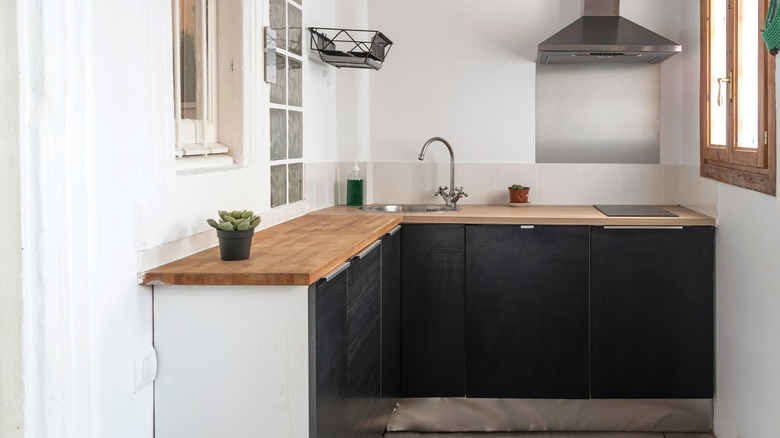 Victoria Labadie/Shutterstock
Pairing white walls with black cabinets would create a sleek appearance in a tiny home. Additionally, because this space doesn't have shelving or upper cabinets, it looks super clean. 
12. Tiny table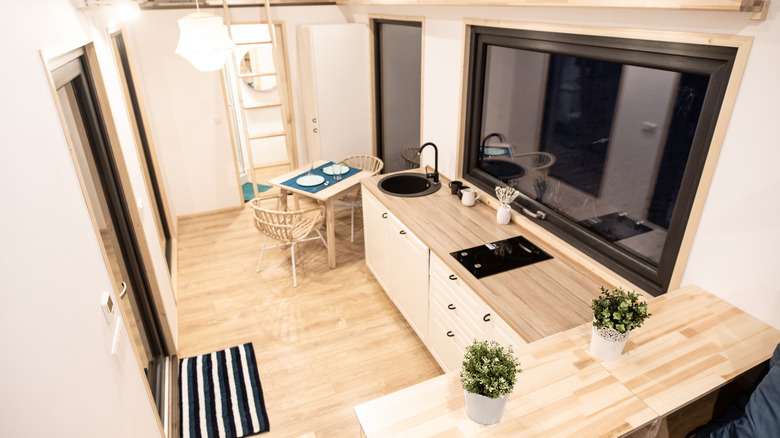 inrainbows/Shutterstock
Just because you live tiny doesn't mean you have to sacrifice your dining table, either. This kitchen has a small table with two chairs beside it. 
13. Extra cabinet space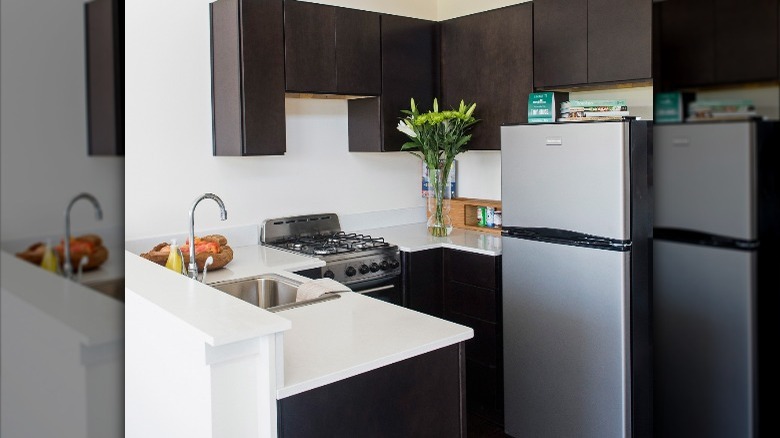 Erika Goldring/Getty Images
Here's an example of a tall kitchen that has lots of cabinet space. Those who store many small appliances or dishes may desire to create a room like this one. 
14. Tiny design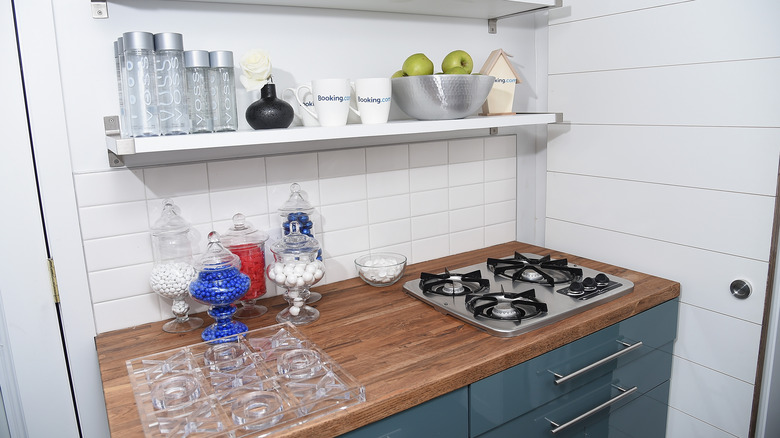 Michael Loccisano/Getty Images
Alternatively, some kitchens are very small, but still have some appliances and counter space. Those who like to eat at restaurants often could compromise on their kitchen's space without compromising on quality or aesthetics. 
15. Modern design
This tiny home has an extra modern-looking kitchen, with dark blue cabinets, golden handles, and a marble countertop. 
16. Minimalist appearance
Those who love a simple appearance may desire a minimalist kitchen that uses mostly one color and doesn't have any clutter. 
17. Colorful farmhouse
Kitchens, even in tiny homes, can be a great place to showcase your personal style. This space has farmhouse décor and vintage appliances that add lots of character. 
18. Miniature everything
Some tiny kitchens have it all, just on a much smaller scale than in a normal home. This area has a small stovetop, fridge, and microwave, and a nicely sized sink.