The Best Way To Make The Most Of A Small Kitchen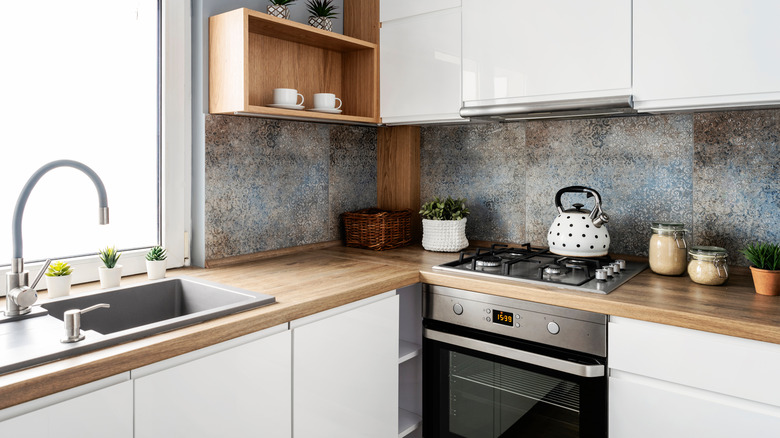 liloon/Shutterstock
Do you feel like your kitchen is a little too compact for your liking? Well, this might be an unpopular opinion, but a small kitchen isn't all bad. In fact, according to JES Restaurant Equipment, they have a ton of advantages. For one thing, a smaller kitchen means every little thing in it, from spoons to larger appliances, has its own designated space. This is why smaller kitchens are often much more organized than larger ones. They also explain that less food is generally wasted in smaller kitchens because there's less storage space. They're also much quicker and more convenient to clean.
Having said all that, it's also important to make sure you're getting the maximum use out of your small kitchen. There are a number of things you can do to make sure you are. However, if there's one change you're going to make in the kitchen, let it be this.
Smart planning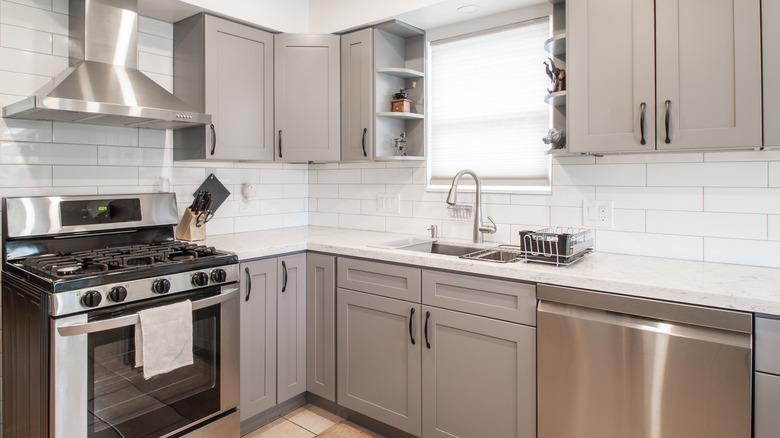 IJMphotos/Shutterstock
Clever space planning is key to making sure a space is the best it can be. According to Forbes, arranging your counter space, appliances, and storage can help you achieve a more functional kitchen space. This is especially true for smaller kitchens, where space is of the essence. For example, if your kitchen counters are arranged in a U-shape, you might want to consider a pullout pantry and additional drawer space so your counters are clear, which will leave more room for preparation and cooking.
GharPedia describes the kitchen work triangle concept, which can be especially useful in determining the optimum layout for your kitchen. They recommend placing your most used appliances, such as your stove, sink, and refrigerator, within four to seven feet of each other. To make this work, you can draw an imaginary triangle within your kitchen space and arrange your appliances on the imaginary vertices of the triangle.
Storage solutions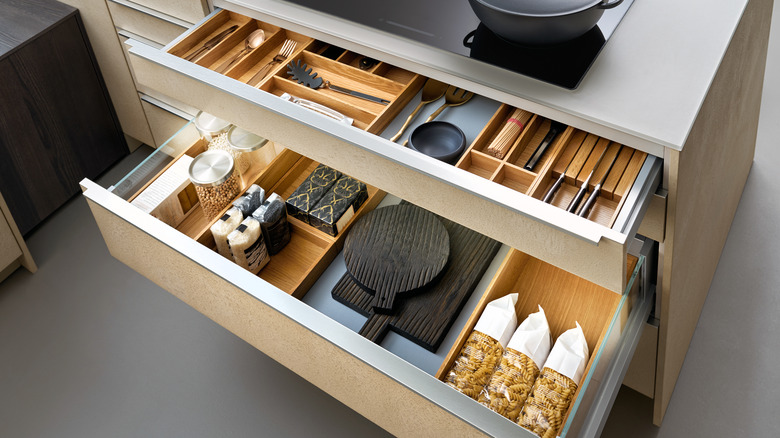 PK-Donovan/Shutterstock
You can take your space planning one step further by switching out your storage units for ones that more efficiently use the area. Ideal Home suggests ladder-style shelving units, which provide tons of storage while taking up less space than an ordinary shelving unit. They also recommend open shelving, as this can help your kitchen look less cluttered. Other suggestions include using the underside of your cabinets to hang glassware or investing in adjustable shelving units that give you the option of adjusting their configuration. Every kitchen is unique, and yours will require its own formula.
According to Love Property, there are also a plethora of smaller additions you can make to maximize your kitchen space planning. For example, you can invest in spice racks for all those tiny jars and cans you may otherwise have lying around. Modern features such as additional refrigerator drawers, racks for storage on the inside of your cabinet doors, and magnetic knife racks can also be used to good effect in a compact kitchen.