Home Depot Or Lowe's: Which Has Better Deals On Floor Tile?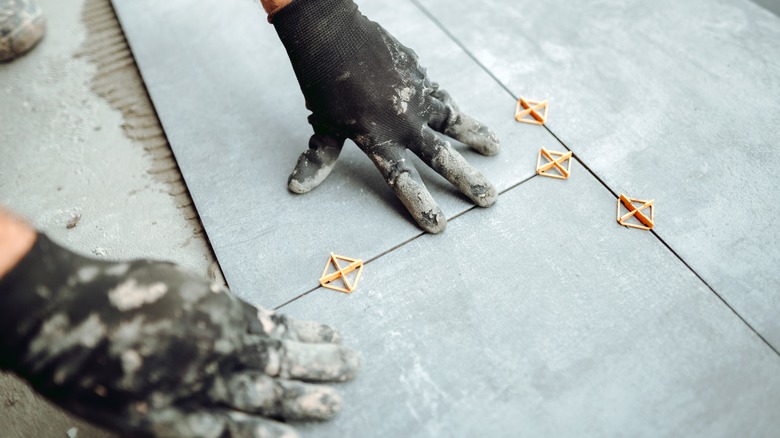 bogdanhoda/Shutterstock
If you're tiling your kitchen, bathroom, or mudroom floor, you'll first need to decide on the right tiles. To begin, you'll need to choose a material. According to America's Floor Source, there are two main categories of tiles: those made out of clay and those fashioned from natural stone.
Clay is great for areas with lots of moisture, like the kitchen or the bathroom. One of the most commonly used clay tiles is porcelain, which is hard and dense. These tiles could also be glazed to provide them with a shiny look and give them an extra layer of protection. When it comes to natural stone, one of the most popular materials is granite, as it's durable, dense, and waterproof. Other stone options include marble, limestone, slate, and sandstone.
Once you've chosen the material, it's time to decide where to purchase your tiles. Below, you'll find information on both porcelain and granite tiles from Home Depot and Lowe's. You'll also discover which of these retailers has the best deals on floor tiles.
Lowe's floor tile options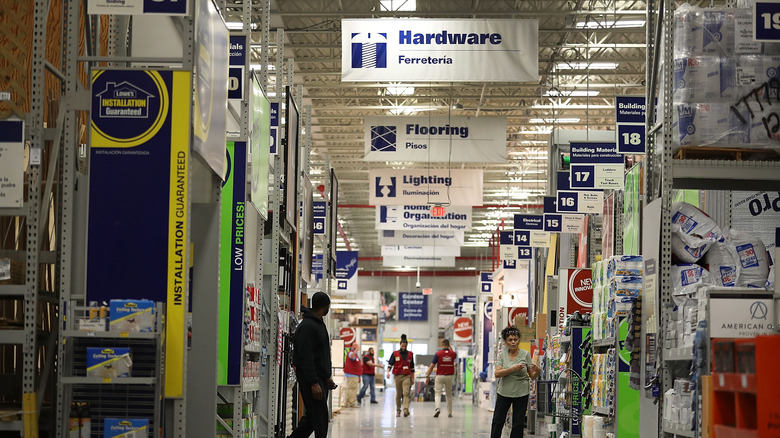 Joe Raedle/Getty Images
Lowe's currently sells Satori Matte Porcelain Tiles that look like white marble for $2.29 per square foot. This product has a 4.6-star rating out of 364 reviews, and 89% of people would recommend it to someone else. One reviewer said that they couldn't be happier with the results, while another customer called these tiles elegant and expensive-looking. However, others complained that they can chip easily and some of the tiles have permanent scuffs or bowing. Additionally, these tiles do not seem to have a warranty.
Lowe's also sells Satori Absolute Black Granite Tiles, which retail for $6.49 per square foot. This product has 20 reviews, received a 4.2-star rating, and 93% of buyers would recommend it. Those who liked this product said that the tile was durable and resistant to scratches. However, others complained that the tiles were not consistent in thickness which made them difficult to install. Additionally, one reviewer said that they were not absolute black, and had some specks or blemishes. This product also does not seem to have a warranty.
Home Depot's options and the winner revealed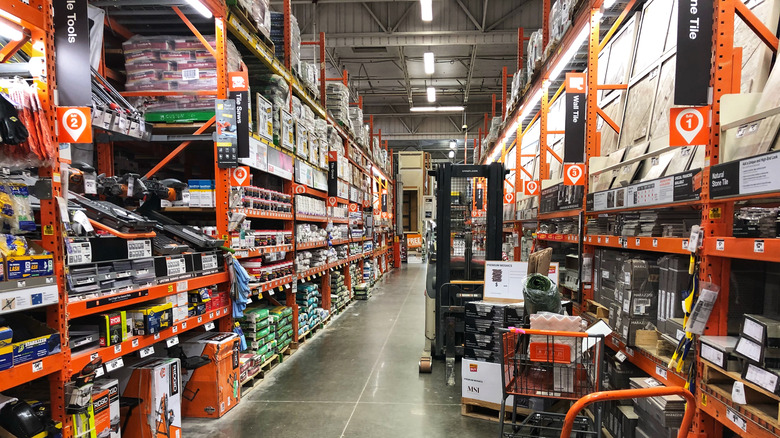 Cassiohabib/Shutterstock
Home Depot sells MSI Polished Marble-Look Porcelain Tiles for $2.99 per square foot (which is slightly more expensive than Lowe's). They have a one-year limited warranty that covers defects in the material. Out of 707 reviews, this product has 4.6 stars, and 91% of customers would recommend it. One reviewer said that "it is beautiful and super easy to keep clean" and also easy to install. However, another person complained about chips and scratches over time. Others also said that some tiles can appear more yellow than white.
Home Depot also sells Polished Absolute Black Granite Tiles from MSI. These cost $5.92 per square foot (sold in 10-square-foot packages), making them cheaper than the Lowe's option. This product also has a one-year limited warranty and received a 4.4-star rating, with 88% of people saying that they would recommend it. Those who praised this product said that it was high quality and easy to work with. Those who complained had problems with the tiles being the wrong size or color, as they can appear more gray.
In the fight for the best deal on tiles, Home Depot wins for both porcelain and granite materials. While their porcelain option is slightly more expensive and has the same star rating, more people would recommend it, and it has a warranty. For the granite tiles, Home Depot's option costs less and has a higher rating.