What You Need To Buy From Home Depot To Lay A Tile Floor On Your Own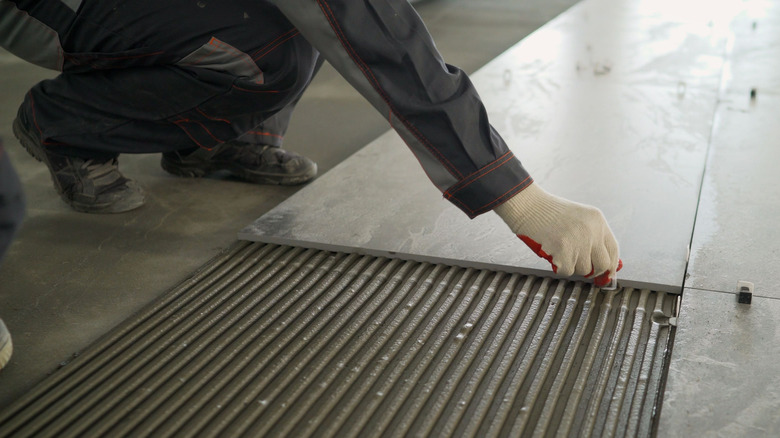 Sidorov_Ruslan/Shutterstock
If you no longer want to spend your time blotting out stains from your carpeting, or you want a more water-resistant surface in the bathroom or kitchen, you may be thinking about upgrading to tile. Depending on what's selected, tile can be beautiful, even artistic, as well as durable and versatile for most areas of the home.
According to Fixr, the average tiling project costs between $1,000 and $5,000. Factors like the overall amount of space, the type of tile selected, and whether you want to hire a pro or do it yourself all play a role in that cost.
While hiring a professional to do the work for you may be beneficial, it can be expensive, and some people want to roll up their sleeves and get to work. If that's the case, you may want to head to Home Depot to pick up the tools you'll need to start this project.
Pick your tile first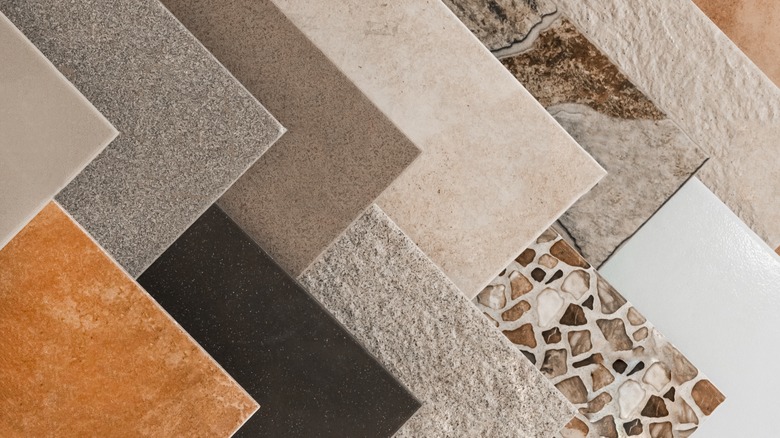 AYDO8/Shutterstock
The first step in the process is to select the type of tile you want to put into your home. Tile flooring comes in various types, according to Forbes Advisor.
Ceramic tile is one of the more common options, and though it is not as durable as others, it tends to be less expensive, and it's easier to cut. Porcelain tile is another option often used for flooring. It's made from a much finer clay than ceramic tile, which makes it more durable and reliable for long-term use. Porcelain tile can also be very beautiful, and because it is less porous than ceramic, those spills are not likely to be a problem.
Purchase the tile you need in the color and pattern you desire, and be sure to measure out the proper amount knowing you'll lose some for special cuts. While you're at it, be sure to learn how to place the tile in your home, so you know what to expect from the process.
Assemble all of your gear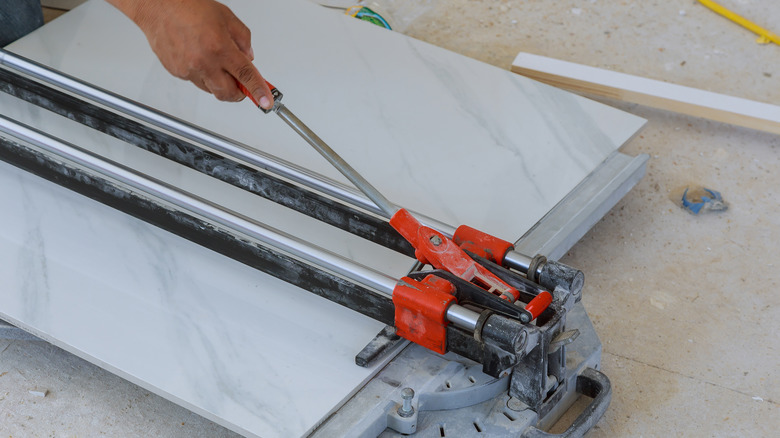 ungvar/Shutterstock
You can find just about everything you need to lay tile at Home Depot. Depending on your experience with other projects, your list could get pretty long. According to HGTV, here are some of the items you'll need to complete your tiling project.
Safety goggles and gloves
A jamb saw
Wet saw or manual tile cutter
Cement backer board
Hammer and a rubber mallet
Mastic
Pry bar
Tape measure
A chalk line
Trowels
Plastic tile spacers
Tile nippers
Grout
Sponges, towels, and a bucket of water
You should always compare a few different grout products before choosing just one for your project. Color is important in this process, but you also want to choose a grout that's not likely to absorb moisture.
Also, once you complete the laying of the tile, you may also need stone tile sealant. This is a necessary investment if you are using authentic stone instead of ceramic or porcelain tiles.