The Price Of Couches Has Gone Up Drastically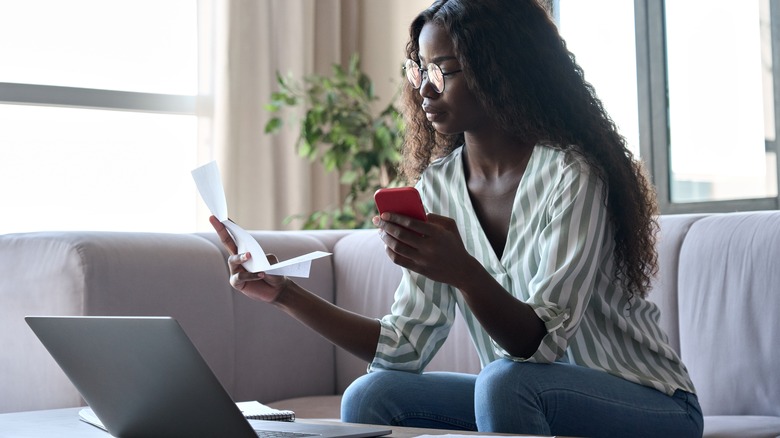 Ground Picture/Shutterstock
Inflation has been a huge concern among Americans over the past year, with prices increasing by 1% and more in certain product categories, according to Money. As a result, this has generally increased the price of gas, auto insurance, heating bills, health insurance, and groceries. However, homeowners are also dealing with high furniture prices, and have seen a price increase of 19.9% when compared to 2021, per CNBC. It's indicated that the price increase of furniture is related to the increased demand for home improvements.
As furniture prices continue to rise, House Digest conducted a study to focus on one particular product. Our research shows that the price of couches has increased immensely since 2018. While couches are a decorative and functional staple in any home and can be used in a living room, bedroom, or even home office, if you're currently in the market for a new couch, we'll reveal how much they've increased in price and why.
One thing leads to another
According to the data collected by House Digest, the price of couches has increased by 34% from 2019 to August 2022. During this time, prices had a steady increase until there was a sudden spike between April and May of 2021, when prices rose by 10%. Since then, there have been multiple jumps in price, until eventually, the price of couches increased by a total of 35%. According to Michael Helwig Interiors, there are many notable reasons for this drastic price increase.
For starters, many companies are unable to hire enough drivers to transport their merchandise. At the same time, these companies are facing a shortage of shipping containers. As a result, furniture isn't being moved in a timely manner and now these companies are facing holding fees, which are in turn imposed upon the customers. During this time, lumber prices also increased as a result of high demand but low supply. Many workers were let go during the pandemic, and several companies weren't prepared for thousands of people to suddenly desire a home makeover. If you're searching for an affordable option, it's recommended to check out your local thrift stores.