Battle Of The Bling's Kim Myles On How To Replicate Her Maximalist Bathroom Design - Exclusive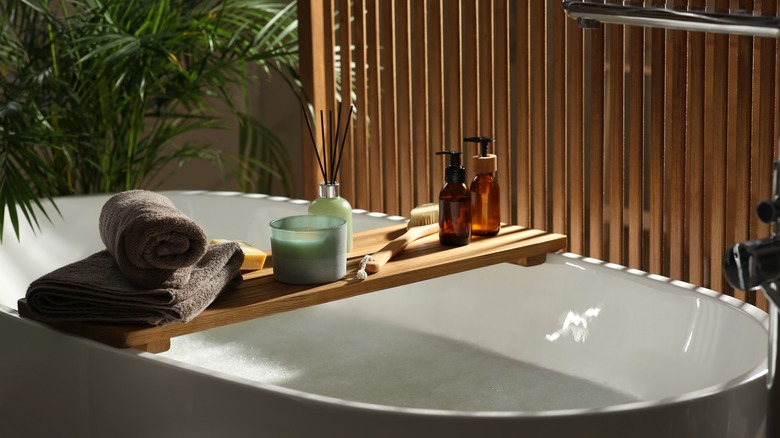 New Africa/Shutterstock
One look at Kim Myles' extensive portfolio of maximalist design work is enough to showcase the HGTV personality's penchant for gracing businesses and residences with an air of opulence. However, while lavish decor and unexpected design elements are the normal for properties Myles designs, not everyone in her position is willing to practice what they preach at home. When the "Battle of the Bling" star was asked which room in a house can benefit the most from a "blinged-out" design in her exclusive interview with House Digest, the designer and beauty pioneer hardly hesitated before providing an answer.
"The bathroom. Do you know why? Because you can go straight Liberace on a bathroom. You don't have to live in the bathroom," Myles said. "That's the place to go buck. Have some fun. Throw up a chandelier. Give yourself crazy sconces. Do a wild wallpaper or a wild wall treatment ... [The bathroom's] the place to have some fun. Let it rip. Why not? When are you going to do it — when you're dead? The time is now."
Kim Myles says have fun with bathroom design elements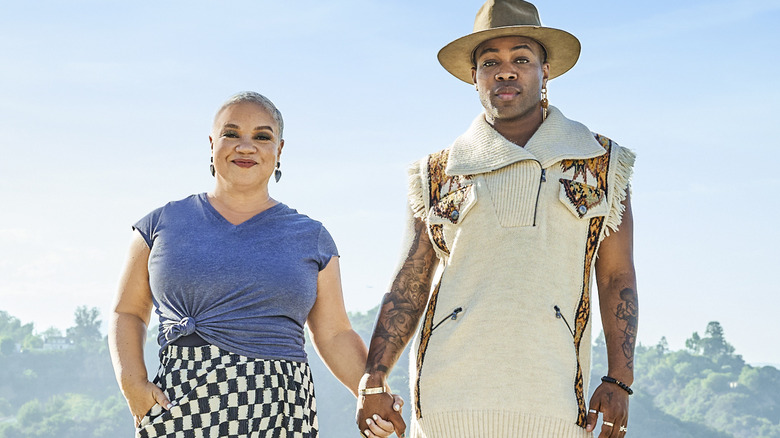 HGTV
Of course, a maximalist dream bathroom requires more than materials and labor to come to fruition. As with any project that sees a homeowner defying conventions, pulling it off takes a fair amount of inspiration as well — not to mention careful planning and design know-how.
"I had tile put in very specifically on a horizontal so that I could get — on a diagonal — a certain pattern," Kim Myles said. "I was looking for a certain pattern with the grout that would give me some visual interest [and] could pick up that pattern in my lighting, so I could have sparkle, and I could have fun."
Maximalism is not everyone's cup of tea, and a glorious bathroom remodel may rub some minimalists the wrong way. Despite that, Myles encourages others to pursue what makes them happy in the moment, regardless of what others think.
"Here's the thing: Everybody who's going to judge you for making choices that make you happy will one day be dead. Don't worry about it now," Myles said. "Don't give the power away. You get one shot at this. You get one shot at life. Have a good time. Don't worry about the neighbors. Don't worry about other people's opinions. Do the thing that brings you joy."
"Battle of the Bling" premieres on Friday, December 9 at 10:00 p.m. ET/PT on HGTV.