The Best Shower Tile To Use In Your Bathroom, According To A Design Expert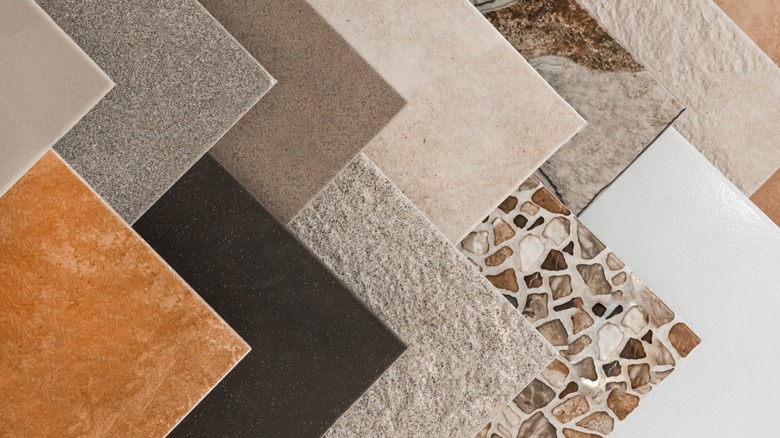 AYDO8/Shutterstock
It's smart for a homeowner to invest in their bathroom. After all, it's a heavily trafficked room used often by every member of the household. That's why choosing the right materials is essential when remodeling a bathroom. For both the floors, walls, and shower surround, tile tends to be the optimal choice, which can cost, on average, $1,000 to $1,500 for walls and floors, and another $2,000 to $3,000 for stand-up showers, according to Home Depot. However, prices can fluctuate depending on the type of tile and the cost of installation if you hire a professional.
While price is a major factor for many, choosing the right tile for the bathroom is the best financial decision in the long run. Leah Tuttleman, a certified member of the Allied American Society of Interior Designers with Re-Bath shares her expert bathroom tiling suggestions. In an exclusive interview with House Digest, Tuttleman explains why some tile materials are better than others.
The advantages of ceramic and porcelain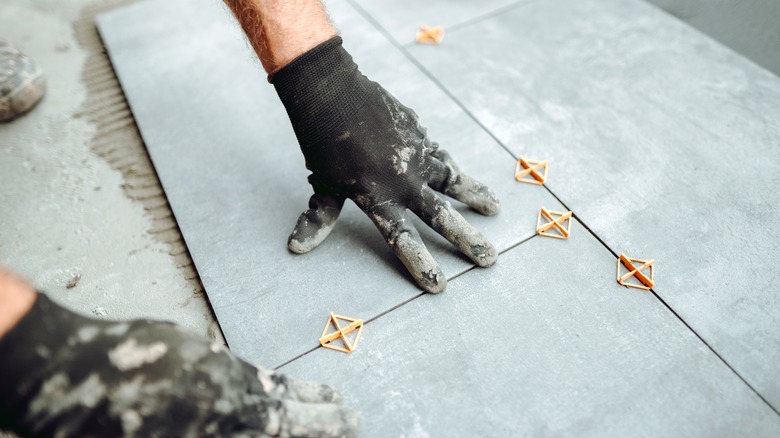 bogdanhoda/Shutterstock
There are plenty of tiles available, varying in material, shape, and color, but what you should pay attention to first is the material, according to Leah Tuttleman. "When choosing the material for your bathroom tile, there are many options to consider, including marble, mosaic, and limestone. The most popular, however, are porcelain and ceramic tiles." She adds, "There are many advantages for homeowners, which makes ceramic tile an exceptional tile for use in high traffic and high use areas. Porcelain tile is a popular choice in commercial use for the same unmatched durability." Because the bathroom is used multiple times a day by multiple people, you want a tile that will be able to stand up to consistent use for years to come.
The ability of ceramic and porcelain to take the heat of heavy foot traffic isn't their only benefit. "Water-resistant, durable, and versatile in look and feel, these materials are often more cost-effective than others because they are easier to clean and don't require resealing, as with more porous natural stone," explains Tuttleman. Because they're so easy to maintain, these are great options for families and busy homeowners who don't want to spend hours scrubbing in order to have a clean bathroom.
Options to elevate your space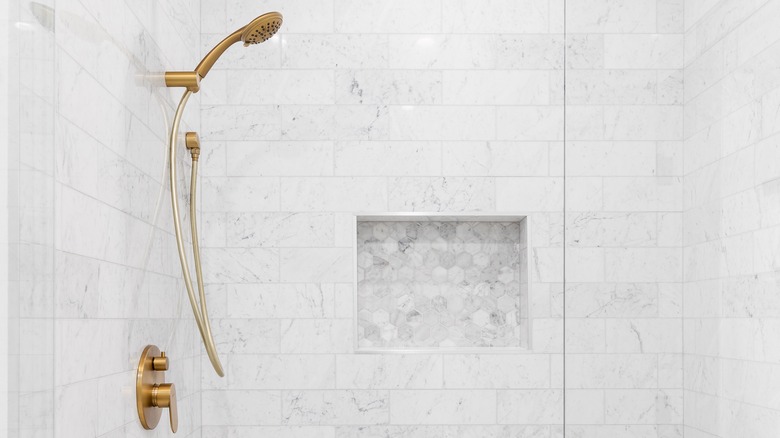 Hendrickson Photography/Shutterstock
Don't feel like you're limited with your style options because experts like Leah Tuttleman suggest using ceramic and porcelain tile in the bathroom. "You can find a wide variety of styles, shapes, sizes, textures, thicknesses, and colors to choose from for a full rein of creativity," the interior designer assures. "For a stunning polished porcelain, look for tiles that mimic the appearance of natural stone. Employing understated linear patterns, these types of tiles are elegant and practical, perfect for any modern bathroom."
All of the options give enough room for you to put your personalized touch on the bathroom design, even if you're into the industrial chic aesthetic. "Ceramic tiles, marked by a subtle crosshatch design and upscale concrete looks can help you create the minimalist remodel of your dreams," says Tuttleman. "If you're interested in flooring that will bring a touch of the regal to your bathroom, consider tile with luxurious white marble tones and soft cream hues to elevate nearly any décor." These tiles will allow you to recreate the all-white looks that are sophisticated and timeless.
A low-cost runner-up
appleyayee/Shutterstock
Investing in ceramic or porcelain tile isn't always an option simply because of the price. If you're looking to create a bathroom remodel on a budget, Leah Tuttleman has the perfect tile. "Luxury vinyl tile (LVT) is a good lower-cost alternative to porcelain and ceramic options. Easy to clean and requiring no special procedures or products for upkeep, LVT offers a no-fuss flooring option that, while softer and less durable than tile, is still more pet- and kid-friendly than hardwood." Hardwood in the bathroom may look good, but it can often be susceptible to warping and rotting due to the excess moisture.
Luxury vinyl tile is a way to get a similar look for considerably less. "This kind of flooring also provides great aesthetic variety," Tuttleman says. "Many appreciate the wood-style LVT options." That means you can find bathroom tile that mimics the look of hardwood, which can give you a seamless flow from one room to the next without putting your bathroom at risk for moisture issues down the road.