How To Perfectly Mix Tile Colors In Your Bathroom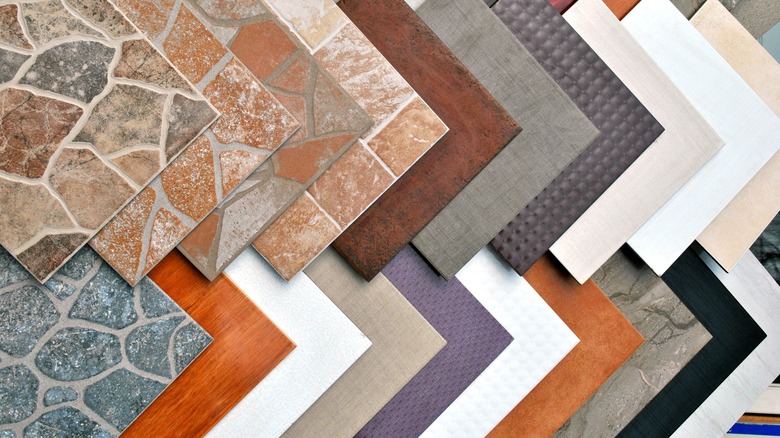 Stayman/Shutterstock
Mixing tile colors works so well in bathrooms because it's easier to go daring in such a small space. Since you have limited square footage to work with, each shade won't take up too much of the design. Further, tiles are a great material to use in this humid area and can be installed in the shower, behind the sink, on the walls, or on the floor — really, the whole room could be covered if desired.
Before deciding what colors to use, head to the store to get some samples. Big box stores like Home Depot or Lowe's should carry these, as well as smaller retailers if you'd rather shop local. While they will most likely cost you a small price, getting samples is totally worth it, as seeing the tiles in the room is invaluable to creating the exact design you desire. This will help you visualize the tiles' true colors as they appear in your bathroom, as they will likely look different online or at the store.
Stay in the same color palette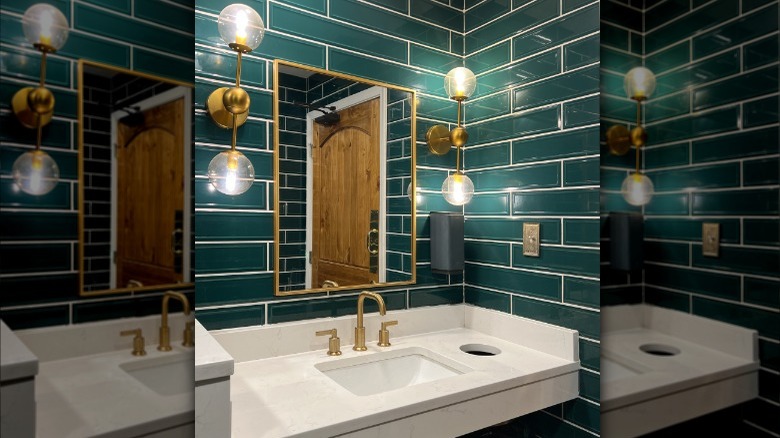 Hendrickson Photography/Shutterstock
When deciding upon the right colors to pair together, stay in the same color palette, both inside the room and throughout the rest of your home. "I still like to make sure there is some color cohesion," Kirsten Blazek, founder of interior design studio A1000XBetter, told Livingetc. "For example, if you have an earth-toned color palette throughout your home, then it would feel out of alignment to walk into a bathroom with tiles in primary colors."
Therefore, when choosing colors for your bathroom, take inspiration from the rest of your home's design, and consider how rich the shades you've used are. For example, if you love saturated jewel tones, sapphire blue and ruby red could be paired in the bathroom, but if you prefer pastels, keep everything airy with mint green and light pink. For a less dramatic look, mix either only cool tones or warm ones; for instance, either use blue and green or yellow and pink. 
Choose colors you'll love for years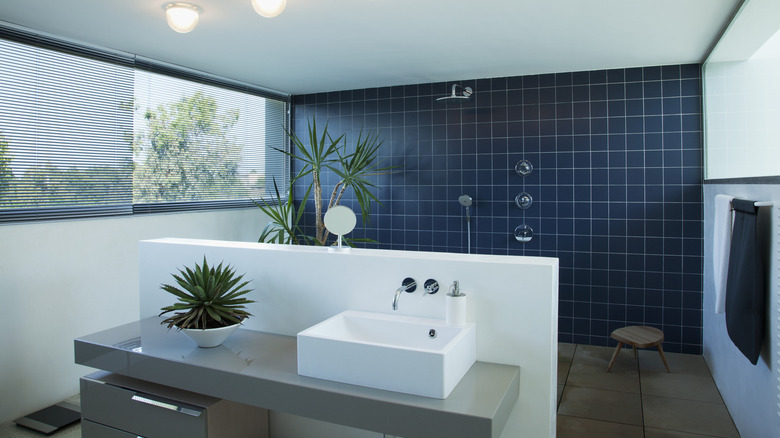 Martin Barraud/Getty Images
Because tile is difficult and expensive to replace, selecting colors that won't feel outdated in a few years is absolutely vital. "Tile colors that are more lasting and not so trendy will likely serve you well over time," Susan Klimala, owner of TKS Design Group, told Livingetc. "Shades of green and blue, metallics, creams and whites are timeless." However, this doesn't mean you have to create a boring design. As Klimala explains, "edgy color combinations like burgundy and mint green can work if that's your jam, but try to avoid super trendy tiles in loud colors unless you are prepared to swap them out or live with a dated look for a bit."
If you plan to sell your home soon, you'll also need to consider resale value. Loud and bold contrasting tones won't appeal to many homebuyers, while tried and true coordinating shades like blue and green likely will. Choosing the safer option will save you from completing an extensive bathroom renovation before moving out. On the other hand, if you're living in a permanent residence, you can feel free to let your creativity run wild.