Home Depot Or Lowe's: Which Has Better Deals On Bathroom Tile?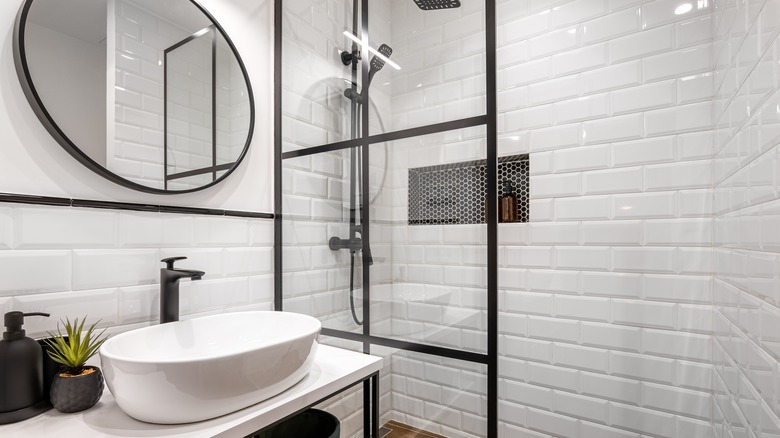 Pavel Adashkevich/Shutterstock
When it comes to replacing the tiles in your bathroom, there are many factors to consider. According to Washingtonian, the first thing you must determine is your budget. Since there are numerous tile designs, shapes, and sizes, setting a budget is crucial so you don't spend more than what you have or settle for the cheapest option. Next, it's best to concentrate on the room's color scheme. Think about what color your walls and vanity are painted or if you are going to repaint them. Take into consideration other subtle details, such as the faucet type or light fixture. In doing so, you can eliminate certain colors and designs that won't blend well with these features.
After that, factor in the size of the tile you desire. While smaller tiles are the normal size, a modern look that many go for is larger tiles. This is because the larger styles take up more room than the smaller ones and can save time during the installation process. However, when deciding on the size of the tile, you must also take into account how large or small you want it to look with the details and the room as a whole. Lastly, finish up the process by taking home a sample piece and finding a location to purchase from. While many retailers are available, we've broken down the best deals at Home Depot and Lowe's to see which is better.
Home Depot's Home Decorators Collection porcelain floor and wall tile
One of the best-selling bathroom tiles at Home Depot is made by Home Decorators Collection. Costing just under $2.29 per square foot, you can also buy it in a case for $36.64 that contains eight pieces and covers 16 square feet of space. Of course, these prices and availability depend on the location you reside in. These porcelain tiles come in three color schemes that consist of white, Carrara, and Carrara polished.
In addition, these come in three main sizes: the standard 12-inches by 24-inches and two larger sizes, including 24-inches by 24-inches and 24-inches by 48-inches. Depending on multiple factors, you can also choose whether to buy them in a pallet or case. These tiles can be placed on both the floor and the wall. Home Decor Bliss recommends doing both as it will give the bathroom a more spacious and modern look. A one-year limited warranty is available at the time of purchase.
Out of a 5-star rating scale, this product received a 4.6 with almost 700 reviews and a recommendation rate of 92%. Most reviews are positive, with one consumer stating that they used the tile on their walls from floor to ceiling. They went on to add that the tiles were beautiful and super easy to keep clean. Another stated that the tiles were more pretty than expected and that they have received multiple compliments on them.
Lowe's Satori marble floor and wall tile
While Lowe's sells many bathroom tile options, one of their best sellers is made by Satori. These 12-inches by 24-inches pieces cost $2.69 per square foot — again, this depends on your region. A simple white and gray color palette makes for the marble design. Additionally, these porcelain tiles have a rectified edge treatment that gives off a more seamless look. Since they're super versatile, not only can you use them on the bathroom floors and shower walls, but you can also use any leftover tiles in other areas of your home, such as the backsplash in your kitchen or fireplace exterior. A warranty is not available with this product.
Receiving a 4.6 on a 5-star scale, these tiles contain an 89% recommendation rate. One user stated that they would recommend this product as they used it for their bathroom remodel, and it looks beautiful. They continued to say their contractors placed the tiles in the shower walls, bathroom floors, and around the jacuzzi without any issues. Another stated that they went overboard by buying almost double what they needed so they could choose their favorite pieces and create a pattern. After completion, they returned all the extra pieces to the store.
Based on multiple factors, we have to say the better deal is at Home Depot. Not only did they offer more choices in both colors, sizes, and bundles, but they also provide a warranty that the latter does not.