Let The Sunshine In: How To Choose The Perfect Material For Your Home Sunroom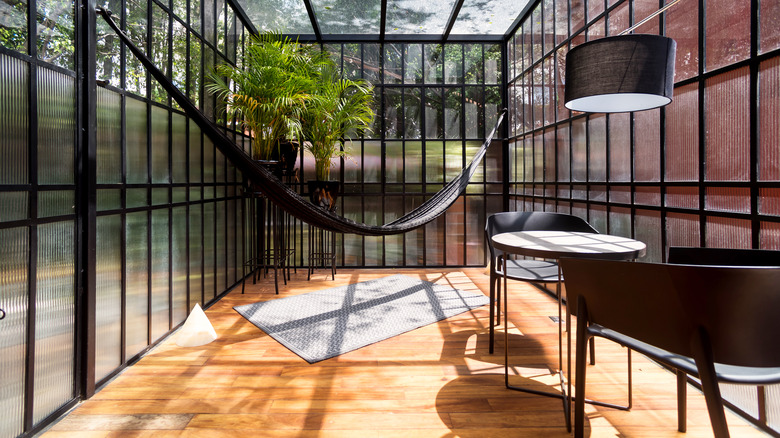 Bisual Photo/Shutterstock
Adding a sunroom not only gives you more space but also adds value to your home since you're increasing the square footage. Being one of the most versatile rooms around, you can decide on any purpose for a new sunroom — from a game room with a bar to a new home office. You can probably think of millions of uses for this area.
This means, of course, determining which material works best for this new addition. You can definitely go with the traditional wood frame structure, but then you might have to deal with termites, the complex upkeep that involves periodical refinishing, and the initial price tag that comes with installation. However, more sunrooms are being constructed with vinyl and aluminum. Both materials have their benefits in price, durability, and appearance as well as their unique set of drawbacks. Therefore, examining the characteristics of each type of material in advance will help you to make the best choice.
Vinyl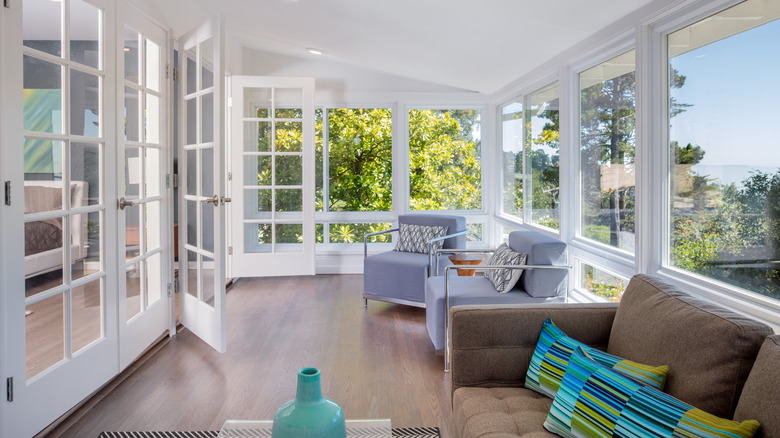 BondRocketImages/Shutterstock
Created from polyvinyl chloride (PVC), vinyl framing has become a popular choice for sunrooms. Different ingredients can be added to vinyl to affect its performance and appearance. Titanium, for instance, increases vinyl's ability to resist heat, while other substances may provide protection against fading or make the material more durable. One factor to keep in mind is that this varying composition will affect how long the sunroom lasts, and how much or how little maintenance is required.
Vinyl is known for being resistant to dents and it maintains its shape while under pressure due to the material's thickness. Moreover, you won't have to deal with cracking paint and refinishing the surface. However, you do have to periodically check for scratches and tarnishing, which will require buffing away. Moreover, vinyl tends to keep the heat in during the winter while keeping the area fairly cool during the spring and summer.
Aluminum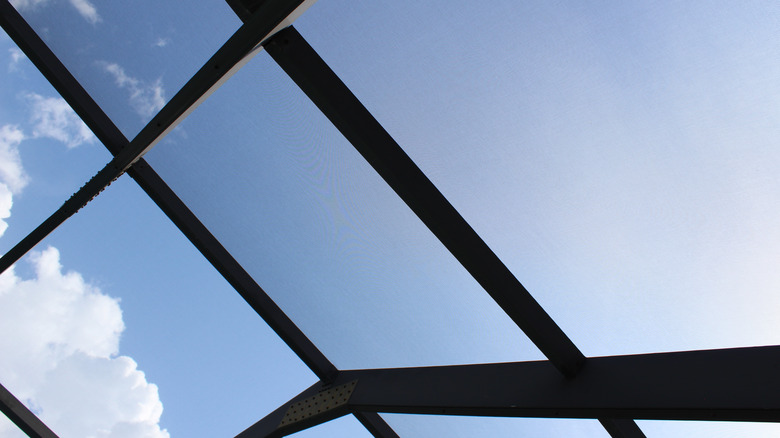 Cindy Beck/Shutterstock
Aluminum frames present another low-maintenance option for sunrooms. Many types of aluminum frames come with a surface finish such as a powder coating that's added to the surface to provide protection while adding to the aesthetic appeal. In fact, you can choose from a variety of colors. Nonetheless, you still have to check for corrosion and dents on a regular basis.
Another aspect to consider about aluminum is that it doesn't act as an efficient insulator, although some frames have been treated to keep heat or cold out more effectively according to Global Solarium. At the same time, the size and width of aluminum opens up more choices in the size of windows which could allow for more flexibility with design. Additionally, you can try incorporating double-paned windows, which help to keep the room's temperature under control. Just like vinyl frames, you get a lightweight and long-lasting option with aluminum. According to Carolina Home Exteriors, the parts of the frame lock securely into each other, which adds to the structural integrity of the frame.