Tulip Season Is Here: How To Decorate With The Flower In Your Home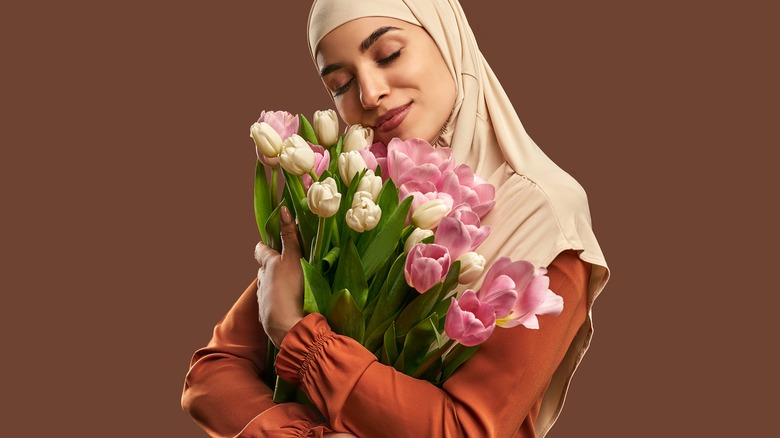 Harbucks/Shutterstock
While the snow melts away and as spring takes over, you'll notice flower heads begin to bloom, such as daffodils, primroses, and lilacs. They fill our gardens and neighborhoods with color, bringing the Earth back to life. However, a true star among spring flowers are tulips, which begin to bloom as early as March. They're a fan favorite among gardeners, and the various colors mean that they can create a gorgeous color scheme for your yard. However, there are many ways to utilize the flowers beyond the garden.
For instance, tulips are often used to create a stunning wreath for the front door or a beautiful centerpiece for the dining room table. Of course, just like other flowers, tulips have a short lifespan once plucked — especially if there's no access to water. So, you can also feel free to use faux options when decorating indoors. We've gathered several different DIY projects you can complete to introduce these bulbous, vibrant beauties all over your home.
Use a unique vase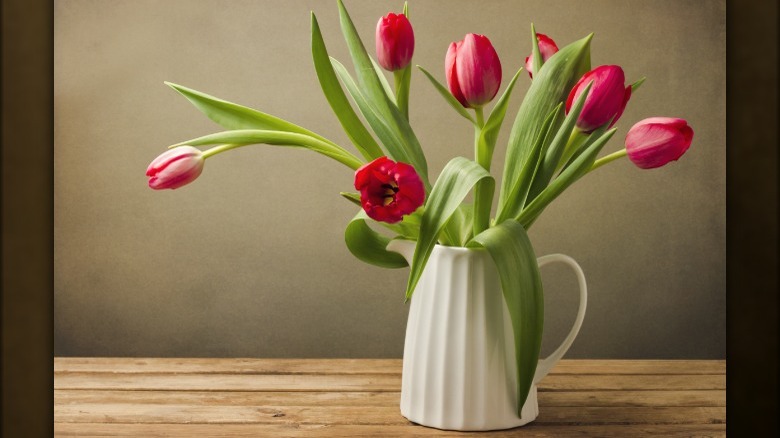 Maglara/Shutterstock
Since tulips are available in a variety of colors, you're sure to find a vase to complement them! To make things interesting, incorporate a unique vase that can help create a fun focal point, whether that's in the dining room, kitchen, or bathroom. For instance, pitchers have become a frequent flower vase option among those who connect with the farmhouse aesthetic. You could give this design a bit more character by choosing pitchers with interesting textures, fun patterns, or beautiful finishes, such as copper or steel.
Other unique vases include vintage watering cans, teacups, or a tea can. To accomplish a more rustic design, some have gone as far as arranging their tulips inside a cabbage! This is an especially adorable option for Easter, and you can either use a green cabbage as a neutral base or a purple cabbage if you'd like a bit more vibrancy.
Create a bundle of tulips for your entryway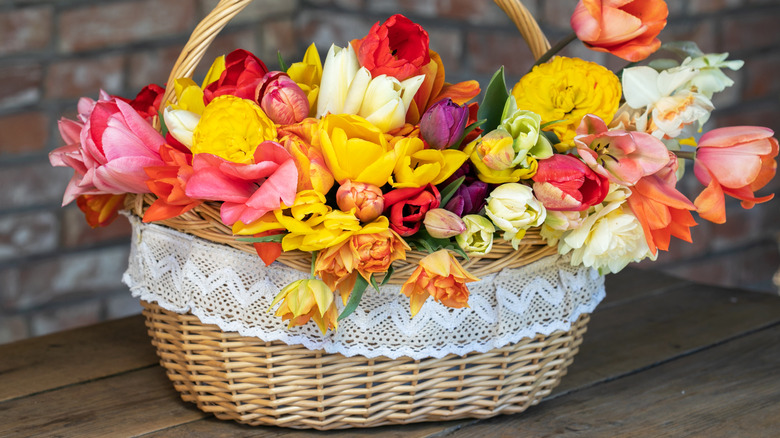 Sicha69/Getty Images
Is your front entry boring and empty? Have you introduced a console table but have no idea what to decorate it with? Instead of trying to fill it with a variety of small décor, you could gather a bunch of tulips and arrange them in a large basket to create a full and vibrant bundle. This way, your console table instantly incorporates different design characteristics, such as texture, balance, and harmony. It also introduces a burst of color perfect for springtime.
Those who want to particularly incorporate fresh tulip décor into their home can use a wooden crate instead, which can be designed to include dirt and other nutrients your flowers need to stay alive. However, if your front entry is too small for a console table, you can make a statement by filling a wire basket with tulips — with your choice of fabric wrapped around the inside — and placing it by the front door.
Hang them on the wall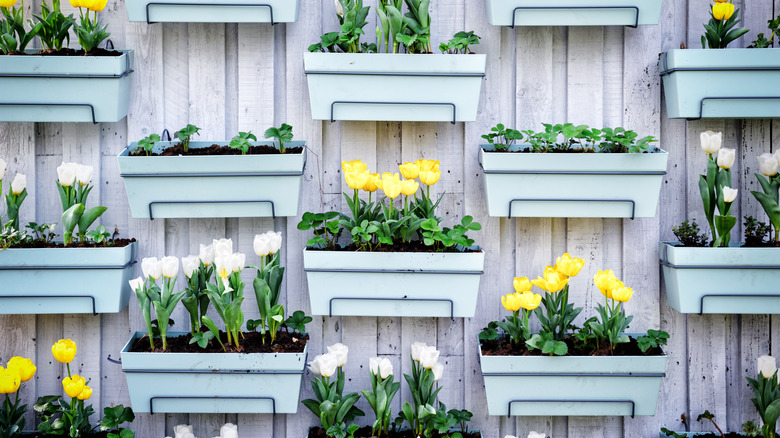 symbiot/Shutterstock
Those of you who don't know what to do with your bare walls can adorn them with tulips! There are so many different ways you can do this to accommodate different aesthetics, and this design tactic can give your home a fresh and bright vibe. Additionally, this can be done both indoors and outdoors. Here, white and yellow tulips were placed in planters and hung on a wooden fence, adding color to a dull and gray background. 
You could also create a floral garland with tulips and hang them in your bedroom over your headboard or in your office by your desk. For a more contemporary design, we suggest using clear, tube-like vases and filling them with a bit of water before hanging them onto a wall. This way, you'll create an organic visual that will complement your other décor. However, some people choose to hang them individually using gaffer tape to achieve a minimalistic design.
Fill the staircase with tulips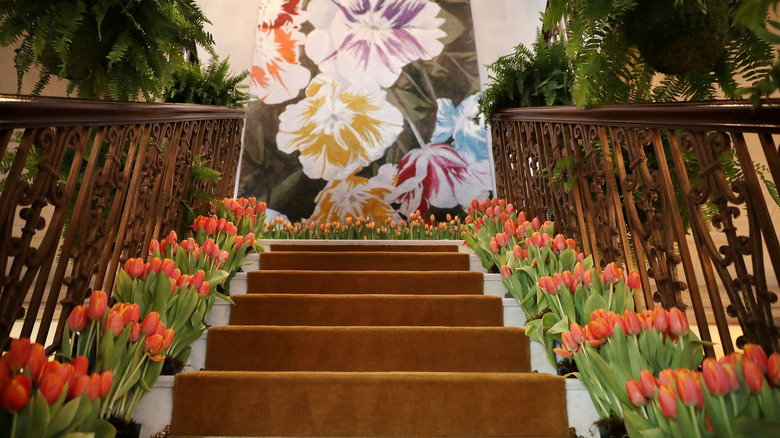 Chip Somodevilla/Getty Images
Flowers are also an excellent option for designing indoor and outdoor staircases. Inside, you can easily fill several pots with tulips and place them on each step to create a burst of energy in your home. We advise using minimalistic pots in order to allow the tulips to shine. Also, it'd be wise to incorporate tulips that complement the color scheme of your home. For example, if your walls are navy blue, bright yellow tulips can establish a sense of color harmony. 
You can use the same method when using tulips to elevate the design of a patio staircase. Previously, we mentioned utilizing tulip garlands to dress up bare walls, but you can also wrap them around a staircase handrail, baluster, or newel post. When doing this, incorporating tulips of multiple colors will create the most impactful design as it winds its way up and down the stairs.
Get creative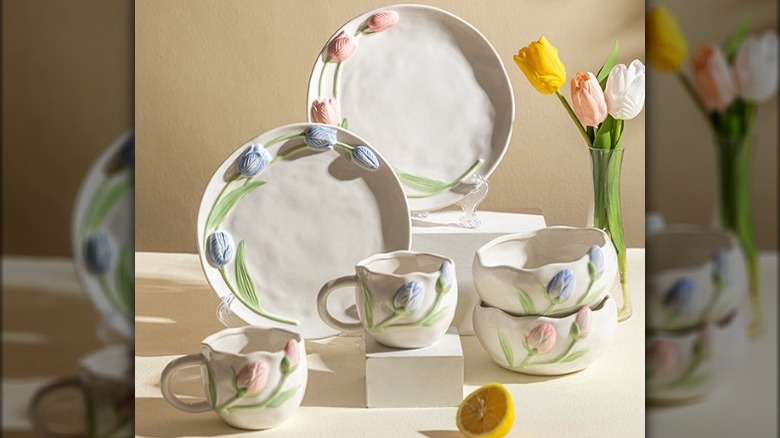 modernhousewife/Apollo Box
Rather than using real or faux tulips to spring-ify your home, why not introduce some tulip décor? An easy way to do this is by displaying tulip-inspired tableware, such as the Delicate Tulip Tableware from Apollo Box, in your dining room or kitchen. The intricate detailing and organic shapes are sure to make a beautiful statement that goes along with your other spring-dedicated accents.
Another method is to install drapery decorated with a tulip design, such as the Laural Home Blooming Tulip Trio from Overstock. This can be placed anywhere in your home but would especially be gorgeous in a sunroom or another type of sitting area that would benefit from an added touch of color and pattern. The advantage of using this tactic is these decorative products can be stored away during the winter months and pulled back out once the tulips begin to pop out of the ground again.