How To Reinvigorate Laminate Countertops That Are More Prone To Staining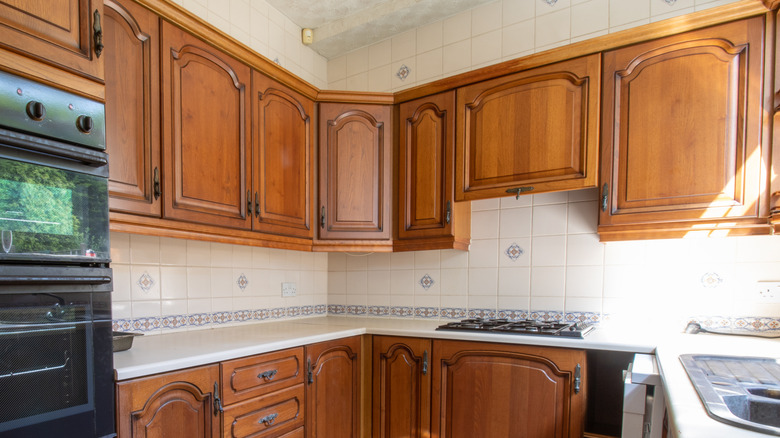 LD Media UK/Shutterstock
Laminate countertops can be beautiful and traditional but can also stain and become dull over time. You may be doing everything you can to minimize staining and cleaning them with the proper solutions, but they still don't look as clean and fresh as you would like them to. 
While preventing damage from spills and staining is a must, it is possible to reinvigorate laminate countertops to give them a newer, refreshed look. The best way to do this is to use a countertop polish. This type of polish, typically available at home improvement stores, helps to add more shine to the laminate without making it waxy or sticky. Be sure to choose the right polish for laminate, as products for stone may not be equally beneficial. Not only does this give your countertops a less worn-out look, but it may add a protective coating over the top to help prevent some staining and discoloration over time.
What is countertop polish and why does it work?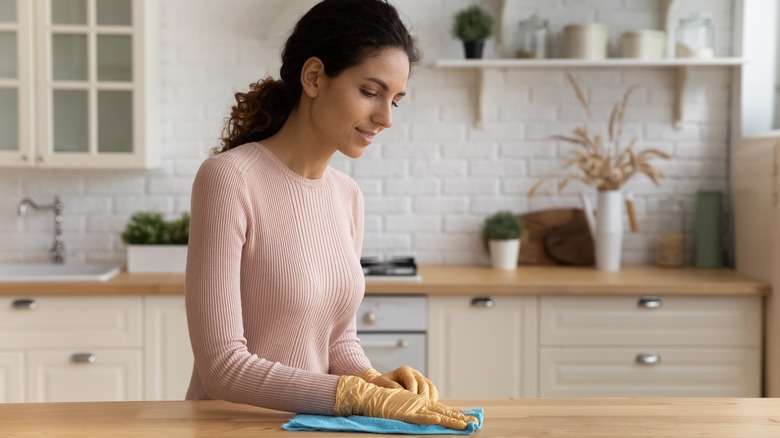 fizkes/Shutterstock
There's no doubt laminate countertops can last for decades, but they will scruff and dull over time. A countertop polish can help to counteract this. Polish should not include any type of silicone or chemicals in them that cause buildup on the surface (that's not good for the countertop or any food products you put on the surface). Some polish for wood or marble can cause discoloration to laminate.
A laminate spray wax-type product works best here. It is designed specifically to shine the surface of the countertop. You don't need to apply much of the polish to the surface but do rub it in well and be sure to get the edges and backsplash areas as needed. Doing this every few weeks can help to keep your kitchen looking fantastic.
Before doing any type of polishing, take the time to thoroughly clean the surface. You can use a towel soaked in bleach to wipe up any stains. If the stain does not wipe away, saturate a paper towel with bleach, place it on top of the surface, and leave overnight. In the morning, the stain should be removed. For a gentler solution, clean the counters with a small bristle brush and baking soda.
More tips for bringing life back to your laminate countertops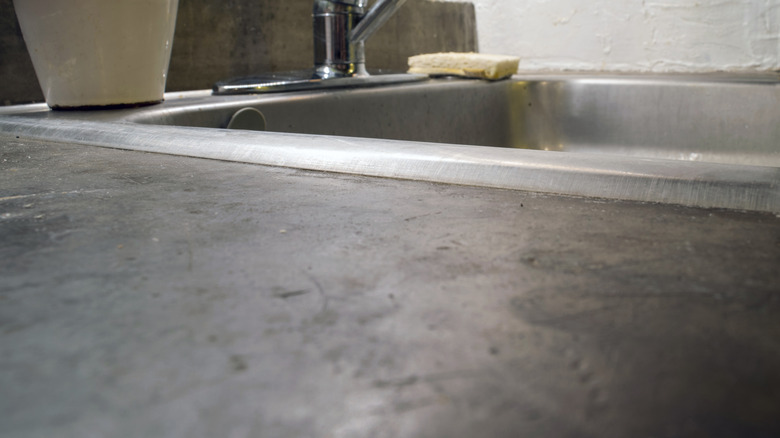 Cabecademarmore/Getty Images
Sometimes the age and wear on your countertops is simply too much to shine away. You can take other steps to breathe refreshed life (and fabulous looks) into your kitchen again. One of the simplest updates is to paint laminate tops with countertop coating, a thicker, dense type of paint designed for the surface. It's less likely to wear thin or peel off over time and can take the day-to-day use of your kitchen.
A more aggressive and modern update could include skim coating the surface of the countertops with concrete. If you're looking for a do-it-yourself project, this is the one! You'll want to make sure you have a bit of skill in this process before getting started. Try to skim coat a piece of wood to get the hang of it, and be sure to use professionals if your budget allows.
If you're still looking for ways to improve your countertops, consider covering them with fabulous contact paper in a print you love or refinishing them with a marbling technique. Doing this with an acrylic paint and sponge method can create a faux marble look that's hard to beat. Cover it with epoxy to create a durable surface.