Why '20 Percent Down' Is A Home-Buying Myth In 2023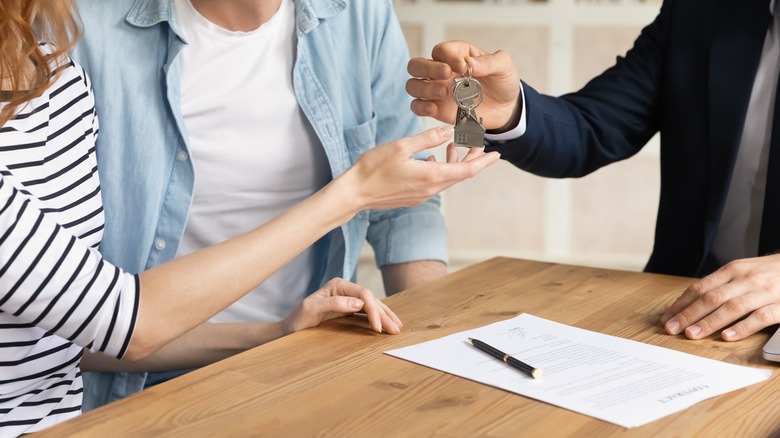 fizkes/Shutterstock
Among many factors, one must consider when buying a home is the downpayment, and some might panic at the 20% standard that has circled the housing market for decades. However, this requirement is long out of practice, and these days buyers can put down 5 to 20% instead. The 20% ideal stemmed from banks seeking protection from buyers who may default on their mortgages. But, in 1956, when private mortgage insurance (PMI) was introduced, banks were able to start taking much less than an initial 20% installment.
Your downpayment will heavily rely on the type of home loan you're eligible for, based on things like your credit score and yearly income. The percentage that homeowners deposit upfront varies between age brackets, with U.S. News finding that ages 24 to 32 average 8%, 33 to 42 average 11%, and 58 to 67 average 20%, with the median of all ages at 14%. There are a few different loan options that potential buyers are presented with, and understanding each of them will help determine what your downpayment may be.
Conventional home loans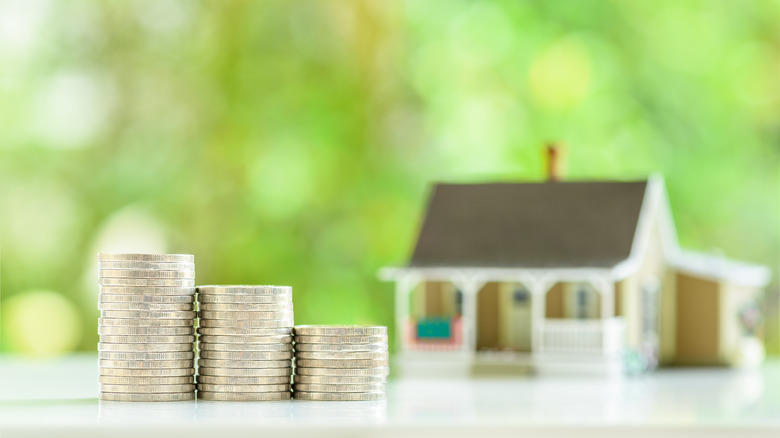 William_potter/Getty Images
Conventional home loans are buyers' most common loan option, with Money Geek estimating that 82% of all mortgages are under traditional loans. These loans are not supported by the federal government the way other loan options are and instead are provided by private financial institutions like banks or credit unions. Unlike government-backed loans, a conventional one can be used for any property, whether primary, secondary, or a rental residence. However, while conventional loans may be more accommodating with as low as a 3% downpayment, they can be more challenging to qualify for.
Buyers seeking a conventional loan will need to have a credit score of 620 or higher, pay a PMI for anything less than 20% down, and have a debt-to-income ratio lower than 50%. The loan must also fall within the limits set by Fannie Mae and Freddie Mac, which was $726,200 for a single-family home in 2022. However, this doesn't mean you can't find something best suited for your situation. "There are also favorable first-time homebuyer programs where you can put down as little as 3%, which are very attractive for young people who are trying to build up their credit history and their balance sheet," David J. Wilk, director of the real estate program at Temple University's Fox School of Business told U.S. News. "It gives lots of people up and down the economic spectrum the opportunity to own their own home."
Government-backed loans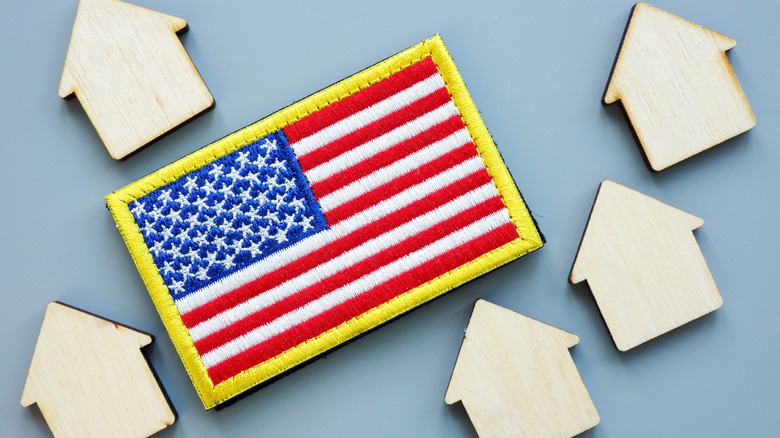 Designer491/Getty Images
Aside from conventional loans, home buyers can qualify for federal government loans, such as Federal Housing Administration (FHA) loans, Veteran Affairs (VA) loans, and U.S. Department of Agriculture (USDA) loans. Banks and other lenders sometimes prefer these over conventional options as they are government insured, protecting them if a buyer defaults. FHA loans are helpful for those within a low to middle-income bracket, allowing buyers to place a lower downpayment and still be eligible with credit scores below 620. FHA loans are great for first-time buyers but will only cover primary residences.
VA loans are reserved for members of the U.S. Armed Forces, veterans, and qualifying surviving spouses. The perk of a VA loan is that you may not need to provide a downpayment up to a specific amount depending on location, interest rates, and closing costs. It will require a one-time funding fee, usually between 1 to 4%, with Purple Heart recipients, widows, and disabled veterans being exempt. USDA loans are dedicated to those living in rural locations and will not require a downpayment, but you must meet specific income guidelines. Various assistance programs are also available for buyers, so it's important to research all that's offered for the best possible outcome.