Leanne Ford Explains How To Add Warmth To An All-White Interior
Creativastudio/Getty Images
Known for her clean, seamless layouts, designer Leanne Ford knows how to incorporate warmth amidst an all-white interior. A fashionista with an eye for design, the former "Restored by the Fords" star has styled a number of properties in her hometown of Pittsburgh with her contractor brother Steve Ford. While Ford's style often encompasses a modern minimalist approach with an avid concentration on white, she believes you can create a warm and inviting space when the magic of layering is applied. "A space can feel good and look nice in all white no matter what, but the texture is what makes it feel warm and inviting," she explains to MyDomaine. 
Whether soft or rigid, there are several ways to add warmth through texture within a stark interior. You might first explore various decor and furnishings that would stand out against your blank canvas. Different types of wall paneling, tile, or brick would also add distinction. However, Leanne Ford might combine several natural elements together, which ultimately enhances the coziness of a space.
Depending on your style, texture may also come from innate fabrics like cotton and linen, including wool or silk, among others. Playing around with earthy materials may complement a variety of designs as well, including coastal, modern farmhouse, and Scandinavian. Whatever pieces you include, there are endless ways to warm up your all-white rooms while adding your own personal style.
Combine textures to create warmth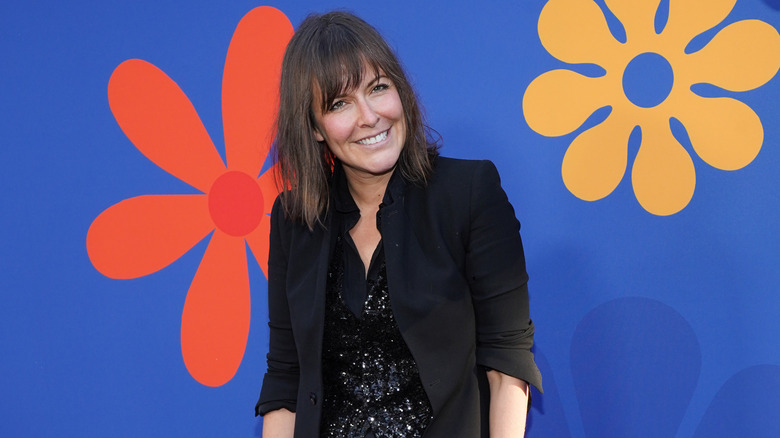 Rachel Luna/Getty Images
If all-white spaces feel too bare, Leanne Ford likes to blend significantly textured elements to generate a casual, yet intimate design. "Anything natural and from the earth–wood, stones, marble, plants–will bring warmth into any space, no matter what color it is," Ford explains to MyDomaine. 
A marble coffee table adds texture and can display character-infusing items like potted succulents, handcrafted ceramics, or wooden candle holders. Light fixtures are another way to play with a variety of materials. A chandelier with a wood frame injects charm while a lamp with a stone base and a linen shade provides a stunning juxtaposition.
Ford also points out, "You don't want everything to feel modern or everything to feel old." Many of her designs include sleek and chic concrete pedestal tables, which look intriguing topped with retro finds like leather books or a rotary dial phone. Make a pure white kitchen feel less sterile by displaying antique copper cookware from a hanging rack or upon open shelves. Or, when styling a modern white leather couch, use vintage-inspired throw pillows to soften the look.
Explore the comfort of natural wood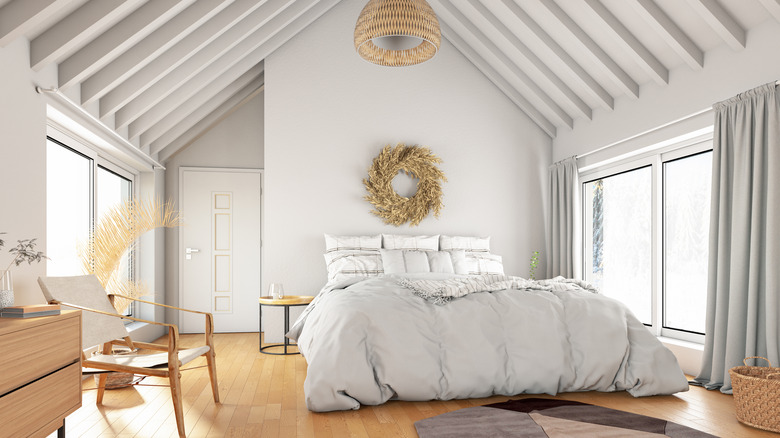 Asbe/Getty Images
Within her established Crate & Barrel line, Ford's home furnishings model her love for infusing nature. "That's why we did all these natural wood elements," she explains to Coveteur. Many of her furniture selections may consist of oak, teak, or mahogany. Showcase a sleek sideboard in the bedroom that resembles a light, natural tone for visual interest and added storage. Or take a cue from the designer's refurbished cabin, and use a vast wooden apothecary dresser to invigorate the space of a dining room or living area. In kid's rooms, use white-washed wicker storage bins, and a wooden multi-level bookcase to stash toys. And, if you have the kitchen space, opt for an expansive wooden farmhouse table over a kitchen island to establish a warm and convivial gathering place.
Wood ceiling beams also provide a sense of coziness to a space. Whether your elevation is flat or vaulted, you can incorporate exposed timber beams to create visual height within an all-white room. You can maintain their original brown or tan tones for a classic contrast, or paint them white for a seamless vibe. Either way, they will draw the eye upward while at the same time adding character and warmth to your space.