The Sleek Kitchen Color That Joanna Gaines Is Inspiring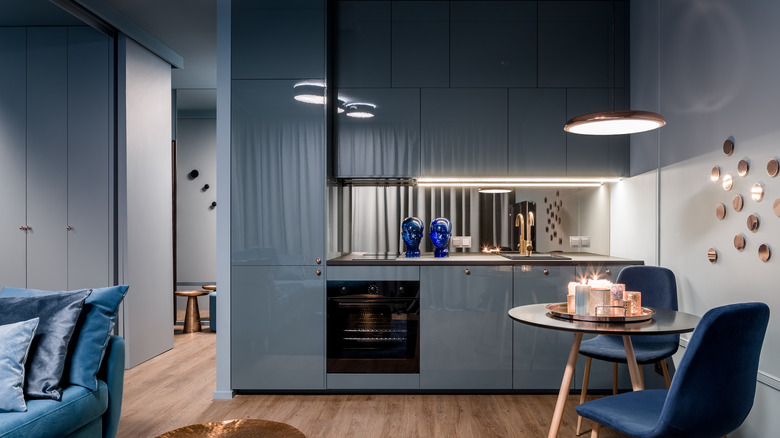 Dariusz Jarzabek/Shutterstock
Since the premier of the HGTV show "Fixer Upper," Joanna Gaines has become one of the most recognizable and influential faces of home design. Her signature modern farmhouse style incorporates contemporary touches and comfortable antique accents for a unique cozy home. While her style is known for being bright and airy with the use of lighter neutrals like whites, creams, and beiges, with pops of earthy, natural tones, some of her recent work has seen a few darker and moodier shades.
In a Magnolia series called "Mini Reni," Gaines tackles smaller home renovations without demolishing anything. In photos featured on her Instagram of the finished products, she creates a bedroom with dark blue graph wallpaper and a den with wall paneling painted a dark green. Gaines may be known for a light and bright color scheme, but she's not afraid to dabble with the dark side of shades. So, it's no surprise that a moody shade she loves is set to be one of the most popular upcoming paint colors.
Gaine's kitchen cabinets feature a dark blue finish. Experts are calling this color Future Dusk and expecting it to be the Color of the Year for 2025. The shade is a little bit blue and a little bit purple, evoking a dark and moody "sense of mystery and escapism," according to WGSN. The color has plenty of depth and intrigue that will certainly make a statement where ever it's painted.
Dark and timeless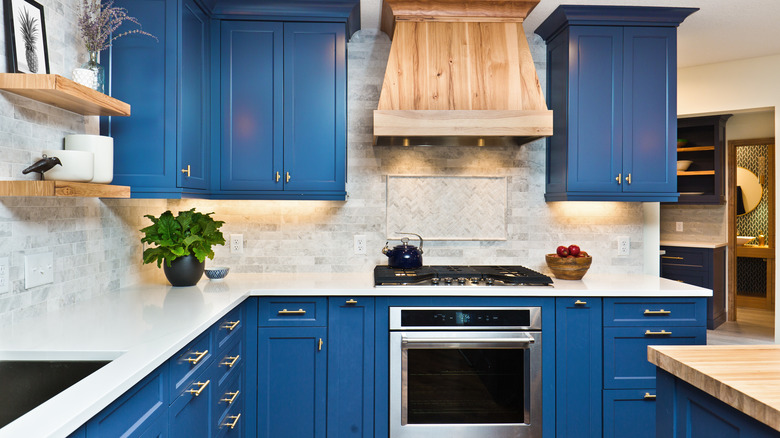 Yinyang/Getty Images
Blue, especially darker shades, can act as a neutral in many homes. While it may not be a true neutral in definition, blue acts as a neutral because it can pair well with a variety of other colors. In the case of inky blues, these can appear almost black at first glance, making it even easier for them to work as a neutral shade in a room. However, many homeowners are cautious about using dark colors in their space as it tends to oppose the light and bright aesthetic many people are after.
However, dark paint can be a trick to making a room appear larger. These shades tend to add depth and can make it look like the walls are further back or further out than they actually are. Painting the kitchen cabinets and surrounding walls a dark shade of blue can certainly add this depth and interest to the room. But if the illusion of more space isn't what you're after, painting all the walls and ceiling the same dark shade can also create a calming and enveloping effect. This is also a good technique to subtly feature other details in the kitchen, like wall paneling or exposed beams on the ceiling. Among the Magnolia Home paint collection, shades Signature, Silos District, and Together are dark, moody blues that would capture this vibe perfectly.
Steal the Jo Style
Joanna Gaines knows how to masterfully combine colors for a bespoke design. In a video on her Instagram, audiences get a peak at how the interior designer used the dark blue cabinet finish. The moody blue cabinets stand out against the shiplap walls, painted in a lighter creamy white shade. Popping against the dark-faced cabinets are sleek minimalistic gold drawer pulls, which add a subtle touch of glamor and personality. The counters are white stone with gray veining that brings that classic and traditional touch to the modern elements.
Balancing the darker cabinets with lighter elements allows the dark blue to be the standout statement of the room. It evokes a depth and mood without overwhelming the space or making it feel cave-like. Undertones are the key to making your darker and lighter elements feel cohesive. For a fresh and tranquil feeling, opt for cooler undertones, or bring coziness to the room with warm undertones.