Joanna Gaines' Tips On How To Add Modern Farmhouse Elements To Your Home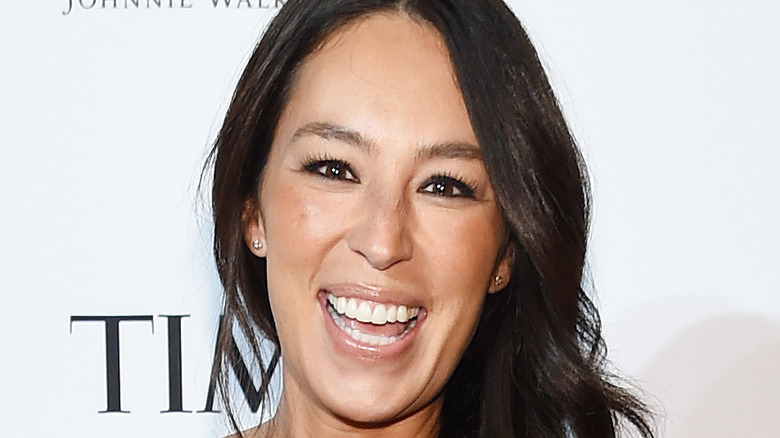 Larry Busacca/Getty Images
Joanna Gaines' celebrity is synonymous with the term modern farmhouse — the warm, welcoming, and slightly edgy style she catapulted to popularity on the HGTV show "Fixer Upper." Homes & Gardens revealed that her signature take on the décor trend was inspired by a visit to the New Mexican countryside, where Gaines was struck by a harmony of visual components that included lush farmland, industrial silos, and weathered paint; she shared that the particular impression has vastly informed her design sensibility. Gaines' flair for combining elements creates interest, while her editing hand ensures a calm interior environment. Yet it would be fair to say that another reason Gaines' projects are successful is because of the attention to detail and care in regard to bringing her vision to life, with general contractor and husband Chip Gaines, supporting her every design whim with his contributions of craft and construction knowledge.
Not everyone has a farmhouse-inspired collection licensed with Target, Loloi Rugs, and Anthropologie, or their own décor store like Gaines does, but we can all bring some of the distinctly homey and comforting ideas into our spaces. Realtor shared a few of her foolproof tips, illustrated throughout the process of fixing-up a 1910-built residence for a returning Waco, TX couple. A country gal herself, Gaines dropped the farmhouse trend right at our feet, and we'd be remiss not open the door and enter her world. Here are some ideas how.
Keep the character intact
In an episode of "Fixer Upper: Behind the Design" (via Realtor), homeowners were enamored with the farmhouse character of the structure, so Joanna Gaines agreed it would remain a top consideration while renovating. She asserts that certain features, such as fireplaces, decorative moldings, and built-in cabinetry and shelving, should be left intact so as not to cancel a positive; however, they can occasionally be freshened or altered to update them or enhance their aesthetics. In one case, a custom and original glass-fronted dining hutch was refinished and dressed-up with a backsplash, utilizing tile that appears elsewhere, thus connecting the piece visually to the rest of the home.
Gaines recycled existing wood shiplap and added more throughout, even applying the treatment to the ceiling. A signature of her interior designs, the horizontal planking imparts texture and a rustic feeling to white walls, a color that can sometimes be perceived as sterile or cold. 
To create an eclectic and unique energy, Gaines likes to mix old and new elements together. That's easy when starting with authentically old architecture and interior details; a few contemporary finishes and pieces of furniture complement them nicely. Gaines relies on black iron, modern lighting pendants, and refined neutral or graphic black and white color palettes for affecting contrast. With newer builds, vintage and aged pieces can be incorporated to bring in character and warmth among the pristine surfaces. According to Lonny, flea-markets and antique shops are Gaines' favorite haunts for finding unique items.
Spread the love with concrete
In typically modern fashion, Joanna Gaines opts for concrete flooring to add a contemporary component to some of her renovations; she particularly likes it as an alternative to tile in the bathroom because it's practical and simple to keep clean. Countertops are another avenue for the solid and tactile material, acting as a foil to refined wooden cabinetry; Gaines pushes the concept farther with a frameless glass shower surround. To ensure a look of warmth, she layers cozy and textural area rugs over concrete floors; Gaines knows a thing or two about them, having collaborated on a collection featuring faded colors and classic farmhouse patterns. In some instances where oil stains are present on original concrete, she simply has it painted over and then piles on a carpet. 
For decorating walls, Gaines hangs mirrors to create the illusion of a larger space; she also makes the most of lighting by suspending fixtures in front of them, reflecting the warm glow and doubling the bulb's intensity. And true to her eclectic style, Gaines fastens found objects like metal hooks or oversized letters and numbers to the wall, as seen on Realtor; or she floats shelves deftly displayed with vintage items, such as cameras, books, or prints, showcasing something unusual without going kitschy or cluttered. Gaines told Elle Decor that it's better to have an empty wall than one filled with meaningless or mass-produced pieces. Ultimately, she shared, it's important to decorate for yourself and your personality.