The Mistake You're Making With The Color Of Your Curtains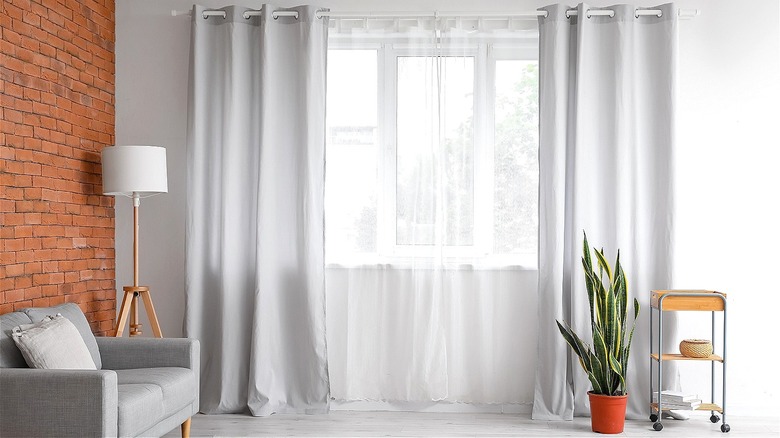 Pixel-Shot/Shutterstock
Choosing the perfect curtains can make a room seem complete and take the overall aesthetic up a notch. On the other hand, opting for the wrong window treatments can ruin the chic, cozy, stylish, or timeless effect you want to achieve. In order to avoid the latter issue, there's a certain color mistake you don't want to make. Jennifer Walters, the founder of Folding Chair Design, told Homes & Gardens, "One color to steer clear of is an exact match to the wall color. While it may seem like a seamless choice, it can result in a monotonous, and bland look, lacking visual interest and depth."
If that's disappointing news because you were planning to match your new curtains with the color of your room, you may be relieved to learn this rule doesn't apply to different tones of the same color. That could be a light blue wall color with navy blue curtains or soft mint green paint on the walls and dark forest green curtains hanging by the windows. Walters explained, "When considering curtain colors for a living room, it's important to take into account the concept of tone on tone, which can create a pleasing and sophisticated aesthetic. However, there are certain curtain colors that should be avoided when aiming for this effect."
The colors that should be avoided are ones that are completely the same. Instead, either opt for similar tones or go in a totally different direction.
How to avoid this monotone mistake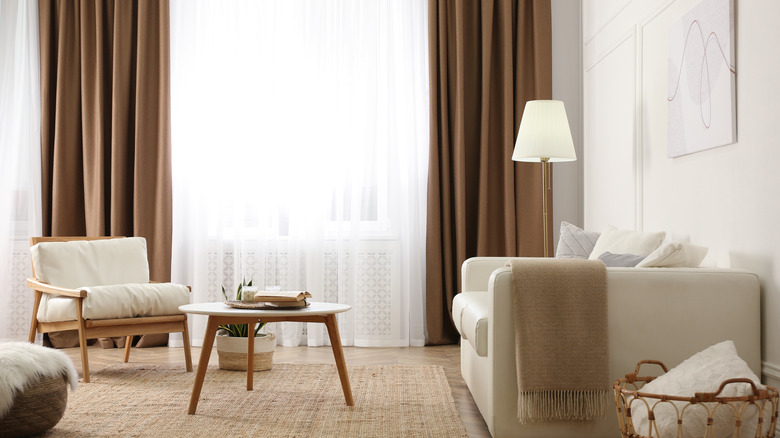 New Africa/Shutterstock
Rooms that stick with a single shade for curtains and walls can come across as dull and uninspired, not to mention lacking a needed touch of style. That's why, to avoid this possibility, you may want to opt for the opposite of what you had in mind. For instance, you may want to give contrasting colors a try to achieve something much savvier.
If you already love the color of paint on your walls, then stay away from similar hues for your curtains to avoid the monotone look and, instead, use the color wheel to find the opposite shade and opt for something in that range. You can also use the mood you're trying to achieve to guide your choices. Perhaps you want something that's rather bohemian, in which case you can try gorgeous green walls and beautiful burgundy curtains. If you're looking for something bright and modern, then you may want to go for cool blue walls and sunny yellow curtains or offset pristine white walls with dark earthy curtains.
Two instances when you can break this curtain color rule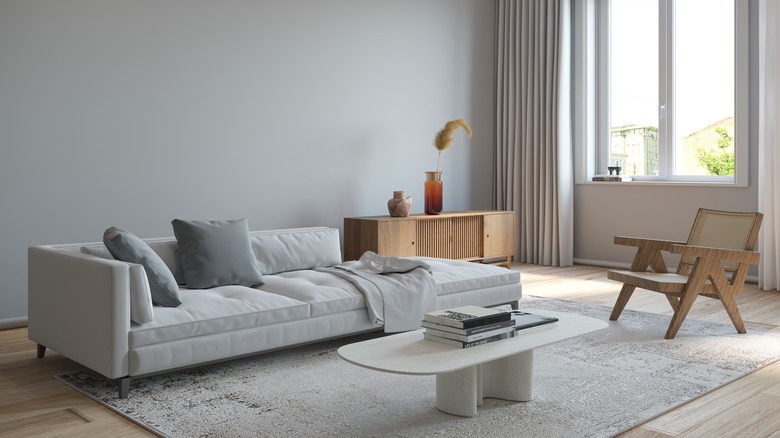 Izusek/Getty Images
Choosing to put up curtains that are the exact same color as the paint on your walls can result in a space that lacks eye-catching elements. However, for some people, that might be exactly what you're aiming to achieve. This may ring true for you if you're someone attracted to a minimalist aesthetic.
If this is the case, then you might find contrasting elements to be overwhelming and distracting or feel cluttered by too many different accents. But by perfectly matching curtains to walls in a room, you can keep the window treatments a subtle addition to the space. It'll also help to create an area that will likely give off a crisp and clean vibe while establishing a calm and relaxing feeling that will help you unwind whenever you enter the space.
You can take this design choice even further by opting for a single texture such as glossy paint and shiny, silky curtains. Or, you might prefer a matte surface for both. This said, this could be the one way you differentiate between the two. For example, while they can both be the exact same color, you might choose a matte finish for your paint and then grab curtains made with a material that boasts a stunning satiny sheen.