Use Simple IKEA Spice Racks To Revolutionize Your Bathroom Storage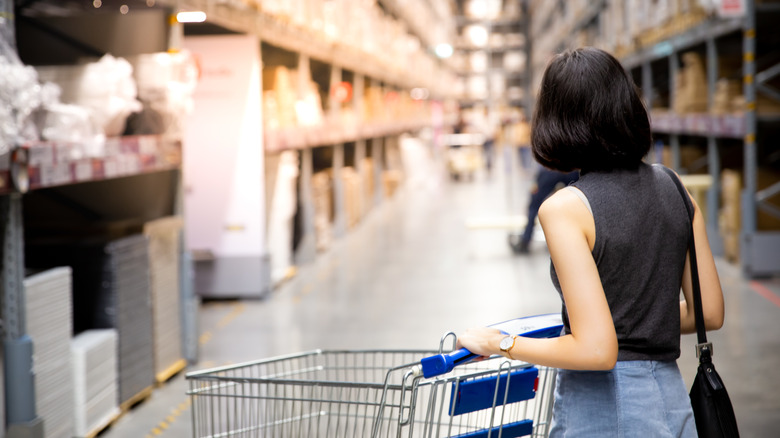 CRAFT24/Shutterstock
If you feel like your small bathroom's shelves and cabinets leave you constantly short on space, you're not alone. It might be your arsenal of skin lotions and potions in need of a home, or your toiletries scattered about your sink for all the world to see. Even if you have a medicine cabinet, you might not have enough shelf space (and height) to store a wide range of bathroom products. You can spend hundreds of dollars on expensive bathroom shelves, but do you have the wall space to accommodate large cabinetry? If not, there's an ingenious hack that's cost-effective and easy to assemble: IKEA spice racks. This means that, with a few dollars and a few minutes of assembly time, you can transform your bathroom and instantly create space for all your items. 
The best part is that IKEA spice racks are open, which means you can stash even your most hard-to-shelve items safely on these makeshift bathroom shelves. If you eventually have a bathroom with more than enough storage space, you can simply transfer these shelves to your kitchen, using them for their intended purpose. So before you toss your toiletries in the trash or sweep them into a drawer, give this hack a try. You'll be glad you did. 
Assemble your IKEA spice rack
The IKEA spice rack needed for this hack is the BEKVÄM. It's relatively inexpensive, making it easier to organize your bathroom on a budget. This rack is made from solid aspen wood which means you can easily change the surface color with a paint formulated for humid environments. After you've assembled your IKEA spice rack and made it your own, it's time to pick the perfect place for your new bathroom shelf. 
Keep in mind that a single horizontal piece of wood is all this spice rack uses to keep its items secure, so smaller items (chapstick, for example) might roll off. If this is the case, you could add some compact containers to secure your smaller items to your new bathroom shelf. You can easily use this IKEA spice rack to house makeup, cotton swabs, toothbrushes/toothpaste, lotion, and so much more. Although this hack can help you store items in your bathroom, you can also use it to brighten up your space. Add succulents or colorful artwork to add pops of color to your bathroom. You'll showcase a clean and clutter-free bathroom while elevating your space.