The Brilliant Way To Provide Lighting Along Your Patio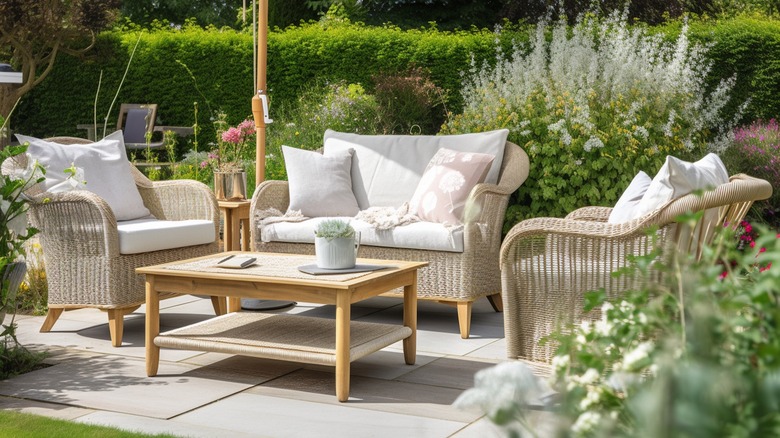 Antonioxs56/Shutterstock
We may receive a commission on purchases made from links.
Whether you're entertaining friends with dinner on the grill or simply enjoying a moment outside to watch the sunset in the evening, spending time on the patio can be a relaxing part of your day. Adding some outdoor lights will make these moments even more magical, and there are a number of ways to incorporate them into your outdoor design. One of the best methods for adding additional lighting to your patio is to position rope lights throughout the area. These lights create a soft glow that will add ambiance to your yard. The bulbs are set in a protective tube that is made of flexible plastic, which makes them easy to position in areas throughout your garden. 
Because rope lights are so easy to bend, they can fit into any area that needs additional lighting. Create a safer environment at night by using them to define a walkway with their warm light. They can illuminate a set of steps either by being stretched underneath each stair or by winding them around the banister. Set them along the edge of the landscaping, or coil them around the trunk of a tree for a decorative design. Because they're not as bright as other types of outdoor lights, their gentle glow will provide illumination in your yard without interfering with your view of the sunset. They're also easy to move and reposition, so it's possible to add additional lighting for an outdoor event and then remove them later.
The versatility of rope lights
Rope lights are available with a number of features, such as the ability to operate them remotely using Wi-Fi capabilities. For example, this set of Tzumi LED Rope Lights from Home Depot can be customized with the associated app while using your home's Wi-Fi connection. Set them on a timer to turn on and off at certain times, choose the colors of the lights being displayed to complement the seasons, or select a solid or transitional mode. Being able to control and customize the features gives you an endless selection of patterns that you can use to light up your backyard. 
Another option is to connect your lights to an outdoor smart plug such as the GE Lighting CYNC Outdoor Smart Plug from Amazon. This type of plug has Bluetooth and Wi-Fi capabilities, and it allows you to use Alexa to control the settings on your rope lights. You can use voice activation to set them on a schedule or to activate motion detection, for example. Being able to customize the lighting and timing functions adds to the versatility of the rope lights. Combining these features with their flexible tubing makes it easy to reposition and illuminate any part of the yard where they'll complement your home and provide the most benefit.