20 Trendy Ideas For Designing Your Perfect Patio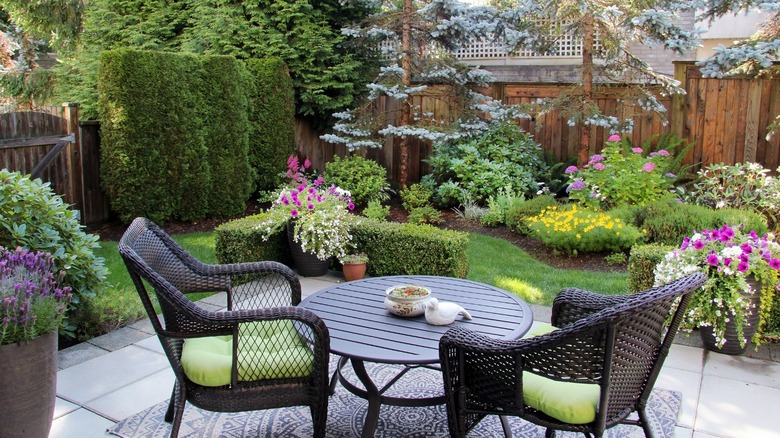 Hannamariah/Shutterstock
Patios are all about expanding your living space to take advantage of the outdoors. With spring almost here, this is the time to start designing your perfect patio. Creating a patio doesn't require a celebrity-sized budget. Here are 20 ideas to help you get started. Designer Lisa Moody recommended you start by thinking about how you want the space to function. Plan your space around what's most important to you, she suggested. 
Do you want a place to put up your feet and relax, a place to cook and enjoy meals, or maybe a meditation spot? If you're working from home, why not take it outside? Think about how far away you want to walk from your house. If your patio is a "destination" spot, you may want to get as far away as possible. Or, it makes more sense for you to set up your patio attached to your house or close to it. Once you've made a plan, it's time to have fun putting it all together.
1. Identify your focal point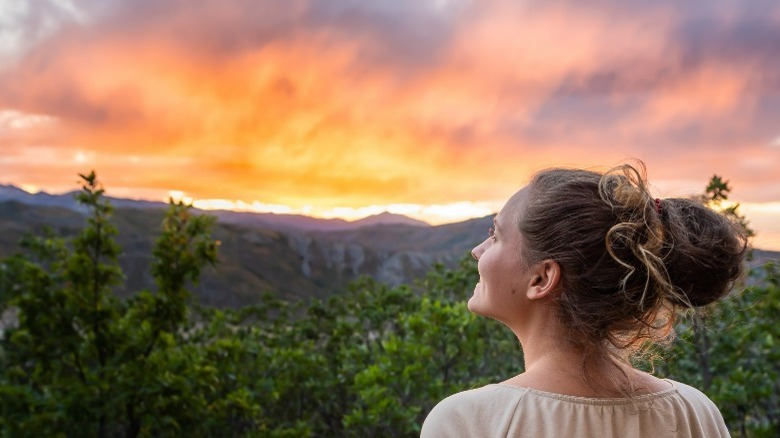 Andriy Blokhin/Shutterstock
What is it that draws you outside? When you're sitting on your patio do you want to gaze out at a particular view, watch the sunset or stare into the firepit? Don't worry if your backyard doesn't have a focal point, these ideas can help you create a backdrop and a focal point for your patio.
2. Identify your design style
Patios can reflect your home's decor or give you a chance to try something completely different. Your patio is an extra living space for a few months or most of the year. Choose the design elements that make a space that you'll want to use as much as possible. 
3. It's all about the base
Your patio base creates a vibe and provides a surface for your furniture. There are options for every style and budget from simple pea gravel, to wood or decking materials, and pavers. Whatever you choose, consider how it will feel to walk on, how furniture settles on it, and how much maintenance is needed.
4. Add comfortable seating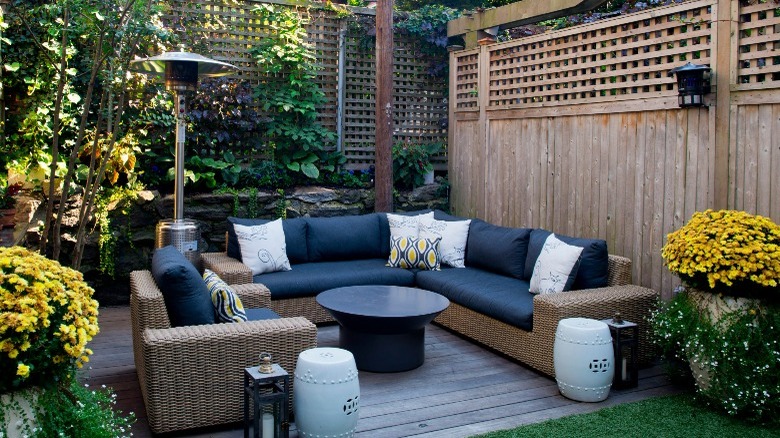 Marie Sonmez Photography/Shutterstock
Seating options range from simple chairs and tables to loungers, couches, or benches. Seating helps create the atmosphere you want to enjoy whether it's stretched out for a nap or leaning back to gaze at the nighttime stars. If you want to add some movement, consider an outdoor rocking chair, hammock or glider.
5. Side tables and dining tables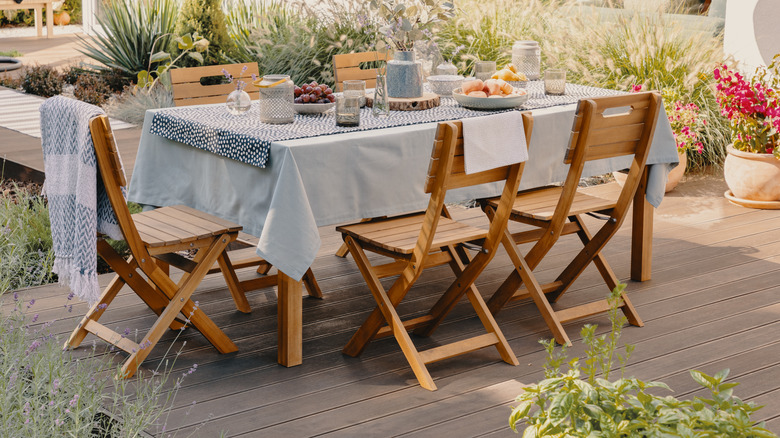 Photographee.eu/Shutterstock
A table is a must on a patio even if only to put down your book and a beverage. If you're planning to dine outside, choose a table that lets people pull their chairs up close.  In small spaces, expandable tables can fold down when you don't need a lot of seating. 
6. Add some shade cover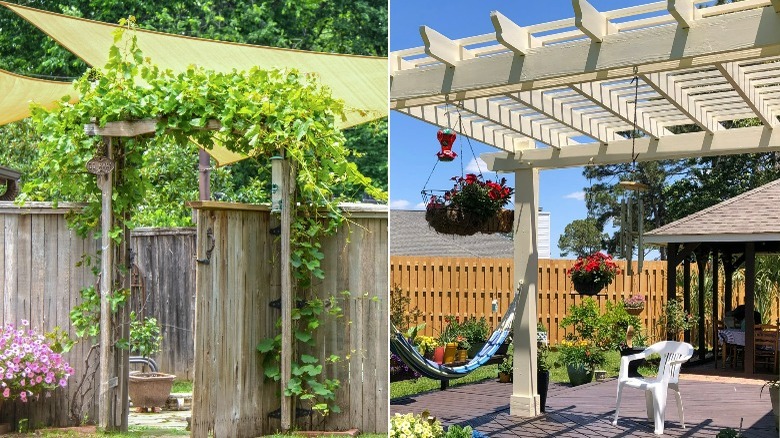 Christie McClung & Vineyard Perspective/Shutterstock
A shade cover is a must to maximize your enjoyment of your outdoor space. Even in a small space, you can add a fabric sunshade or a pergola. You can also loop outdoor fabric across the top of the pergola beams to add more shade and even a cover that will stand up to some rain. 
7. Privacy screening
PhotoMavenStock/Shutterstock
Privacy screening can be as simple as hanging up some outdoor curtains, adding a section of wood fencing to fill in an opening between bushes, or putting up a latticed or open-patterned wall. Just remember to check your municipality on height restrictions for fencing. If you want to go higher, try using plantings. 
8. Cushions, throws, and rugs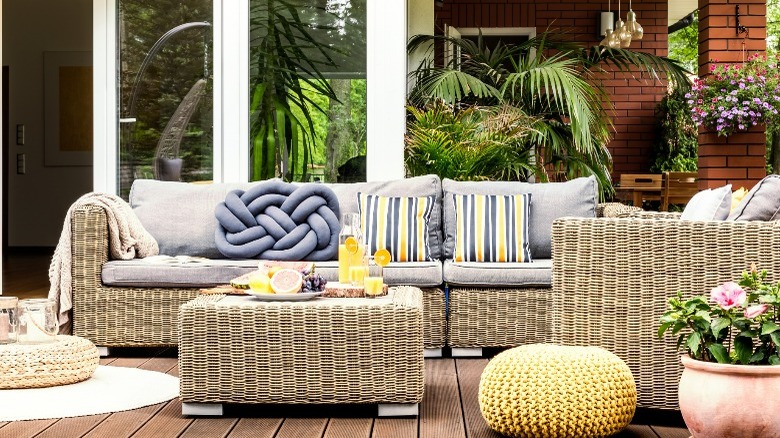 Photographee.eu/Shutterstock
Get cozy with cushions, throws, and add a rug to help define your outdoor living area. All of these are great ways to add touches of color. Create a space where you can curl up or stretch out and let the rest of the world go by. 
9. Use materials made for outdoor use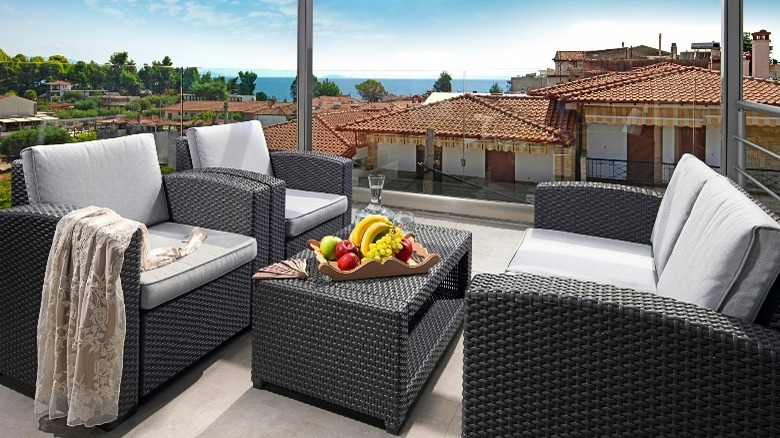 George Tsamakdas/Shutterstock
Choose cushions, fabrics, and furniture that are meant for the outdoors. Those materials are made to resist moisture, dry more quickly, and are treated to stand up to UV rays, which can cause fading. Your investment will last longer if it isn't damaged by the weather. 
10. Water features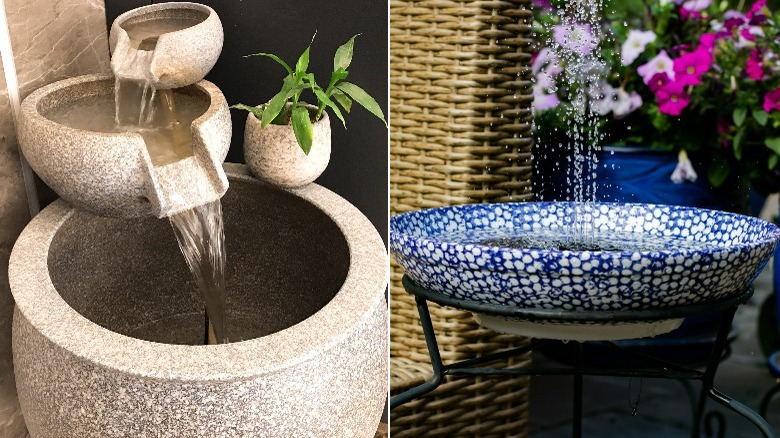 Everyday88 & Molly Shannon/Shutterstock
For the ultimate in relaxation add the sound of burbling water. A water feature looks great surrounded by plants, whether on a table top or on the ground. It adds a relaxing, soothing quality and creates a special outdoor environment.
11. Warm up with a firepit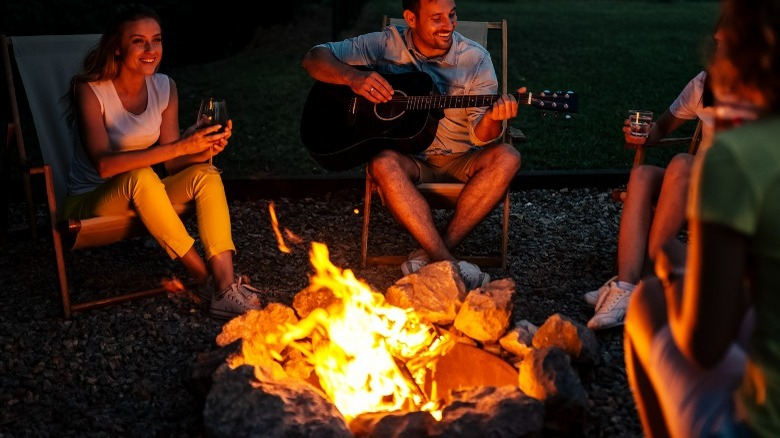 Branislav Nenin/Shutterstock
When the sun goes down, a fire pit keeps you warm so you can spend more time outside enjoying your patio. A freestanding or sunken fire pit can be wood burning or connected to a natural gas line or you can choose a propane-fueled fire pit table with a surround to put down drinks and snacks. Get the S'mores ready!
12. 1 Lighting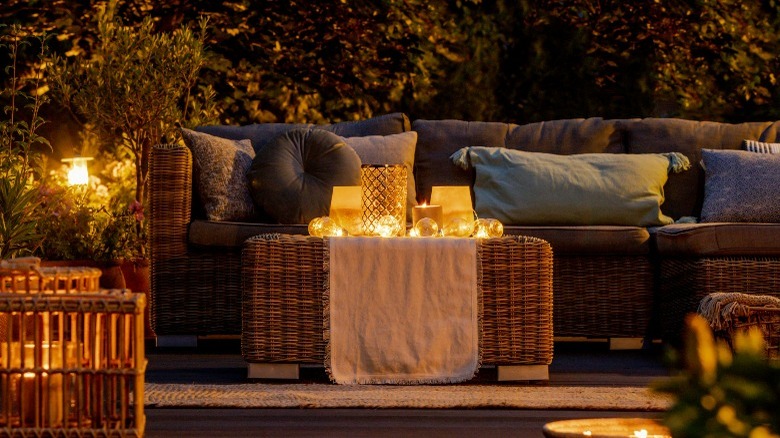 Photographee.eu/Shutterstock
Just adding a few lights brings a magical feeling to your patio. Tuck solar lights in among your plants, surround a tree trunk with tiny, white lights, or add some lanterns. You'll create an instant atmosphere of festivity. To help keep away the bugs, choose lightbulbs with a yellow glow.
13. Add heaters or fans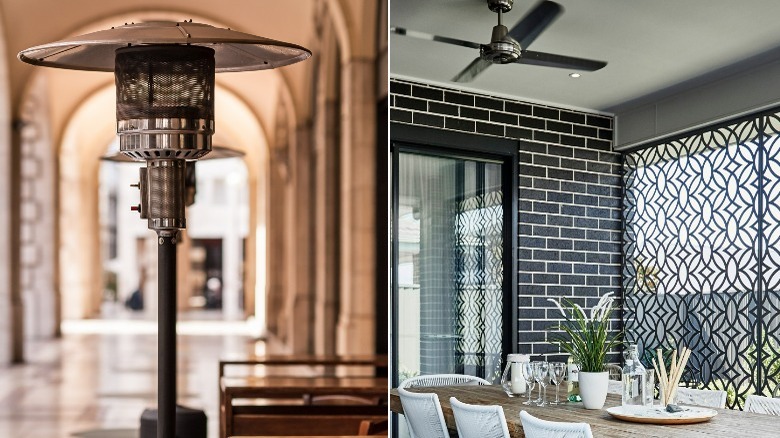 PhotoMavenStock & Climber 1959/Shutterstock
Patio heaters and ceiling fans extend the time you can comfortably spend outside. A fan's gentle breeze can also deter mosquitoes. If you're using a heater, electric-powered models will not attract bugs but propane or gas may. 
14. Bring in the greenery and blooms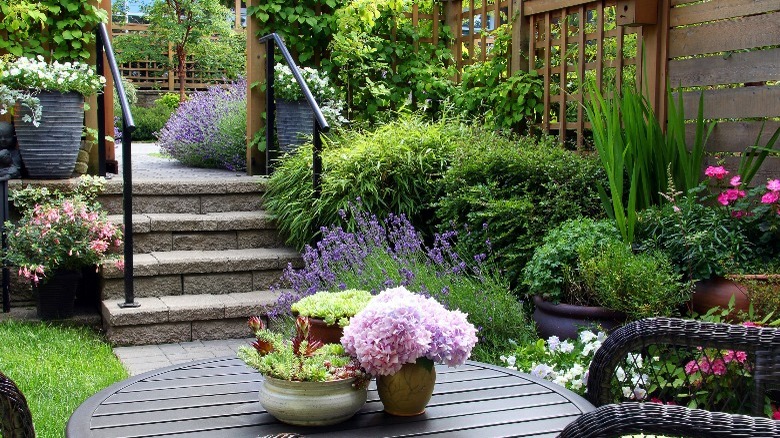 Hannamariah/Shutterstock
Plants in containers or raised beds can cozy up alongside your patio. Choose plants that tolerate the amount of shade or sunlight on your patio. Plants like basil, thyme, mint, and lemongrass have great scents, repel bugs, and give you a ready-to-cut herb garden. If you have pets or young children, use non-toxic plants.
15. Caddys and Trays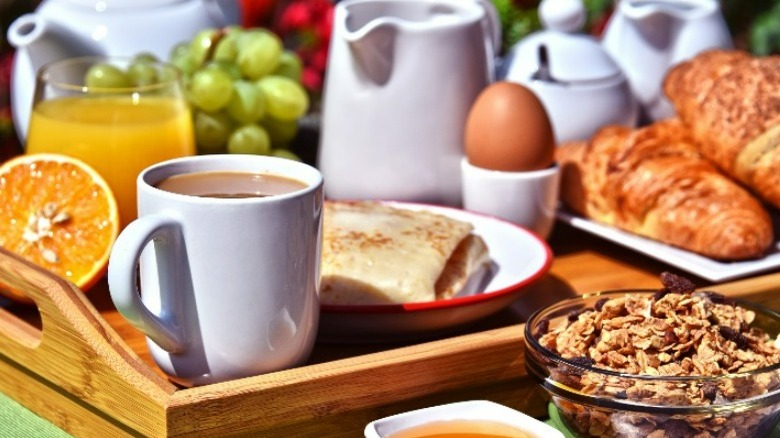 monticello/Shutterstock
There is nothing like a beautiful meal outdoors! Reduce the number of trips in and out of your house by using a caddy and trays. Trays with low rims and handles make it easier to carry out food and table settings. Caddys can hold napkins and utensils. Add insulated pitchers, and you'll be ready for any meal.
16. Add a bar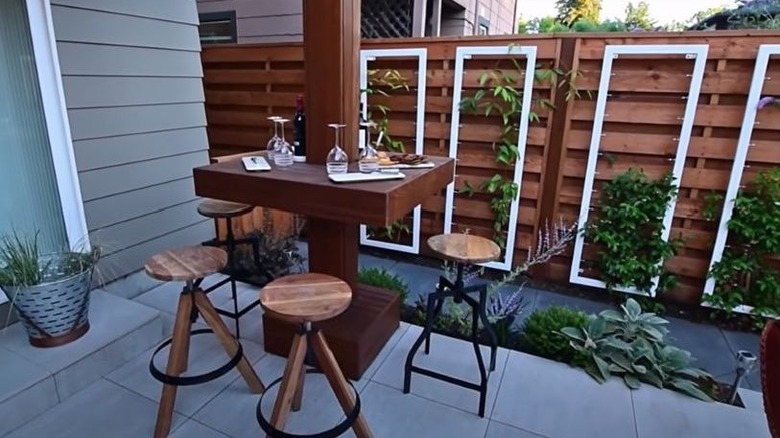 Bar seating can fit into a small space by adding framing around a column at bar height or extending the top of a railing and adding bar stools. 
17. Separate dining and lounging areas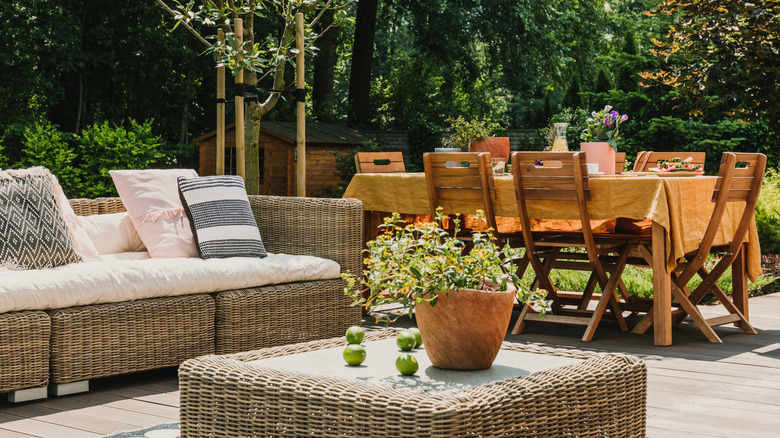 Photographee.eu/Shutterstock
If you have the space, create a separate dining area so when you're enjoying a meal, you can sit at a dining height table rather than on your couch. It will help keep your lounging area cleaner, too!
18. Build a fireplace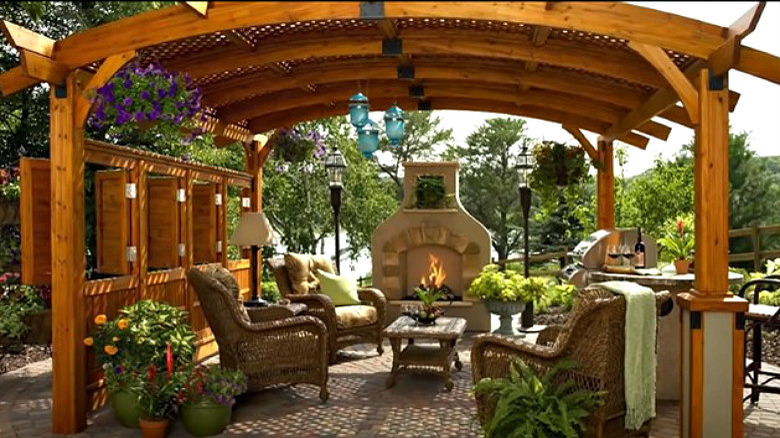 A fireplace can serve as the focal point of your patio. In this photo, it stands just outside of the pergola and helps to add some privacy, as well. 
19. Build around a tree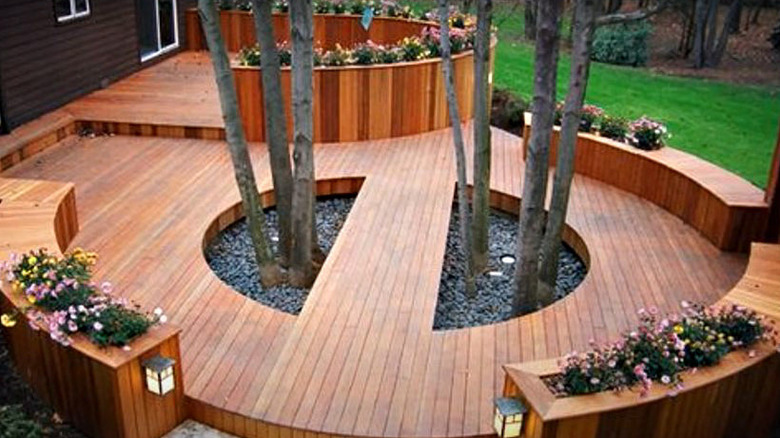 If you have trees growing right where you want your patio, you may be able to incorporate them into your design. You'll soften the constructed look of a large patio by adding nature into your design and adding shade simultaneously. 
20. Add a kitchen area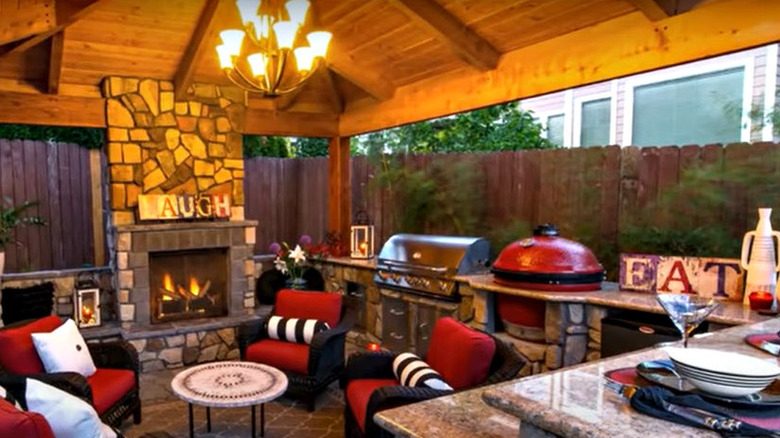 Is there such a thing as beyond BBQ? Extend your outdoor cooking beyond the grill by adding a griddle, a side burner, a pizza oven, refrigerator, ice maker, maybe even a Big Egg ceramic charcoal cooker. If cooking is your passion, why not bring it out to your patio?