Kitchen Features That A Designer Recommends Splurging On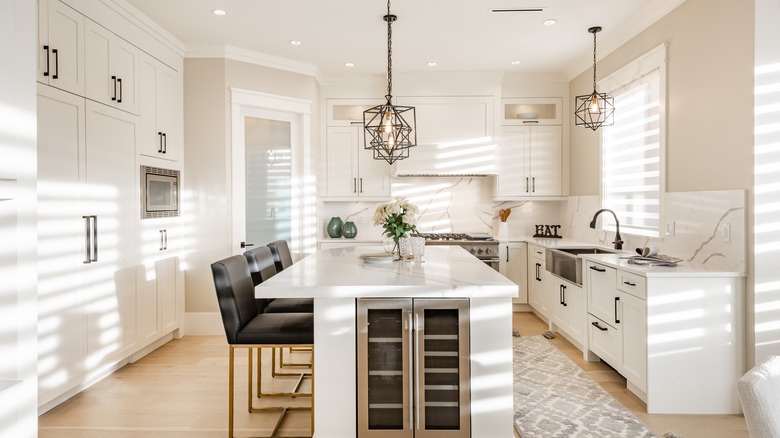 Sheila Say/Shutterstock
Whether you're building a new home or renovating an existing kitchen, you have many choices to make along the way. Working within a project budget, you'll want to know where you can save money and where it's wise to splurge. For example, you might save money on flooring and lighting so that you can invest in high-quality appliances. But which items are worth the extra money? We interviewed experienced designers and home remodeling professionals for their insights to ensure you get the most bang for your back. They considered functionality, efficiency, performance, durability, and style when making their recommendations.
Homebuyers look for updated kitchens with high-quality finishes and energy-efficient appliances. Although the upfront costs for splurge items might seem high, the high-end options represent a greater return on investment (ROI) when you resell your home. According to Zillow, a modestly priced kitchen remodeling project yields 81.1% ROI. To ensure you're investing in the right things, here are the features home professionals recommend splurging on.
Save up for quality cabinetry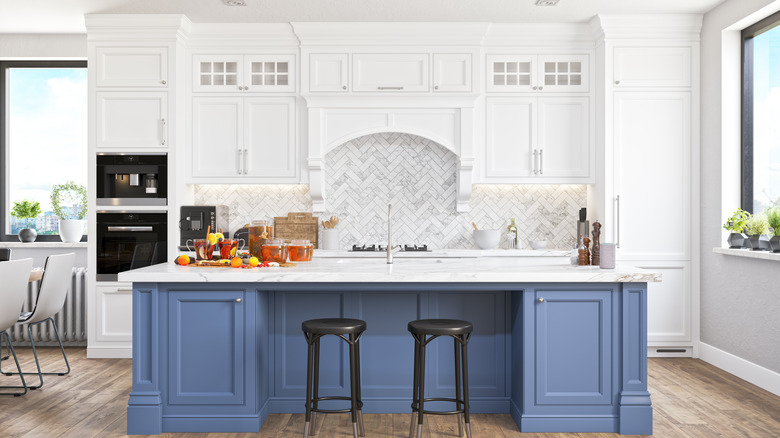 Imaginima/Getty Images
The cabinets take up a large amount of the square footage in a kitchen, and their looks and functionality can make or break a design. That's why Moe Soloff, kitchen specialist at Fabuwood, recommends that homeowners opt for high-quality cabinetry. "Generally, the cost of high-quality cabinets ranges from $10,000 to $35,000. These come with robust construction and premium materials, ensuring longevity and better resistance to wear and tear," he explains.
Soloff further explains why a successful kitchen design requires quality cabinets. "From my extensive experience in the industry, I've noticed that clients who opt for premium cabinetry never regret their decision. High-quality cabinets not only enhance the aesthetics but also provide superior functionality, with features like soft-close drawers and doors, and customizable storage solutions, making the kitchen space more ergonomic and pleasant to work in." For example, rather than having all your cutting boards piled high in a cupboard, you can have them neatly stacked in individual slots in a custom-made cabinet. Bliss.
Consider quality cabinetry as a must for your enjoyment of the kitchen space as well as a selling point when you're ready to sell your house. Potential buyers immediately notice the kitchen cabinets when they walk through your home. With an increase in the selling price, you can recoup up to 70% of their cost.
Invest in countertops if you want your kitchen to last for decades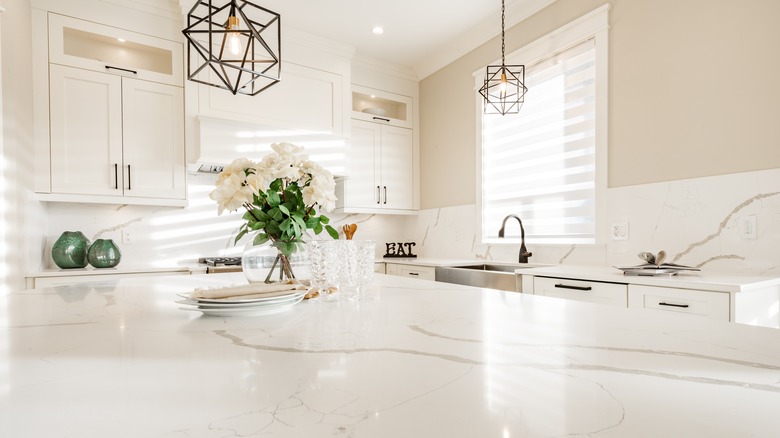 Sheila Say/Shutterstock
You might say that the countertops are the most hard-working materials in your kitchen. Because of this, Rudolph Diesel, a top London interior designer, recommends splurging on them. Specifically, he recommends natural stone countertops for both aesthetic qualities and endurance. "Quartz or granite countertops can cost a pretty penny, but they are so worth it if you're creating a kitchen to last. Not only do they look incredible, they are resistant to stains and scratches, unlike other cheaper materials used for countertops. Both granite and marble are also low maintenance and can last for years without looking worn down," he says.
High-quality countertops in natural stone materials yield a 60% to 80% return on investment when you sell your home. Although granite is not as popular as it was a decade ago, it remains a wise choice for durability as well as resistance to heat and stains. Marble, on the other hand, contributes a sense of timeless luxury to a kitchen space. It's strong and heat resistant, although it's prone to staining. This makes it the most high-maintenance pick from all the natural stone options. However, quartz can give you the best of both worlds. It's manufactured from ground, natural stone combined with polymer resins. Because of this, it comes in a wide array of colors and offers maintenance-free durability.
Save up for a customized pantry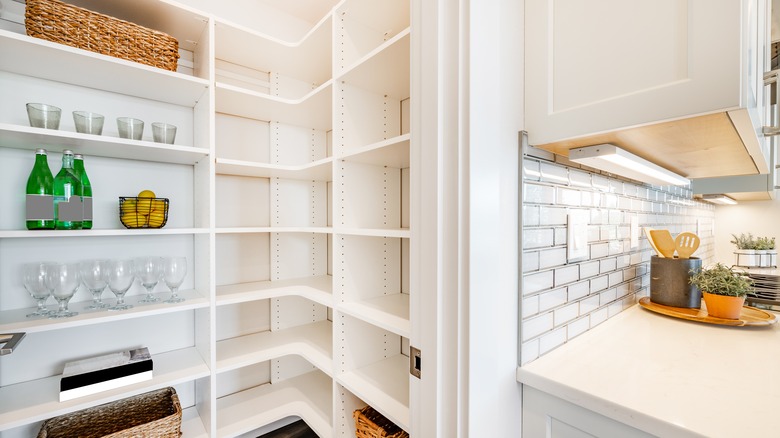 Sheila Say/Shutterstock
An organized kitchen is a joyful place. When you can store food items, dishes, and cookware in a customized pantry space, it makes the kitchen run smoothly. Diesel puts these types of pantries on the list of elements that homeowners should splurge on. "Customised storage or pantries can cost up to $1,800 depending on how complex they are, but they are equally worth it! A kitchen is a space that's most commonly in a state of disorganization and overwhelm, and a pull-out pantry or storage can help with this by keeping clutter at bay and making it a lot easier to find and get to items that might otherwise be hiding in a dark corner or toppled over somewhere."
When you customize a pantry, it's your opportunity to create a storage and work space that suits your needs. Depending on the size and layout of your kitchen, you might choose a walk-in pantry or a butler's pantry that contributes a dedicated area for storage and meal preparation. Alternatively, you might opt for a freestanding pantry that complements your cabinets or a slide-out pantry that offers sliding shelves and rotating doors. Additional options include a built-in cabinet pantry that blends with your existing cabinets or a wall pantry that adds storage space to an otherwise unused wall. 
Splash out on a kitchen island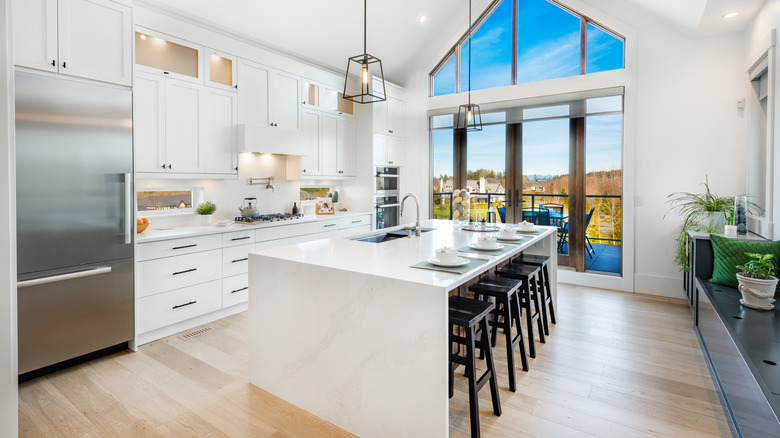 Sheila Say/Shutterstock
Starting back in the 1940s and '50s, homeowners began to include kitchen islands in their designs. Today, it's almost impossible to think of designing a kitchen without considering an island for workspace, family meals, and entertaining guests. Diesel encourages homeowners to splurge on these architectural elements. "Kitchen islands are popular for a reason. The prices for installing an island can change significantly, so it's down to personal preferences and how much you want to splash out on your dream kitchen island. This being said, it's good to note that a quality island can help with storage solutions while acting as a central hub for socializing, mealtimes, and more."
They range from simple, freestanding fixtures for storage to more complex installations that incorporate sinks, plumbing, stovetops, and electricity. There are also different varieties of islands, so depending on your kitchen layout, one might be better suited for your space than the other. From bi-level to waterfall to galley, you don't need an open-concept room for you to have one. With these features, they become the focal point of activities in modern kitchens and a happy gathering place for friends and family.
Invest in high-end faucets and sinks to ensure they last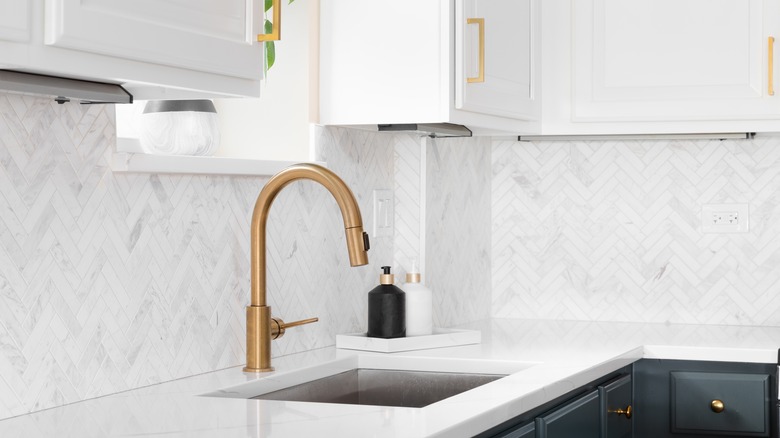 Joseph Hendrickson/Shutterstock
While the aesthetic qualities of your kitchen decor go a long way toward ensuring your enjoyment of the space, there's no denying that a kitchen must be functional, above all else. Austin Fain, owner of Perfect Steel Solutions, recommends splurging on functional, high-end faucets and sinks, which can range from $200 to $1,000 or more. Although the price tag may be high, Fain explains that the upfront expenditure is worth it for your peace of mind. "These fixtures receive heavy daily use. Investing in durable, attractive options can improve functionality and aesthetics while also minimizing the risk of leaks and repairs."
High-quality kitchen sinks and faucets are made of strong, nonporous materials that resist discoloration as well as the buildup of food particles and dirt. This attribute makes them easy to clean. Additionally, many modern options include high-end features such as self-cleaning functions, aerators, anti-scald valves, and hands-free operation. All of this will make cooking more enjoyable and hassle-free.
Consider high quality appliances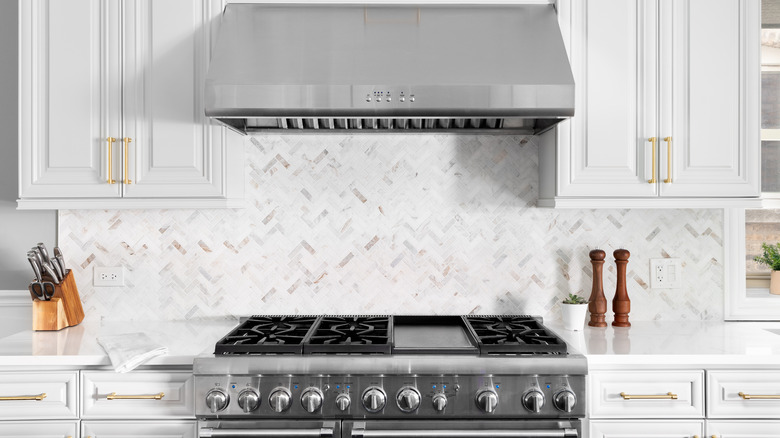 Joe Hendrickson/Getty Images
When it comes to functionality, the large appliances in your kitchen must meet high standards for efficiency and reliability. On a new build or a renovation project, you might want to invest in the highest quality appliances that your budget allows. And there is some wiggle room, as Fain notes. "The price of kitchen appliances can vary widely. High-end ranges and refrigerators can range from $2,000 to $10,000 or more," he explains.
The sticker prices might seem high, but this is an area where splurging is justified. "High-quality appliances are more durable, energy-efficient, and often come with advanced features. They can improve your cooking capabilities and add to the overall aesthetic of your kitchen," he shares.
High-quality appliances add to your home's value. They look better, perform better, and last longer. On top of that, they're more environmentally friendly. Many of today's high-quality appliances hold the Energy Star certification, signifying that they meet the standards set forth by the U.S. Environmental Protection Agency (EPA). These appliances use less energy and help to reduce the greenhouse gas emissions that contribute to global climate change.