Hidden Gems At Goodwill That'll Elevate Your Space, According To HGTV's Jasmine Roth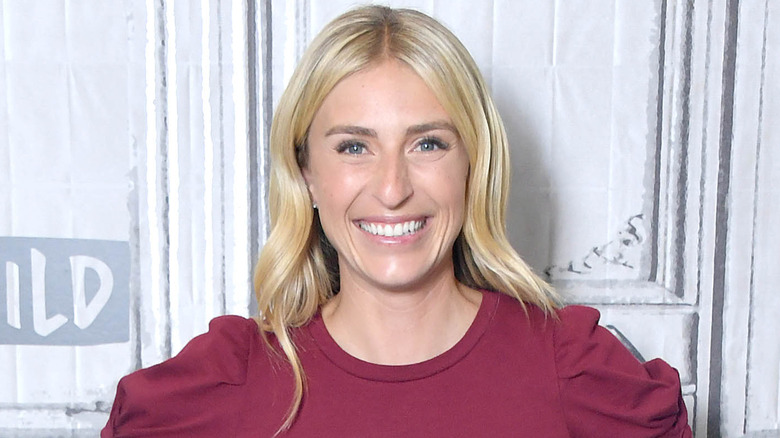 Michael Loccisano/Getty Images
Instead of splurging on items you may tire of later, try thrifting your home decor. One of the best parts about shopping at stores like Goodwill is that there are plenty of ways to flip your vintage home decor finds so that they perfectly match your style. HGTV expert Jasmine Roth loves stopping at Goodwill for decor items like ceramics and pottery, vintage dishes, light fixtures, and wall art. There's a method to Roth's madness that she says comes down to storytelling with each thrifty find. "One not-so-secret thing about me is that I LOVE a good thrift item ... I like older things that have a story to them, or a patina to them, or just things that don't look super new," Roth says, per her website Jasmine Roth.
Don't have a Goodwill near you? Roth says that any thrift store will do. And while she says she doesn't have a specific method when scouting Goodwill for unique home finds, she does have a list of generic items to look out for. Here's what Roth says to keep your eyes peeled for when shopping at a second-hand shop.
Aged ceramics and pottery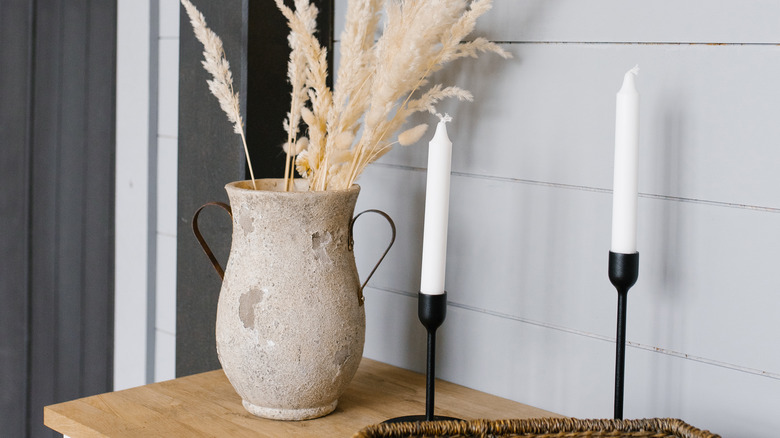 Chamomile_Olya/Shutterstock
Old ceramics and pottery make great home decor items to find at Goodwill since they have a lot of versatility. Not only do they create the vintage look Jasmine Roth loves so much, but you have the possibility to spruce these pieces up if desired. If you find a vintage ceramic cup, planter, or pottery item, you can style your home with the piece by showcasing the weathered exterior or painting it for a fresh look. Aged pottery that's made out of clay is perfect for planters to house your favorite succulents or florals as well, since they are porous and allow for easy drainage.
According to Roth, Goodwill always has a large collection of pottery and planters, even ceramics. We love the idea of placing a few weathered ceramic vases on open shelving or using one as a handy kitchen utensil holder. You can even keep the pottery outside as a nice vintage addition to your porch back patio or use it in your garden as a unique decorative item.
Vintage dinnerware sets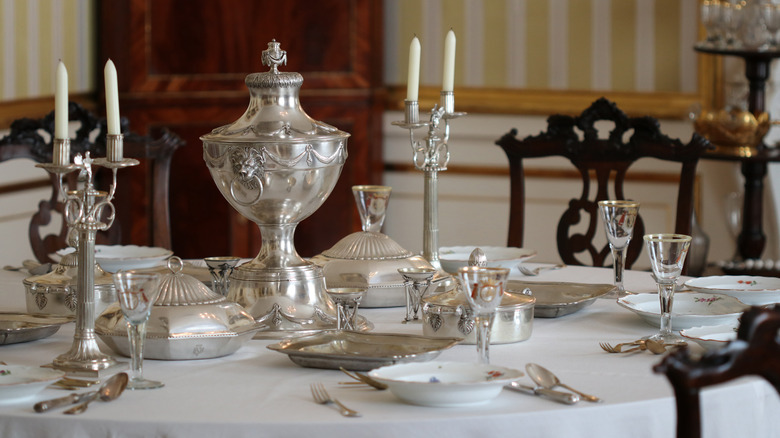 Jan Zwolinski/Shutterstock
"I think it's really important to add some things into any design that feel like they have a story," Jasmine Roth says on HGTV's YouTube channel. When thrift shopping, what better storytelling piece to look for than a vintage dinnerware set? The sets themselves look homey, but you also could strike gold (or, should we say, silver?) by finding real stainless steel pieces every now and then. These will last a long time, making them a collectible item that you could pass down for generations.
If you don't want to use a vintage dinnerware set for eating, these pieces can be used as decorative accents. For instance, you could transform a vintage spoon into an engraved napkin ring for a unique table-setting touch. You could also use your serving platter as a decorative tray for items like candles and small statues. "If you have a cool glass cabinet like this that you want to style, filling it with quirky, vintage dinner sets would look amazing!" Roth says on her website.
Old-school serving utensils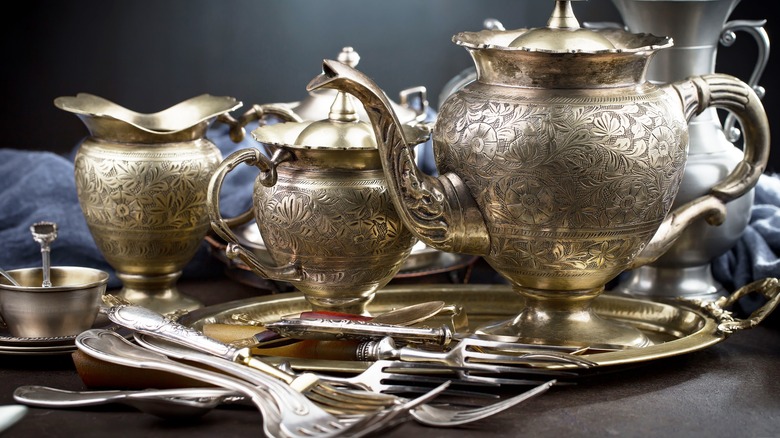 Zadorozhnyi Viktor/Shutterstock
Similar to dinnerware sets, Jasmine Roth says that searching for vintage serving utensils like soup ladles or large salad forks increases the homey feel at the table. These pieces can elevate the atmosphere of the kitchen and give your dining room tablescape more character. Not only do these pieces come with intricate carvings on the handles or a weathered, used look, but they're also quite durable. Contrasted with modern serving utensils that can be made out of disposable materials, vintage pieces are stronger due to their stainless steel finish. Some modern pieces are made with this material too, but they come with a higher price tag.
You might be able to find vintage serving utensils that match your dinnerware set for a complete setup. If you want to include these pieces at your table, carefully observe the utensils as you thrift. Check for cracks, possible corrosion, or any missing pieces that hint at the lack of quality. While thrifting is a great way to repurpose older items, not every find is a win!
Old light fixtures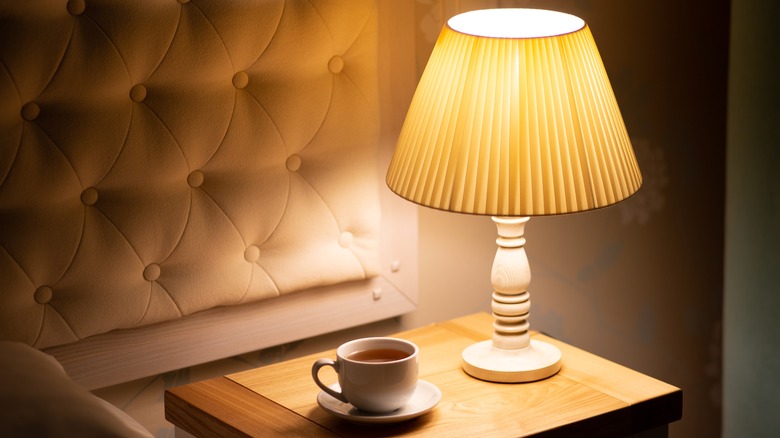 Vlada Tikhonova/Shutterstock
Every room needs light, and unique fixtures can add to the design of any room. Thankfully, light fixtures are something Jasmine Roth says are always in stock at your nearest Goodwill or thrift store. "Cool, old lights always add a ton of impact to a room, so definitely be on the lookout for those," she says on her website. Due to the warm glossy colors or brass and gold finishes, vintage lighting adds the perfect balance of history and freshness to any room. But before you add your vintage table lamps or pendant lighting to your cart, there are a few things to check for before checking out.
The thing with vintage lights is that they're, well, old. If you find a vintage light you like, plug it into an outlet to make sure it works before purchasing. Sometimes the old fixtures need a bulb replaced, while other times the fixtures themselves have seen better days and may not even be worth their low price tag. Stability is also another key component of vintage lights, especially when it comes to lamps. Make sure the piece won't easily topple over before you take it home.
Paintings, artwork, and frames
"One good design rule to have in each room is to add something vintage," Jasmine Roth says on her website. To make it easy to follow this rule, choose to add one vintage painting or piece of wall art to every room. These are easy to scout for at your nearest thrift store because they're almost always in stock and, just like the other items on this list, have lots of versatility when it comes to sprucing them up. You could revitalize vintage art by painting the frame, especially if it's made out of untouched wood. This is an easy way to update the piece while tying in other colors from your room. Or, if you find a frame that sports the typical golden edge of the past, use that to add a shiny design element.
If you don't see any artwork you like around the store, one expert tip is to stay consistent with your visits. Stores like Goodwill are constantly receiving new items, so it might take a few trips before you find a painting that speaks to you. A hack to keep in mind when it comes to vintage painting or art from Goodwill is to use the frame for your own creation. Remove the canvas or image inside the frame to showcase your own art instead, if desired.