Our Expert Tells Us These Are The Top 3 Most Durable Kitchen Countertops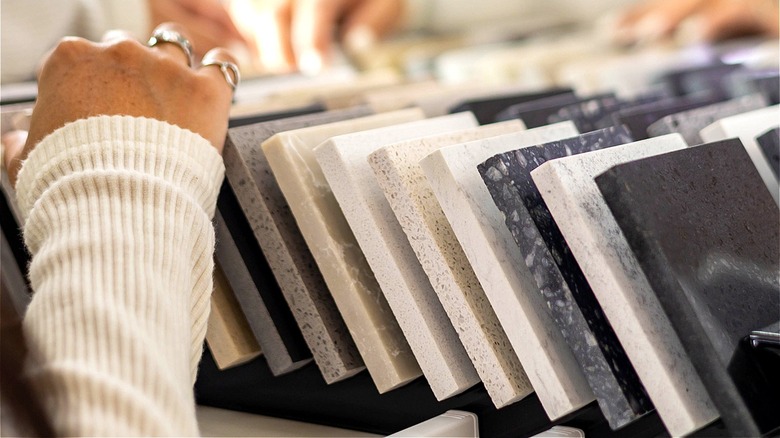 Kostikova Natalia/Shutterstock
Kitchens are the center of activity in our homes, so we spend a lot of time there. As such, we want our kitchens to be beautiful and to reflect our personal style, but we also need them to be functional and to stand up to all the abuse our families dole out. It's no secret that our kitchen countertops bear the brunt of it, so it's critical that we invest in ones that are durable. In an exclusive interview with House Digest, interior designer and CEO of Omni Home Ideas Brad Smith talked about granite, quartz, and Dekton, which he says are the three most durable materials to use for countertops.
Discussing the three options, Smith details the features that make them so popular and practical, as well as the one he recommends the most. And of course, he talks about the kind of maintenance each countertop material requires to keep them in perfect shape for years to come. "When choosing a countertop, consider not only the material's durability but also its aesthetic appeal and how it fits with the overall design of your kitchen," he said. "Sometimes, the right choice is a balance between functionality, beauty, and budget." Taking his advice into consideration, you can upgrade your countertops with confidence that you're getting a beautiful look that will stand the test of time.
Quartz is our expert's top countertop choice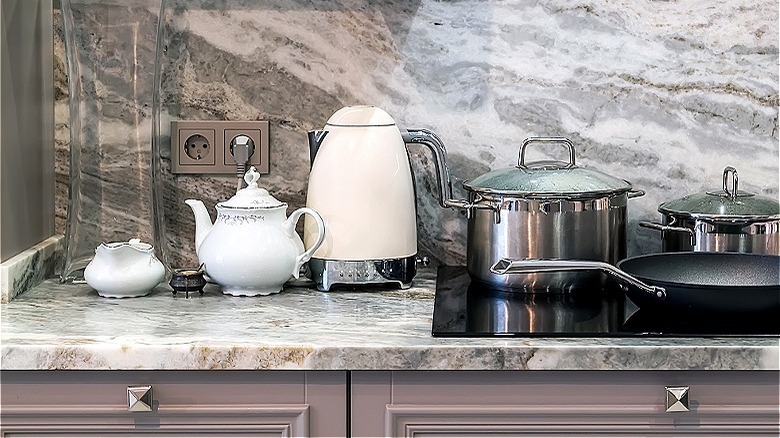 sommthink/Shutterstock
Speaking exclusively with House Digest, interior design expert Brad Smith said quartz is his choice when it comes to durability and countertops. "While all three materials have their merits, I'd particularly recommend quartz for most homeowners," he said, adding, "It combines the beauty of natural stone with added strength from its engineered nature."
Quartz countertops are indeed beautiful, and the average cost to install them runs about $4,500, though the cost per square foot can range anywhere from $50 to $200, depending on the exact style. One of the ways to add onto that cost is by ordering rounded edges, though this will greatly reduce the chance of your countertop chipping and is therefore highly recommended.
Once that's taken care of, maintaining and cleaning your quartz countertops is fairly easy. Always use trivets for hot items and cutting boards when using knives, but beyond that, all quartz requires is a non-abrasive cleaner. As Smith concluded, "Its non-porous surface means it doesn't require sealing and is resistant to most household stains, making it both beautiful and practical."
Granite and Dekton are also extremely durable
Granite is a natural stone which, when used for countertops, is "known for its durability and resistance to heat, scratches, and stains," explained Brad Smith, interior design expert, in his exclusive interview with House Digest. Meanwhile Dekton, pictured above, is what's called an engineered stone — specifically, a porcelain, glass, and quartz blend compressed tightly together into a hardy surface. According to Smith, both of these options are highly durable and make for a beautiful-looking kitchen, but there are some downsides to them.
While regularly cleaning granite with mild soap and water is largely sufficient to keep it looking good, it "requires periodic sealing to prevent stains since it's a porous material," said Smith. In point of fact, granite countertops should be resealed annually, which can run anywhere from $170 to $350 for each professional application, in addition to granite's installation cost of $70 per square foot, on average. This amounts to a slightly lower cost than quartz at the outset, but much higher maintenance costs down the line. It's possible to seal your countertops yourself, however, to save on those costs.
Dekton, on the other hand, is non-porous and requires no sealing. In fact, according to Smith, Dekton "requires minimal maintenance" and is "resistant to most household cleaners." He does recommend using non-abrasive cleaners, though, as a precaution. And while the price range of a Dekton countertop is comparable to quartz and granite, it is subject to chipping, scratching, and breaking if not properly cared for.