Should You Seal Your Granite Countertops?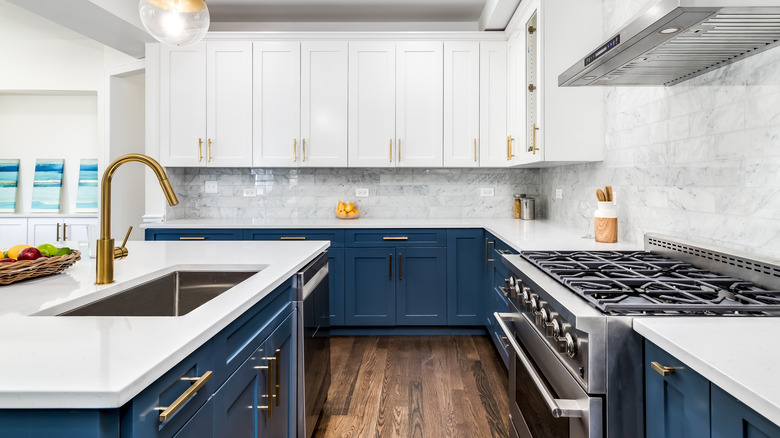 Hendrickson Photography/Shutterstock
You've purchased granite countertops you love, especially with just how smooth the surface is, but you're worried about maintaining it. Granite countertops add value to any home because of their beauty, but also because they're very durable and, most of the time, simple to keep clean. A wipe of a damp cloth is all you may have to do.
Atlantic Granite & Marble notes that granite, a natural stone, is porous, which means sometimes water and other liquids can seep into the stone. There's also the risk that the surface may suffer damage and etching if something falls on it or someone uses a knife to cut something on it.
Chances are good you've spent a significant amount of money on those granite countertops, and you don't want your child, with a cup of red punch in hand, to stain or otherwise damage them. On the other hand, you don't want to damage that beautiful, smooth finish either.
The answer isn't always yes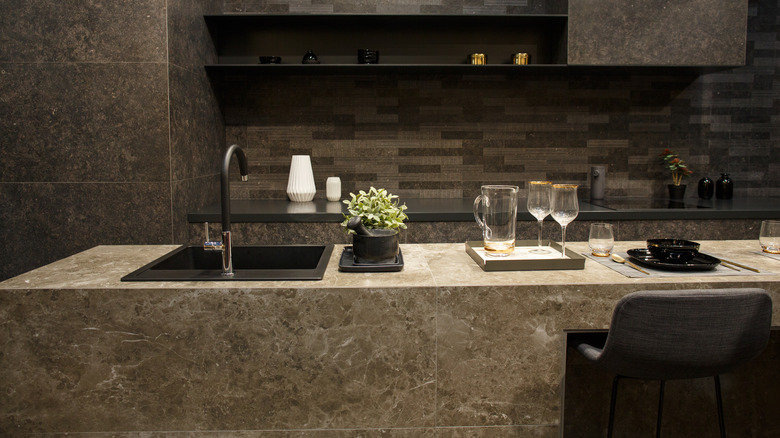 limipix/Shutterstock
Some people just want to blindly apply a granite sealer to the countertop as a "just in case" type of protective move, but that's not always necessary, says Countertop Specialty. The organization makes it clear that not all granite needs sealant applied to it, and you shouldn't just do it.
Darker-colored granite countertops typically don't need sealing often because the granite itself is so dense it isn't likely to be as porous and therefore cannot absorb those fluids. The opposite is true, too, in that there are some varieties of granite that always need sealant because of how porous the surface is. It's not just about color, either, but the overall specific slab itself and its density.
If you have brand new countertops, your best bet for insight into your granite countertop needs is the company you purchased it from, as they can tell you if it needs sealant and whether or not it is already in place.
How to tell for yourself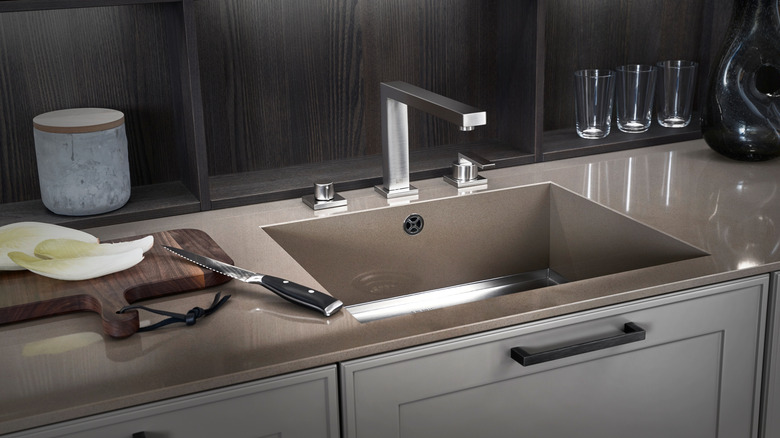 PK-Donovan/Shutterstock
You don't want to wait to call your granite seller? It may be possible to gain some additional information about your countertop from a simple water test, says Quality Granite & Marble.
This test only takes a few minutes and requires about a quarter of a cup of lukewarm water. Walk around your countertop and pour a small amount of water on various sections of it. Then, wait to see what happens. If the water is still standing there after about 30 minutes, that means the granite doesn't need any sealant applied. If the water seeps into the granite in under 30 minutes, that means it's likely to need a sealant to protect it, and that's even more important if the water is absorbed within 5 minutes.
Before sealing it, be sure to turn to your fabricator or the team that installed it for insight into the proper product for sealing. They can do the work for you, too.