How To Remove The Ring Around Your Bathtub Once And For All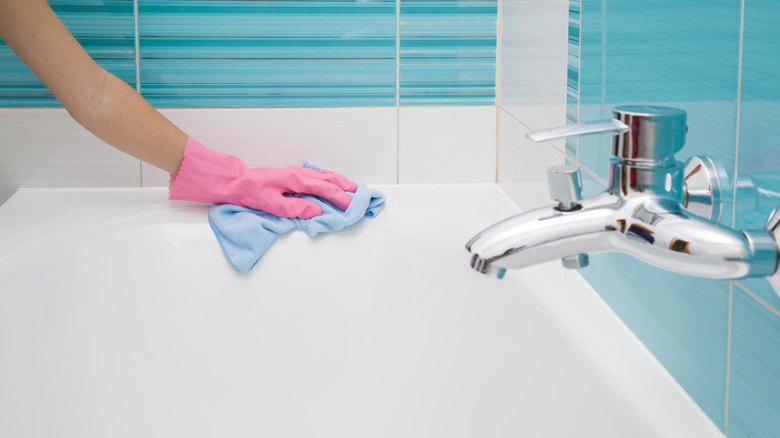 Shutterstock
Hate cleaning the bathroom? You're not alone. According to a survey of 1,775 participants conducted by YouGov, 14 percent of U.S. adults claim that cleaning the bathroom is their least favorite household chore. Surprisingly enough, this task made a three-way tie with doing the dishes and the laundry for respondents' least favorite chore.
Like it or not, cleaning the bathroom is an important part of keeping your household happy and healthy. Think about it: The bathroom is the most-visited (and, most likely, the tiniest) room in the house, and it's teeming with germy surfaces, from the countertops to the toilet seat to the bathtub. Did you know that the average bathtub drain contains 120,000 bacteria (via The Sun) per square inch? Yikes! 
Sadly, the germs don't stop there. If you use your bathtub frequently (i.e., you're not a shower person or the tub is your only option), then you're bound to see a dark line or ring form around the inside of your tub at some point. This ring consists of dirt, soap scum, dead skin, and bacteria, among other things (via BobVila.com). So, it's not just ugly — it's gross, too. But, don't throw in the towel just yet. Here's how to get rid of that unsightly ring around the tub. 
Cleaning your tub doesn't have to be torture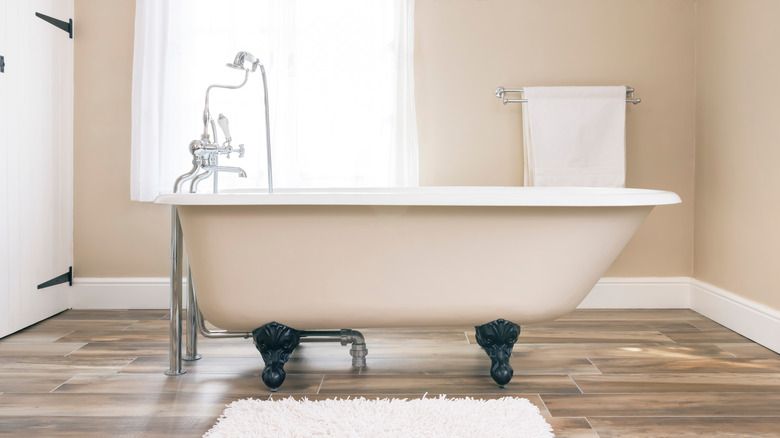 Shutterstock
Cleaning the ring around your bathtub doesn't necessarily require loads of elbow grease and back-breaking labor. According to Hunker, dishwashing detergent can work wonders. (If you're out of detergent, an inexpensive shampoo will work, too.) Using a wood or plastic spoon, mix 1/4 cup detergent with enough water to form a paste. Then, apply the paste to the bathtub's surface, and scrub the affected area with a firm brush, like an old toothbrush. Allow the mixture to sit for 20 minutes, and then rinse the tub out with water.
If you prefer natural cleaning products, Better Homes & Gardens recommends scrubbing your tub with a grapefruit. Just cut the fruit in half, sprinkle a bit of sugar on the cut side of the fruit, and you've got yourself a citrus tub scrub. Just be sure to rinse the tub thoroughly after scrubbing it with the grapefruit. "I prefer salt or baking soda with citrus fruit because it won't leave a sticky residue that sugar can leave," added Becky Rapinchuk of Clean Mama, per BHG. Note that citrus fruits shouldn't be used to clean natural stone, such as granite or marble.