Famous Haunted Homes You Won't Want To Step Inside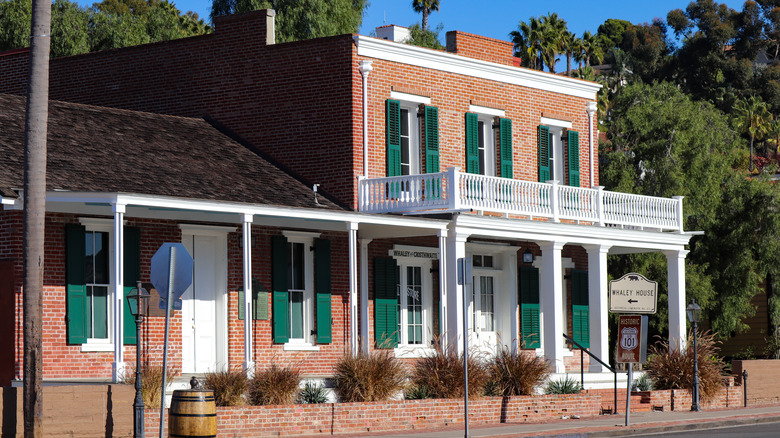 Roaming Panda Photos/Shutterstock
Everyone has seen movies or read books about haunted houses, but according to a YouGov poll, as many as 43% of Americans believe that what they've seen or read is real. They believe ghosts in real life can haunt houses. It makes sense, considering that in the same poll, 36% of Americans have felt the presence of spirits themselves. According to Rocket Homes, ghosts continue to haunt their former abodes when they feel deeply attached or are connected in tragic ways.
One way houses can be determined to be haunted is when a resident feels cold spots, which can be a spirit pulling energy out of the air to perform an action. Other ways involve hearing strange noises like the house creaking, walls thumping, or footsteps walking, which can be the spirit trying to get the attention of the home's visitors or current residents. But perhaps most terrifying is when objects either hurtle through the air, go completely missing, or move on their own, which can occur when spirits are interested in the item or, conversely, it's something they want to get rid of. All of the above — and more — have occurred at these real-life haunted houses throughout the world.
The following article includes allegations of murder and suicide.
The Whaley House, San Diego, California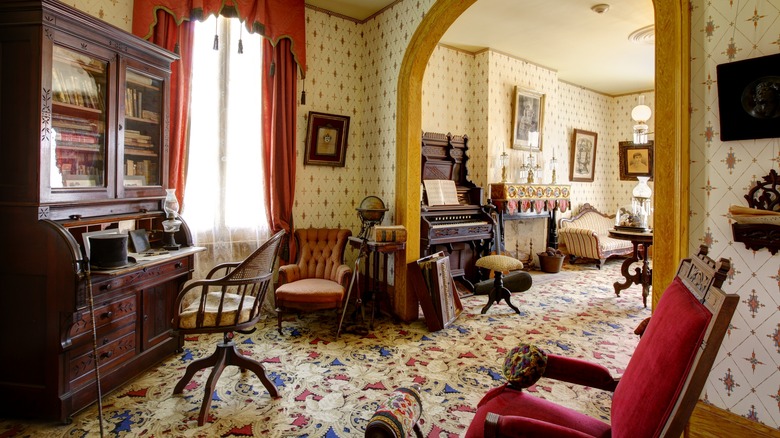 Artazum/Shutterstock
San Diego might be known for its sunny days, but it also has its share of darkness in a different sense. The California hotspot is home to the Whaley House, which is not only the most haunted home in the city but also the most haunted house in the world, according to Ghosts & Gravestones San Diego. It's one of San Diego's most famous houses, and with a title like that, it's not surprising that the Whaley House has more than just one ghost. Since many Whaley family members both lived and died in the house, it's still believed to be the home of several of them. This includes 18-month-old Thomas, who died of scarlet fever; daughter Violet, who died by suicide following an unbearable marriage; and Lillian, Thomas, and Francis, who were all siblings of Violet's and died here at various times.
Visitors, who can see the Whaley House for themselves by taking a 30-minute tour, have had many encounters with these now-passed Whaley family members. These encounters have included sounds of Thomas' footsteps and giggles; sightings of Violet on the second floor of the Greek Revival-style home; and cold presences of the other Whaleys throughout the property. It's also been said that lights here have spontaneously been turned on and off, crystals have swung unprompted, and mysterious mists have appeared.
If you or anyone you know is having suicidal thoughts, please call the National Suicide Prevention Lifeline​ at​ 1-800-273-TALK (8255)​.
The House of Death, Greenwich Village, New York
With a typical home value of nearly $2 million, people all over the world would happily live in a Greenwich Village abode. But what if that home was also known as the House of Death? According to NYC Ghosts, that's just what one of the neighborhood's Revivalist Greek brownstones is known as. Although the house was built in 1856, strange things didn't begin happening there until 1897. As the years went on, so did the pile of ghostly sights. Those included a piece of wood moving on its own, ghosts seen going up and down the stairs, and visitors claiming to hear marching sounds.
After the house was converted into a 10-apartment building in 1937, one of the residents called a paranormal expert to investigate who was haunting the handsome red structure. The expert uncovered a whopping 22 ghosts, including former resident Mark Twain, a woman in a white dress, a gray cat, and a young girl. However, this wouldn't be the final number of ghosts here. The same resident who called the paranormal expert wrote a book about her experiences living at the House of Death, and right after she finished writing it, she mysteriously died. Then, about 20 years later, a child was murdered by her father here.
If you or someone you know may be the victim of child abuse, please contact the Childhelp National Child Abuse Hotline at 1-800-4-A-Child (1-800-422-4453) or contact their live chat services.
Winchester Mystery House, San Jose, California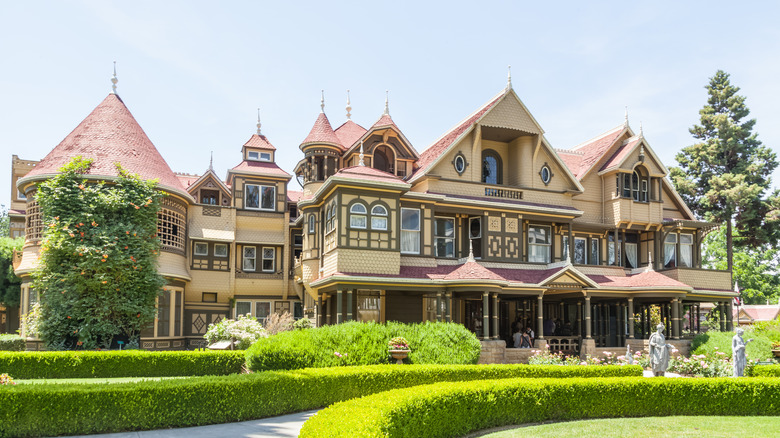 Dragan Jovanovic/Shutterstock
Some people are just never satisfied with what they have. Supposedly, that's just what happened to Sarah Lockwood Pardee Winchester after she bought an eight-room farmhouse in San Jose. She immediately began renovating the house and seemed never to finish. By the time she died, what's now known as the Winchester Mystery House was 24,000 square feet and had 160 rooms, six kitchens, 13 bathrooms. It cost $71 million in today's money to build, as per the house's website. No one knows what motivated Winchester to abandon her friends and family and continue working on the house until her death, which adds to the mystery. It's wondered if she was told to build the house by a psychic or haunted by ghosts already there.
Visitors may never know the answers to these questions about the Winchester Mystery House, but they can see it for themselves. One-hour tours are available, which cost about $42 and take people to 110 of the colossal mansion's rooms while also pointing out its many strange features. But if you're looking for a more interactive experience, the home also hosts weddings, private events, axe throwing experiences, and even an escape room. You can also join in on a theatrical paranormal experience during the Halloween season or check out the Jack O' Lantern Trail in the property's gardens.
Lizzie Borden House, Fall River, Massachusetts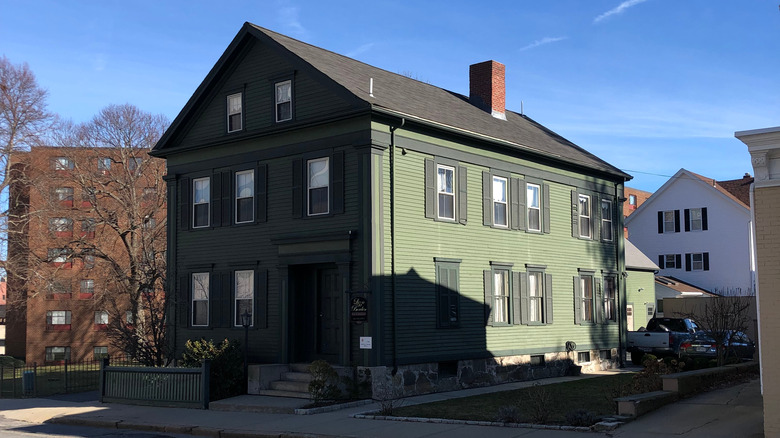 djenkins5/Shutterstock
No one would have ever guessed that seemingly innocent Lizzie Borden could be the one behind her parents' gruesome murders in 1892. But as it turns out, that was likely the case. In the middle of the day, 32-year-old Lizzie supposedly killed both of her parents with a hatchet in the house that she shared with them to gain her inheritance, reported Smithsonian Magazine. Locals believed she was the killer since the house was locked from the outside, she tried to poison her parents the day before the murders, and she told a friend prior that "something bad might happen." However, despite all of this, Lizzie was found not guilty of the crimes.
These days, lovers of the paranormal can experience the Lizzie Borden House in a few different ways. The house has been converted into a bed-and-breakfast with several rooms, which includes the "Murder Room," according to the bed-and-breakfast's website. There are also daily house tours as well as nightly ghost tours, and even ghost hunts. During the ghost hunt, visitors can use paranormal equipment such as an EMF detector, which tracks electromagnetic anomalies that supposedly can determine if a spirit is in the area. However, since the bed-and-breakfast is now under new ownership, virtual experiences, themed dinners, Fall River ghost tours, and murder mystery nights could also soon be on the calendar.
Villisca Axe Murder House, Villisca, Iowa
Upon first glance, the white farmhouse with a simple layout on East 2nd Street looks like every other house built around the same time in Villisca. But in reality, it couldn't have less in common with those homes. That's because what's now known as the Villisca Axe Murder House was the site of eight unsolved murders on a residential street, according to House Beautiful. Here, the entire Moore family (which included their four kids and two friends of their children) were killed, and according to many ghostly encounters, their spirits seem to remain at home.
Since the 1912 murders, people have heard strange giggles and screams while visiting. There is reportedly an odd, unexplained fog that occasionally creeps through the rooms, and some visitors even display possessed-like actions. But clearly, that doesn't deter people from visiting. The site is now a paranormal hotel that costs more than $400 for groups of six to stay overnight. Daytime tours are also available for $10 per person, but even these have been known to host spooky encounters. According to the house's website, some tours have been stopped mid-tour after incidents like falling lamps, moving ladders, flying objects, and other activities that make it clear that the house's real residents aren't pleased about visitors.
The Sallie House, Atchison, Kansas
At one time, the Sallie House was simply a doctor's home and his office at 508 North Second Street. But after the visit of a mother and her six-year-old daughter Sallie, it was never the same again. When the doctor diagnosed Sallie with appendicitis, he quickly sprang into action to stop the appendix from bursting. But Sallie's anesthesia had yet to kick in, and she died on the operating table, according to Visit Atchison. Since then, the tortured child has haunted the home with strange fires and even terrifying attacks on a young man that lived there in the 1990s. He said he felt scratches across his body, and objects would move by themselves when he would get close to them. However, Sallie never touched his wife or their baby. According to Only In Your State, a psychic determined that a middle-aged woman was also haunting the home.
Other evidence of hauntings at the house have included a coldness that overtakes spaces, trained guide dogs avoiding the home's nursery, mysteriously moving objects, and video cameras that have randomly stopped working. Since the house is host to daytime tours and even overnight stays, a waiver for personal injury is required for all who enter.
Franklin Castle, Cleveland, Ohio
It seems that ever since it was built in the 1880s by Hannes Tiedemann, the Victorian home known as Franklin Castle has been destined for darkness. Here was where the wealthy banker's 15-year-old daughter, mother, and three infant children passed away. According to Atlas Obscura, Tiedemann continued to build on the home to distract his wife from her grief. The house reflected their dark mood, featuring gargoyles throughout the property, a dark-stone facade, and gothic steeples. But unfortunately, the tragedy wouldn't even end there.
After Tiedemann's wife died and he sold the house, it became the site of hauntings. People reported electrical anomalies, a woman dressed in black haunting the rooms, and the faint cries of babies in the distance. As time passed and the house became embedded in local legend, the stories became wilder and resembled ghost stories you'd hear around campfires. Rumors swirled that an axe murderer once stayed there and that there was a mass shooting of Nazis in the basement when the house was briefly converted into a German cultural center. But now, it's simply a private residence.
Biltmore Estate, Asheville, North Carolina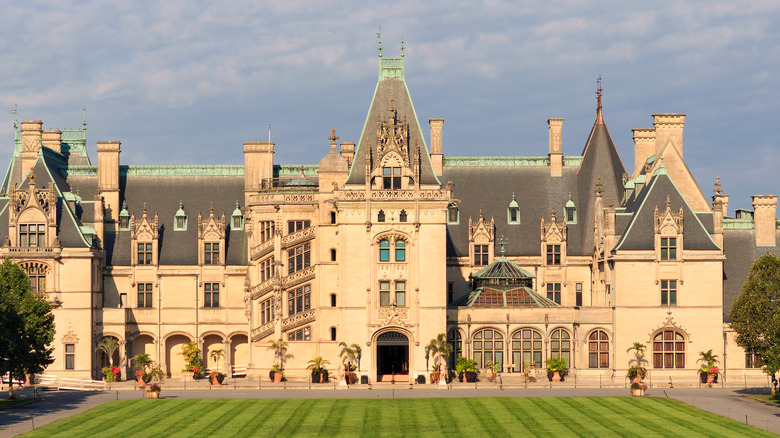 ZakZeinert/Shutterstock
No one is entirely sure why the majestic Biltmore Estate seems to be haunted. Unlike many of the other homes on this list, there aren't any dark stories recorded to have taken place here, nor were there any tragic deaths. But within the estate's 8,000 acres, many people have reported ghostly sightings, hearing odd noises, experiencing random chills in the air, and even smelling weird odors, as per Ashville Terrors.
George Washington Vanderbilt initially built the sprawling mansion in 1889, but the Biltmore Estate now hosts over 1 million visitors every year. Visitors have reported several spooky encounters while walking through the floors, including a woman calling out for "George," who some believe to be the voice of Vanderbilt's beloved wife, Edith. Others have listened to sounds of laughter and glasses clinking. Some believe this could be the ghosts of the home's many visitors, which have included United States presidents, famous authors, and international ambassadors. There have even been sightings of a headless orange cat. But the apparition of Vanderbilt himself is seen the most frequently, who died in 1914, and asked for his beloved estate to stay in the family. 
Monte Cristo Homestead, New South Wales, Australia
As Australia's most haunted house, there's a lot more than just one ghost at the Monte Cristo Homestead. There seem to be at least five, which include a murdered custodian, a mentally disabled man who was kept locked up on the property, a girl who fell from a tall height, a boy who succumbed to his injuries after a fire, and former owner Mrs. Crawley. While the house saw its fair share of grim events, the Monte Cristo Homestead didn't start off so tragically. It used to be the wealthy Crawley family's residence in the 1880s, and remained in the same family for almost a century, reported 7News.
So how did this grand Victorian estate turn so dark? It seems to stem from the Crawley family's own foul personalities. Elizabeth Crawley, known as a mean recluse, now haunts visitors to the house with an icy presence. Perhaps worst of all, the ghost of Harold Crawley haunts the Monte Cristo Homestead as well. He was an illegitimate son in the family who suffered head trauma. After his bouts of screaming, his mother chained him to the bed for years until he was eventually found by authorities and moved to an asylum.
If you or someone you know is struggling with mental health, please contact the Crisis Text Line by texting HOME to 741741, call the National Alliance on Mental Illnesshelpline at 1-800-950-NAMI (6264), or visit the National Institute of Mental Health website.
Dragsholm Slot, Zealand, Denmark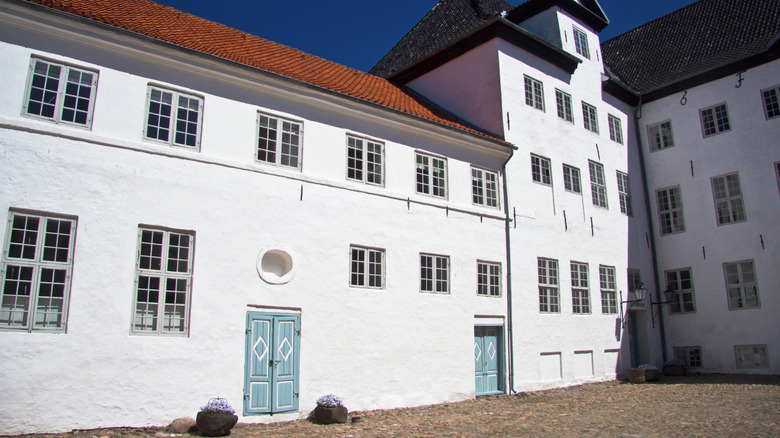 tomtsya/Shutterstock
With a lush, green golf course and an acclaimed eatery, Dragsholm Slot in Denmark might seem like a place that anyone would want to stay. However, with at least 100 known spirits creeping around the premises, Dragsholm Slot is known as one of the most spectral-ridden castles on the continent, reported Abandoned Spaces.
During the Middle Ages, the 800-year-old castle actually seemed like a good place to be. It was the sole fortress to make it through a civil war in the 1500s. But after Denmark's transformation following the war, it was converted into a prison that housed prisoners, including the land's previous lords. One of the prisoners (and now ghosts) included Earl of Bothwell James Hepburn, who was arrested for not having what would amount to today's passport. Hepburn was sent to Dragsholm Slot for an entire decade, where he was left bound to a column and only given enough sustenance to keep his heart beating. People continue to hear his ghostly voice on the property. Another spirit here includes a junior female royal who was swooning over a commoner. When her father discovered their love, he trapped her inside a wall and stacked bricks around her in anger.
If you or someone you know may be the victim of child abuse, please contact the Childhelp National Child Abuse Hotline at 1-800-4-A-Child (1-800-422-4453) or contact their live chat services.
Ancient Ram Inn, Gloucestershire, England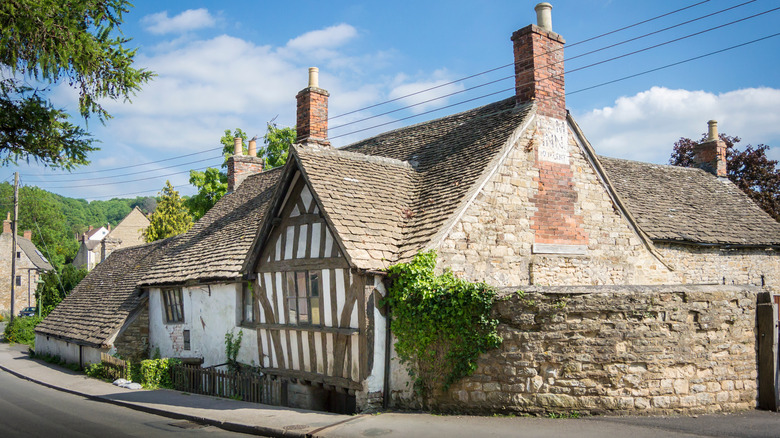 Sue Martin/Shutterstock
This beautiful cottage adorned with ivy, florals, and lush foliage was once the home of a priest. It might seem like an unlikely hangout for ghosts, but the Ancient Ram Inn was unfortunately built on a 5,000-year-old Pagan cemetery, reported Travel Channel. One of the ghosts that haunt the premises is a supposed witch who was burned alive nearby during the 1500s. Before her arrest, she hid in one of the Ancient Ram Inn's rooms (known as the Witch's Room.) According to visitors, she can still often be seen in this room.
According to the current owner, who bought the house in the 1960s, the Ancient Ram Inn is also home to many other angry spirits who aren't too happy about cohabitating with him. He said he had been pulled across his bedroom by an unseen presence and found evidence of Satan worship, including kids' skeletons. But despite the many hauntings here, the owner said he is committed to preserving the historic home since it's his home.
Casa Loma, Toronto, Canada
Most haunted houses seem to be hidden away from sight, but not Casa Loma. The century-old mansion with nearly 100 rooms is right in the middle of Toronto and attracts visitors daily with its regular tours, as per its website. It even hosts weddings, corporate events, and special events. But despite its modern happenings, it's still full of stories about odd sounds and ghostly sightings (via Culture Trip).
Like many other prominent haunted houses, there seem to be many ghosts keeping tabs on Casa Loma. This includes the White Lady, a woman dressed in white clothing that formerly worked as a cleaning lady in the mansion. Others include Sir Henry and Lady Pellatt, who were the original couple to call Casa Loma home. According to legend, since the pair was forced to leave the fortress in 1924 when they could no longer afford it, they now choose to stay here in the afterlife.
Charleville Castle, County Offaly, Ireland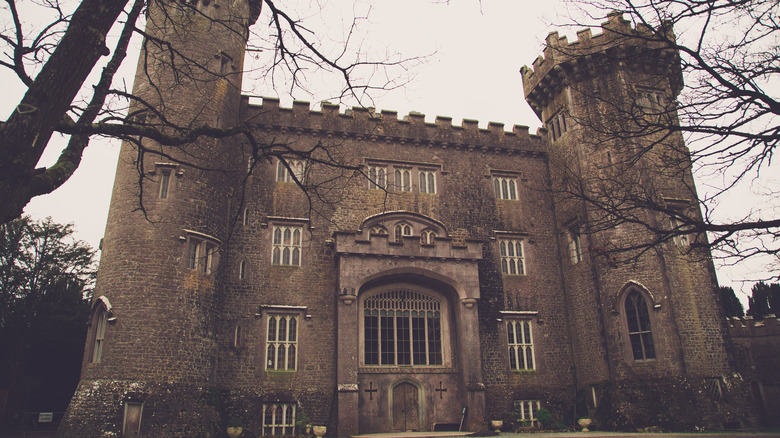 Dontsu/Shutterstock
What's now known as the most spirit-ridden stronghold in the country started as a 14-year project to build the most beautiful Neo-Gothic castle on the Emerald Isle. And at first, that's exactly what it was. But during the 1970s, while under new residents, the castle's condition plummeted, according to Haunted Journeys. This made a fitting backdrop for ghost sightings.
The stories of how ghosts came to be here vary. The land that Charleville Castle sits atop was once a monastery or other religious post, so some people believe that spirits from this period — a whopping millennium ago — continue to remain on the property. Others think that the original earl of the castle was a Satanist, and he created the structure to utilize the evil forces that were already present there. But one of the ghosts most commonly seen here is Harriet, one of the Earls of Charleville's children. She died after sliding down the banister and accidentally falling to her death, leaving behind her apparition in a blue outfit often seen on the steps. But the good news is that, unlike some other haunted sites, no ghosts here seem to have ill will, despite their tragic deaths.