What Is Topiary And How Can You Use It In Your Yard?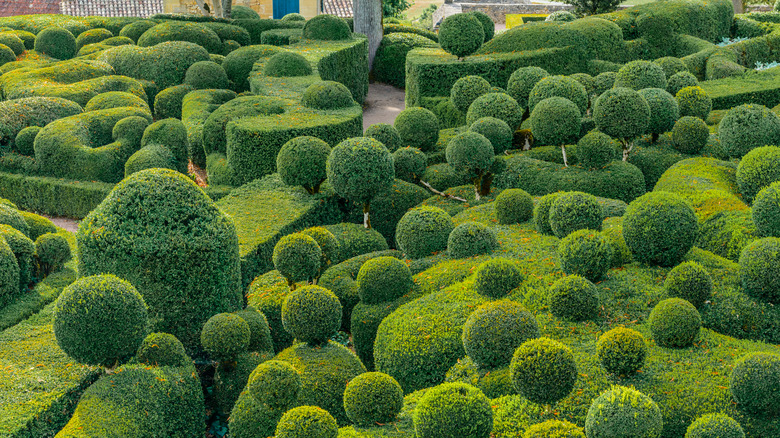 Irina Crick/Shutterstock
Topiary is the art of clipping shrubs into ornamental shapes such as boxes, spirals, and spheres. It was popularized by the Romans in the first century, and subsequently had a fallout. The English rediscovered it and began gardening topiaries in the late 1700s, according to the Center for Architecture, and created outdoor hedge-line rooms in cottage gardens. Topiary was first found in America at Disney World, where they cut shrubs into the shape of their famous characters. Ever since the rediscovery of topiary, it's been used in places such as public gardens and theme parks, and at world events.
The craft of topiary can bring a new look and style to folks' gardens. With the different plants you can use and the shapes you can cut them into, you can transform your garden with topiary, whether you opt for a contemporary look or prefer a more traditional, natural look. Learning how to do topiary can be intimidating but the right tools, a clear idea of what you want to make, and a lot of patience can set you up for success.
How to use topiary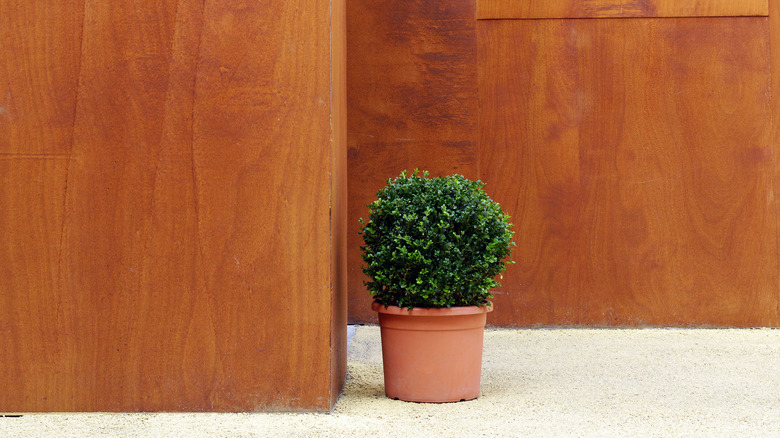 Photology1971/Shutterstock
While topiary has been known to be used to decorate outdoor spaces, there are also plenty of ways you can place topiaries inside your home to give it character, per Decoist. Topiary can add texture and color to every room; small potted topiaries can be placed in the kitchen, the bathroom, or bedroom. Larger potted topiaries can be used in the living room in the corners or next to the couch, in the walkways, or the at entrance by the door. They're fun to play around with and see what works best in your space. And, since topiaries come in different shapes and sizes you'll never have a clone of any, so there's no limit to how many you can have.
Even though it's less work to decorate the inside of your home than outside, topiaries in your garden can give your yard a cleaner neater look. Taller hedges trimmed to perfection and spiral trees can frame and add height to your garden, making it appear bigger. There's also more leverage when decorating your outdoor space since there's more room to work with. You can have a wide range of topiaries such as shrubs, herbs, vines, or trees. Also, creating a symmetrical or asymmetrical look with the way the topiaries are arranged can add flare to your garden.
How to implement topiary style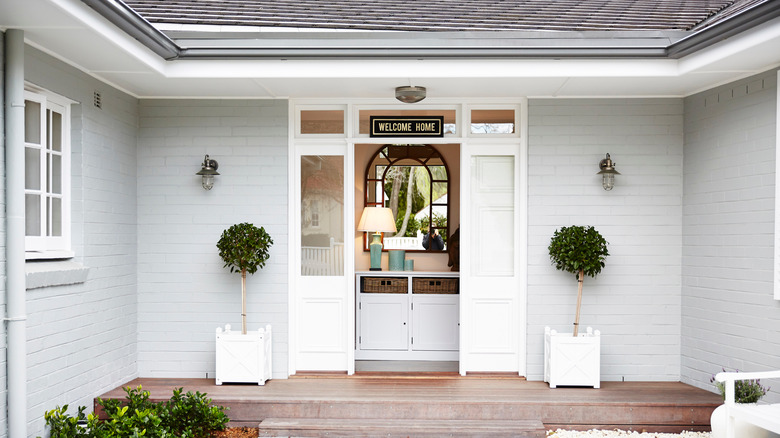 PhotoMavenStock/Shutterstock
There's a vast range of how folks can incorporate topiaries into their homes. Some types of small topiaries you can include, according to Deciost, are globe topiaries, which are simple and round and can create a contrast with the style of pot they go in. Additionally, preserved boxwood topiary is a thin, long-stemmed plant with a green ball on top. It resembles a Truffula tree from "The Lorax," and can hold any shape from globe to a double topiary. Also, olive tree topiary is another long-stemmed plant, except this one has green pointy leaves planted in a moss bed. Furthermore, double topiary contains one green ball on the bottom with the soil and one on top of the stem, while ivy cone topiary is an upside-down cone shape in which the ivy grows straight up. All of these topiaries can be super-sized to fit spaces in your home. They can be furnished on each end of the couch, next to any window, or on top of counters depending on the size of the container.
Outdoor topiaries need a more concise and thought out plan if you're achieving a certain look. Once you have an idea of what you'd like your garden to look like, it's time to start clipping. Aside from creating straight trimmed hedges, including cube, round, or spiral shapes, topiaries can contrast with one another. Cube-shaped topiaries are perfect for creating clear paths and are the easiest topiary shape, according to Homes & Gardens. Within the cube space you can fill it with round topiaries on either side to give that symmetrical look. Also, include long-stemmed globe topiaries to mix it up.
If you live in an area where it snows in the winter, having spiral or cone shaped topiaries in your front yard can make it appear more elegant. Additionally, the clean-cut edges of a fancy geometric shape and a little bit of snowfall could get you in the Christmas mood if you decorate it with red bows. For spiral shaped topiaries, you can place them on either side of your home's entrance. Having your topiaries in containers makes it easier to move them around and keeps the image fresh. You could also plant flowers at the base to enhance the look with a pop of color. Once you get the hang of clipping simple shapes you can incorporate animal shapes such as a peacock, a turtle, or a bird.
Types of plants for topiary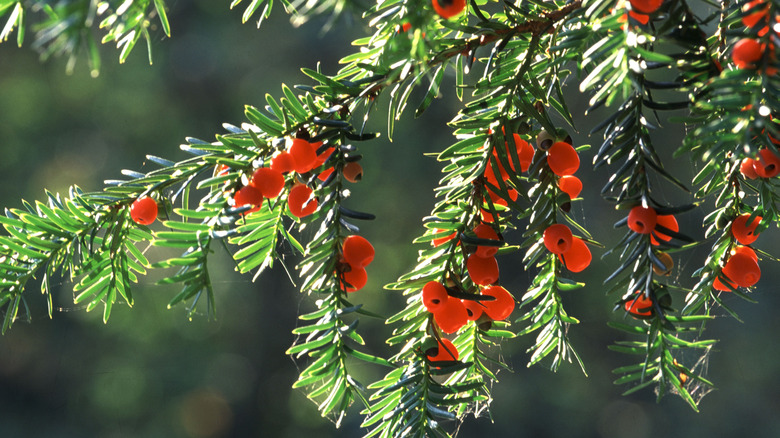 Bildagentur Zoonar GmbH/Shutterstock
Evergreen plants that are slow-growing, hardy, and long-lasting are the best for topiary, as noted by Bower and Branch. When shrubs have small leaves it gives them a cleaner look after pruning as opposed to bigger leaves. You want plants that will have sturdy, dense branches; that way they keep close together.
The Spruce offers the top 11 plants that are best used for topiary. Yew bushes have dark green pointy leaves and poisonous red berries that kids and pets need to stay away from. They grow very slowly, but are great for topiary. Additionally, arborvitae shrubs have flat, needle-pointed leaves and come in many sizes, which can be clipped to your desired shape. And dwarf Albert spruce trees can grow up to 10 to 12 feet tall and 7 to 10 feet wide. They have strong, fragranced leaves and are great for pyramidal and cone shaped topiaries.
The easiest topiary plant to work with is the boxwood shrub, as it's low maintenance and allows you to create crisp, even lines when trimming. Japanese holly shrubs are great for crafting animal topiaries because they're well rounded. A few other plants are cherry laurel shrubs, privet shrubs, and lavender herbs. Adding herbs to your garden gives off a variety of aromas and is the perfect touch for more color. They are even handy for any home remedies or when you're cooking a meal.
What tools you need for topiary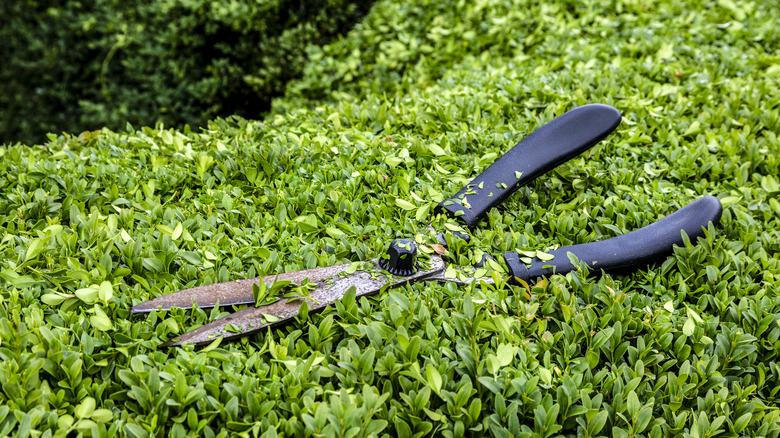 Stephen Power/Shutterstock
Investing in high quality gardening tools will give you the best results when doing topiary, as noted by Homes & Gardens. Although any type of shears will do the job, some shears make it easier than others when it comes to trimming. Short-handled shears are easier to work with for small to medium sized plants while long-handled shears work best for larger, taller plants. And if you're designing an intricate topiary, you want a decent pair of one-handed shears. You can find them anywhere in store or online, and they range in price from $15 to $200. In order for them to last you a long time, regularly wipe and disinfect your shears after clipping because the sap could cause damage to them.
As beginners, there's also metal frames that come in various shapes to start off on your topiary journey. You simply place it over your plant and trim the leaves, lining them up with the metal wires. Gardeningetc suggests a step stool and a hedge trimmer for the larger frames.
How to create topiary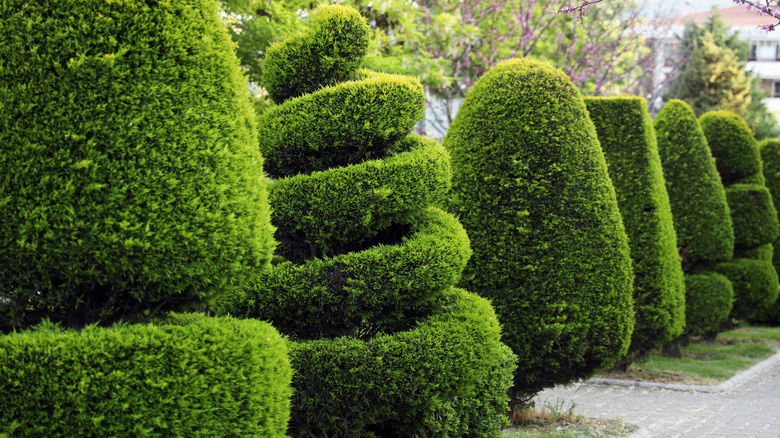 Just Feel/Shutterstock
Mastering the art of topiary can take a lot of practice and patience. It could take hours, sometimes even a few days to complete one project, but the results are worth it. The tools needed are simple: white string, short or long shears, and a plan. 
A spiral topiary is considered one of the easier topiaries for beginners according to Gardeningetc. Start with a cone-shaped plant; it could be a boxwood or a cypress. Take a string and tie it to the top, then wrap it around the plant to create an outline. The size of your plant will vary the amount of rounds it will make, but a 3 foot plant will have about 6 or 7 rounds in it. Using short shear clippers cut into the plant, specifically above and below the string. Once you've created some indents into the tree, remove the string and continue clipping until you have curvaceous whorls. You want the whorls to be smaller at the top and get bigger as you move down. 
After practicing some simple shapes try moving on to animal shapes, like a peacock. Start with a bushy evergreen shrub that's at least 5 feet tall; it could be a box or a yew. Create a round base by clipping the lower 2/3 of the shrub into a dome for your bird to sit on. Decide which part of the shrub will be the head and the tail. Envision what the shrub will look like to make it easier to create a guide. Once you have an idea of where you want the head to be tie two to three stems to give some shape, then start clipping until it turns into a small fan when you untie it. For the tail, using string and a cane to bind five to 10 stems and clip around the cane and inside the string. Cut and trim the front of the tail to create crisp, even edges for the feathers. The tail should look like a large fan.
How to care for topiary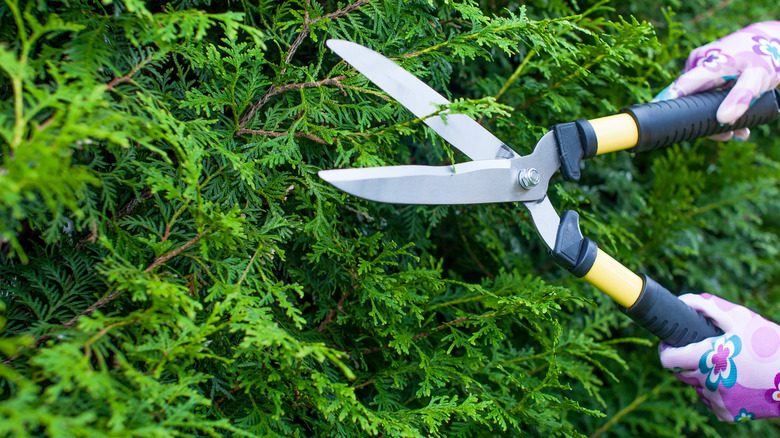 123object/Shutterstock
Topiaries need trimming regularly to keep their shape. They also have to be trained at first in order to lessen the care needed for them. To that end, pruning plays a big part in maintaining your topiaries. When new branches start to grow after a few months, clip them to keep the original form. Clipping doesn't have to be every week, but every few months or when you feel like the topiary is starting to lose its shape.
Start from the bottom and work your way up to keep everything even with each other. There's no need to rush in the trimming process. Bower and Branch advises to take your time and look at the plant from different angles to get those clear edges. Cutting them in the spring or the summer is the best time since they grow new foliage. Avoid trimming in the winter because snow could fall into the open cuts and damage the tree.
When you need topiary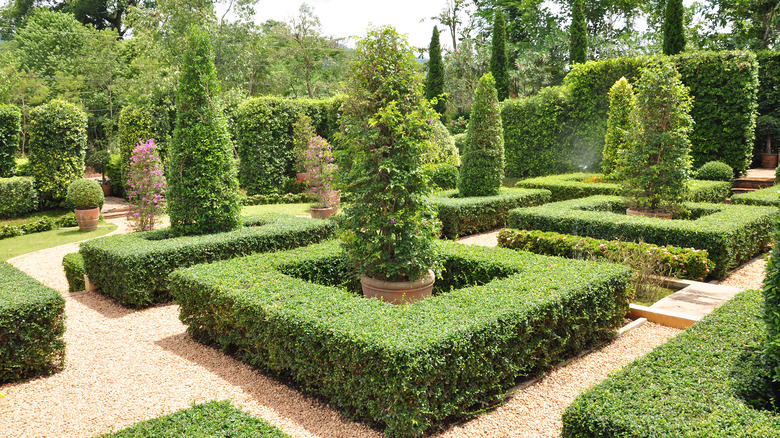 Olos/Shutterstock
Just like any other piece of décor, topiary can work in any home. It's not only a form of designing something extravagant, but can also be used to learn a new skill and turn it into a hobby. Having greenery around your home will brighten your mood when you're feeling lethargic. Topiary can also bring out your artistic side and help you create an eccentric garden.
You need a topiary when you don't have a clue on how to set up your open spaces. Any landscape works such as formal, informal, a backyard, or front yard, per Bower and Branch. If you prefer a specific structure and clean lines, a formal topiary with a symmetrical look could be right for you. Setting up high archways with a few of the same trimmed shrubs can give your space a modest look. Informal landscapes can hold a variety of shapes and sizes without a set idea. You could incorporate a few rows of colorful flowers to make it stand out.
Places to visit topiary gardens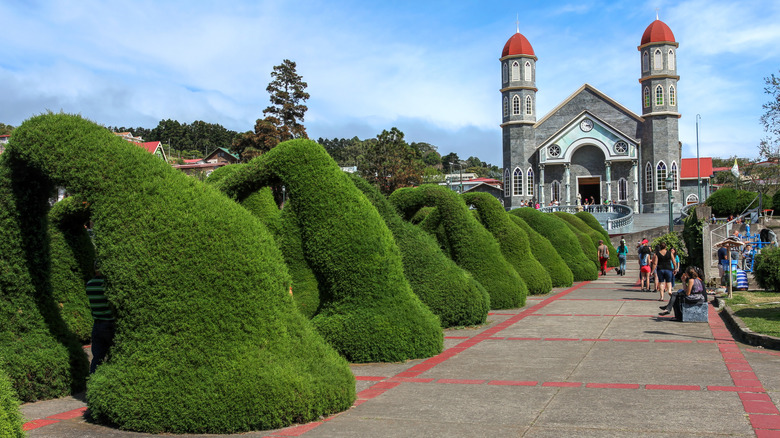 Mihai-Bogdan Lazar/Shutterstock
Whether you have your own topiary garden or want to start one, visiting other gardens can give you some inspiration on where to start or help you see how others have turned out. Some topiary gardens can be found locally or in popular areas. Smithsonian Magazine talks about five fascinating topiary gardens located around the world.
Municipal Cemetery, Tulcán, Ecuador: This garden was sculpted by José Maria Azael Franco, who focused on celebrating Ecuadorian flora, fauna, and indigenous culture. The cemetery has over 100 topiary creations.
Levens Hall, Cumbria, England: Gardener Guillaume Beaumont created the oldest garden in 1694 with over 100 topiary pieces. He was also King James II's gardener.
Church of San Rafael, Zarcero, Costa Rica: With multiple high arches leading to the entrance of the church, Evangelista Blanco Brenes put together the religiously symbolic topiary garden. Along with a topiary Christ carrying a cross there is also a topiary dinosaur, money, and octopus.
Marqueyssac, Vézac, France: One of the more enchanting topiary gardens covered with sections of symmetric, bundled green topiary was designed by Julien de Cerval. He spent 30 years taking care of the garden from when he first bought the property in 1861.
Topiary Park, Columbus, Ohio: The characters of the painting "A Sunday Afternoon on the Island of La Grande Jatta" by Georges Seurat was imitated by local artist James T. Mason. The landscape is covered by characters dancing and lounging.