40 Unconventional Colors To Paint Your Front Door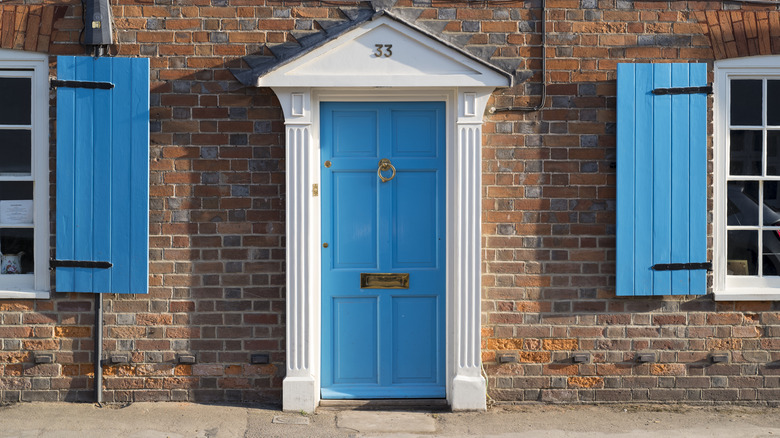 Tim Graham/Getty Images
A home is truly a sanctuary, and while you may be spending plenty of time enjoying the indoors, creating a beautiful look and feel on the exterior of your home is something to strive for. We've spruced up our gardens, porches, decks, and picked beautiful exterior paint, but have you given much thought to selecting the right color for your door?
Better Homes & Gardens admits that there are plenty of dos and don'ts when it comes to making a proper selection for your front door's paint color, and while they say that neutrals are always an excellent way to keep your home classic, the outlet also says that a big statement can be made at your home's entrance with the use of bold colors. While Homes & Gardens agrees that you can think outside the box with color when it comes to your front door, the outlet notes that you should think about your home's history when selecting the right color, too.
If you are ready to get inspired, keep scrolling to see 40 unconventional colors to think about when it's time to spruce up the paint on your home's front door.
1. Turquoise door with peach walls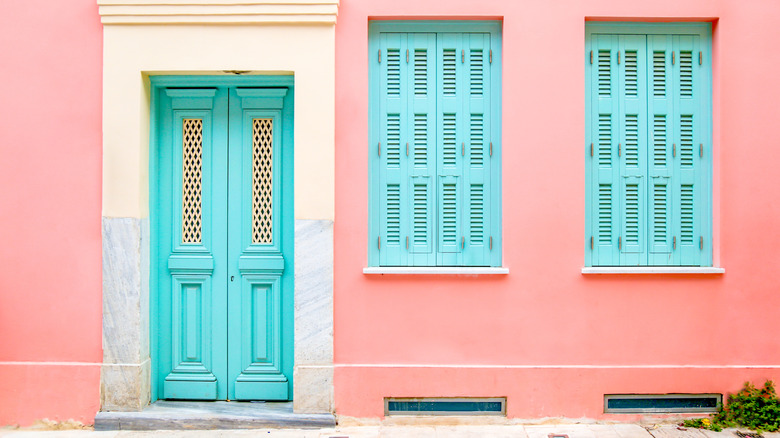 Andrea De la Parra/Shutterstock
We love a good color combination and these peachy walls pair beautifully with the stunning turquoise doors and windows.
2. Pink and blue hues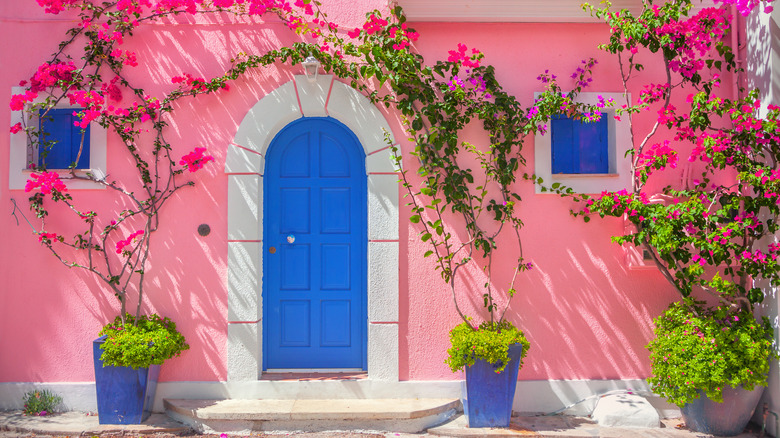 Adisa/Shutterstock
A bright pink home completely pops with a bright blue door and matching potted plants for an other-worldly home entrance.
3. A lime green stunner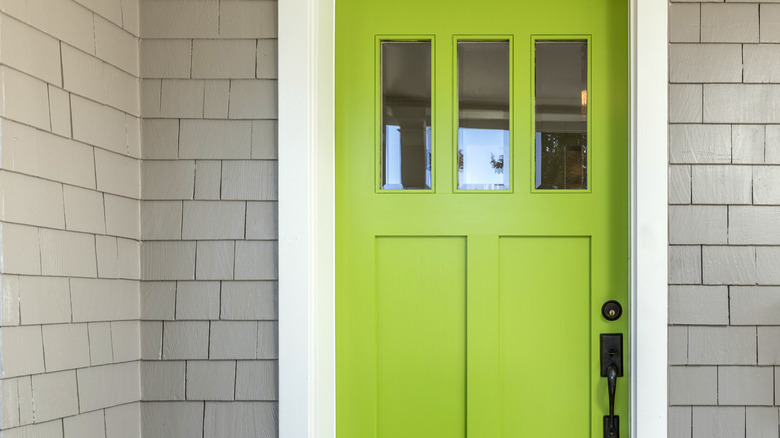 BondRocketImages/Shutterstock
Consider painting your front door an eye-popping lime green just like this stylish townhouse, making a simple white home anything but with this iconic neon hue.
4. Beautiful baby blue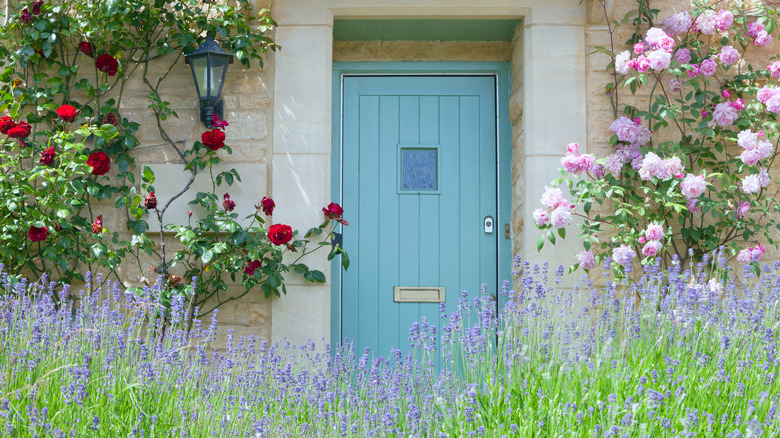 Yolanta/Shutterstock
A basic wooden door on this traditional limestone English cottage is painted in a light baby blue hue and is a total standout.
5. Just peachy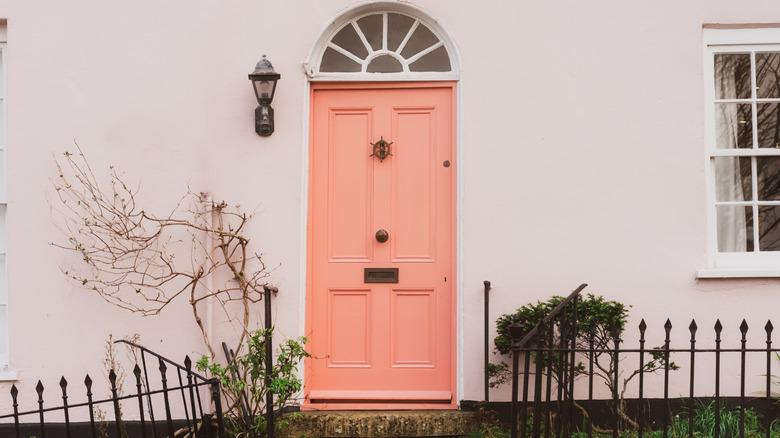 Okrasiuk/Shutterstock
The light exterior of this home is brought to life with this soft peach color painted on the classic door.
6. Stand out from the neighbors with bright yellow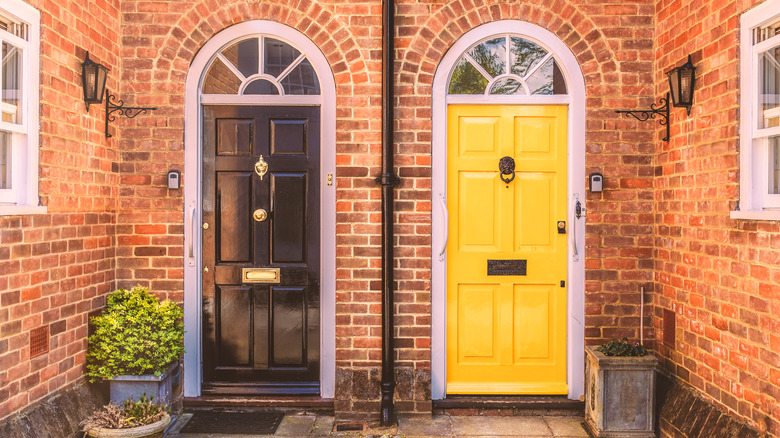 Christine Bird/Shutterstock
If you have side-by-side apartments with the same look, use color to make yours stand out. We love the bright yellow color selected, which adds a bit of sunshine to your front entrance.
7. Immaculate navy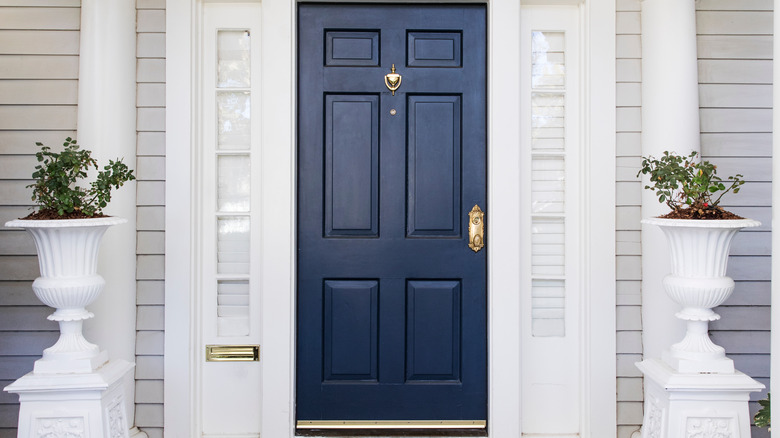 David Papazian/Shutterstock
This white home looks especially grand with a dark navy door that adds a sense of sophistication to the front entrance.
8. A gorgeous purple-y pink look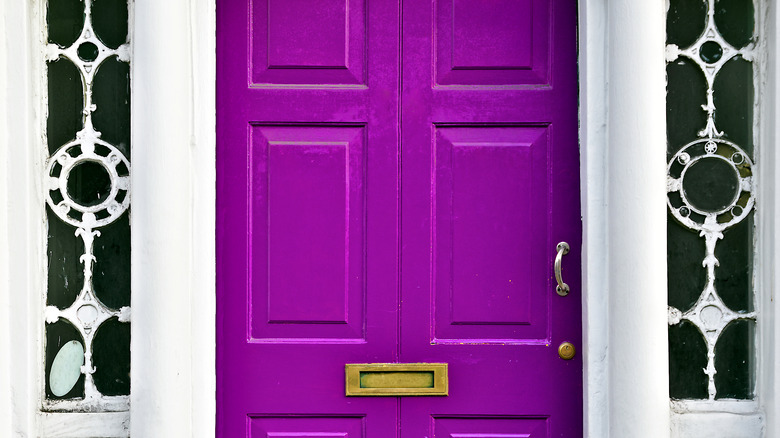 Marco Fine/Shutterstock
A traditional Georgian door gets an uplifting color choice of a striking purple-y pink color that will surely stop traffic.
9. Green apple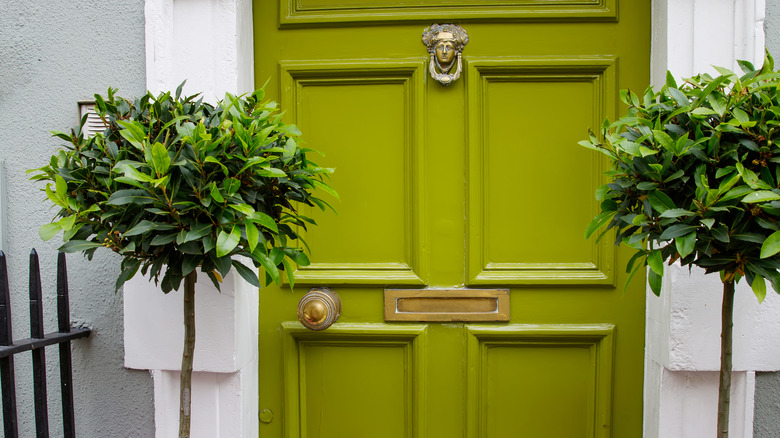 Irina Wilhauk/Shutterstock
This simple door is the color of a luscious green apple and is the perfect one paired up with beautiful pink flowers.
10. A light blue door and a brick home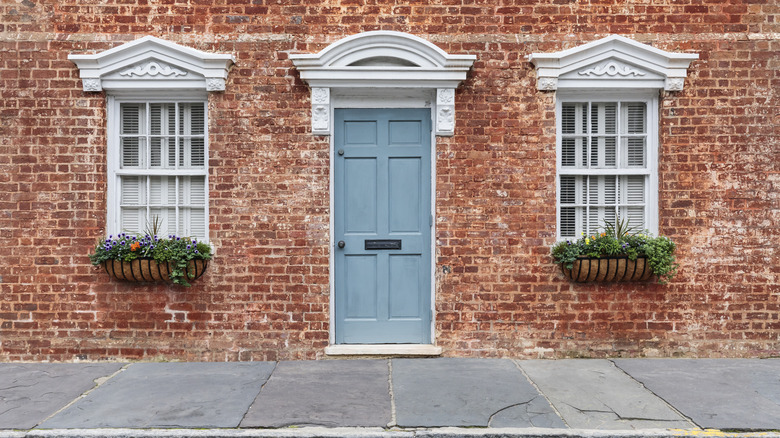 David Papazian/Shutterstock
This basic brick home is given a new lease on life by simply painting the front door a pretty light blue and keeping the window's trimwork white.
11. Stunning vintage French doors in eggplant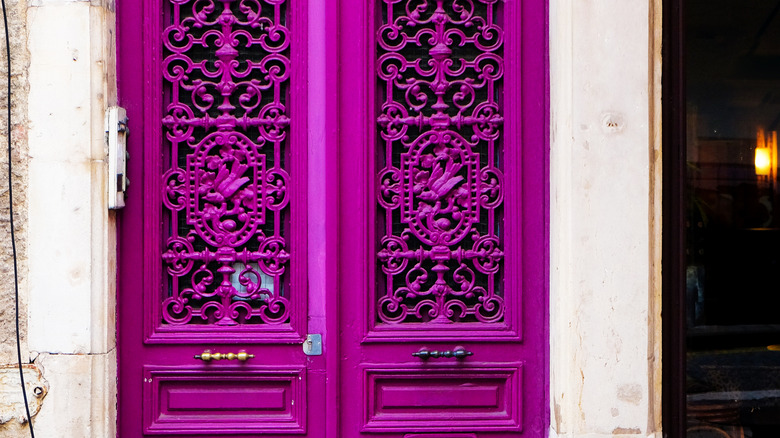 Olivia Lunar/Shutterstock
There's no need to keep things too traditional! These French doors with glorious vintage details look absolutely stunning in eggplant.
12. Kelly green punches up basic brick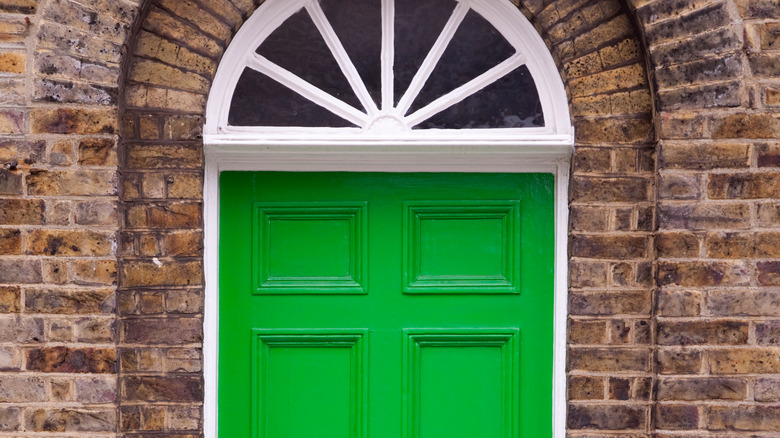 photocritical/Shutterstock
Kelly green is such a unique and beautiful color that is perfect for a distinctive front door color scheme. Whether you have an old farmhouse, a modern home, or anything in between, this green hue can bring any space to life.
13. Vibrant yellow home with purple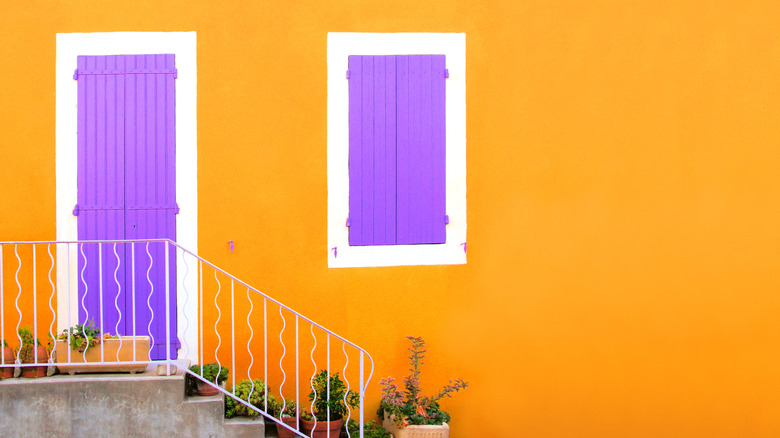 JeniFoto/Shutterstock
This purple door and window totally pop, helping your home be one of the prettiest on the block.
14. A neutral façade with bright orange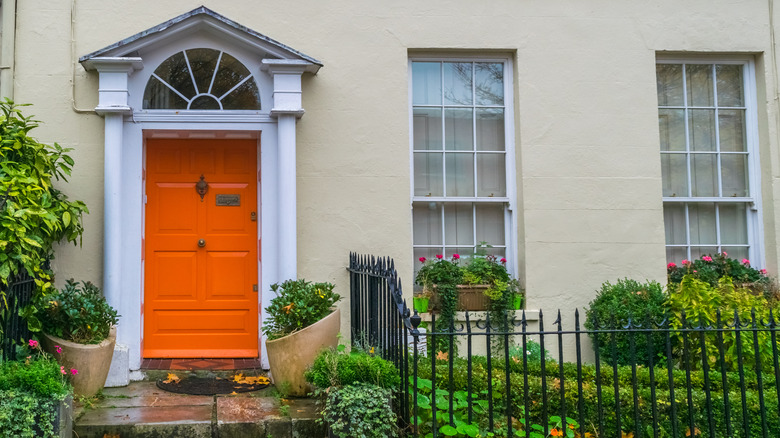 vicentegarridoj/Shutterstock
If you have a beige home, don't fret! Consider painting your ornate front door an electrifying orange to get the neighbors to stop and stare.
15. A lived-in look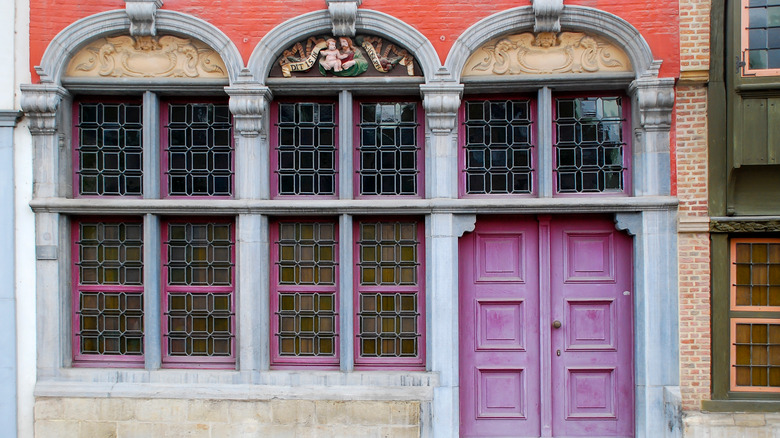 Natali 44/Shutterstock
The beautiful architecture is made even more stunning with a purple paint job that makes it seem that it's been there forever, but is still captivating never-the-less.
16. Set off a neutral stone home with bright pink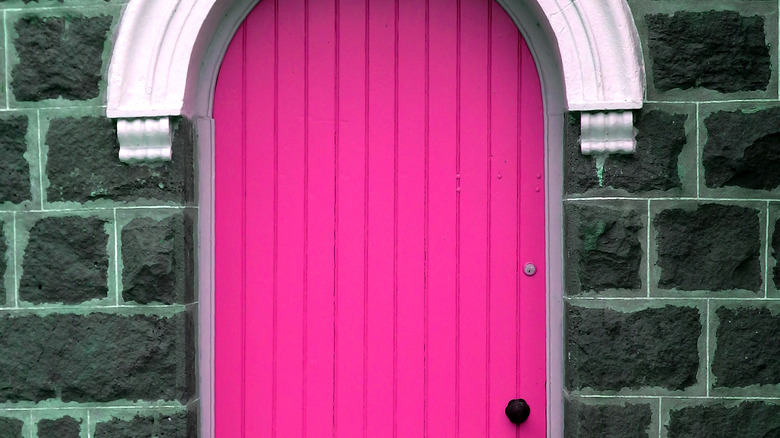 Alex Farias/Shutterstock
A bright pink door offsets the neutral stone color of the home, injecting a dose of style to this residence.
17. A classic home with a red door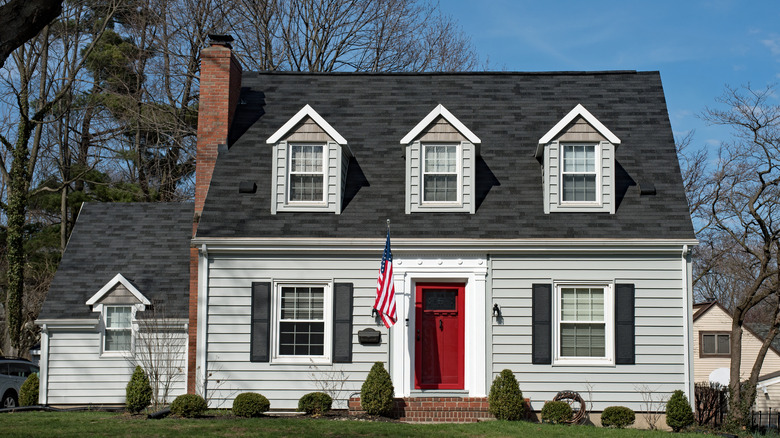 Susan Law Cain/Shutterstock
Bring a traditional gray home a bit of whimsy by painting your front door an eclectic shade of red.
18. An elaborate gray door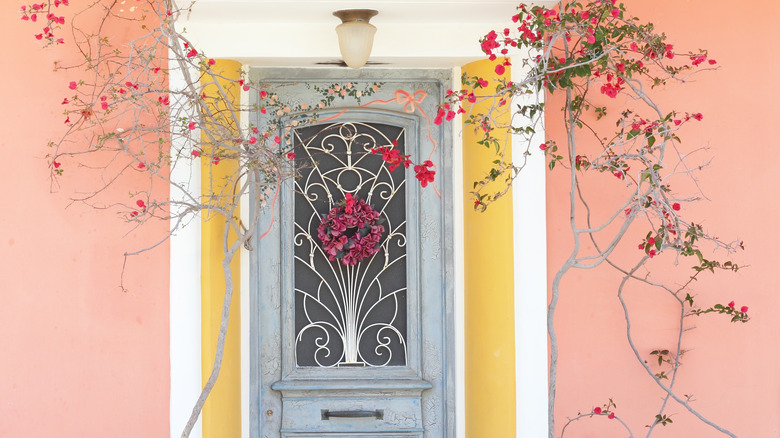 balounm/Shutterstock
A gray door on this subtle pink home has intricate flowers painted on it with yellow trim that makes it out-of-the-ordinary.
19. A geometric door in deep purple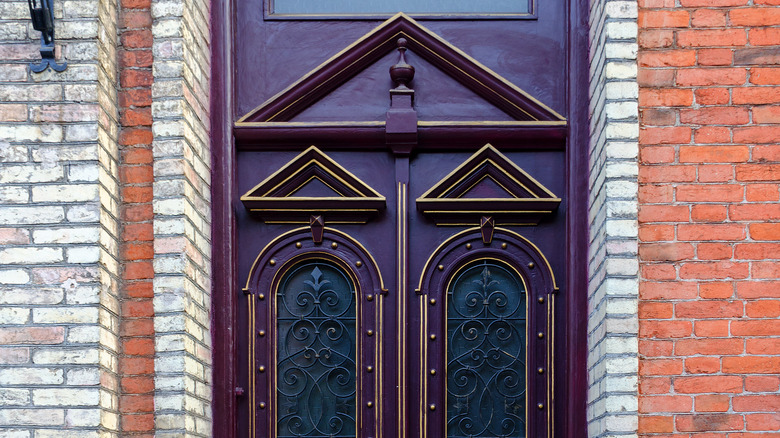 Lina Mo/Shutterstock
A dark, deep purple can help details stand out, like on this oversized door with geometric patterns.
20. A white cottage with teal accents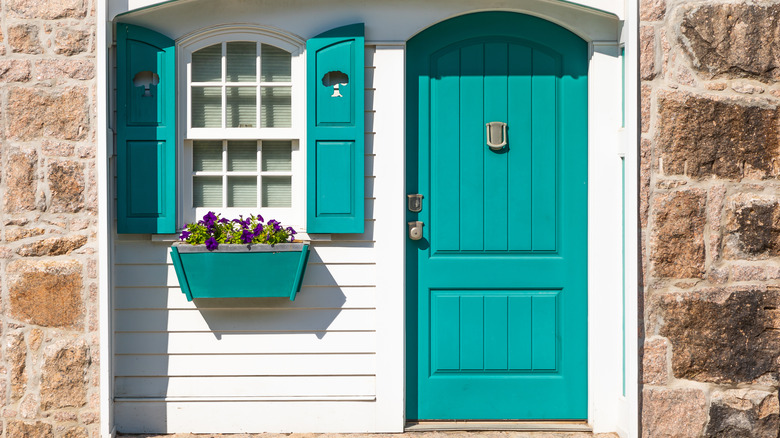 Isabelle OHara/Shutterstock
Consider painting your sweet white cottage's door, shutters, and flower box a bright turquoise color. Better Homes & Gardens says the color can up your home's curb appeal, and looks stunning with a home's landscape, which we couldn't agree with more.
21. Pale green is beautiful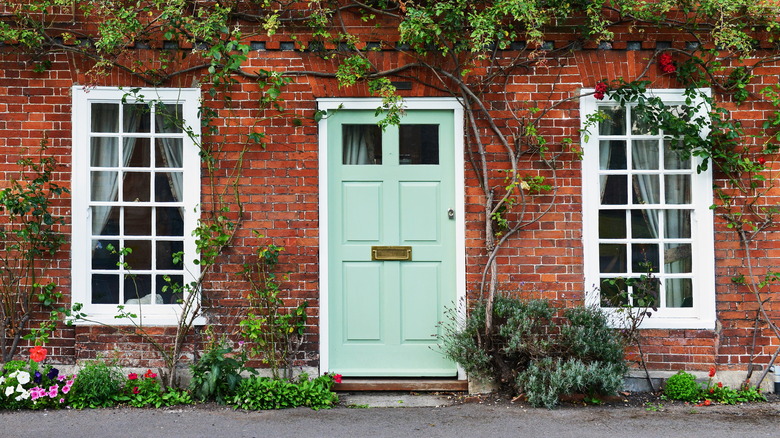 1000 Words/Shutterstock
A pale green door is a stunning color choice that you can add to your list of color options. We must say, it looks glorious with plants taking over this exterior home.
22. Traditional white brick home with a blue door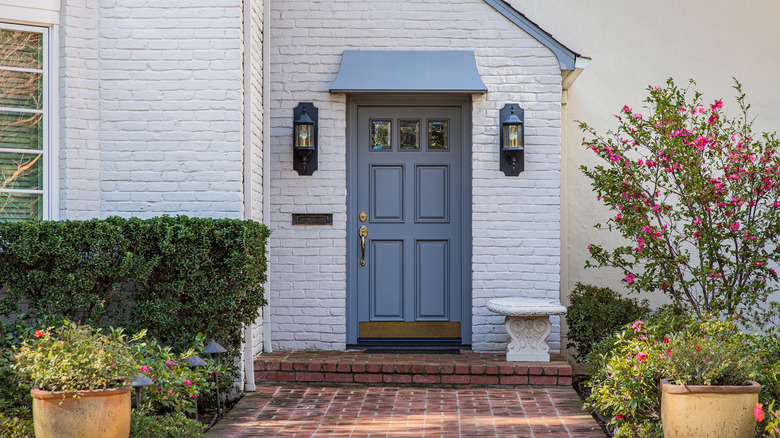 David Papazian/Shutterstock
If you have a white brick painted home, it can change the entire exterior feel, and this blue door with awning creates such a welcoming environment.
23. Sophisticated black and white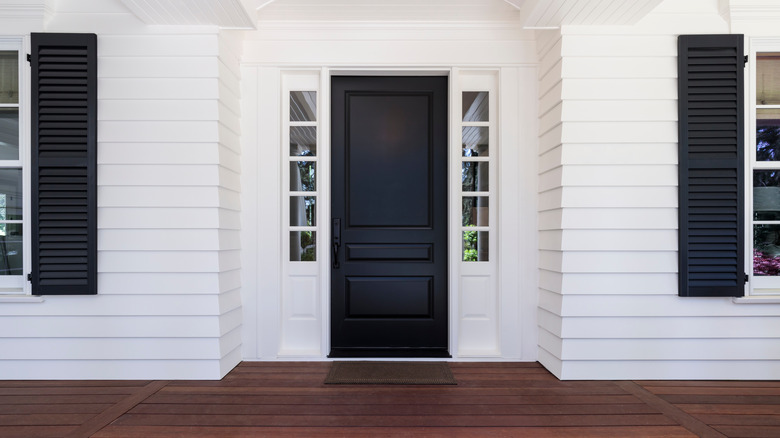 David Papazian/Shutterstock
While black can be a traditional choice for a door, we love how this black and white combination can look so modern, chic, and unconventional.
24. Gray and yellow for a unique entrance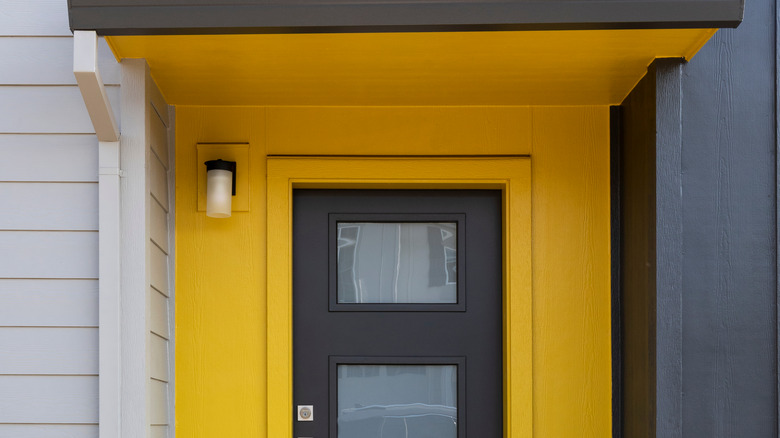 David Papazian/Shutterstock
This home's gray and glass door stands out with bright yellow paint at the entrance.
25. Dark green glory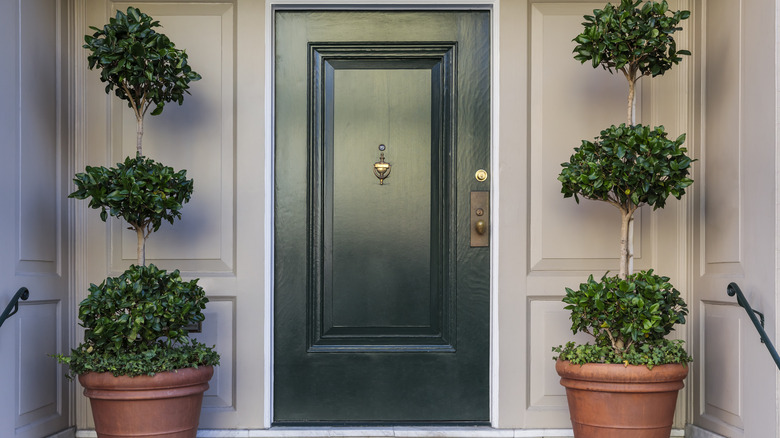 David Papazian/Shutterstock
Match this deep green paint on your front door to your potted greenery at your main entrance for a cohesive look that is simply enchanting.
26. A classic, tan home with a subdued blue door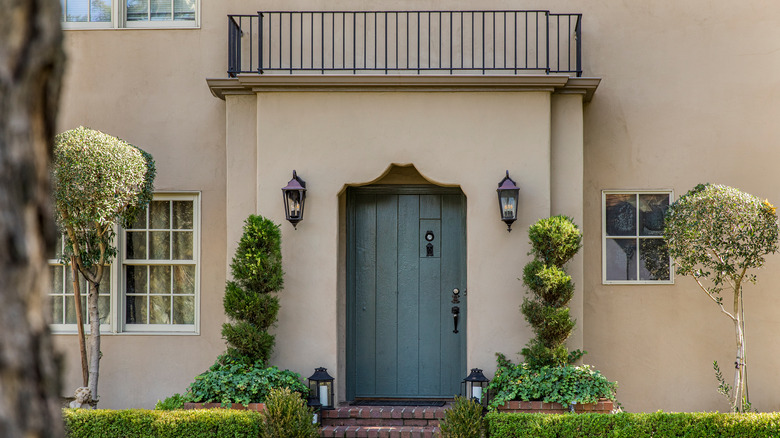 David Papazian/Shutterstock
If your home is a neutral tone like beige or tan, perhaps painting your door a subtle blue will do the trick!
27. Green home with bright orange door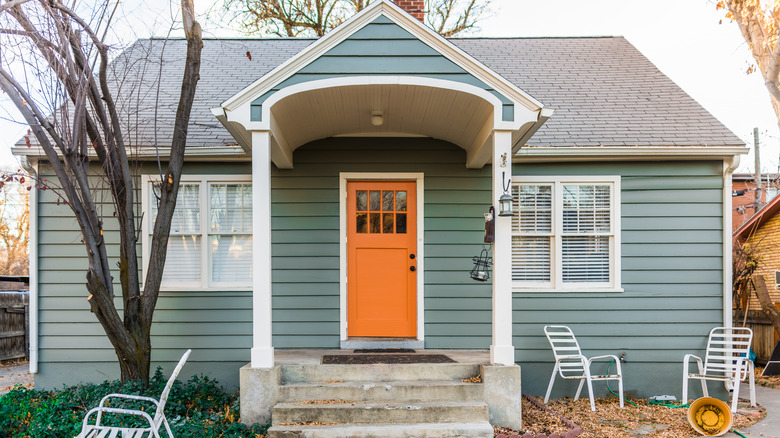 Brett Taylor Photography/Shutterstock
A greenish-blue home with white trim is taken to the next level with this choice of bright paint in an alluring orange hue.
28. Bright, cheery mustard yellow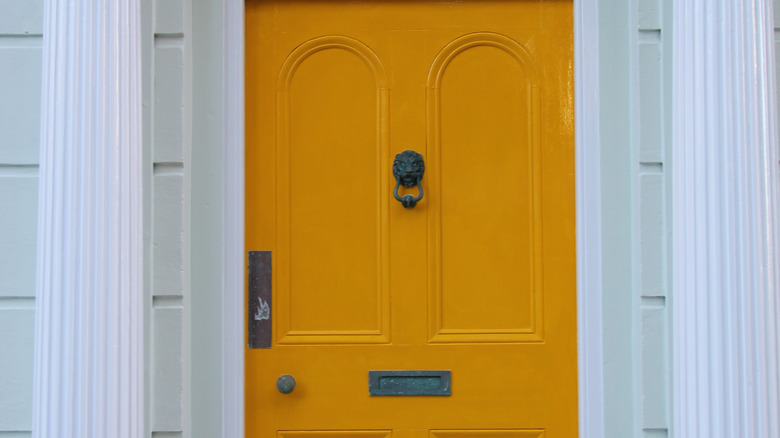 Amy Cora Megan/Shutterstock
According to The Spruce, an eye-catching paint color for your door is a bright and cheery yellow, which can be pretty joyous if you ask us! The outlet points out that this color can look great on various home styles, from mid-century modern to neoclassical.
29. A warm light yellow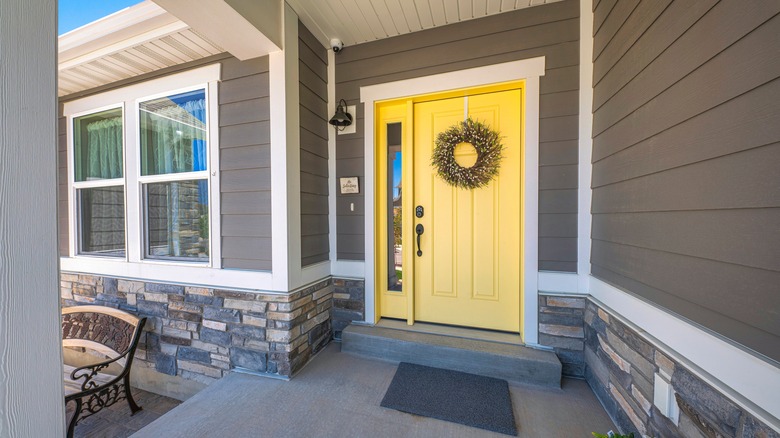 Jason Finn/Shutterstock
If you don't want to go too bright, opt for a light color that pairs well with a home's neutral siding and brick.
30. Burgundy beauty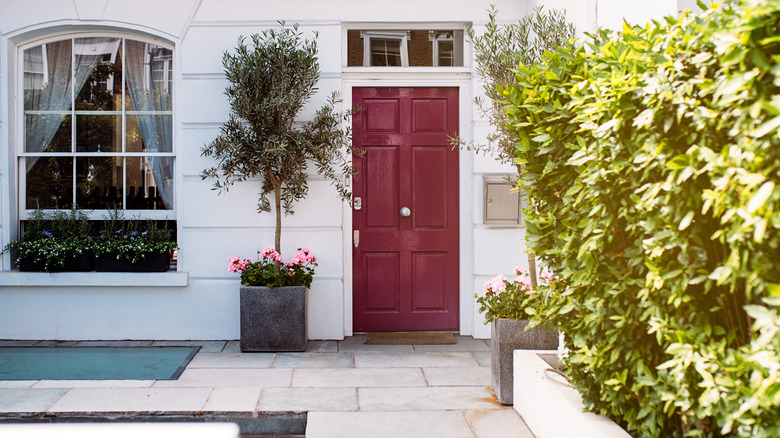 David Prado Perucha/Shutterstock
If you want to do something special but don't want to go all out, go for a rich, burgundy color in a sheen to make your door get a double-take.
31. Brilliant jewel tones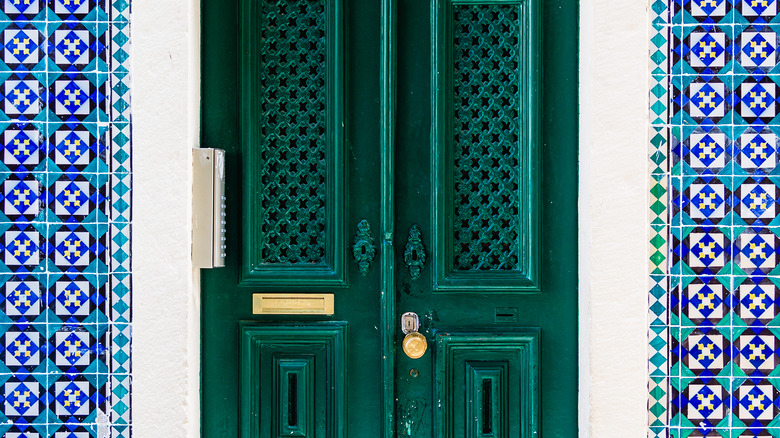 Rob Weatherall/Shutterstock
This emerald green door is such a statement in itself, but it also brings out the blue and green tiles from the home's exterior.
32. Historic lilac beauty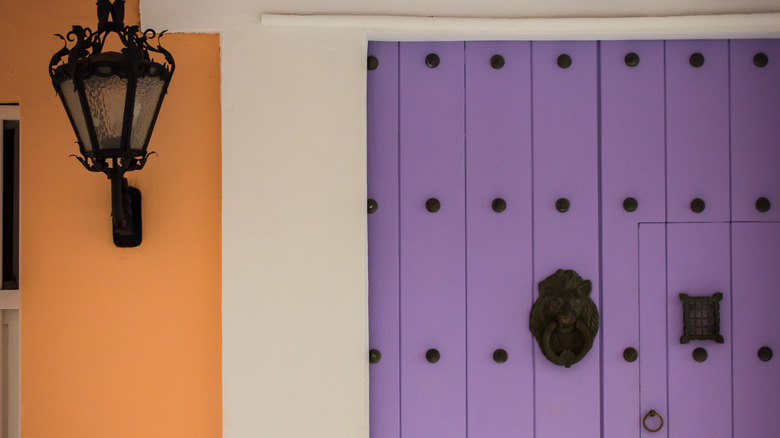 Hectorhachege/Shutterstock
The soft shade of lilac brings modernity to this historic oversized door. More visual appeal is brought to the ceiling as the homeowner continues the color on the porch's roof.
33. Color coordinated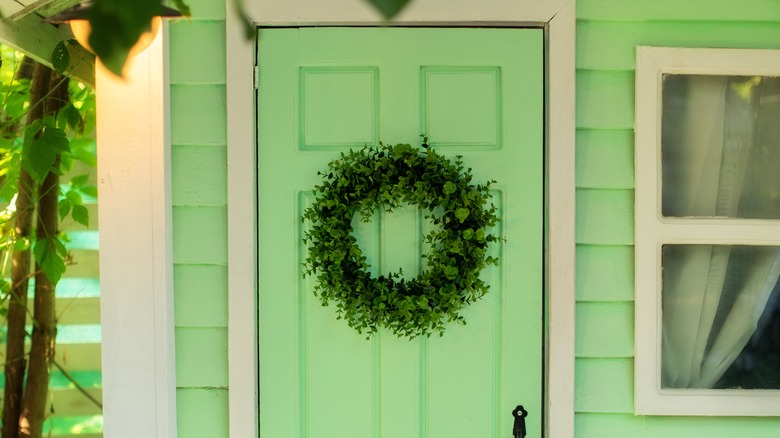 stock_studio/Shutterstock
This bright green door is painted the same color as the home's exterior and is accented with white trim, creating a fun entrance to your home.
34. Cobalt blue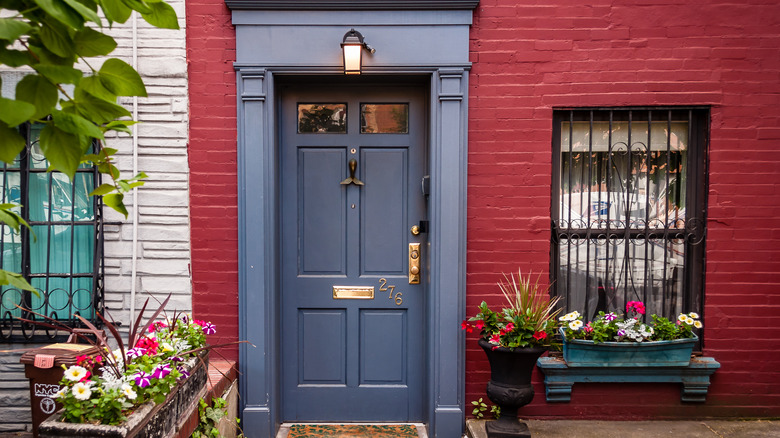 Maya K. Photography/Shutterstock
This cobalt blue door with matching painted trim looks heavenly against the deep red brick on this stately home.
35. Ornate green detailing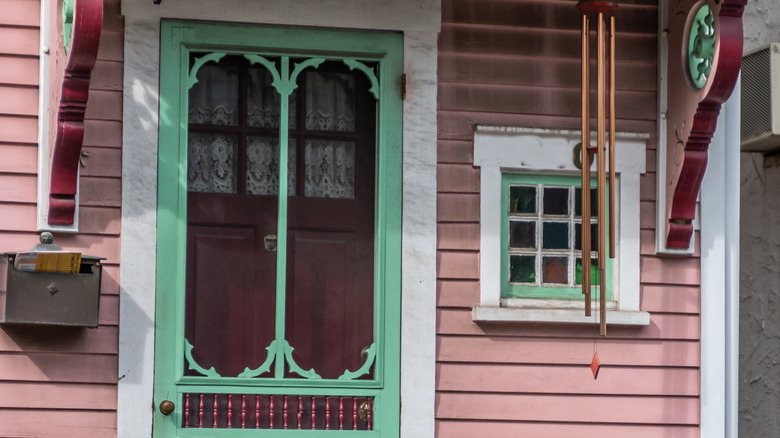 Timothy S. Allen/Shutterstock
An unexpected hue to think about if you have more ornate details is to paint your screen door a beautiful green tone that plays off the light pink exterior paint of the home.
36. Aqua is dreamy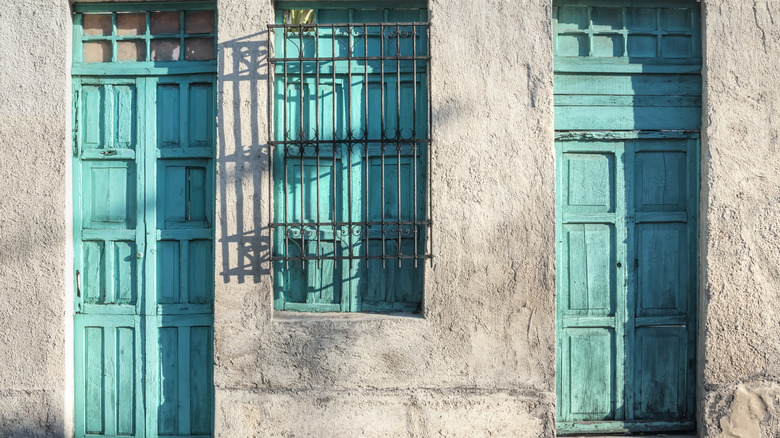 Chad Zuber/Shutterstock
This colonial-style abode is made even more beautiful since the homeowners painted their rustic doors and windows the most stunning shade of aqua.
37. Gray and orange
David Papazian/Shutterstock
If you have a basic door with no detailing, painting a bright hue like this orange can make it extraordinary.
38. A trio of color that works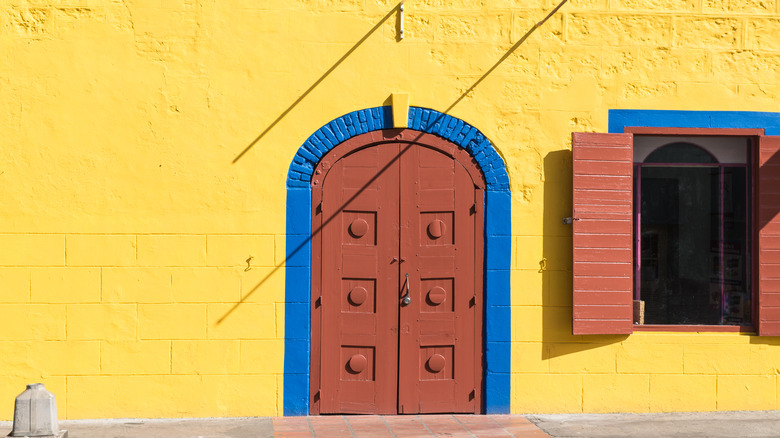 Mark Anthony Ray/Shutterstock
A yellow abode with an oversized rust-colored door looks absolutely breathtaking with bright blue trim.
39. Sage green gorgeousness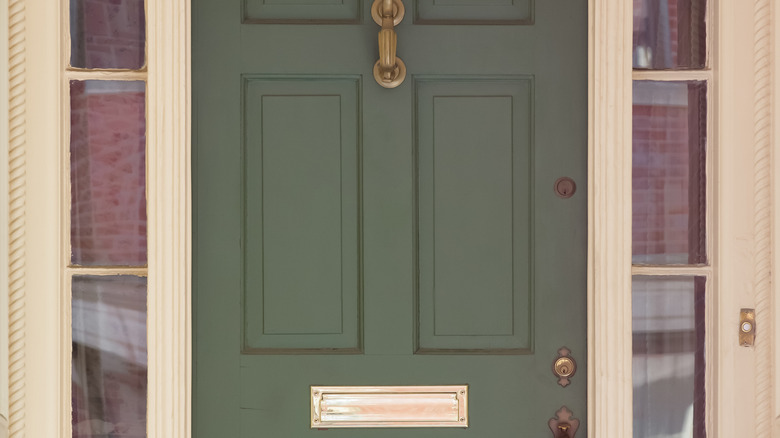 David Papazian/Shutterstock
Sage green is a neutral color in all of its earthy glory. The green-gray color is subtle and calming, which we think is perfect for the entrance of your home.
40. Navy and yellow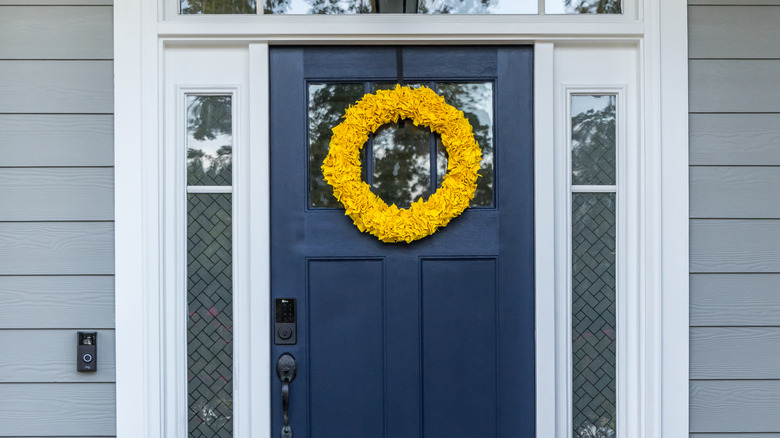 Ursula Page/Shutterstock
A navy door with eye-popping yellow planters and a wreath is one of our favorite color combinations, giving a unique look to your entrance.