How To Decorate Your Home Like An English Cottage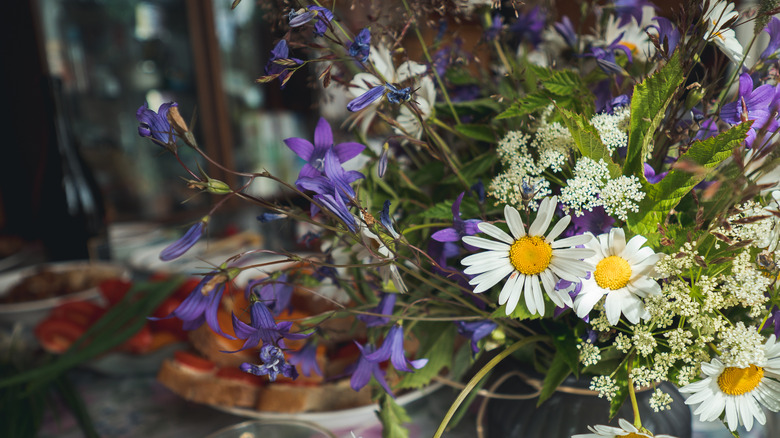 Fascinadora/Shutterstock
With cottagecore seeing massive popularity in everything from décor to gaming, it's no surprise that people are gravitating more toward the English cottage style of decorating. It's cozy, warm, comforting, and casual, which is what so many of us are looking for. Making your home a retreat and a place of safety and comfort is more appealing than ever. 
According to MyDomaine, the English cottage style is a mix of classic and rustic, vintage and modern. This is a style that you can truly make your own, incorporating classics of cottage style along with your own quirks and sense of nostalgia. What you end up with is a home that is uniquely you, very stylish, and oh-so-comfortable.
More than anything, English cottage style should be timeless; it should feel as if the items in your space have been collected over the years. While there can absolutely be modern touches in an English cottage interior, most of what pulls people toward this style is that sense of softness, warmth, and comfort. It's a place where you can snuggle in for a relaxing read, put your feet up and relax, and just feel comfortable for a while.
Go big with layers and textures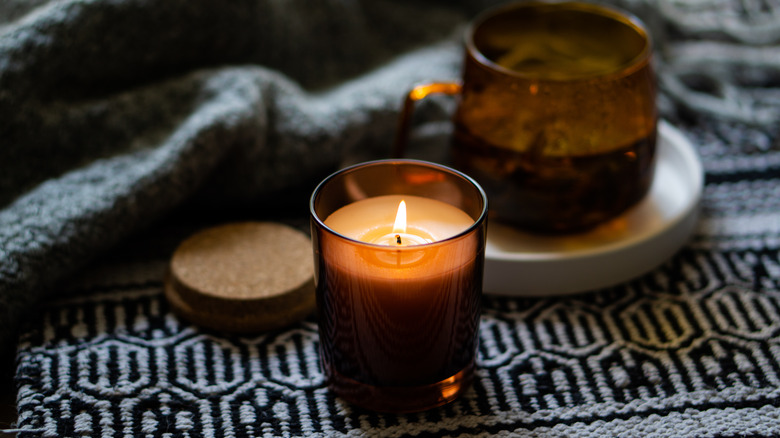 Daria Minaeva/Shutterstock
Much of the coziness and warmth that people love about the English cottage style of decorating is due to ample use of texture and layers. Rugs, cushions, throws, pillows, wall hangings, even textural wallpapers all add to the richness and uniqueness of this style, according to Apartment Therapy. At its best, English cottage style feels like a home in which items have been lovingly collected over time, resulting in a cozy mish-mash of color, texture, and style. 
This is an opportunity to hunt through your closets (or maybe even your relatives' closets, with permission, of course!) to find vintage linens and blankets, or even scour online retailers for items to add that cozy texture to your décor. Add some pillows and throws to a sofa or chair, or fold a cozy blanket and place it on an ottoman or bench. Rugs over rugs, or even over hardwood or tile, also add to the feel here. And don't forget curtains, drapes, and blinds, all of which provide another way to add layers and texture.
Don't forget your tables and shelves, either. A place mat or table runner here, some lace doilies there (if you enjoy that look), a pretty remnant of fabric adorning a shelf — all of it adds up to provide that sense of texture and warmth.
Let your quirkiness shine through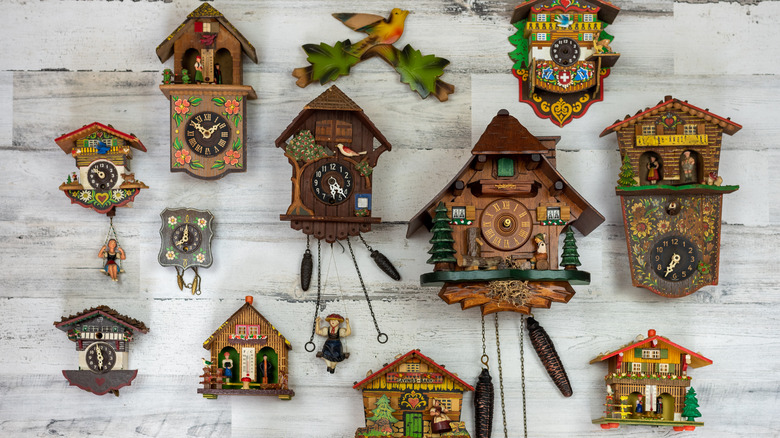 Kristen Prahl/Shutterstock
While it's easy to think of florals, antiques, and soft blankets when you think of an English cottage, something definitely worth considering is a sense of playfulness. One of the best things about traditional English cottage style is that it encourages you to be playful and weird, according to The Spruce. Do you have a collection of vintage cats, or elephant prints, or even your favorite pop culture characters? Don't be shy about including these little, playful touches as part of your décor. 
At its heart, this style is about making a home that is comfortable, and a good bit of that comfort comes from the fact that it is uniquely, unapologetically yours. Instead of trying to eliminate those beloved items because they don't match a certain "look," integrate them into your décor instead. A shelf or two devoted to your collection, or even having pieces scattered here and there throughout the space is a wonderful way to make sure those beloved, quirky items are around to make you smile.
Another fun way to add cottage charm while also displaying your collection is to use things like shadowboxes or narrow display shelves. This enables you to carefully curate which items you want on display, without having your collection completely take over your space.
Pay attention to the little things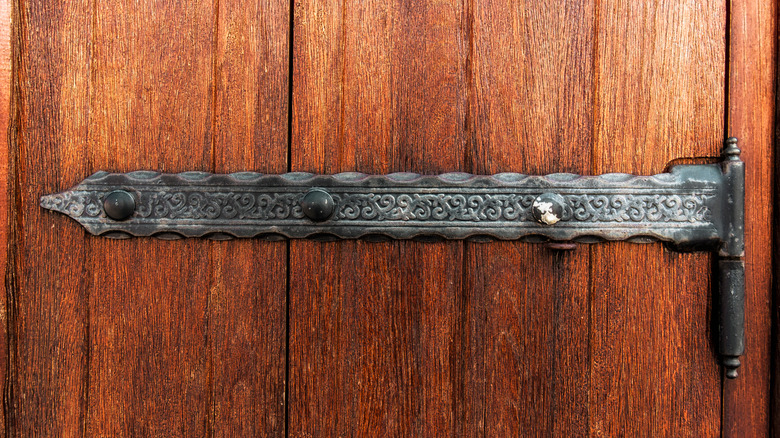 Pavelskyi Vladyslav/Shutterstock
The little touches are often the difference between a room that's "wow!" and one that feels unfinished somehow. According to Houzz, an affordable, easy way to bring English cottage style into your home is to swap out plain door knobs, handles, or even hinges in place of those that have more detail. 
While it's wonderful if you can change out more permanent things, such as switching plain door hinges out for more interesting ones, or replacing ho-hum door knobs with ornate crystal or metal knobs, even small changes will have an impact. Swap out your kitchen door handles and knobs to match the style you're looking for. Curtain rods and tiebacks, and even shower curtain rings or towel bars are all good places to bring in a little extra charm without spending a lot of money.
Don't overlook the value of DIY projects and the magic of paint, either. You can easily spray paint and seal your current handles or knobs to update them. And this is also one of those times when flea markets, secondhand shops, and online vintage resellers can definitely come in handy.
Built-ins scream English cottage style (and you can totally fake having them)
Alena Ozerova/Shutterstock
Cozy reading nooks, window seats, and built-in bookcases and cabinets are all trademarks of the English cottage style, according to Better Homes & Gardens. If your home already features a built-in like this, consider yourself very lucky and make it a focal point. But what if you're not lucky enough to have a built-in window seat or shelving? Be creative and fake it! Find a cozy upholstered bench and plop it in front of your favorite window. Adorn it with cozy pillows and throws, as well as a sturdy tray so you can set down the warm beverage of your choice, and you have a window seat.
If it's a library you want, the easiest way to achieve the look is to measure your space and then purchase modular shelving for it (such as the ever-popular IKEA Billy bookcase), filling the area with as much shelving as you can cram in, both from side to side and from floor to ceiling. This gives you that built-in look, but for a fraction of the cost (not to mention effort).
You can do the same thing with breakfast nooks. Instead of chairs, let a side or two of the table be bench seating, which automatically feels more "cottage-y" somehow. The point is to be flexible and creative. You'll find plenty of faux built-in possibilities.
Bring on the patterns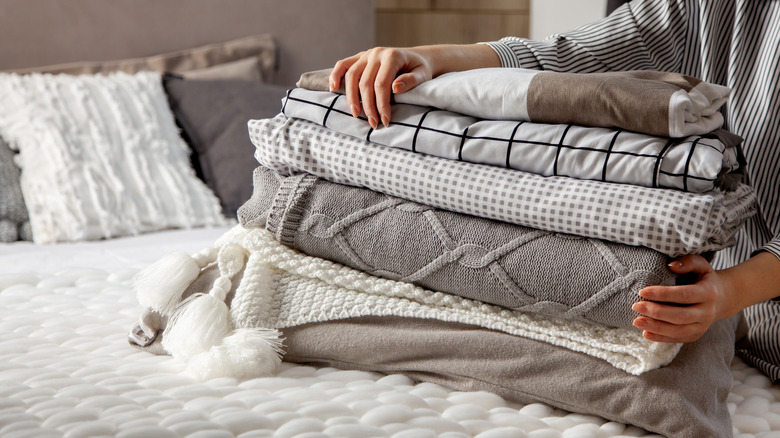 Kostikova Natalia/Shutterstock
Related to layer and texture, English cottage style also fully embraces the mixing and matching of patterns. Linens, wallpaper, art, dishes — all places to play with patterns. This mix of patterns adds to the cozy feel of cottage décor, giving that sense of items having been lovingly collected over time. According to Everything Abode, some classic English cottage patterns to include in your home include plaids, florals, paisley, toile, and stripes. 
Of course, the fear many people have in mixing patterns is worrying that the patterns and colors will clash or be "too much" somehow. Better Homes & Gardens has a good formula for those of us who might be a bit unsure of our pattern prowess: the "60/30/10 approach." Basically, you use 60% of your favorite pattern, 30% of a second pattern, and 10% of a third pattern as an accent. So, for example, if your favorite pattern was one with soft yellow flowers, you'd use that on your larger pieces (such as a sofa or bedspread). Find the dominant color in that and choose a second, different pattern (maybe a yellow and white plaid) and use that on things like curtains and throws. And then for that final 10%, choose something bold, maybe yellow stripes or abstract patterns, and use that on your pillows and lampshades. And if you're not worried about it, then just have fun playing with pattern combinations.
Incorporate some botanical prints to emulate an English garden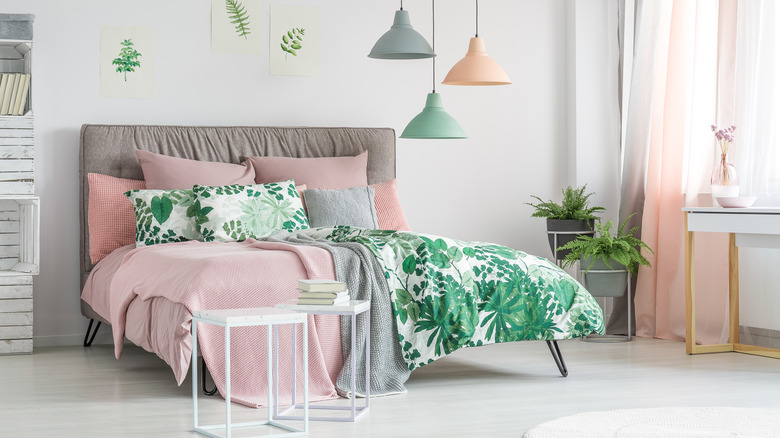 Photographee.eu/Shutterstock
English gardens are well-known for their style and lushness, and it only makes sense that a proper English cottage would bring some of that color and life indoors as well. According to One Kings Lane, botanical prints and wallpapers, florals, dried flowers, and live plants all have a home in an English cottage style home.
This is an easy touch to add to any space; a bouquet or two and a few houseplants for the real thing is a good way to start. Some framed botanical prints arranged on your walls or shelves can also bring that sense of life into the space. Consider looking for fabrics that have botanical prints or patterns on them. There are also many attractive floral and botanical print wallpapers that can bring this touch into your space. 
Don't overlook small touches, either. Pretty teacups, vases, and baskets with botanical motifs can also help bring the botanical love into your home. And if nothing else, look for vintage gardening books, especially attractive hardcovers — you can't go wrong with books and plants, especially in an English country cottage.
Feel free to mix the old and the new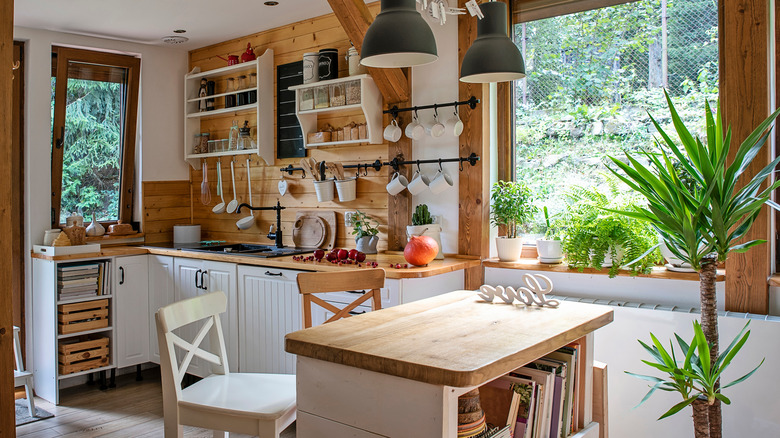 liloon/Shutterstock
English cottage style is best described as a mixing of the best of everything. Patterns, textures, moods, and even eras can and should be combined and played with so you can get that rich, comfortable, playful style in your home. While most people think of "cottage style" as old-fashioned, the best English cottage style interiors combine the old and the new in a way that makes both play off of each other beautifully. 
As House Beautiful notes, at its heart, this is an eclectic style, and one that invites disparate elements that would almost seem to clash to instead work together. This is a true case of the whole being more than the sum of its parts. A modern table dressed with vintage linens and antique dishes, a contemporary sofa covered with vintage-style upholstery, or a fully-modern, state of the art kitchen with rustic cabinets — all of these examples would work beautifully in an English cottage style home.
Blend dark and light tones for richness and depth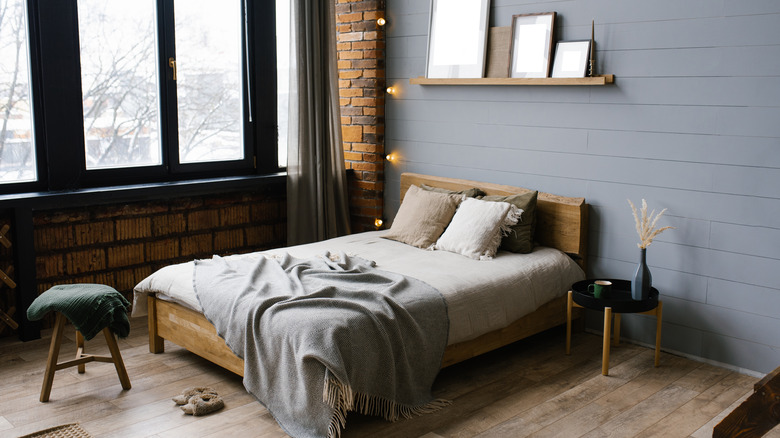 Chamomile_Olya/Shutterstock
The contrast of light, airy tones and dark dramatic ones is another aspect to the richness that the cottage style evokes, according to Vogue. In a more traditional sense, think of dark floors in an otherwise airy, light room. Something about that play of dark and light just adds an immediate sense of both drama and coziness to a space, and it's a hallmark of cottage style.
There are many small touches you can make to your own space to achieve this. Consider painting your window trim or mouldings a dark color, or having dark wood tables in an otherwise bright, soft room. If you have paneling or wainscoting, consider painting them a contrasting color to the rest of the room.
This is also where bold color can make a huge difference in your space. Black or deep blue kitchen cabinets? Why not? Cottage style is about bringing the things you love into your space, and if you love bold, dramatic color, you should make it part of your home.
Embrace imperfection in your English cottage style home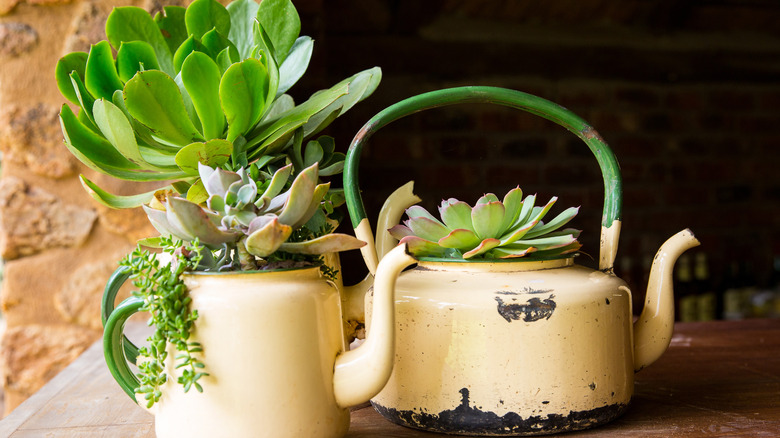 dave_liza/Shutterstock
Scene Therapy notes that one of the hallmarks of English cottage style centers around evoking the feeling that time has passed, that items have been collected over time, and that the home itself has even changed here and there. Part of the passage of time is that time, in its own way, leaves a mark. 
Chipped teacups, rusted metal, wonky floors, and worn surfaces are all trademarks of home that has been well lived in. To achieve that comfortable, cottagecore feeling, it's not only important, but vital to embrace imperfection. Even imperfect things are worthy of love, in décor and in every other aspect of life as well.
This is also an opportunity to get crafty and DIY a few things, even if (maybe especially if) you're unsure of how polished the finished item will be. You'll enjoy your time spent making it, and if it's imperfect, that's just part of its charm. Plus, handmade items go hand-in-hand with an English cottage style home. 
Consider adding a bit of wainscoting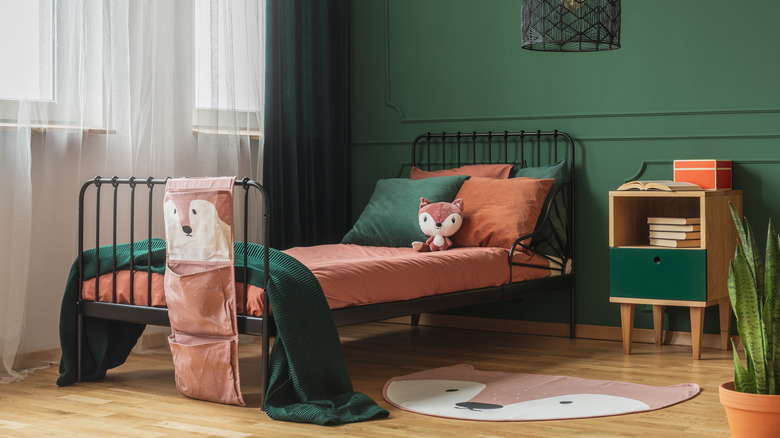 Photographee.eu/Shutterstock
Wainscoting, which is paneling that goes halfway or even all the way up a wall, is a classic English cottage style touch that goes back centuries. According to Curated Interior, a good rule of thumb for a classic cottage look is to install wainscoting that goes about two thirds of the way up your wall. This adds texture, yet another layer, and an antique touch that makes a home feel even more cozy. If you're lucky enough to have existing wainscoting, you'll definitely want to play it up, either by painting it a contrasting color or by organizing your furnishings in a way that plays up the wainscoting (placing items in contrasting shapes or colors in front of it, for example).
If you're handy (or you're not renting) you can add wainscoting to any room of your house by finding a style that works for you and then either having it installed or doing it yourself. But what if you're not able to install permanent wainscoting? There are actually paintable, removable wallpapers available that are easy to install and that can give you that wainscoting feel for a fraction of the price of actual wainscoting. Plus, since it's removable, you can easily take it down if you're renting, and your landlord will be none the wiser.
It's all about comfort in English cottage style homes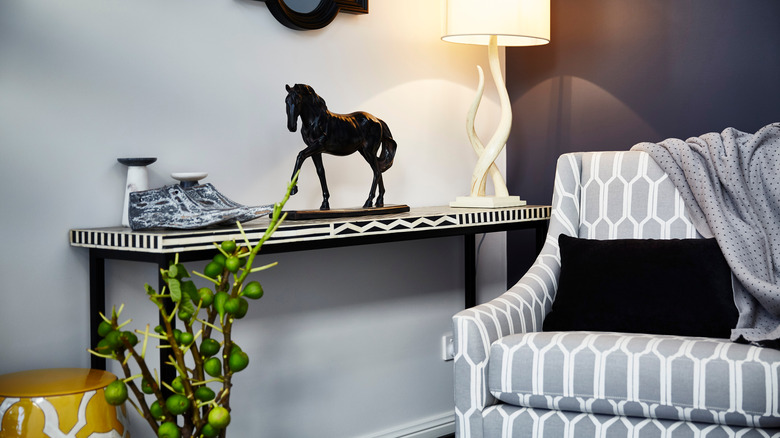 PhotoMavenStock/Shutterstock
According to Café Design, this style centers around the idea of comfort. So, when decorating with an English cottage style, you should be sure, first and foremost, to add plenty of comfortable seating. Cushy sofas, comfy reading chairs, and plenty of cushions and pillows all invite your guests to settle in and relax. 
But comfort goes beyond just having somewhere soft to set. Are there tables within easy reach where you or your guests can set a book or beverage, or both? If it's an area in which people will be reading or knitting, is there adequate lighting nearby? Is there room to move around easily, without bumping your toes or hips against furniture? All of these considerations go a long way toward making a space truly comfortable. Being able to move around and do things with ease is such a simple joy, and it adds to the safe, comfortable feeling of a cottage style home.
Add lots and lots of books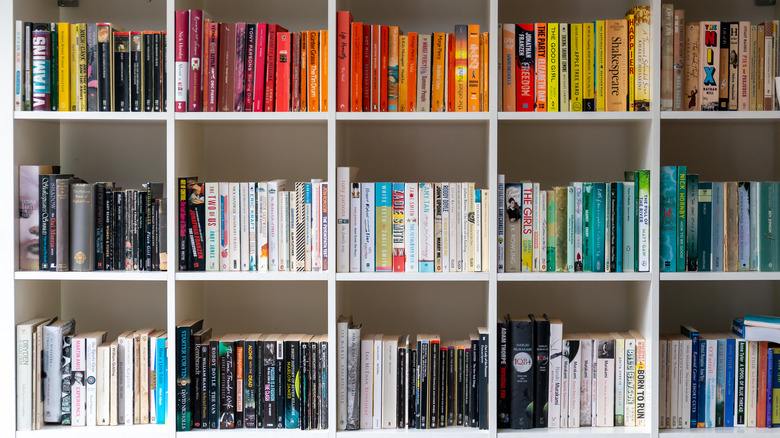 MagicBones/Shutterstock
If you're a book lover, this is your time to shine! Books provide a sense of timelessness, coziness, and that much-loved texture that's so important in an English cottage style home. According to Apartment Therapy, you should feel free to put them everywhere — not just on shelves, but stacked on tables, ledges, and even the floor. Use them to display other items on, or as backdrops to your other collections. 
While hardcover books definitely have a certain classic, cottage-friendly look to them, don't be shy about displaying those beloved paperbacks as well. Remember, the central point of this style is that it is unapologetically yours. So if you have a large collection of romances or mysteries, you should enjoy having them in your space. However, if you don't love the look of paperbacks, consider having a separate storage area for them and keeping your hardcover books on display.

Focus on lamps and fixtures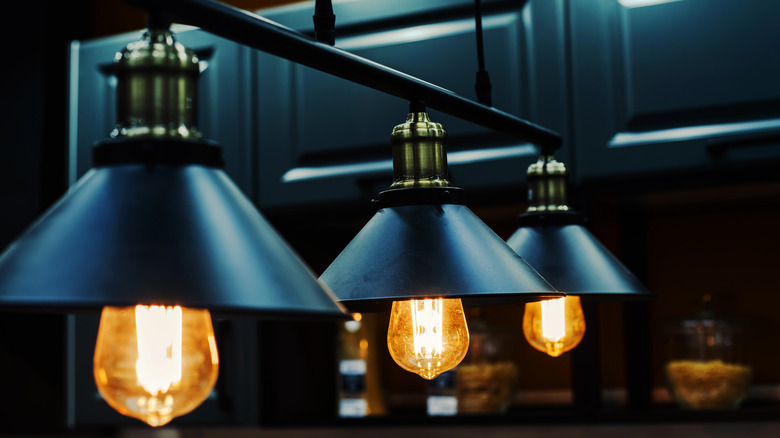 Dmitry Markov152/Shutterstock
Another seemingly-small touch that can have a huge impact on your home is lighting, and this is maybe even more true in the case of English cottage style. The types of fixtures and lamps you choose can add to that feeling of timeless comfort.  MyDomaine notes that even adding a single piece, such as a vintage sconce, to a space can have a major impact. 
This is another way to mix it up. Consider modern chandeliers and vintage-style table lamps, or a couple of vintage sconces. Each of these little touches adds more richness to your space, and the details make it feel like there's always something new for your guests to discover when looking around your space. 
This also gives you the opportunity to play up the comfort factor, as mentioned above, and do it with style. Lamps or sconces in your favorite reading spot, accent lights in a dining room or hallway — these small touches can really add a sense of comfort to your home.