10 Furniture Ideas For A Rustic-Inspired Home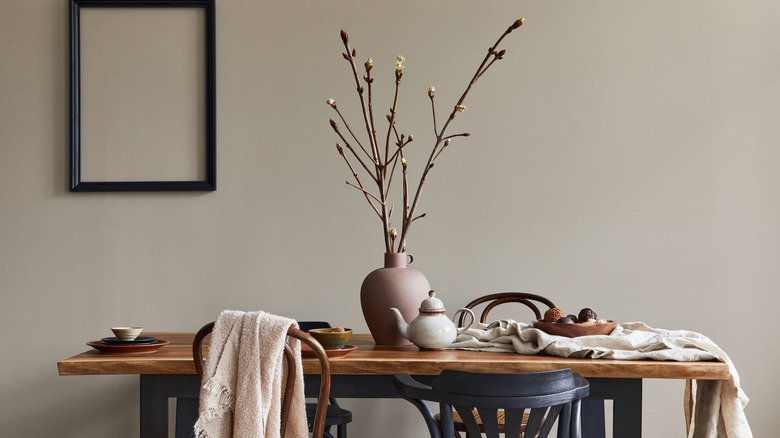 Followtheflow/Shutterstock
From Tuscan to cottage to farmhouse, rustic-inspired furniture and décor can be seen in tons of different design styles. No matter what design style you align with, there are a few elements that you can include in your home design to create a rustic-inspired home, explains House Beautiful. Rustic décor emphasizes using aged, rough, or rugged materials from nature for a casual and cozy feeling. The furniture in rustic-inspired homes tends to be large and handmade to add to that sense of coziness, and these rooms are often oriented around a stone fireplace.
Natural and neutral color palettes are typically used for rustic-inspired homes. Colors such as greens, creams, browns, grays, and darker colors are most frequently utilized to establish a cozy feeling. The rougher and raw fabrics used in this style, such as jute, canvas, and animal hides, help create a sense of warmth and a connection to nature. More contemporary versions of rustic design feature some metal elements for a more modern feel in the space, but traditional rustic design avoids metal and plastic. Including some of these elements in your design will help you to create a rustic-inspired home.
1. Wood furniture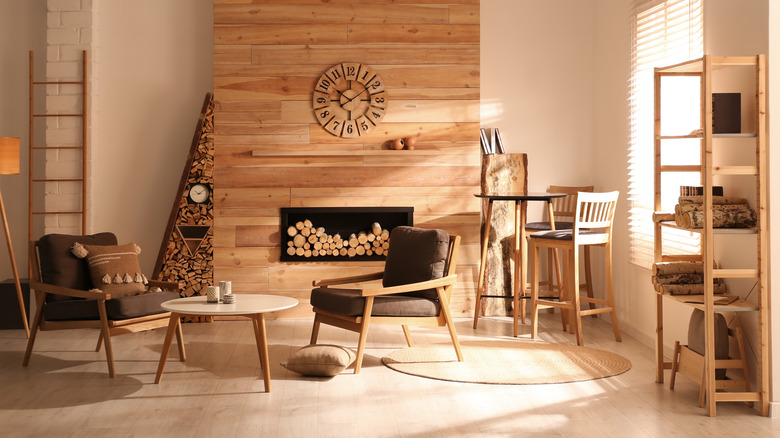 New Africa/Shutterstock
A stand-out element of rustic-inspired design is using lots of wood furniture. Since wood furniture creates a warm feeling in your home, including lots of it in your design is sure to create a cozy space. 
2. Handmade furniture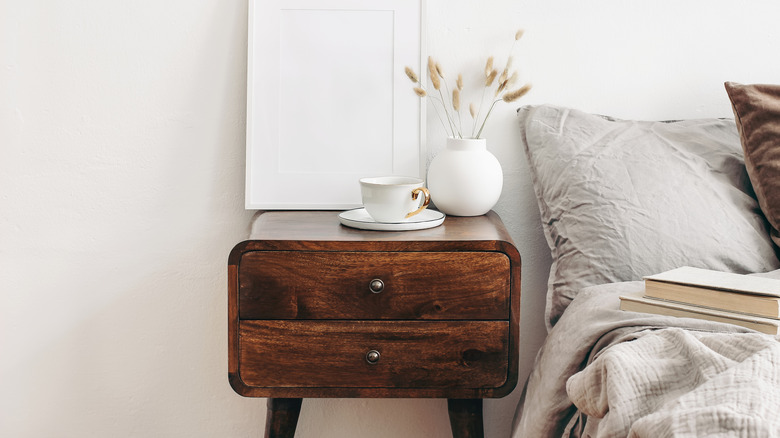 TabitaZn/Shutterstock
Rustic design doesn't try to be perfect. Instead, it incorporates rugged, aged, and handmade furniture. Including some handmade furniture in your design will help create a rustic-inspired home. 
3. Dark wood and metal table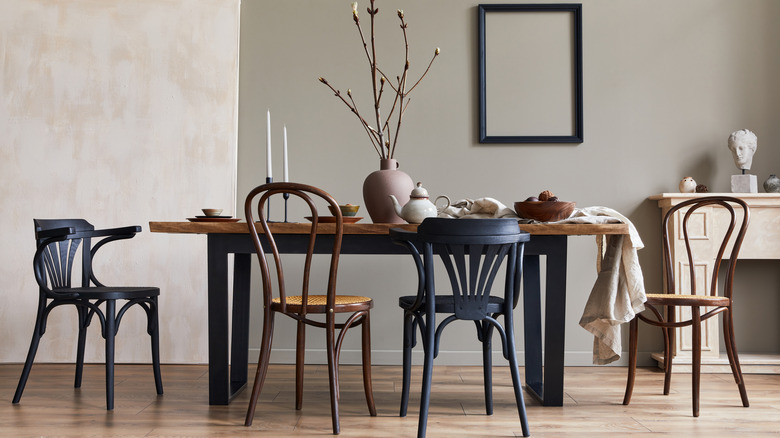 Followtheflow/Shutterstock
For more of a contemporary rustic feeling in your home, try to use furniture that combines both metal and wood elements. Dining tables are great pieces of furniture to set the tone of your interior design.
4. Butcher block kitchen island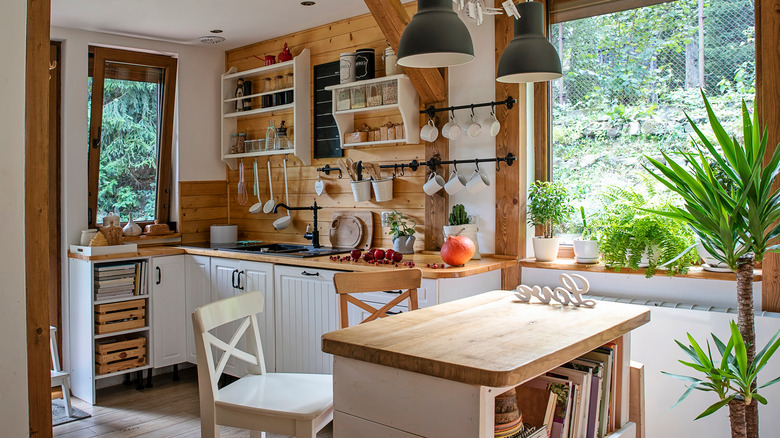 liloon/Shutterstock
The kitchen is another area of your home where you can really set the design tone of the house. Using wood elements in your kitchen, such as a butcher block island, will help create a rustic feel to the space. 
5. Natural textured linens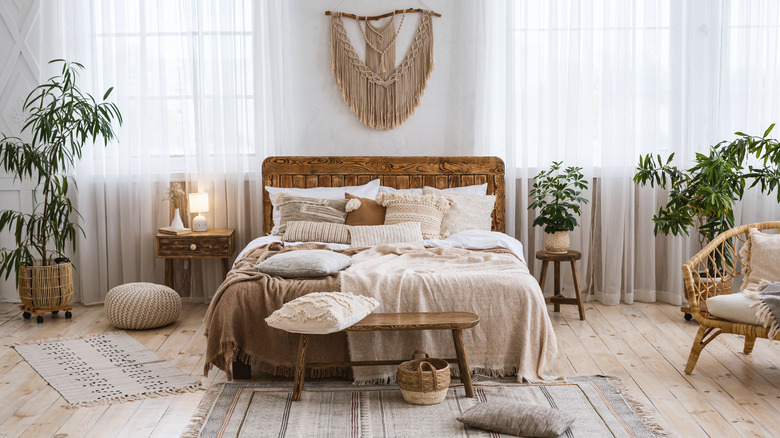 Prostock-studio/Shutterstock
With an emphasis on natural elements, it's no surprise that using natural textured linens such as canvas, jute, wicker, and raw linen create a rustic feel to a space. The bedroom is the perfect room to include these elements for a rustic-inspired room. 
6. Wood and metal dressers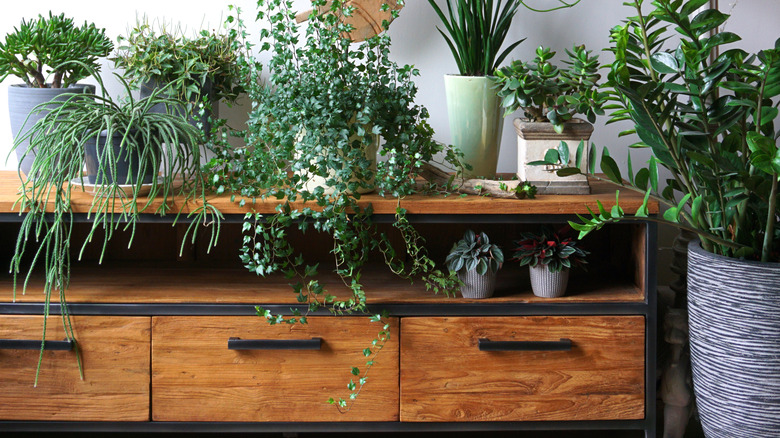 L. Feddes/Shutterstock
Try including some wood furniture with metal elements for a more modern take on rustic design. A dresser made of wood with metal hardware will help create a more cozy and rustic feeling room. 
7. Reclaimed wood coffee table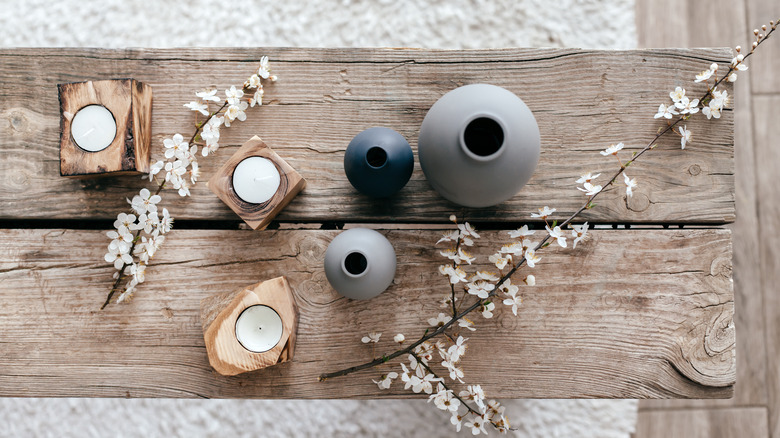 Alena Ozerova/Shutterstock
Reclaimed and unfinished woods are a significant feature of rustic design, and a great place to include these elements is a coffee table. Coffee tables can change the entire feel of a living space, and for a rustic-inspired space using a reclaimed wood coffee table works wonderfully.
8. Brown leather sofa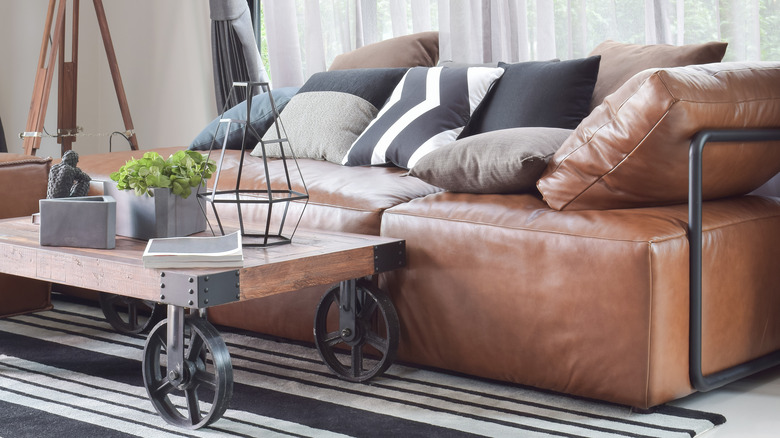 WorldWide/Shutterstock
Sticking with the natural theme of rustic design, a brown leather couch works perfectly in a rustic-inspired home. Brown leather couches bring a sense of warmth and coziness to a space, making them the perfect addition to a rustic-inspired room.
9. Metal lighting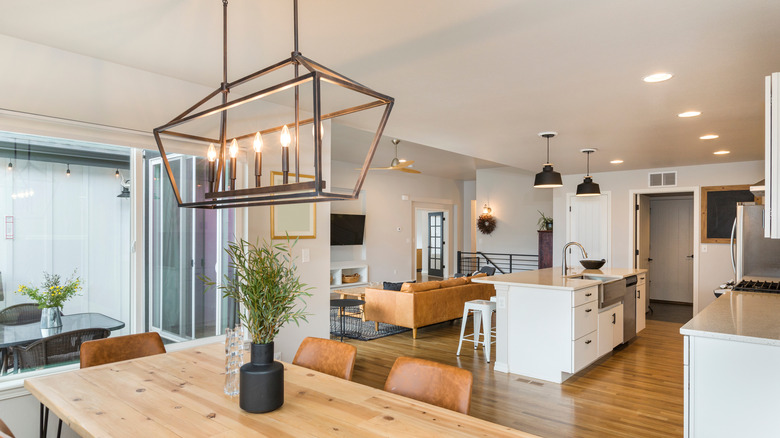 Neil Podoll/Shutterstock
Rustic design focuses on dark and cozy spaces, but lighting is still important. Including elements of metal lighting helps incorporate the rustic feel into a room.
10. Animal hide rugs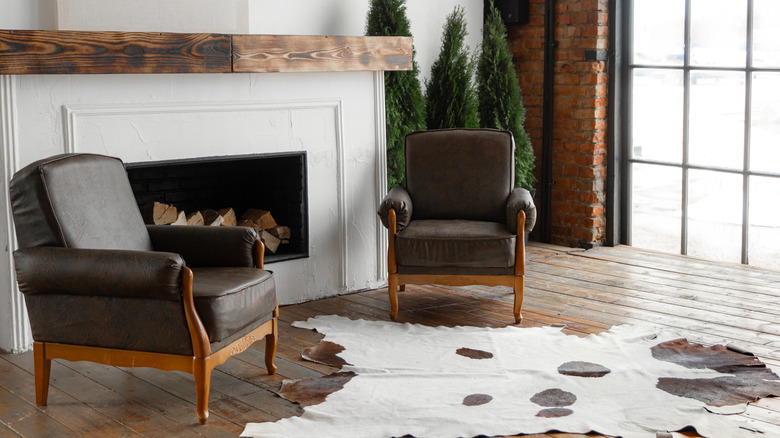 NataliaLavrivNedashkivska/Shutterstock
Animal hide rugs are another great way to incorporate rustic design into your home. Whether you use fake or real animal hides, these rugs will create a natural atmosphere in your space.