How The Home Edit Gave Kelsea Ballerini's Tour Bus A Stunning Makeover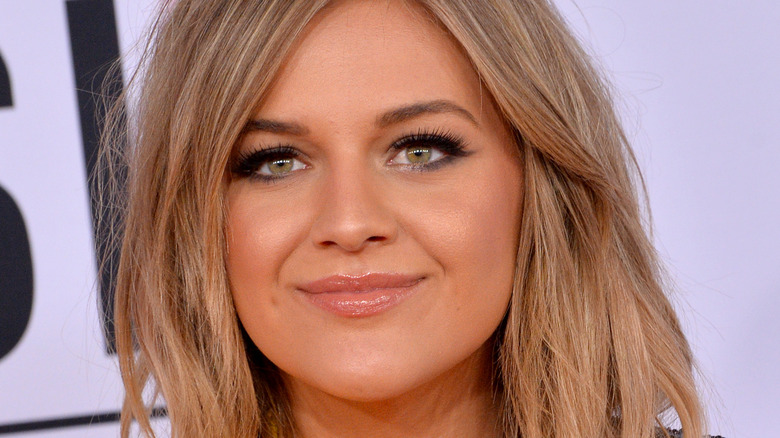 Featureflash Photo Agency/Shutterstock
Being an award-winning superstar is not an easy task. The lifestyle is not for the weak as it's composed of writing music, performing on stage, and living on a tour bus. For country music artist Kelsea Ballerini, this is what her life consists of most of the time. According to AllMusic, Ballerini began her music career in 2014 and released her debut album, "The First Time", the following year. Since then, her career has skyrocketed, marked by more album releases, collaborations with other artists, and spending life on the road touring different cities. It's safe to say that she spends the same amount of time, if not more, on her tour bus than at home. However, with so much time spent making music, it's hard for Ballerini to keep her home away from home organized.
That's where "The Home Edit" steps in. In Season 2, Episode 4, and continuing into Episode 5 of the Netflix series, showrunners Clea Shearer and Joanna Teplin decide to give Ballerini's tour bus a complete makeover. The duo first met through a mutual friend and became instant friends, via The Home Edit. Shortly after their friendship began is when their business partnership started with the goal being to combine organization with modern interior design and styling. The first episode of their ever-growing show aired in 2020 and has since helped numerous celebrities, including Reese Witherspoon, Katy Perry, and Kane Brown. 
Before: unorganized chaos
At the beginning of the episode, it's clear that Kelsea Ballerini's tour bus is cute, simple, and elegant; yet cluttered. Per Netflix, when the showrunners entered the tour bus, she cracked a joke, saying, "Welcome to the chaos, guys." She continued, "Like most creatives, I'm a tornado. I just don't have the side of my brain that knows how to organize things. It's tragic. It's really tragic." The singer was getting ready to go on tour for a few months, so all of her belongings were haphazardly thrown wherever they could fit. Almost everything was scattered, and it appeared Ballerini had just returned from a shopping spree. 
Before the makeover, Ballerini had already emptied all the drawers and concealed spaces, giving "The Home Edit" team a clean slate. But this meant that all the kitchen counters were littered with grocery items, among many other things. There were even more bags of groceries and other items sitting in front of counters. The couch was up to its armrest with clothing items, shoes, beauty products, and other necessities. And just like the kitchen, bags lined the front of the couch, making the walkway almost inaccessible. All this tour bus needed was some organization to get it back in tip-top shape. 
After: pink glam vibes
Since it's a tour bus, the compartments were long and narrow, making it hard for "The Home Edit" team to go about their routine. Therefore, they decided to divide the various areas among themselves and assign a team member to each site, as shown on Netflix. The team also had to move Kelsea Ballerini's belongings outside, giving them ample space to work. To return items to their original places and facilitate organization, they used sticky notes, "The Home Edit" bin organizers, storage organizers, and label stickers. 
In the end, the interior had a new look and was free of clutter. Every item had a designated area, making it super easy to locate anything on the bus. For instance, the drawers under the table hosted Ballerini's office and paint supplies, while those in the kitchen held utensils. Food items, similarly, were organized in the kitchen cabinets above the stove and sink. It's safe to say that Ballerini loved the upgrades, considering her first reaction: "It's serving me, like, let's-go-to-the-beach vibes. It makes me so happy. They made it really cute. Feels like Christmas."