Jillian Harris' Best Ideas For Designing The Home Of Your Dreams
Vivien Killilea/Getty Images
Jillian Harris is the founder and creative director of Jillian Harris Design, according to her official website. She has a knack for interior design and is someone to get to know if you like classic and feminine aesthetics. Additionally, Harris was previously the co-host for "Love It Or List It Vancouver," on which she competes with co-host Todd Talbot to successfully determine which house a couple will move into, according to IMDb. Since then, she has kept fans up-to-date on her website with her current favorite décor items.
If you're someone who is planning on designing your home, Harris has luckily provided some pretty helpful ideas to do just that, according to Graham's & Son Interiors — an interior decorating business that's been around for over 40 years. Harris has provided tips on lighting, colors, which furniture to purchase to complete your design, and more. Let's check out what she has to say about some crucial design components.
Choose the right décor for your space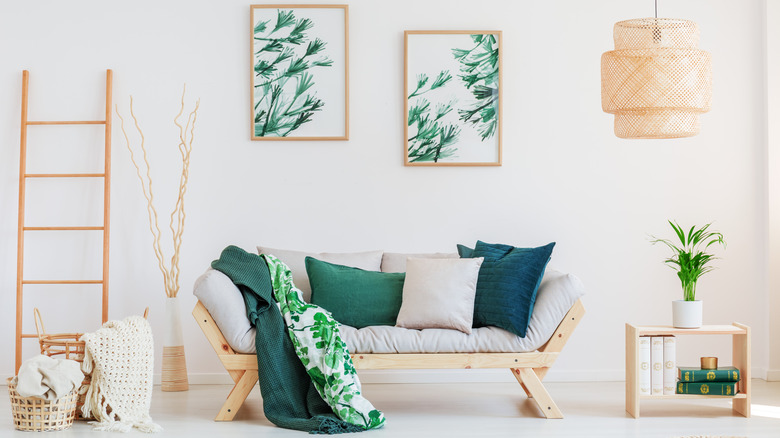 Photographee.eu/Shutterstock
Lighting may be one of the most important design components when designing a space, according to Graham's & Son Interiors. Jillian Harris says that lighting has the ability to alter the overall feeling of any room, as it comes in different styles, colors, and shapes to adapt to different design themes. She adds that finding the perfect light for a space can be stressful and time-consuming, but it will have a great impact.
Harris also provided a few tips on how to choose a couch for any room in your house. She believes a neutral color works best, as it's able to be stylish for a long time. For those who are thinking of purchasing a colorful couch, Harris instead advises adding a colorful throw blanket or pillows for an easy addition of color. The couch also needs to be the right size; if it's too big, it can make your room appear smaller than it actually is. And if your couch is too small, it'll lack the functionality to properly accommodate you and your family. To ensure you get the right size, Harris says to measure your room and identify a measurement that seems best for your space.
Incorporating accents for maximum impact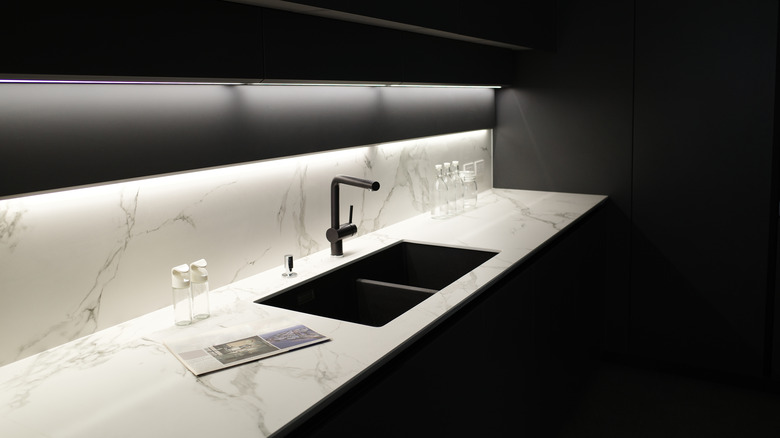 PK-Donovan/Shutterstock
Jillian Harris believes in the impact of adding accent colors, according to Graham's & Son Interiors. She has stated before that she adores black kitchens that are contrasted with white marble, as well as dark marble that is contrasted with wood countertops -– something different from other typical countertop materials. Gold hardware is also a beautiful accent in a space, especially if complemented with wood cabinets and marble countertops. Harris is someone who loves designs that give off a traditional New York vibe, and believes they can be created by introducing black-framed windows into the design.
Harris also believes in the power of adding small accents to a room to elevate the design of a room. You can do this by adding anything from plants to pottery to bookends and other artistic décor. She advises you to take your time finding the perfect accents that best fit your space. It's also important to not overload your space with several different accents, as it can easily make your room look disorganized.